Thank you to Becky Norman, Daniel Record and Jamee Smith for your wonderful notes! I really appreciate them!
Welcome back to Michelle Thompson and Jennifer Harmon! And have a magical time to Amanda Wright!
And, Amanda, to answer your question, I live a thousand miles from Walt Disney World, so I can't go every month. 🙁 But other members of our team do live locally, so they are there very frequently! Someday, I want to be local too!
This was Challenge #188:

And here's the answer: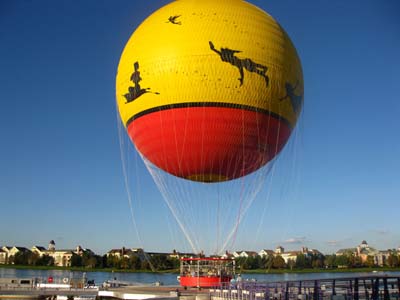 Copyright © 2009 Erin Blackwell Canon Powershot SD890 IS, 7mm, 1/160s shutter, f/9, ISO 80
Peter Pan is soaring with the other flying Disney characters across the Characters in Flight balloon! Or Bruce Hinterleitner as put it, "the big bad balloon ride at Downtown Disney". 😉 You can ride the tethered, helium balloon yourself on the West Side of Downtown Disney. If you are afraid of heights, I'd say don't do it. I rode with people who made themselves go and they were so terrified, they couldn't enjoy it. However, I do recommend this for the incredible view! You'll see Epcot, the Contemporary, maybe a peek of the castle and more (I loved that I could see into the old Adventurers Club building.) I rode in the day and now want to do it at night!
Russ Morgan was the first to send in the correct answer for the challenge! Congratulations to Louise and to all the readers who got the answer right: Scott Greenbaum, Larissa Huda, Stefanie Vandiver, Tina Santacroce, John C. Lacasse, Theresa Rucando, Mary Beth Tarbet, Ed Elder , Sharon Pierce, Caryn Schill, Annette Nuenke, Becky Norman, Elena, Michael Gainey, Lee Anastasi, Ashley Baker, Kris Nixon, Daniel Record, Dan, Jen Cerce, Patrick Albrecht, Paul Cooper, Brian Miller, Elizabeth Scarborough, Linda Mac, Charles Wright, Mike M., Jamie K, Suzanna Hollis, Kathy Berry, Dale Knight , Dee Dee Kenney, James Berry, Jaime Thomson, Shannon Milair, Diana Fitzgerald, Evanna Huda, Erika Loboda, Katie Bray, Spring Smith, Richelle O'neil, Bruce Hinterleitner, David U, Kirsty Butler, Amy, Pollyanna Buff, Dillon, Stephanie Canales, Debbie Desimone, Belicia Cullen , Stephanie Canales, Al Desimone, Jamee Smith, Colin Buchanan, Kristin Mcquaid, Steve Smith, Bonnie C, Bonnie C, Sharon Dale, Karen Adamakis, Lauretta Abrahamzon, Jeanette Luce, Amanda M Page, Kye Layton, Melea Broekers, Mackenzie D., Mackenzie D., Paula Massarelli, Brendan Abel, Bridgette Gallagher, Kimberly Kusser, John Leach, Karen Ramirez, Kristen Mccoy, Cara Richards, Maureen Handy, Freya Schmidt, Chris Kelly, Lorine Landon, Richard Memmory, Tom Hermes, Louise Barton, Joanna Modica, Jodi Cook, Dylan Weidner, Katie B, Diane Tredore, Angie Young, David &Melissa Lizewski, Julie Wickware, Linda Scrivano, Lily-pierre Couet, Cynthia Harrison, Cynthia Harrison, Gina Boebel, Chris And Alison, R Engel, Scott Otis, Jennifer Bourg, Elaine Johnson, Dawn Bach, Chris Masse, Jeffrey Dunne, Ken Fischler, Kelly Mager, Amanda Campbell, Mary Jo Gallion, Rich M, Michele Lowery, Tracey Mayfield, Ken Maikowski, Amanda Linde, Double Family, Kim Meyer, Virginia Pierce, Bob Hendrix, Kelly Montgomery, Amy Filliben, Jason And Melinda Lenz, Jacquelyn Law, Chris Brackett, Danny And Analisa, Brian Skinner, Heather Young, Kathleen Wolfe, Donna Currier, Tom Koval, Robin Fitts, Robin Fitts, Erica Binder, Dawn Burns, Curtis Bille, Joann Albrecht, Jonathan Thomas, Sarah Holodick, Ronnie Williams, Annette Rigby, Ed Hogan, Christine And Melissa, Misty Mehelic, Vicki Yarnell, Carol Baranowsky, Nick Bentz, Jennifer Horst, Patty Carty, Stuart Hale, Stephen Whitlock, Michael Pyle, Erin Rix, Justin Mejak, Dan Johnston, Danielle Murgia, Matt C., Christine Dagney, Diane Furtado, Chandra Mccall, Deanna Kyre, Shannon Brueggemann, Diane Curfman, Sam Fritz, Susan Higginbotham, Jennifer Tremley, Erin Loring, Dennis Loring, Mike Hill, The Hicks Family, Kameo Crea, Jane Bradley, Gabriella Rizzo, Bill Daniel, Erica Courville, Mary Virginia Clause, John P, Maryann Eckenrode, Ansley, Krystal Pound, Quincy Delcolletti, Beth Mcmeekin, Christie Condit, Jessica Gruhlke, Nicole Shuler, Michele Mongeon, Hillary Waldroop, Dana Garcia, Victoria Caputo, Vicki Edwards And Kids, Tiffany Gibb, Bonnie Ford, Jay Bradford, Angela Blevins, Antoinete Leblanc, Allison Burgess, Heather Hynes, Joy Johnston, Ashley Deitchler, Christopher Barnes, Paul Knott, Chris Larys, Ed Suscreba, Linda College, Alan Mize, Vickie Barca, Luis Rodriguez, Matt Degrandis, Claire Gregory, Mike Malampy, Austin Oblenis, Sherry Klinefelter, Tracy Weber, Tom Mathews, Stephanie Visco, Cindy Check, Ashley P., Bruce Jones, Lauren Carbone, Michelle Juan Palazzo, Elaine Tomko-deluca, Tim Johansen, Shari Marescalchi, Cheryl Costello, Trina , Kathryn Perkins , Lori Rienhardt, Emma Poprock, Kirk Hardy, Hamahara, Brian Yesutis, Zachary Falcone, Wendy Faler, Karen Hotchkiss, David B, Linda Kasych, Walter N. Clark, Clay Anthony, Herb Miller, Laurie Walker, Tim Jeltes, Stephanie Davis, Jeremy Hardy, Betsy Silvestri, Jennifer Mccurry, Tom Armstrong, Angela Patterson, Mike O'brien, Brian Haas, Rob Blundin, Kelsi B., Morgan Mccalip, Jonathan Ward, Norma, Eric Streebel, Darlene Frank, Matt Cofone, Wendy Snelgrove, Sonja Padora, Wade A. Williams, Vakisha Henard, Karen Schlumpf, Vakisha Henard, Melesia Love, Stephanie Newell, Emma Marrow, Kelly Smith, Hayden Pronto-hussey, Dallas Hamilton, Victor Gonzalez, Danielle Ciotti Harsley, Cameron Lange, Michelle Thompson, Brittany &Jesse Siminitz, Jeremy Reichelt, Leigh Mertz, Becky Terjung, Dennis Bratnik, Sandra Edwards, Diane Ramos, Paul Ignudo, Jr., Vincent Maltese, Christopher Hall, Kerry A., Anastasia Macneil, Judy Koslowski, Bruce Arnold, Jim Finley, Chris Bauman, Lynn Smith, Doug Olson, Mark Franklin, Gail Hirsch, Jodi Johnson, Dan Mangini, Susan Hunter, Alison Rosenberger, Dawn Buras, Karrie Duffey, Nicole Duddy, Timothy Hutchinson, Bill Mckim, Tiffany W., Erin Hammer, Danielle Aston, Kristen Carde, Anna Keene, Marina Wouralis, Jennifer Mercier, Caroline Williams, Carolyn Como, Karen Smith, Amber Slifer, Kathy Love, Gregg Mcglasson, Marie Phillips, Jullie Pudem, Ashley Elizabeth, Veronica Schreyer, Shelly Borella, Susie Howard, Mark Cullison, Josh Mckinnon, Kerry Finnamore, Steve Knapp, Jared Orth, Jason Skow, Tracy Bradfute, Hoekzema Family, Mike Venere, Jeffrey Beauchamp, Jen P, Michelle Wilinski, Lee Lastovica, Nicole Parker, Matthew Jadro, Karen Korcheski, Andrew Schumacher, Scott Olsen, Jorge Caso, Jennifer Townsend, Nathalie Periard, Michele Wilkins, Mike, Rebecca Keenan, Susie Roberts, Dennis Blackburn, Susan Doucette, James Greene, Angie, Marc Fumo, Steve Jordan, Nathan Firth, Karen Nelson, Mary Greger, Jeffrey Finger, Sam Thomas, Kathy Curtis, Jake Christopher, Mike Gillardi, Billie Jean Albolino, Kalvin Connor, Daria Ann, Terry W., Chuck Sands, Chuck Sands, Jessica Marcotte, Jessica Walls, Mike Pennington, Andrea Kruszewski, Michelle Sunde, Andrew Brixius, Debbie Cody, Betsey Whitehead, Matt Ciccone, Ashley Wilson, Andrew Loft, Bob Hicks, Mike Haeberle, Lisa Graham, Collette Beuther, Martha Tischler, Dave Carriere, Denise Cayz, Kristy Schalk, Jim Thompson, Candra Graves, Kerry Mccaffrey, Patti Mccaffrey, Barbara Ajak, Les Whitten, Jennifer Rupert, Al Ganter, Holly Anderson, Heidi Goodhue, Elizabeth Goodman, Reagan Herman, Mary Tackett, Marie, Carol Gamill, Jennifer Chartier, Deb Ragno, Melody O'donnell, Jim Riley, Megan K, Amanda Wright, Nicole Alley, Cathy Schill, Harrison Grasso, Vanessa Gordon, Maryjane Keeble, Lauren Thomas, Jenny Leek, Trina Britt, Diane Lores, Kat, Jim Logue, Dave Cole, Erin Flaherty, Jen Schultz, Christy Richardson, Stacy Lee, Matt Holley, Craig, Rick R., Catherine Connors, Sherry Trapp, Pam Tees, Leslie Stewart, Alyson Riddick, Terry Garvey, Dana L., Richard Palmer, Victoria Finnegan, Sara, M'shel Bowen, Mildred Popp, Jackie Purcell, Scott Junkin, Kelly Edwards, John Foggo, Karen Calabria, Erin Dagney, Robert Mccoy, Mike Hitzel, Kristina Reardon, Olga, Shane Stack, David W, Regina Allen, Regina Allen, Teresa Cole, Marsha Waidelich, Theresa Maradei, Andrew Pettit, Kim Steiner, Sarah Haas, Leslie K. Skidmore, Grace Goldblatt, Evelyn Wilson, Mandy Friel, John Agnew, Karen Lehnert, Maggie Bruski, Jenn Steele, Tom Wert, David Seymour, Tom & Susan Linder , Jennifer Bogdan, Melissa Scott, Patti Deluca, Mickey Eckert, Clare C, Sandy Tyson, Lynne Flint, Elaine Kleinhenz, Kendra Hayde, Brenda Strohmeyer, Greg Strohmeyer, Lisa Cash, Marie Phelps, Julie Rychener, Sandy, Jeannine Reid, Robert P. Flaherty, Mary Anne Ceci, Rebecca Smith, Stephanie Hardhouse, Joseph M Zafia, Jill Hauth, Kim Stup, Chip Vermette, Brian Grabowski, Jill Obrien, Mark Schaber, Maryann Daly, Paul Amico, Bill Monahan, Christina Bonica, Karen Pizzuta, Katrina Westervelt, Thomas Higbee, Carri Marotto, Emily Harper, Will Gates, Richard Doucette, Dave Wang, Dan Owens, Sherri Pell, Brandi Francia, Carrie, Robert Youngblood, Phil Thach, Kate Fanning, Edward Haja, Heidi Summers, Ruth Cookson, Emily Robinson, Tammy Kallenbach , Ashley C., Jo Ann Bailey, Amy Jones, Kelly Zanauskas, Tom Buck, Barclay Bakkum, Allison Caputa, Agnes Ciotti, Chris Stockton, Anne-marie Crabtree, Paulnewman, Jamie P, Jennifer Marston, Tracy Cegielski, Angela Fennell, Karen Coto, Lory Blair, and Jennifer Harmon. Each of you are entered in this month's winners' drawing.
__________________________________________________________________________
Challenge #189: Where in the world is this?
Are you ready for this week's challenge?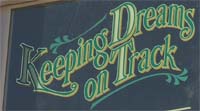 Do you know? Do you have a guess? Please send in your answer, before the end of the day on Thursday, August 11th, by clicking on the blue box below. Please do not post answers using the Feedback Form link at the bottom of this post. Remember to be specific with your answer – just naming a park will not get you into the drawing.
See you next week, Worlders!



_______________________________________________________________________
Everyone who sends in a correct answer to a Where in the World Challenge this month will be entered in a drawing at the end of the month for some special AllEars® goodies and a cool Disney book!