After I attended Tuesday's press event on the new Tinker Bell 1/2 Marathon I wandered around Disneyland, DCA, the Disneyland Hotel and Downtown Disney for a while.
There's still lots of construction going on at the Disneyland Hotel – beginning with the remodel of the Magic Tower.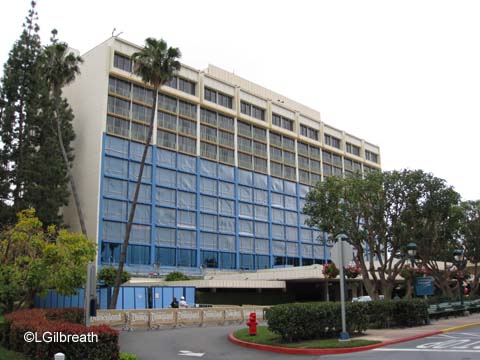 The new restaurant complex behind the Never Land pool area.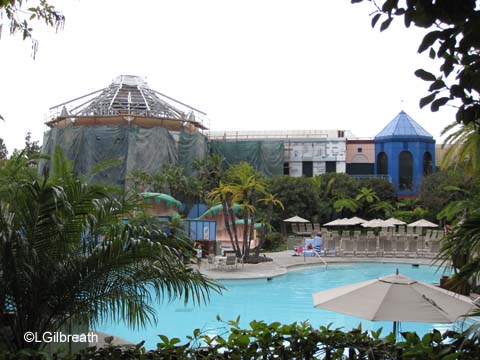 I couldn't find a place to get a clear shot of the slide in the new pool area, but can see that the monorails are now in place.
Roof line on the new restaurant complex – reminds me of the longhouses at the Polynesian at WDW.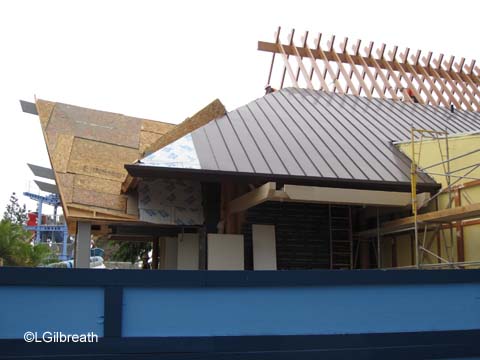 They were doing work outside the main lobby of the Dreams Tower, so everyone staying there was having to use the entrance and the elevator located on the south end of the building.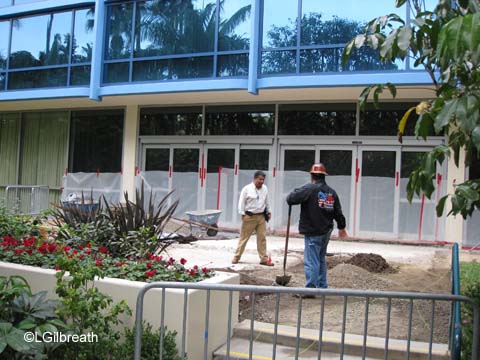 A couple of the restaurants in Downtown Disney are offering some new nightly entertainment: Salsa Nights at Tortilla Jo's on Wednesdays:
And Dueling Pianos at Ralph Brennan's Jazz Kitchen on Thursdays.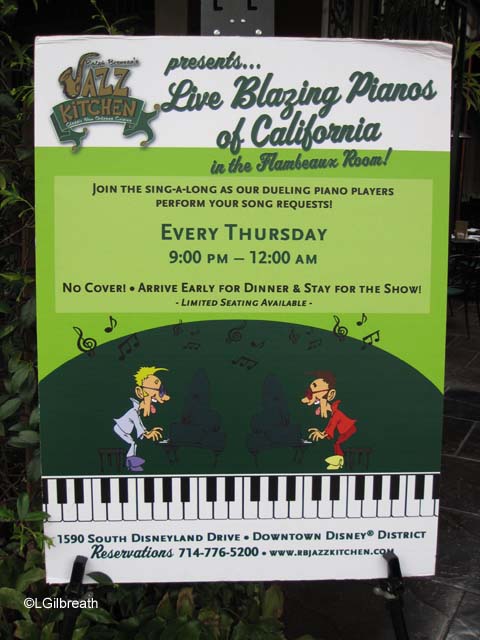 It was spring break, and while the parks weren't packed, they were busy – it felt more like a normal weekend day than it did a holiday period.
The construction facade is still up on The Emporium – it's been there for several weeks now, so I guess they are doing some extensive work under there!
Star Tours has an opening date of June 3, and Annual Passholder previews starting on May 23.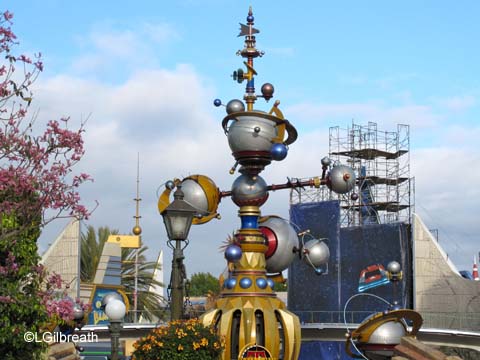 Star Traders is still closed – it's scheduled to open in early May.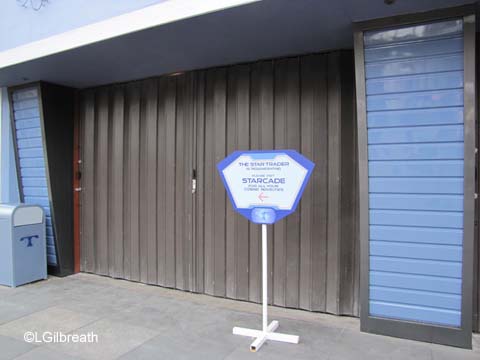 Birds of a feather flock together. 🙂 (This photo inspired by a similar photo that Gary Edstrom took and posted to the rec.arts.disney.parks newsgroup not too long ago.)
Since it's a busy time Princess Fantasy Faire is running their full schedule of events, including the Royal Coronation Ceremony and Princess Storytelling.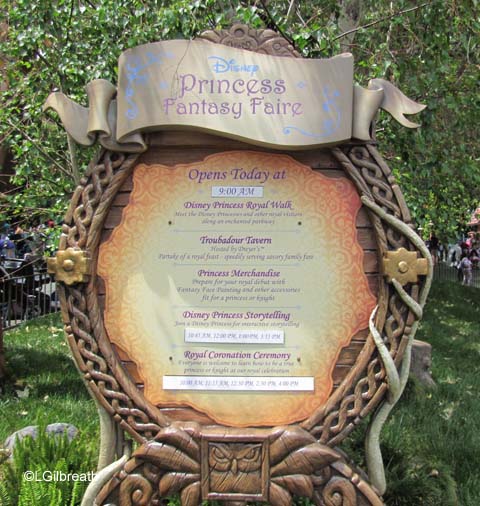 They had some nice spring-themed decorations at the Celebration BBQ and Roundup at Big Thunder Ranch.
Even the goats in the petting zoo were dressed up.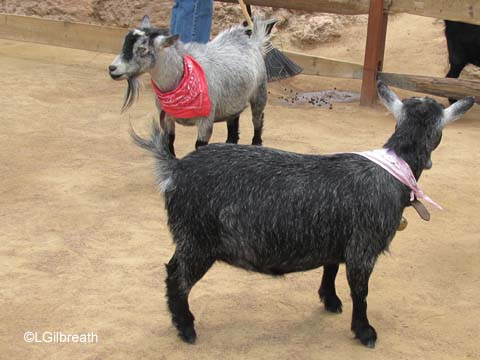 It was interesting to see what they've done for the Pirates of the Caribbean Sneak Peek during the day, at least from the outside. I didn't see these details at night.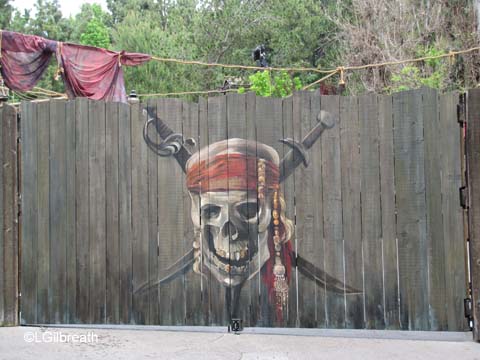 They are still building something near the Mark Twain's dock.
Splash Mountain is still closed – it is scheduled to re-open on May 27.
I noticed these candy boxes back in the candy section of Pooh Corner – I hadn't seen them before. (I also saw them at Toontown Five and Dime, Greetings in DCA and Marceline's in Downtown Disney – they are probably also available at World of Disney or any other place that sells the packaged types of candy.) Very clever. 🙂 There's "I'm a Chocolatear Milk Chocolate Raisins", "Who Needs Prince Charming When you Have Chocolate Milk Chocolate Crispy Clusters", "Mine Mine Mine Mine Candy Guppies", etc. $3.95 each.
I was surprised not to see much in the way of Easter merchandise – I didn't do an exhaustive search, but I didn't find anything in the Emporium, which surprised me. There's an Easter version of Duffy, though.
There were a number of sweet Easter treats available – the Candy Palace was selling these hand made chocolate Easter eggs – vanilla and chocolate nut fudge covered in chocolate. They looked really good.
The Candy Palace, Pooh Corner, and Marceline's also had Easter-themed candy apples – very cute.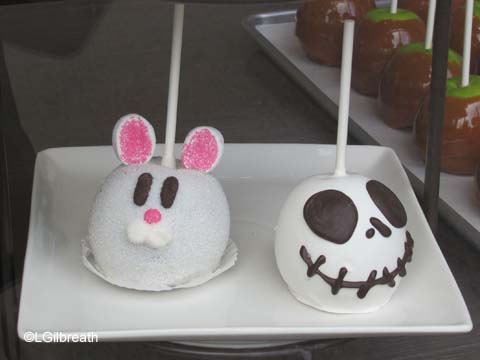 These cookies were at the candy counter at Greetings.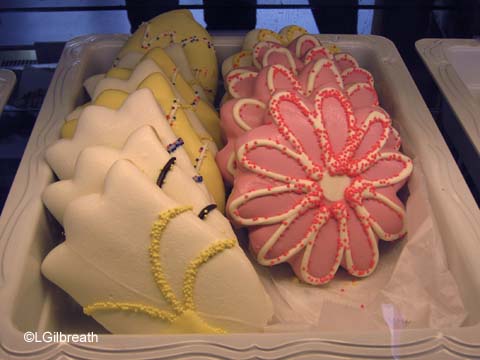 And I saw these at Marceline's:
I'll have photos of what's going on at DCA in Part 2.