Hi, guys! Welcome to this week's contest!
This was Challenge #173: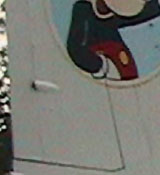 And here's the answer: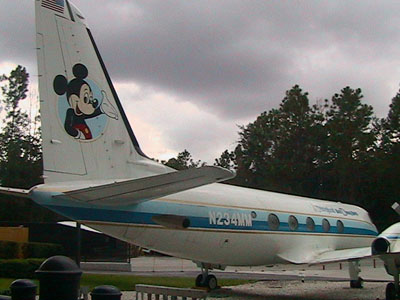 Copyright © 2006 Erin Blackwell Canon ZR65 MC
Walt Disney's private plane! As some of you pointed out to me, it is a Grumman G-159 Gulfstream 1, serial number 121. As they tell you on the Backlot Tour: "That Gulfstream 1 was known in airports across the country as November Two Three Four Mickey Mouse. But we just call it The Mouse." You can also see it as you walk to your seats for Lights, Motors, Action! Extreme Stunt Show.
Joshua Swainston was the first to send in the correct answer for the challenge! Congratulations to Joshua and all the other readers who got the answer right: Bharon Martinez, Sharon Lucia, Jeanette, Matt Holley, Ed Elder, Sharon Pierce, Bruce Hinterleitner, Julie Wickware, Ed Aleszczyk, Angie Young, Don Whiteman, Tiffany Gibb, The Perras Family, Carol Baranowsky, Maryann Eckenrode , Betsy Silvestri, Monica Hatch, Steven Bowling, Brian Gallant, James Berry, Kathy Berry, Jane Bradley, Kate Bowling, Jennifer Toto, Ronnie Lane, Tom Buck , Elizabeth Howarth, Deirdre Lewis, Joy Johnston, Blake Schmidt, Ken Jackson, Stephanie Visco, Mary Beth Tarbet, A Leblanc, Sue Thompson, Christine Twomey, Jodi Cook, Megan K, Jennifer Harmon, Kelly Mager, Linda Scrivano, Bridgette Gallagher, Brenda Mcguire, Amy Schweizer, Kris Nixon, Jennifer Tremley, Chris Masse, Shannon Milair, Tom Koval, Allison Burgess, Lauren Carbone, Larissa Huda, James Greene, Evanna Huda, Adrienne A., Angela Fennell, Paula Munson, Kye Layton, Theresa Rucando, Evelyn Wilson, Jen Cerce, Debbie &Al Desimone, Elaine Johnson, Diane Curfman, Mary, Austin O'blenis, Mike Walter, Tiago De Oliveira, Katie Bray, Erin Dagney, Christine Dagney, Sharon Dale, Jared Orth, Diane Furtado, Cheryl Costello, Jacquelyn Law, Alan Law, Christina Rotella, Amy Wenzel, Sharon Lee, Sammi Jo, Danielle Aston, Paul Knott, Bill Gallagher, Ben Smith, Jessica Gruhlke, Debi Hampton, Hailey Gill, Susan Thompson, Jen P., David, Susan Deewaard, Nathan Cripe, Josh Weiss, Walter N. Clark, Double Family, Kirsty Butler, Paul Dickson, Chris Bauman , Jackie Purcell, Patti Mccaffrey, Doug Reichl, Bobbie Grantham, Shaun Leake, Chris Kelly, Jennifer Horst, John Leach, Jennifer Bourg, Shane Quimby, Amanda Perkins, Lynne Anderson, Lisa, Karen Ramirez, Danielle Ciotti, Agnes Ciotti, Luis Rodriguez, Scott Otis, Gail Sheehan, Melesia Love, Kelly Smith, Cara Richards, Sarah Smee, Nick P., Christopher Hall, Paul Ignudo, Jr., Jullie Pudem, Dale Knight, Allie Reckendorf, Karen Schlumpf, Lee Krueger, Karrie Duffey, Mark Cullison, Jenn Steele, Brian Haas, Carri Marotto, Clay Anthony, Andrea Kruszewski, Maja Kodani, Richard Palmer, Dan Owens, Jeannine Reid, Alison Rosenberger, Heidi Summers, Kameo Crea, Erin Hammer, Karen Dresser-smith, Michael Boglarski, Mike Venere, Elaine Tomko-deluca, Scott, Gennaro Rosato, Brittany Siminitz, Jessica Schneider, Dwayne Fontenot, Brian Miller, Lily-pierre Couet, Miranda W, Shelly Borella, Lisa Palmer, Jamie Poynton, Mandy F., Heidi Goodhue, Susie Howard, The Hicks Family, Peter Strukel, Kerry Fox, Jen Schultz, Bryan Timko, Jodi H., Thomas & William Edwards, Jennifer Mills, John Boulos, Jamie Difatta, Vicki Edwards, Mike Haeberle, Chip Vermette, Gail Hirsch, Karen Aguiar, David Meuleman, J-f, Troy, Daniel Diehm, John Pasqueralli, Jenny Leek, Kyler Scott, The Scott Family, April Echevarria, Scott Olsen, Scott Lau, Brendan Abel, Cathy Schill, Mike Pennington, Steve Jordan, Nicole Shuler, Ethan Manchester, Laney, Katerina And Patti, Andrew Weed, Pollyanna Buff, Kerrie Hogan, Nathaniel Clements, Paula Massarelli, Theresa Maradei, Christopher Barnes, Regina Byers, Tim Rachuba, Bill Mckim, Kristin Dormuth, Michele Lowery, Emily Dagney, Leigh Mertz, Kevin Geiger, Eric Streebel, Dawn Buras, Sara, Jason Basedow, Kirk Hardy, Vanessa Gordon, Ashley P., and Bob Patterson. Each of you are entered in the April winners' drawing.
_______________________________________________________________________
Challenge #174: Where in the world is this?
One of my favorite fun details in Walt Disney World!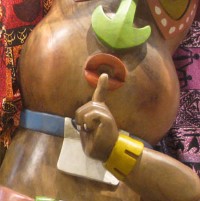 Do you know? Do you have a guess? Please send in your answer, before the end of the day on Thursday, April 28th, by clicking on the blue box below. Please do not post answers using the Feedback Form link at the bottom of this post. Remember to be specific with your answer – just naming a park will not get you into the drawing.
See you next week, Worlders!


_______________________________________________________________________
Everyone who sends in a correct answer to a Where in the World Challenge this month will be entered in a drawing at the end of the month for some special AllEars® goodies and a cool Disney book!