So going on the theory that you cannot have too much Destination D coverage, here are some of my thoughts on the weekend's events.
For one thing, it was a huge relief to find that they had a venue that could accommodate all the people who wanted to be in it. Unlike the Expo of last year, where you could count on a wait of at least an hour to be assured of getting a seat in a given panel, there was sufficient space here for everyone. Of course, people were still waiting hours ahead of time to get a good seat, but you can't have everything.
Steven Clark gave the Welcome, which, with its examples of "rejected D23 advertising campaigns," really set the tone for the weekend: Totally irreverent.
Afterwards, Becky Cline and Paul Anderson were hysterical as they showed slides and recounted anecdotes of the more off-beat episodes of Disney history in Weird Disney.
Starting back in the 1930's, they showed some of the more…curious attempts that were made, mostly by the local theaters, to publicize the characters and their movies. While a lot of the costumes appear borderline frightening, it's interesting to speculate how people will look back in 70 more years, laughing about how we thought blinking eyes were a big deal.
In the 1940's, they related how RKO had hired 11 midgets to wander around on the marquee for Pinocchio as publicity. Unfortunately, the actors proved to be slightly intemperate, becoming inebriated and ultimately taking off their clothes to play dice. Interested onlookers were then treated to the sight of the police chasing the drunks around the top of the theater sign with pillowcases, in order to suppress them.
By the 1950's Disneyland was around, and they highlighted some of the esoteric attractions/spectacles that were created, largely to meet sponsorship needs: The Crane Bathroom of Tomorrow; The Wizard of Bras; The Kaiser Hall of Aluminum Fame; Hollywood-Maxwell's Intimate Apparel Shop; Monsanto Hall of Chemistry; Dutch Boy Paints; and American Dairy Association's "Dairy Bar." Other attractions were eventually eliminated because of logistical problems–live mermaids in the submarine lagoon (too many "admirers" swimming out to meet them) and real fishing off Tom Sawyer's Island (what do you do with the dead fish, the rest of your day at Disneyland?)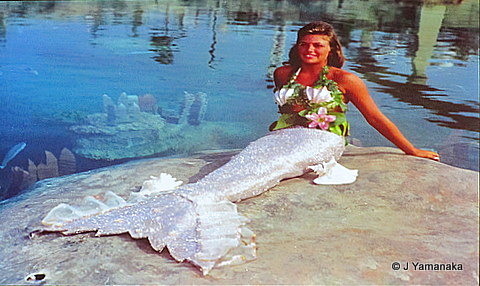 Finally, they ended with a variety of weird parades and presentations that had taken place at Disneyland–from the Christmas parade of different nations, featuring a bunch of English guys carrying a real boar's head down the street, to the America on Parade witch-dunking float, to archival footage of the Aunt Jemima Pancake Races–which looked a lot harder than you would have thought. The women had to run down the street with a pancake in a frying pan that they had to flip over lines mounted fairly high over their heads. If they failed to catch it in the pan on the other side, they had to go back and do it over until they succeeded…all in traditional 1950's-1960's housewife garb.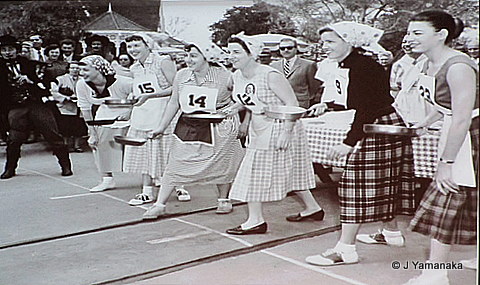 The next panel was the Mickey Mouse Club 55th Anniversary, hosted by Tim O'Day.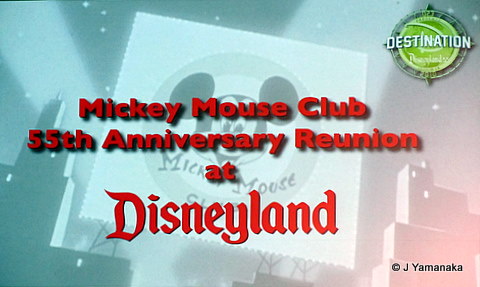 This was something of a surprise for me–not being (quite) old enough to have watched the Mickey Mouse Club in its early years, I wasn't really sure what to expect about how the cast members would interact. Truth be told, I was actually really hoping that I was going to find it totally boring, because they were all going to be signing autographs during lunch and I knew if I liked it, I would be stuck sitting in an autograph line for the whole of the lunch break.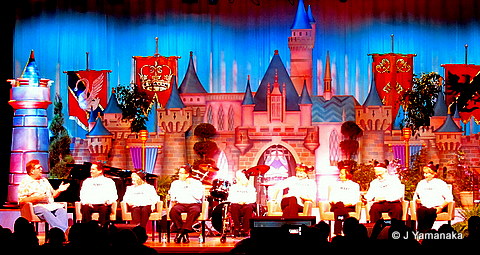 Sadly, it was awesome. Tim O'Day was a great moderator who kept the dialogue moving smoothly between all the different members. They showed a lot of archival footage both from the show and from the Mouseketeer performance at Disneyland's opening day, some of which the Mouseketeers had never seen before.
All of them had extremely vivid memories of the whole time they were on the show, and had nothing but good things to say about it. In general, they tended to feel that it was hard work, but that it was the most fun they could have imagined possible.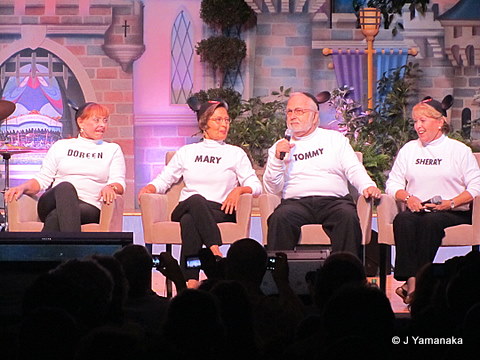 They talked about their audition process, and noted that the show was not looking for kids that looked too professional, and quickly eliminated any children who behaved poorly (or whose parents behaved poorly.) Fond memories of Jimmie Dodd and Roy Williams (who invented the Mickey Ear hat) were related, as well as of Annette, who was unable to be there due to her well-known battle with Multiple Sclerosis.
It was a terrific look into a time where child actors seemed to legitimately be having fun performing, and didn't immediately implode into behavioral disasters on reaching puberty. No, I did not get lunch that day.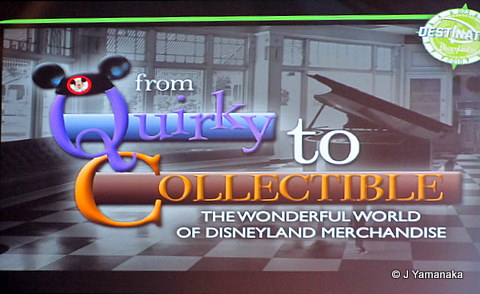 We moved quickly along into the last talk of the morning, one on various quirky merchandising opportunities you would have had, if you lived in Anaheim in the 50's, and were possessed of a lot of forethought.
Again, not being a serious collector, I wasn't initially sure how much appeal this would have for me, but our hosts Stacia Martin, Paul Anderson, and Rob Klein put on a very entertaining presentation.
They presented a large collection of ticket books, some of which were valuable because of their scarcity, like the #1 opening day ticket belonging to Roy Disney, and some of which were just desirable because of the cool graphics they sported.

They also showed a collection of their "top 5 strangest Disneyland collectibles," including the ubiquitous gold nuggets every child pans for at some amusement park or other.
There were various music collections available with park audio, including this LP of America Sings that I remember one friend having when I was little, and I was SO ENVIOUS I pretty much made them play it continuously while I was there on a sleepover.
Among their favorite toys was this shooting game in which Mickey's head is the primary target. Hard to think this would be that marketable today.
And of course you can't forget the Viewmaster–the YouTube of a different generation.
Finally, they displayed some of the rarest collectibles, one of which was the original parking permits issued for Disneyland's opening day. These were intended to adhere to the windshield, so the majority of them were stuck on, and then scraped off after the day (or when you sell the car, if you're in my family.)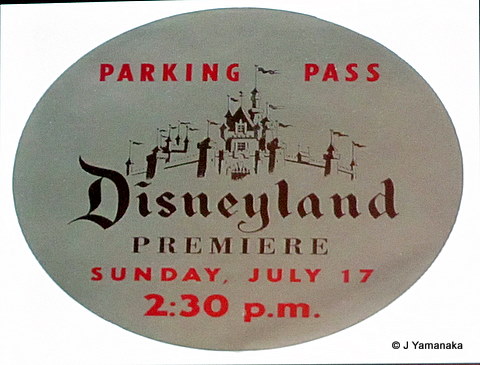 Finally, they ended with a category called "If We Only Got A Time Machine…" in which they showed some of the objects they'd most like to retrieve from the past. A biography you could mail order from the park was one of the favorites, given that for $4.30, you could get your own book written by Diane Miller, and personally autographed by Walt himself. Sob.
With that, it was lunchtime. Now if you'll excuse me, I have to go find the Mousketeer's autograph line…