So here's what I did the last couple of weeks:
On July 1st, the Disney Vacation Club had their first presentation of the Aulani resort at the Disneyland Hotel.
It started off with the first of a couple of short videos of Joe Rohde, head of the Aulani design team, describing the resort and talking a little about some of the cultural tie-ins the resort will have to Hawaii.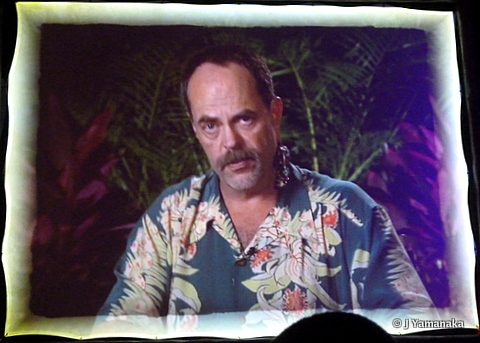 Aulani is translated to "the place that speaks with deep messages," and will have a variety of traditional and contemporary Hawaiian artistic influences in its design and decor. One element they noted was the concept of "hidden menehune" located around the resort, some apparently in places only easily viewable to children–under tables, etc. As a memento, we were all given small menehune figurines of our own.
Between the video clips, the DVC presenters Dave and Nikki described in quick detail the basics of the DVC program. If you've ever been to any DVC presentation, this segment is pretty much the same no matter what resort they're spotlighting, with the exception of different wacky characters that periodically race in for comic relief. This time around, we had "Tour Guide Tim," who seemed a close relative of "Guano Jane, from Flights of Wonder.
Some basic data they related about the resort:
–The 2010 purchase price is $114 per point, which will increase in November.
–Annual dues will be $4.31 per point.
–Consequently, a basic package of 160 points would cost $18,240 initially, with annual dues of $690.
–Hawaii charges a transient occupancy tax of $12-18 per night every stay, in addition to the DVC point cost.
–Parking and internet are included for DVC members, as with other DVC properties.
–All ocean view rooms are actually partial ocean views, with the exception of the Grand Villas.
–Aulani DVC owners may start booking 9/29/10, for the opening of phase I, 8/29/11.
–Phase II is scheduled to open in late 2011.
After the factual part of the presentation, they livened it up with a little singing and dancing from the islands.
Finally, they adjourned to a small reception in the next room complete with character meet-and-greets, dance party, and refreshments.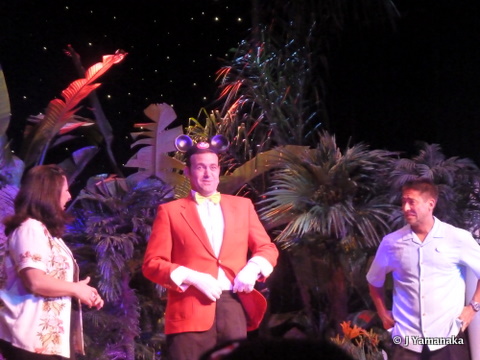 DVC agents were standing by, in case anyone had a spare 20 grand they cared to part with.