Being Disney fans, we consider every hour at a Disney park or resort magical. In photography, each day has two Magic Hours. These are the half hour before and after sunrise and sunset. When the sun is low or just below the horizon, it creates amazing colors in the sky and on the objects around us. Landscape photographers know this and will show up far in advance of the morning or evening magic hours to set up their equipment in hopes of catching something spectacular.
I have talked about watching the sky as you walk around a Disney park before. In the photo below, I was taking a break at the Noodle Station seating area when I noticed how the light was starting to illuminate Cinderella Castle with a lovely golden color. I took many photos over the next several minutes and liked this one the best.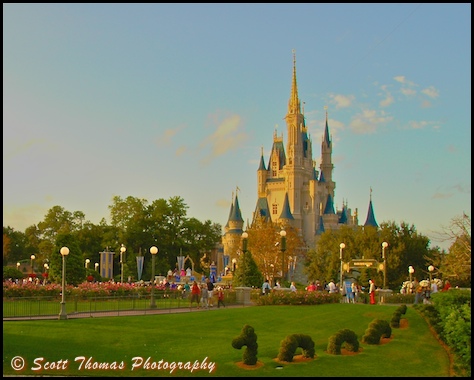 Golden sunlight illuminates Cinderella Castle.
Nikon D70/18-200VR, 1/25s, f/16, ISO 200, EV +0, 18mm Focal Length
The above photo is more awareness than planning. My next trip to Walt Disney World is in early December. Checking the calendar for December, I found the Animal Kingdom will have Evening Extra Magic Hours (EMH) on Wednesday, the 2nd. Normally, Animal Kingdom closes before sunset so this is an opportunity to get some unique photos. One that came to mind is to get a Magic Hour photo of Expedition Everest but what time should I be there to get it?
The Internet quickly gave me the answer. I found the U.S. Naval Oceanography website had a Complete Sun and Moon Data for One Day page which calculates sunrise, sunset, moonrise and moonset for any day and for any city in the world. To find out when the Sun would set on the EMH, I entered in December 2, 2009. Selected Florida for the state in the United States and the city of Orlando in Form A and pressed the Get Data button. It told me sunset would happen at 5:28 PM which tells me I should be set up at least by 5:00 PM. Local weather might interfere but the chances of me getting a spectacular photo have increased with this knowledge.
There are other sites with even more information like the compass reading where the sun will set on the horizon. Given that information and an accurate map, you can determine the best location to get front lighting, side lighting or backlighting at locations you want to photograph at.