The Ft. Wilderness swimming pool has been down for rehab for several months and just reopened last week. This prompted me to take a drive to the campground and check things out. I wanted to snap a few pictures for the Ft. Wilderness Fact Sheet on the Allears.net website.
I am not a camper. My idea of a vacation is a luxury hotel room with maid and room service. So you might find it odd that I would rank Ft. Wilderness as a "must experience" part of Disney World. But there are many very good reasons for my feelings which I will try to describe below.
This area is a surprise to most first-time visitors. They have no idea that such a peaceful spot exists on property. The designers of the campground did their very best to disturb as few trees as possible when creating Ft. Wilderness. Groves of pine and cypress surround the campsites and roadways. Combine this with numerous canals and grassy knolls and you have the perfect spot to pitch a tent or park your RV.
The campground does not allow personal vehicles to traverse the area other than arriving and departing. All transportation within this area is either by Disney bus, electric golf-carts, or foot. This keeps everything very quite.
I arrived at the Ft. Wilderness main entrance located off of Vista Blvd., parked my car, and caught a bus to the Meadows, which is located smack-dab in the middle of the campground. This is where you'll find about half of the activities offered here – including the swimming pool.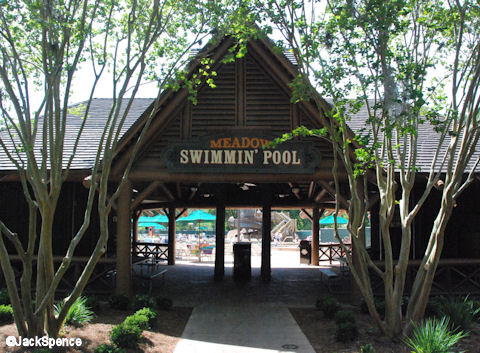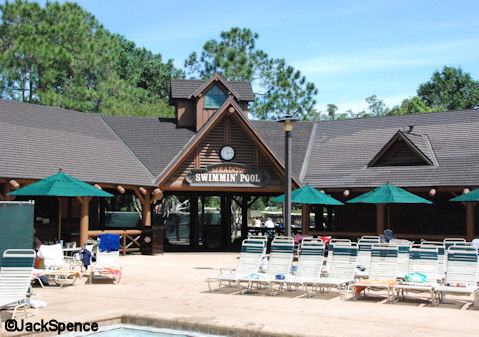 To my eye, it didn't look like much had changed in this area other than to refresh everything in order to keep it up to Disney standards. However, one nice upgrade has been added – a slide.
At first glance, I didn't think it was as elaborate as some of the slides Disney has been adding to other resort pools. But upon further thought, I realized that it fits in perfectly with the rustic surroundings. And here's a nice bit of trivia for you. The large barrel that the slide snakes around is from River Country. The Imagineers wanted to save a little of Disney's original water park and incorporated it into this new structure.
After writing this blog, one of my readers, Jim, was kind enough to let me know that a hot tub was added in addition to the slide.
Also on hand is the Meadow Snack Bar where sandwiches, salads, and pizzas are offered.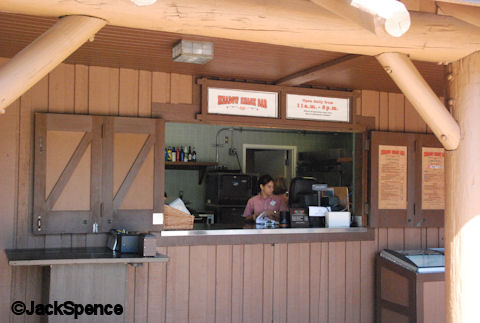 Still under construction is a children's play area adjacent to the pool. When completed, this spot will have water-spouts, nozzles, and moving objects to delight the little ones.
Please note, this pool is ONLY available to guests of Ft. Wilderness.
After I completed my mission of taking pool pictures, I decided to stroll around the campground and enjoy the tranquil atmosphere. Then it struck me. I should blog some of the many activities that are available to anyone vacationing in the area. With this in mind, I headed for the Bike Barn which is just a short distance from the pool.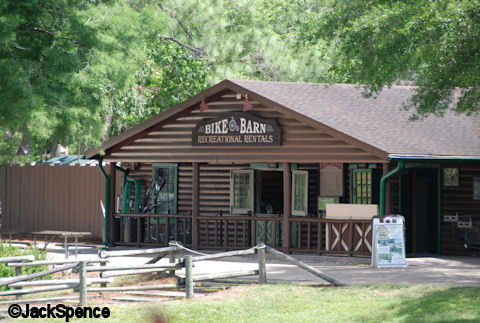 As you might guess, this is the place to rent bicycles. These are definitely low-tech models, perfect for flat terrain. Bike paths crisscross the campground and this is the wonderful way to enjoy a cool summer morning or lazy afternoon. Prices are $9 per hour or $18 for the day.
The two gentlemen below are riding their bikes to their favorite fishing spot. Bass, catfish, and panfish are all waiting to grab hold of your hook. Note, all fishing at Walt Disney World is strictly "catch & release." Cane poles can be rented for $4 for 30-minutes and $9.50 per day. Casting rods rent for $6 for 30-minutes and $12.50 per day. Worms are $5 per package and nightcrawers are $6.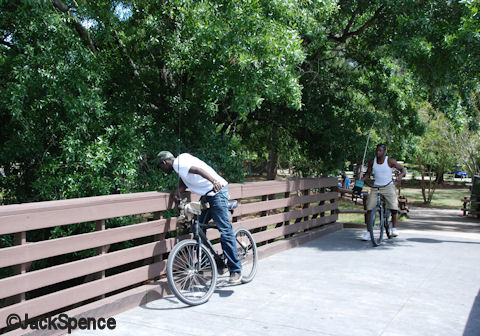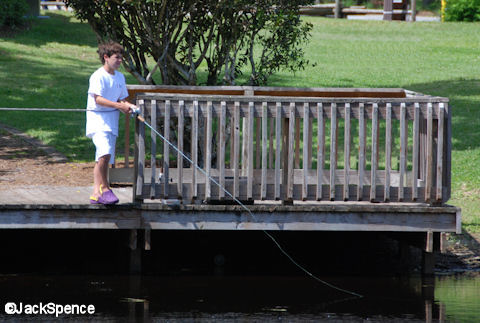 Canoes and kayaks are also for rent at the Bike Barn for $6.50 per half-hour and $11 for 60-minutes.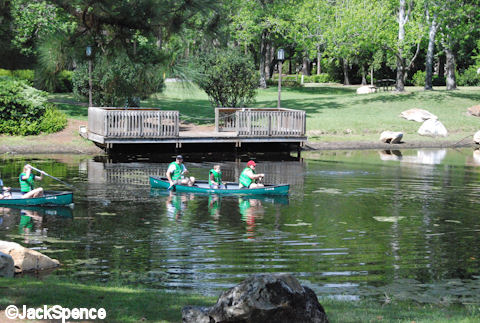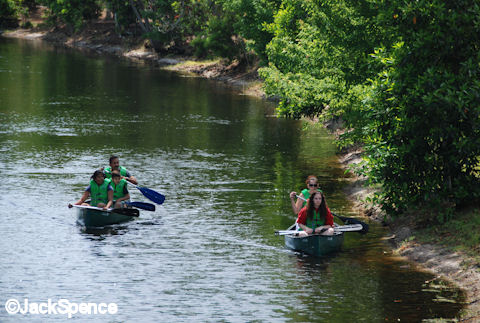 Paddling along these canals is a most peaceful way to wile away an hour. One of the Ft. Wilderness canals makes a circle in and about the campsites and unspoiled woods. It takes about 30-45 minutes to complete the journey and along the way you'll see a varied assortment of wildlife. You might also recognize one of the bridges that the old Ft. Wilderness Railroad once traversed.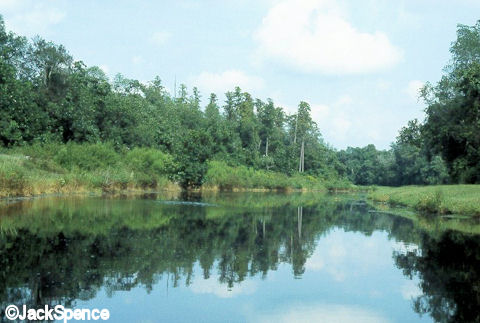 A short distance from the Bike Barn you'll find Wilderness Back Trail Adventure. This is an off-road Segway tour that takes you all the way to the Wilderness Lodge and back. The event lasts two hours including training. The price is $85 but a 15% discount is available to DVC members, Annual Passholders, AAA members, and Disney Visa Card holders.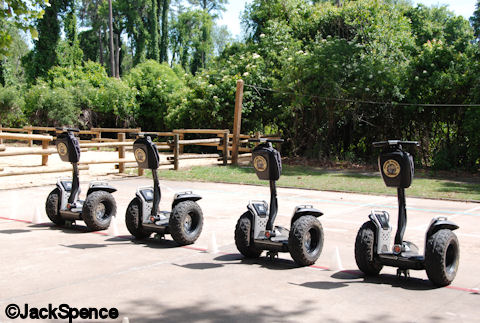 Also located in the Meadows is the Chip 'N Dale Campfire Sing-A-Long. Each evening (weather permitting) you can join these crazy characters in song and a marshmallow roast.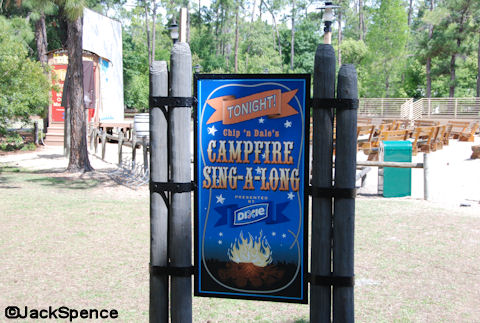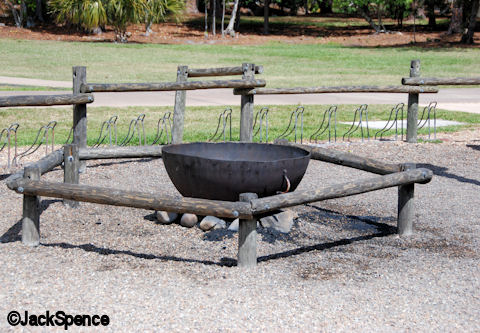 Located nearby is a chuck wagon that sells snacks, soft drinks, and adult libations. When the festivities settle down, it's time to enjoy a Disney movie under the stars. Please note, there is no charge for the Chip 'N Dale Campfire Sing-A-Long (except for marshmallows), but it is intended for Walt Disney World guests ONLY.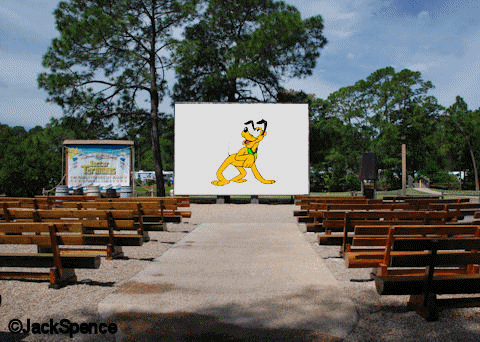 In the mood for a trail ride? Well that's available here too. Call 407-WDW-PLAY for advance reservations and 407-824-2832 for same day reservations. Tickets can be picked up at the Ft. Wilderness Kennel Club located near the entrance of the campground. Then proceed next door to the Trail Blaze Corral where you'll saddle up for a leisurely ride through the forest and meadows.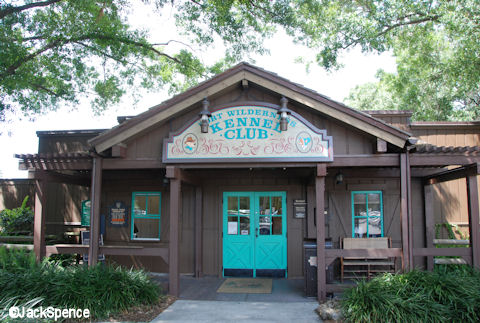 Don't worry about mounting and dismounting. Disney has built a platform that allows guests easy access to their steed.
Note, this is a guided trail ride. No galloping or cantering. You follow a Disney cast member for an unhurried 45-minute walk through the wilderness.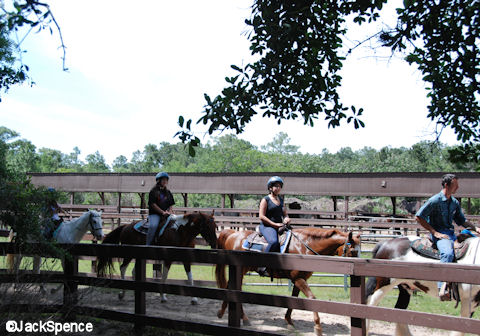 The price is $46. Children must be 9 years old and 48″ in height. There is also a weight limit of 250 pounds. In addition, no cameras are allowed (or any other carry-on) as guest need to concentrate on their riding and not be distracted by photo ops.
At the north end of Ft. Wilderness is the Settlement. This is where you'll find the Hoop-Dee-Doo Musical Review, Crockets Tavern, and the Trails End Buffet. Also in this area is the Tri-Circle-D Ranch. This is the location where all of the horses seen on Main Street are housed each evening. A large barn is open to all and you can see for yourself how well these magnificent creatures are cared for.
Each horse has its own stall, complete with name tag and some interesting "horse" facts.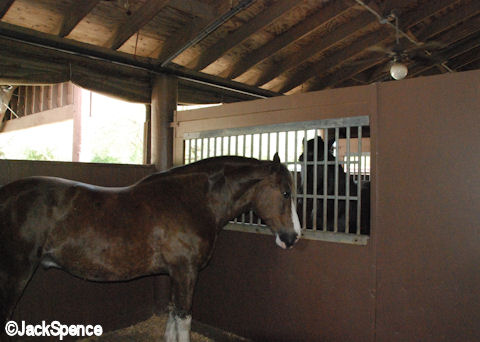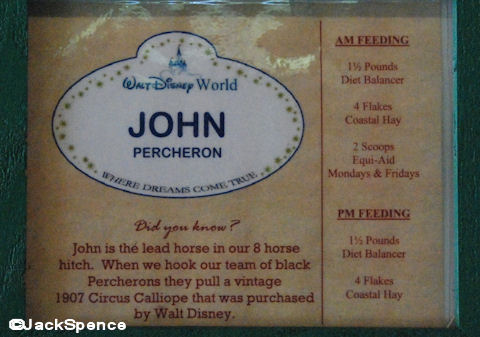 Also found in this area is the Tri-Circle-D Farm. Here you can discover Cinderella's ponies, used to pull her glass coach for special events and weddings.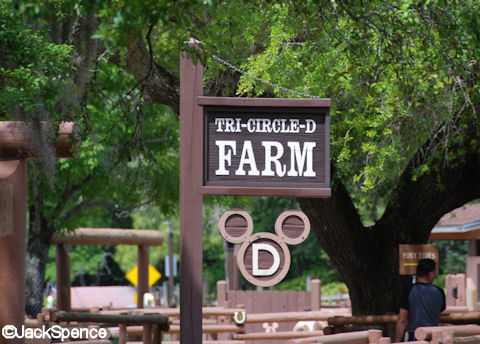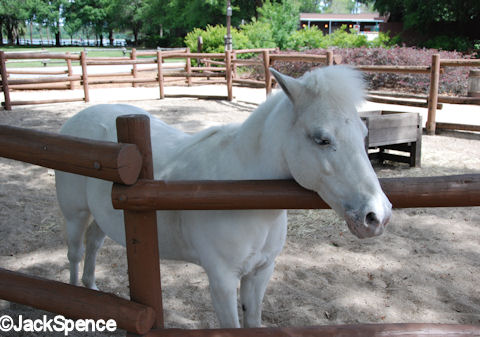 Pony rides are also available in this area. Children must weigh less than 80 pounds, be under 48″ and led by an adult around the small course. The cost is $5 paid in cash or applied to a Disney room charge.
Mickey's Backyard BBQ, located in the Pavilion, offers a nightly hoe-down. Ribs, chicken, corn-on-the-cob, and baked beans are served in a down-home style.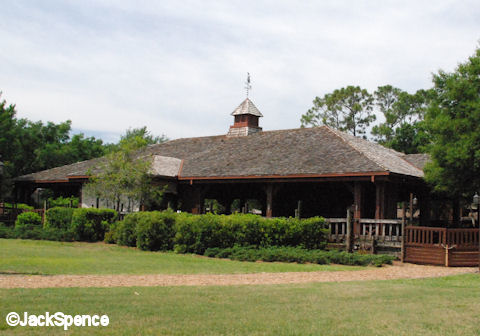 Throw in some Disney characters, a live country band, and line dancing, complete with lessons, and you have a hoop-hollerin' good time. Dates for this show change by season and advanced reservations are required. Call 407-WDW-DINE. Children: $26.99 Adults: $44.99
Ft. Wilderness offers more than what I've described here. Of course, there's the ever popular Hoop-Dee-Doo Musical Review. And don't forget boat rentals at the beach , Trail Blazin' Bingo in the woods, and archery events on the green. And I'll be trying an evening carriage ride in the near future (watch for my blog).
But I wanted to save my favorite Ft. Wilderness activity for last — rocking peacefully on the porch of Crockett's Tavern. Nothing can beat the pleasure of sitting here with a good friend or loved one and talk about everything or absolutely nothing.
So next time you're vacationing at WDW, set aside some time to visit Ft. Wilderness Campground. Even if you don't take part in any of the activities I've described, you'll be happy you spent some time exploring this wonderful spot.