Disney Pin Celebrations Over the Years!
by Guest Blogger Carol Cruise
Once a year Disney has a Pin Celebration, it is usually the first weekend after Labor Day. Each year has a different theme and I have been lucky enough to attend the event the past four years. These weekend-long events are a wonderful time for avid pin traders and novices alike!
The first year I attended the theme was Disney's Pin Celebration 2005 – The Happiest Pin Celebration on Earth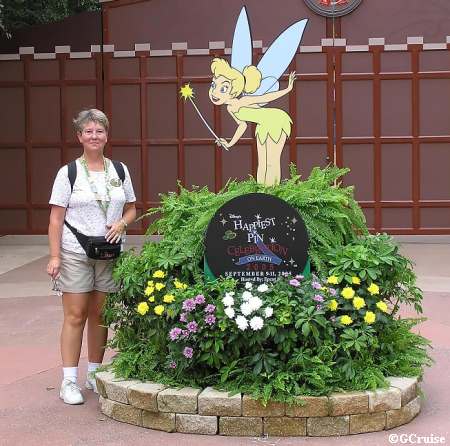 "Celebrate the happiest moments, memories and pins at the Happiest Pin Celebration On Earth. Tinker Bell and friends invite you to a magical, three-day pin trading experience at Epcot. From Princesses to Villains, everyone has something to celebrate"
This event sold out by August 2, 2005. I was so excited to be going to my first official pin event but I was new to the whole "pin trading thing" and very unsure as to what to expect. We flew to Orlando on the Thursday and the pre-registration took place that afternoon at the Yacht & Beach Club. The lines were long and we were both tired but the excitement kept me going. I met some familiar people in line, from Toronto, so it was nice to have someone to ask questions and look to for advice. These people would soon become very good friends and we have all attended many pin events together since that time.
Walking into that pin event was like walking into another world. The even is held every year in the World Showplace, located in EPCOT between Canada and the United Kingdom, in the old Millennium Village site. Disney spares no expense when decorating for the event; pictures do not do it justice. It is simply magnificent!
The second year that I attended was themed Disney's Pin Celebration 2006 – It All Started With Walt. "
Celebrate Walt Disney and all the ideas that his imagination continues to inspire at Disney's Pin Celebration 2006. "It All Started With … Walt," is a spectacular three-day Disney Pin Trading Event that will take place at Epcot from September 8-10, 2006. Join your Friends for a magical tribute to Walt Disney's groundbreaking achievements in Animation, Live Action Film and Television and Disney Theme Parks…a legacy that continues to guide the Walt Disney Company today. "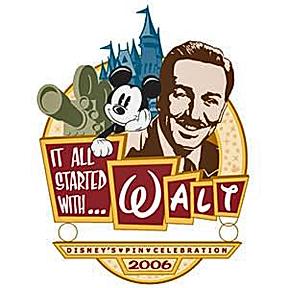 This event also sold out just days before it started.
The only difference from the previous year was that pre-registration took place at the Contemporary Resort in the convention center room Fantasia H. This year we arrived at Disney the day before the event so we didn't have to rush so much and we beat the lines. Once again we met our friends from Toronto in line.
On the last day of the event the World Showplace is opened to the public at 11 a.m. and any unsold limited edition event pins are sold to unregistered guests at that time.
2007 Pin Celebration
The theme for my third event was Disney's Pin Celebration 2007 – Where Dreams HapPin. I was particularly excited about this event, as the main character in the logo was one of my favorites, Figment!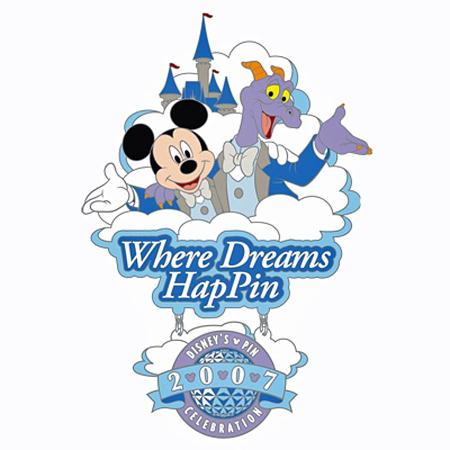 "Step into a world of Disney Pin Dreams at Disney's Pin Celebration 2007 – Where Dreams HapPin. Immerse yourself in a world of endless possibilities where you can dream like Mickey Mouse or imagine like Figment. Enjoy trading opportunities, games and activities, and a "dream-tacular" collection of pins featuring your favorite Disney characters created especially for this event. So, pack your "dreamiest" pins and plan to attend this exciting event. After all, this is the place where pin dreams come true."
Lined up and anxious to get started despite the early morning.
As in previous years the pre-registration took place on the Thursday and this year it was back at the Yacht & Beach Club. I am always amazed at what Disney does to decorate the World Showplace; this year was no different. We arrived before the event opened and stood in line with our fellow pin traders waiting for the gates to World Showplace to open.
2008 Pin Celebration
That brings us to this year's event. Disney's Pin Celebration 2008 – Pin Trading University.
"Graduate with highest trading honors at Disney's Pin Celebration 2008 – Pin Trading University. This three-day, Disney Pin event will be held September 5-7, 2008 at Epcot® – World ShowPlace.
Recall your school days with a "superlative" collection of Disney pins created especially for this event. Students will also enjoy games and activities, plenty of pin trading opportunities and "A Live Auction" presented by the drama club. "
I registered early so that I would be eligible for my "Early Registration" pin, I also only registered myself this year, in previous years both Gary and I registered. He would come to the event with me and help out with the trading boards and also get me the extra gift pins. This year we would be on the Disney Cruise and not arriving at the event until Saturday morning so it didn't make sense for him to register. Besides, he needed to look after the luggage and get us checked into POFQ while I high-tailed it to the event.
We had arranged for Quicksilver to pick us up at the cruise terminal and I had them drop me off directly at the Yacht and Beach Club, it would be the quickest route for me to get to the event. I said my goodbyes to everyone and started along the path towards EPCOT's International Gateway. As you all know, there is a bag check when entering the park and traveling with pin bags can sometimes be quite the exercise. Disney is prepared for this during the Pin event; they have a special entry point for pin traders and a sniffer dog that checks out the pin bags. It is very quick and efficient.
Once inside EPCOT the excitement builds.
When you approach the gates to World Showplace, it doesn't look like much until you actually walk through. You cannot get into the event without credentials; since I was on the cruise and missed the pre-registration a cast member escorted me to the registration desk inside so I could get my lanyard and credentials.
Once I reached the registration desk and gave them my name I was given my package which contained all the pins I had ordered plus all the event information and coupons. There are quite a few special items given to each participant. The registration is $100 and that seems like a lot but what you get back sure makes it worthwhile for an avid pin trader!
EVENT ADMISSION INCLUDES:
Opportunity to pre-purchase limited edition pins designed especially for this event.
"Purchase with Purchase" pin promotion for event Guests only featuring exclusive pins.
Trading activities and games at World ShowPlace located at Epcot.
Limited edition commemorative gifts.
Live and silent auctions of pre-production pins, artist proof pins and more.
"First Trading Opportunity" to collect brand new Hidden Mickey pins.
Opportunity to meet Disney Pin Partners from The Walt Disney Company.
Two (2) $15 Gift Cards redeemable at Epcot Food and Beverage locations.
Plus extra special surprises throughout the event.
I also received a letter to visit the Dean's office; this was a random thing that some guests got in their package. It gave you a specific time to go to the Dean's office and each group got a special gift. My time was 3:30 p.m. so I was lucky that I did not miss it by arriving late.
In the package there was a Passport. You had to take the passport to each of the Pin Partners and get it stamped. Once you had your passport stamped you handed it in and got a special limited edition pin from the partners. The Participating pin partners this year were Disneyland CA, Disneyland Resort Paris, Disneyland Hong Kong, Disney Soda Fountain & Studio Store and Walt Disney World.
I also had to pick up my Early Registration Pin, my gift pins that included a Jumbo Pin, a boxed set and a single limited edition registration pin. There were also my "purchase with purchase" pins that I was eligible for. You could get one pin for every $75 that you spent.
The package also included a voucher for a snack and drink. The snack was a Rice Krispie Mickey head and your choice of drink. Other information in the package included a list of the new Hidden Mickey pins that were being released at the event, an itinerary listing all the activities as well as information on both the silent and live auction.
Once I got myself organized I went in search of Susan, one of my friends. I had a lot of catching up to do. Susan actually found me and led me to the back area, where all the pin trading takes place.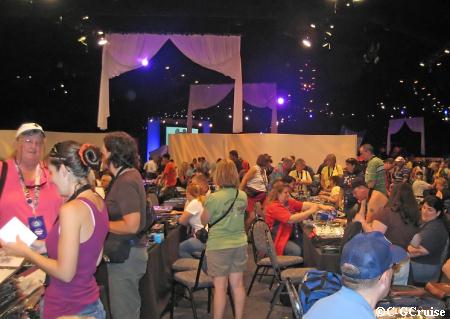 Our group had a table staked out and there was someone there at any given time so you could leave you stuff there and not worry about it. I unloaded some of my bags and said hello to everyone. Susan had already found me most of the new Hidden Mickey pins so I only had a couple left to look for. The pin trading boards would be my next challenge.
I walked back into the main room and took it all in, there is a lot to absorb and I found that arriving late and missing the first couple of days set me back. There was so much to see and so little time left. I immediately got in a line and waited for my turn at the boards.
To explain the pin trading boards, lets see…
There is a queue set up in front of each board where everyone lines up to wait for their turn to trade. There are about twelve different boards in the room. Each board is set in a different themed area, the theme representing the event theme and fashioned after a pin from the event. The boards are large corkboards, each manned by a cast member. When you reach the board you give the cast member two of your pins in exchange for two pins you select from the board.
The catch is that you only have sixty seconds to find the pins you want. That may seem like a long time but there are hundreds of pins on the board and it is very hard to focus on any one specific pin. I was looking for three particular Hidden Mickey pins. When your minute is up, you take your two new pins and the CM puts your old pins on the board. The boards are refreshed every thirty minutes, so new pins come out and the old pins go into the back. It is very exciting when a board gets refreshed just before your turn . . . that means you have a good chance at getting the new pins.
After I had waited through a couple of lines I took some time to walk around and look at the decorations. Disney does a fantastic job decorating for the event; each of the areas represents or replicates a pin that was designed for the event. Everything ties into the theme.
Above you see an area decorated with a car from the old Mr. Toad ride and below it is the corresponding pin with Mr. Toad teaching Driver's Ed.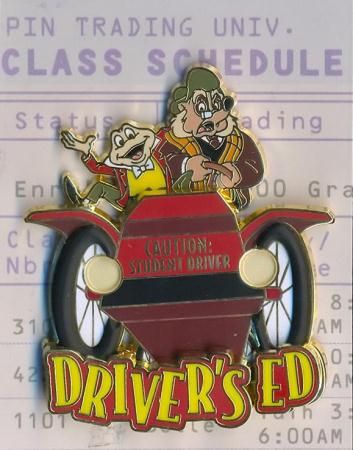 Above you see a scene depicting Roz from Monsters Inc. as the Lunch Lady. Beside it is the corresponding pin.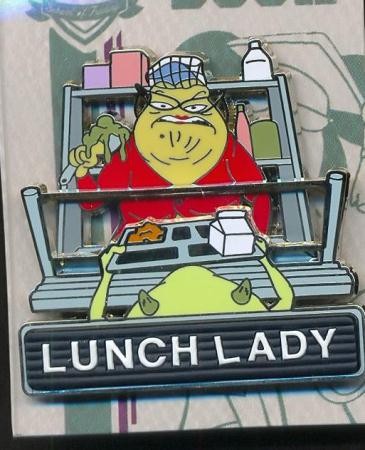 It was getting close to my appointment with the Dean so I just did a bit of wandering and had my snack. People were also starting to take seats for the live auction. When it got to be my turn to go into the dean's office my "reward" for being a good student was an opportunity to choose a Jumbo pin off a trading board that held about 50 large pins. I had exactly 30 seconds to make my choice. I frantically scanned the board. Since I had just gotten off the cruise I was looking for a cruise pin. Just as the cast member sounded times up I grabbed a large pin from Castaway Cay that had the Fab Five on it. I was very pleased with myself!
At 4 o'clock the live auction started. I have never participated in this, it is a bit too rich for my pocket book, but I do like to watch. The auction consists of one-of-a- kind pins, they may be artist proofs or even a pin that was designed but never released. There are also framed sets and pre-production pins. Some of these go for thousands of dollars!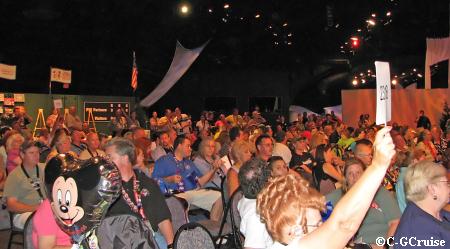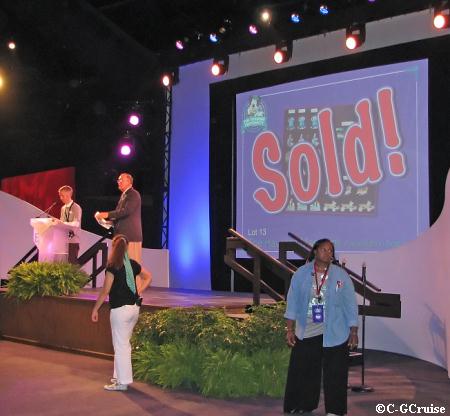 After the auction is complete the last hour and a half was spent in line at the pin boards and chatting with fellow pin traders. I am not much for going around the back room trading, but I do enjoy trading while in line for the boards. It seems less formal and everyone likes to chat about his or her pins, it makes the wait go by a whole lot faster.
The event is open on Sunday morning for all registered guests until 11 o'clock and then opens to the general public. I usually don't return on the Sunday morning, I have had my fill by then and my legs are tired from all the standing. This year I was going to go since I had missed so much of the event but we had a chance to meet with some fellow cruisers at Hollywood Studios and ride Toy Story Mania and that won out.
Each year at the end of the event they announce the next years theme and dates, this year they announced the theme but no dates. There appears to be some conflict with a pin event being planned at Disneyland so we are all guessing it will be later in the fall, probably October.
The theme next year – The Museum of Pin-tiquities – Search for the lost keys.
I hope to be there! Maybe I'll see you!
Carol Cruise
PS. Stay tuned for the 2nd part of this blog when I will share Tips for First Timers!