I guess you could call Mediterranean Harbor the Main Street of Tokyo DisneySea.
You enter this port of call by walking underneath the MiraCosta Hotel (instead of a train station), and to either side and beyond this walkway is an array of shops.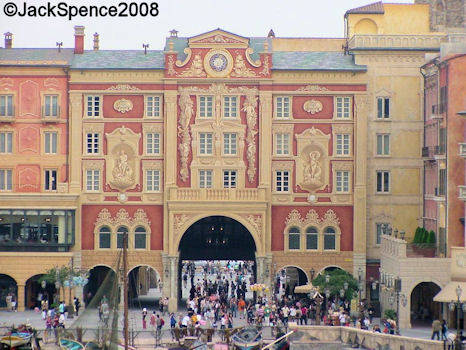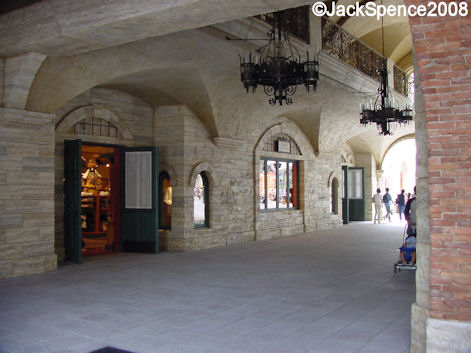 There is a Japanese custom to bring gifts home to give to family and friends when traveling, and cookies and candies make the perfect remembrance. To accommodate this need, a number of shops sell nothing but decorative tins full of these taste treats.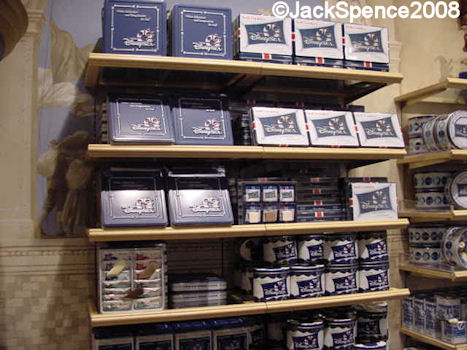 A cute sign can also be found in this area that says, Piazza Topolino Nord. This translates to North Mickey Mouse Square. You see, the Italians call Mickey Mouse, Topolino.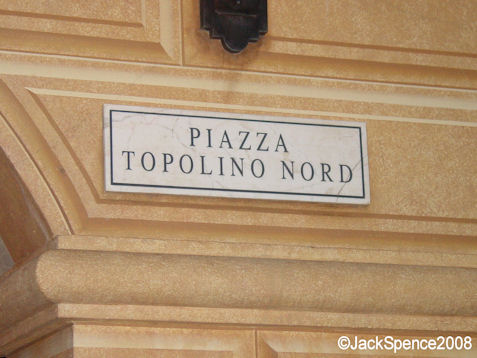 For those of you who haven't caught on, DisneySEA is all about the oceans and seas of the world. Each area of the park represents a different water-related locale. Thus, Mediterranean Harbor is a seaside village overlooking a sizeable marina. This is the largest body of water in the park and this is where the daytime and nighttime pageants are performed. There are no parades at DisneySea.
The current nighttime show is called BraviSEAmo. This is the story of how the "Spirit of Water" meets the "Spirit of Fire" and they fall in love. The show begins with elaborate fountains erupting around Mediterranean Harbor. Then, the "Spirit of Fire" rises from the sea in all its glory, eventually setting the entire harbor on fire. This show gives Illuminations in Epcot a run for its money.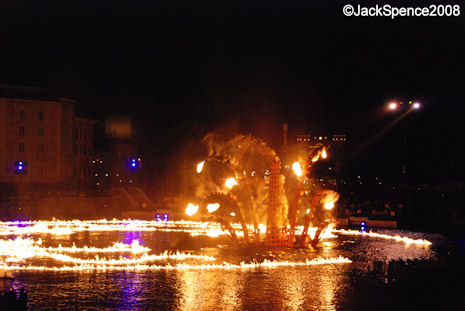 Mediterranean Harbor is also the area where you'll watch the fireworks.
Since Disneyland and DisneySea sit somewhat back-to-back, both parks watch the same firework display, but to different music.
Disney planned this area well and built excellent viewing spots all around the harbor. Many of these locations are either raked or stair-stepped to afford excellent views to as many guests as possible.
Another nice detail, Disney hid sound and lighting equipment underground and in various structures around Mediterranean Harbor. Then, right before a show begins, trap doors open and up rises large poles with spotlights and speakers attached. Below is an example of one of these structures.
Hidden away in a back area of Mediterranean Harbor is the Venetian section. Here, guests can board authentic gondolas for a trip along a canal, under bridges, and out into the harbor. All the while, your gondolier sings and tells jokes. Since I don't speak Japanese, I don't have a clue as to what he was saying, but everyone else on the boat seemed to be amused. These gondolas are not on tracks and are propelled by the gondolier.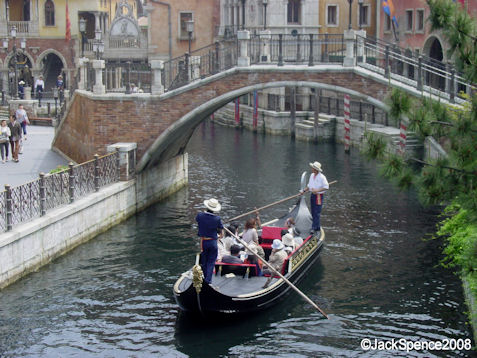 Separating Mediterranean Harbor from American Waterfront is a bridge reminiscent of Ponte Vecchio, the old bridge in Florence, Italy. There really isn't much on this bridge except a few vendor carts. Its real function is to add more viewing for the water pageants and provide a walkway to other areas of the park.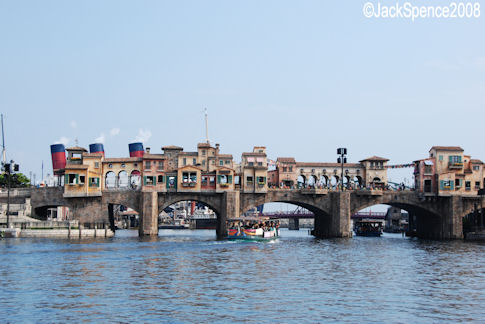 Another attraction in Mediterranean Harbor is the DisneySea Transit Steamer Line. This ride has three stations, the other two being in American Waterfront and Lost River Delta. This is not a hop-on, hop-off attraction. Depending on which station you load, you will be required to exit at another station. In this case, if you load at Mediterranean Harbor, you will exit at Lost River Delta.
The Japanese are a stickler for rules. On my first visit to Tokyo Disney Sea, I had my video camera with me. I was filming from the Steamer when we pulled into a station. I noticed that absolutely no one was in line to board so I asked if I could remain on the boat so I could continue filming. I was told no, that I must exit and reenter through the entrance. Not wanting to be the ugly American, I just smiled and said thank you. By the time I exited and then weaved through the entrance queue, the boat had sailed without me — empty.
The Transit Steamer Line stations are designed to look like warehouses where these boats could pick up and deliver cargo. A sharp eye will notice that the station in Mediterranean Harbor has a number of wine barrels and crates with the name Zambini Brothers stenciled on them. Just across the way from the station is the Zambini Brothers' Ristorante, which is designed to look like a winery.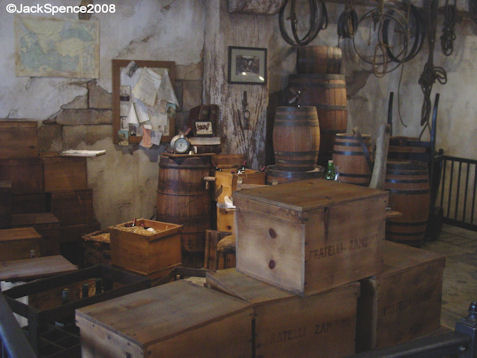 For me, the best part of Mediterranean Harbor is Fortress Explorations. Think Tom Sawyer Island meets Leonardo da Vinci. This is a medieval castle with numerous chambers and pathways to explore.
Here are just a few of the treasures you'll discover.
An ancient planetarium.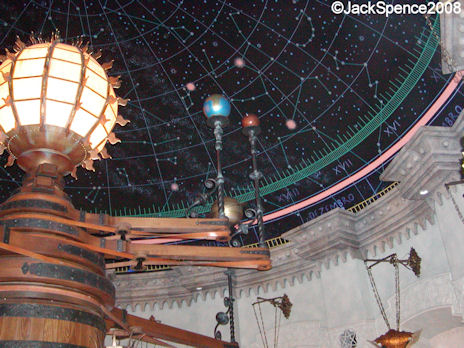 A pendulum that demonstrates the rotation of the earth.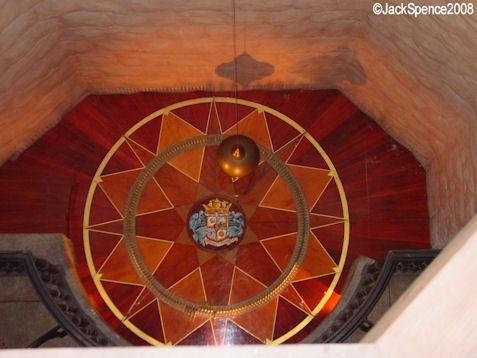 Miniature galleons you can pilot by remote control.
A flying machine da Vinci might have invented.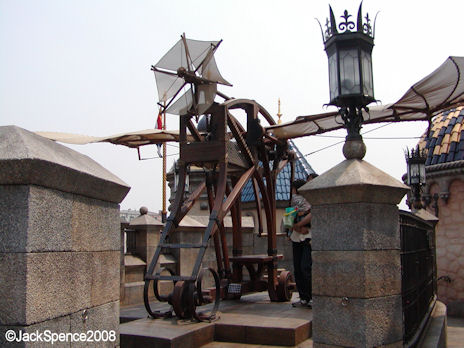 An old sailing ship.
Another hidden treasure in Fortress Explorations is Magellan's Restaurant.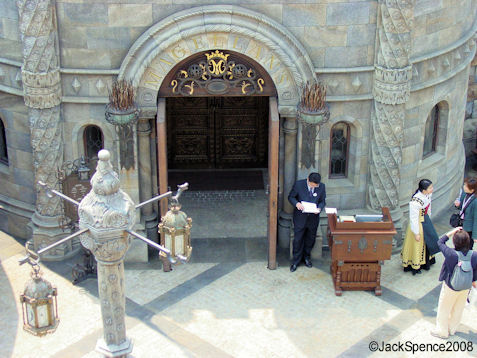 Here, diners enjoy a meal under an ancient globe of the world. Intricately carved wood, wrought iron chandeliers, and stucco walls conjure up images of old Florence and one might imagine that this is how the Medici's once dined. Alcohol is served at Tokyo DisneySea and Magellan's offers an extensive wine list. This is a restaurant where you'll want to spend several hours, soaking up the lush atmosphere, casually enjoying a multi-course meal, and then finish it up with a fine liqueur.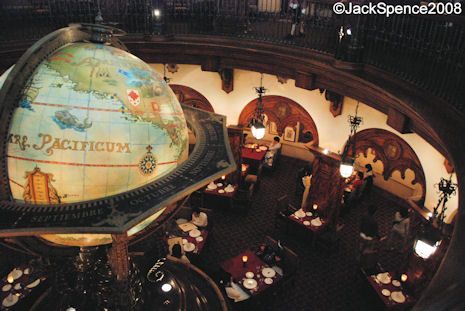 Next blog, American Waterfront