In less than 2 weeks time, I'll be in Harrisburg PA for Fred Block's MagicMeets event! This will be my 3rd appearance at MagicMeets and the 4th meet overall. I'm getting really excited.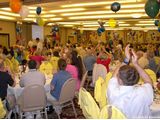 I know, some of you are wondering, what exactly is MagicMeets. For those of you who have had the good fortune to attend a December MouseFest, think of MagicMeets as one day of MouseFest. Now that you have that image in your minds, condense it into 8 hours in a huge ballroom, with 500 of your closest Disney internet buds, well known Disney-related Authors and Webmasters and well, you get the idea. But let me back up a bit….
MagicMeets began 4 years ago (then called DisMeets) by Disney fan- extraordinaire Fred Block. Held in a small ballroom in North Jersey, approximately 40 folks gathered for several hours of a concentrated Disney Fix. Speakers that year were WDW Trivia book author and webmaster, Lou Mongello and John Rick, founder of the Central Jersey Pin Traders group. It was such a huge success, that Fred wanted to build on it to become a Mid-Atlantic day of Disney.
The 2005-2006 meets were held in Allentown PA – kind of a central point Fred discovered on a map as he tried to find a location central to folks in Ohio and Pa as well as the northeast and Maryland and Virginia. Over 350 fans attended in 2006 and enjoyed 2 keynote speakers, a total of 9 breakout sessions and a day full of fun and magic.
Fred's event quickly outgrew the Allentown Crown Plaza facilities and he spent much of last fall and winter scouring the mid-Atlantic for a new venue. After months of research and discussions, he decided upon the Radisson Penn Harris Hotel & Convention Center in Harrisburg, PA, just 20 minutes from Hershey Park's chocolate world. The Radisson offers a separate conference facility with a huge ballroom and breakout rooms. The conference area is just across the parking lot (a short walk) from the main part of the resort where you will find the guest rooms, front desk, and restaurant and lounge.
The morning keynote speaker for the 2007 Magic Meets will be none other than Mike Scopa (columnist on MousePlanet, co-host on the WDW Today Podcast and AllEars blogger). Mike hasn't disclosed his theme yet, but he promises to have some Disney Magic 🙂 When I asked Mike to tell me what MagicMeets has become for him, he explained, "After experiencing the 2006 DisMeets I was convinced that along with Mousefest that MagicMeets will also be a must do on my calendar every year. The enthusiasm, the energy, the people, and the "Disney Magic" I discovered that weekend has hooked me forever."
Mike's talk will be followed by 3 separate breakout sessions with speakers including: Len Testa (Unofficial Guide), Dave Marx (Passporter Guide Books), Steve Barrett (Hidden Mickeys), Tim Foster (author), John Rick (Central Jersey Pin Traders), Sharla Whalen (scrapbooking and photography), Kevin Fonner (Home Imagineering), Annette Owens (travel planner) and Becky King (former Cast Member).
After lunch, the afternoon keynote speaker Lou Mongello (one of only 2 speakers to attend all 4 meets) will talk about the Seven Wonders of Disney World. I've seen a few of Lou's mini articles on this topic and it should be a great one.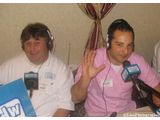 But wait, there's more!!!!!
Several activities also run concurrent to the day's schedule that you'll want to know about.
First, the guys from WDWToday Podcast will be broadcasting live; much like they did in 2006. There will also be a special segment where you can call in during the afternoon. Be sure to tune in and listen to Matt Hochberg, Len Testa, Mike Newell and Mike (will he lose his voice) Scopa and their special guests! For details visit the WDW Today website!
Also, is the 2nd annual DisneyWorldTrivia.com "Dream Team" silent auction! Over 110 lots of new and collectible Disney merchandise will be auctioned to raise money to send children with life-threatening illnesses on a Walt Disney World vacation. This year's recipient is the Make-A-Wish Foundation® of America through Firstgiving.org. In 2006, the Dream Team was able to sponsor the wishes of two children through the Starlight Starbright Children's Foundation of NY/NJ/CT to go to Walt Disney World. Over $3,800 was raised at the MagicMeets silent auction!
Pat Whitson, Dream Team 2007 Auction Coordinator, told me: "I'm really hoping to blow that $3800 total from last year out of the water. We have so much more to offer – more merchandise, more variety, better quality overall. Firstgiving makes it a lot easier for us to collect the funds, encourages more people to donate, and distributes the money directly to Make-A-Wish. Our donations page is at http://www.firstgiving.com/dwtdreamteam.
This year's MagicMeets event also has some new activities that will be sure to put smiles on everyone's faces.
Friday night is a special VIP event. Hosted by MouseFanTravel.com, AllEars.net, and MagicMeets, 40 adults staying 2 nights or more at the host hotel will be selected by random drawing for special perks. In addition to limited merchandise, attendees will be able to get their event registration completed so no long lines on Saturday!
Also at Saturday's Magic Meets will be Segway of Central PA! Fred plans on bringing his own personal Segway to the meet as well! Saturday evening Sharla Walen will be hosting a Scrapbooking Meet.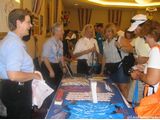 Oh and did I mention that there are author, webmaster and vendor tables located around the ballroom too!
On Sunday over 145 attendees will be heading to Hershey Park for a day of amusement park fun and games.
I recently spoke with Fred and asked what his hopes are for the 2007 meet: -This year's event brings lots of new things that I'm really excited about. It's the first year we are doing the Friday night VIP Party and it's also the first year we will have MagicMeets pins. I'm looking forward to seeing lots of new, and returning, friendly faces and having an overall good time."
Last, and certainly not least, I would be remiss if I didn't mention the tireless volunteer staff that Fred has assembled that help make the event run smooth as silk.
I'm ready for a weekend of Disney and excitement, seeing dear friends again and meeting new ones. I hope to see you there!
If you weren't one of the lucky folks to snag a ticket before the event sold out, you can follow the activities right here in Blog Central! Mike Scopa will be posting daily blogs as will Deb. There will also be a laptop at the AllEars table so folks can blog live on our Guest Blog about the experience!
IMPORTANT: Magic Meets is SOLD OUT and there will be NO walkup tickets available. You must be a registered, paid, ticket holding participant to get your event day credentials and entrance to all the sessions. The 2007 event sold out hours after Fred announced it. So if you want to attend next year, i suggest you go to his website and sign up for the newsletter!!!
Hope to see you there!