Our latest late-night adventure was in Disney World's Hollywood Studios for the After Hours event. As with the Magic Kingdom's and Animal Kingdom's versions of this event, guests purchase a ticket for this event, and have three hours in the park after closing — with very few other guests.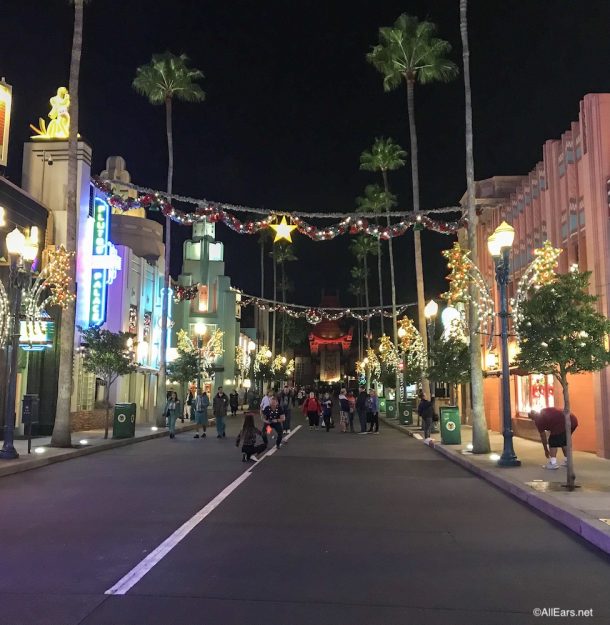 That's right! Imagine being in the park with pretty much no wait times for rides, no crowds, plus free soft drinks, popcorn and ice cream treats!
When attending After Hours, as you enter the park you'll be wristbanded, just like we were at Animal Kingdom's After Hours, and similar to when guests attend Mickey's Not-So-Scary Halloween Party or Mickey's Very-Merry Christmas Party.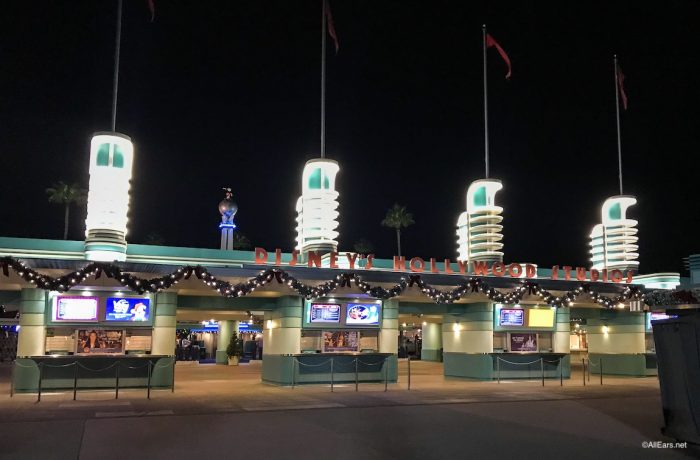 After your security and bag check, entrance and wristbanding you are off for a night of fun in the park. There is a special edition Times Guide for the event.
If you are photographer, or get frustrated trying to take photos when others walk in front of you this is an ideal time to be in the park.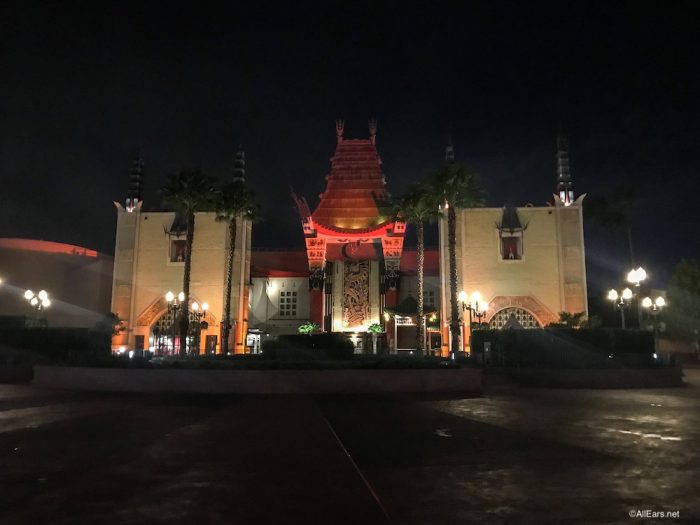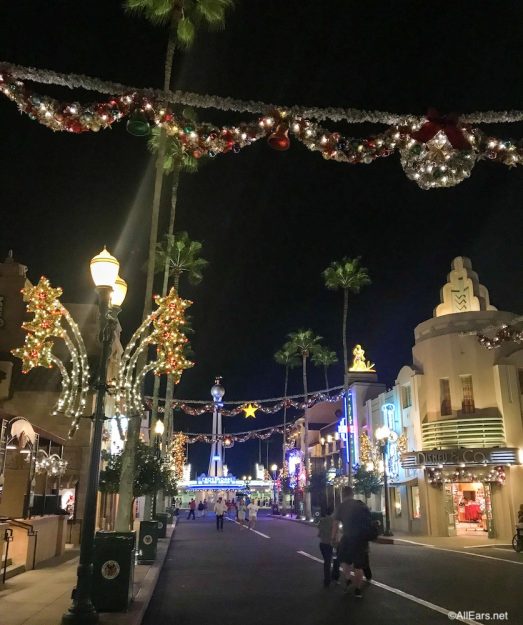 This is always a difficult spot to get a photo with friends and family — during After Hours you could take as many photos as you wanted!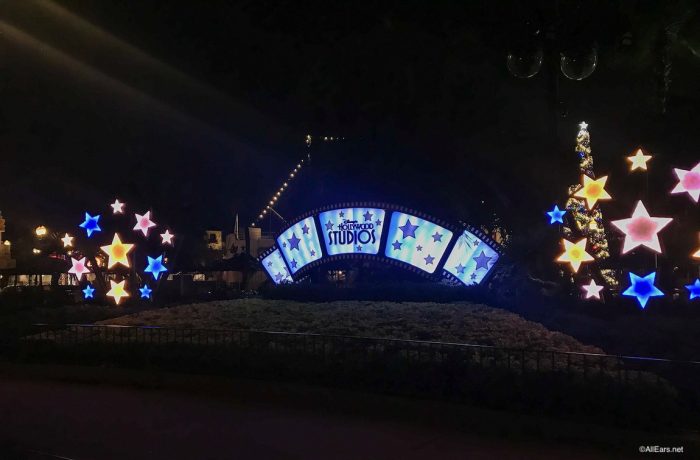 A pleasant surprise was finding out Sunset Seasons Greetings was being played continuously through the night on Sunset Boulevard. This included the projections, lasers, and SNOW!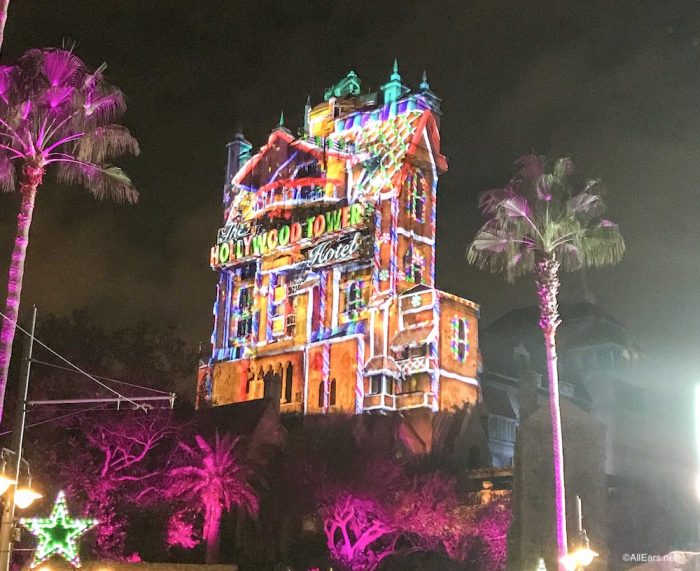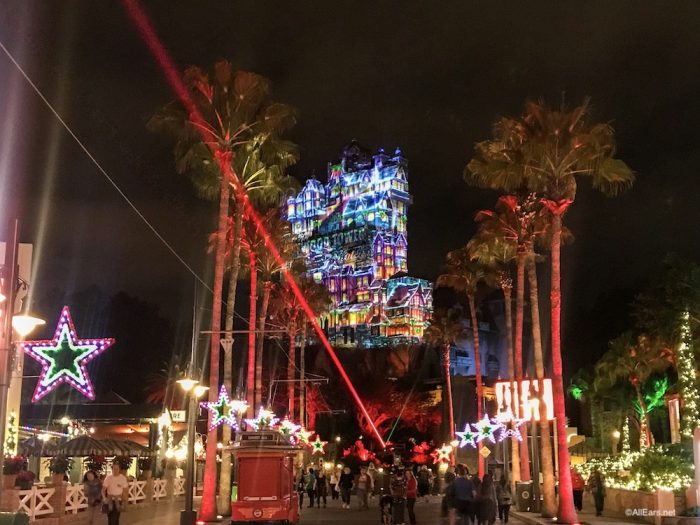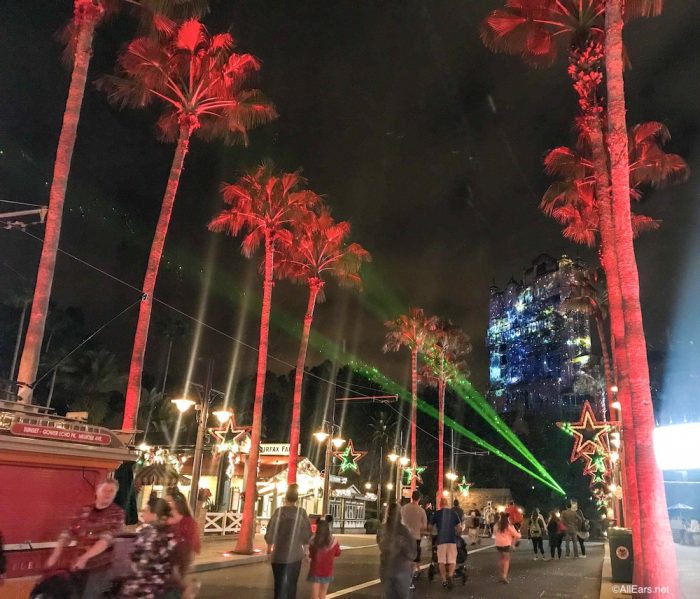 After taking in the sights and sounds of Hollywood and Sunset Boulevards we were off to enjoy the attractions and entertainment available for the night.
In Echo Lake we first said "hello" to Gertie decked out in full Christmas gear!  Since Gertie with her Santa hat on and the Christmas tree put us in a warm and fuzzy mood, we stopped in to share warm hugs with Olaf (after a five-minute wait).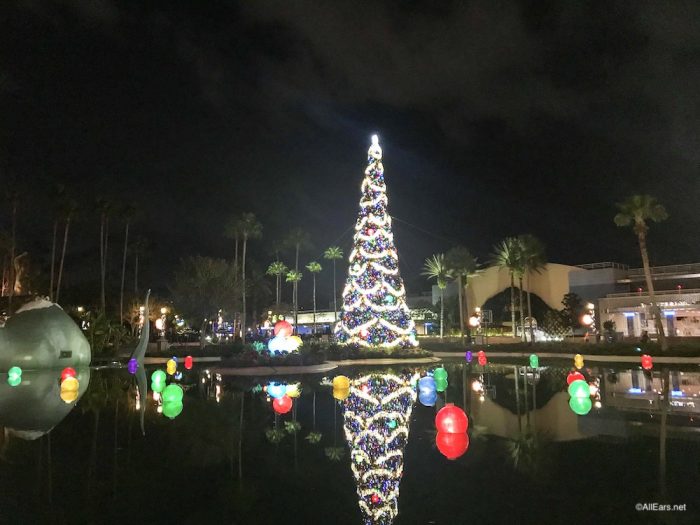 Then we were off to Star Tours – The Adventures Continue. Throughout the evening guests enjoyed a five-minute wait time for this ride — which is mostly spent walking through the queue system to get on the ride.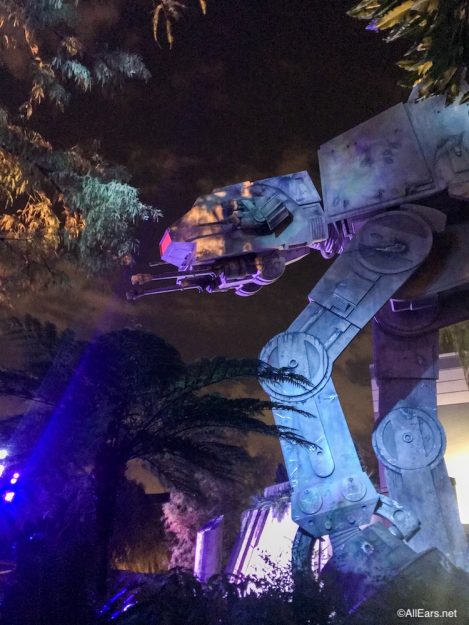 Tatooine Traders is also open, so if you want to take the time to think about and build your own light saber this is the time to do so.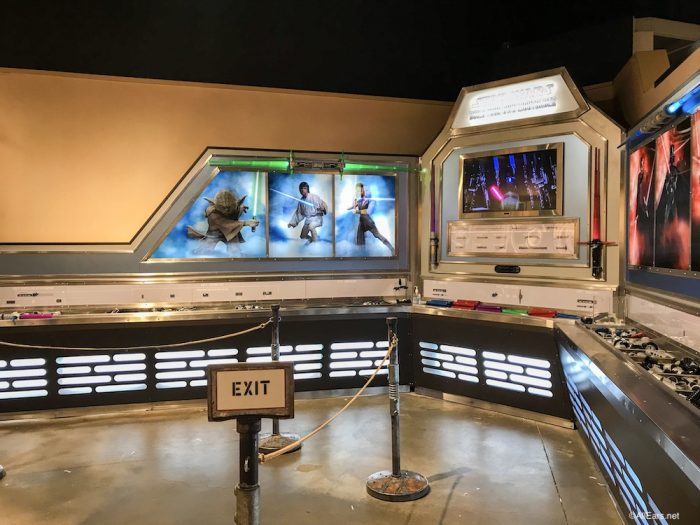 Muppet*Vision 3D is not open during this event, but the restrooms (Gonzo's Royal Flush) are, and they are empty as well!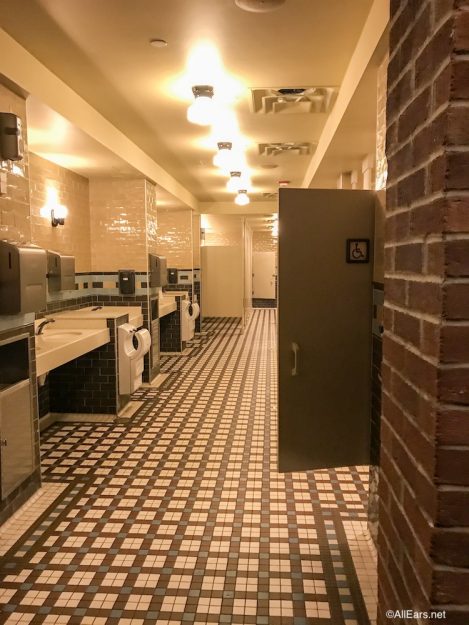 On our way to Toy Story Land, we stopped to say "Hello" to Mickey and Minnie in their Meet and Greet area, Red Carpet Dreams, across from the ABC Commissary (which is closed during this event).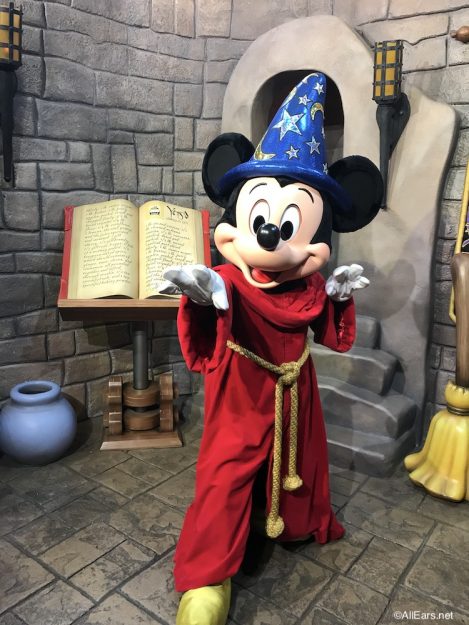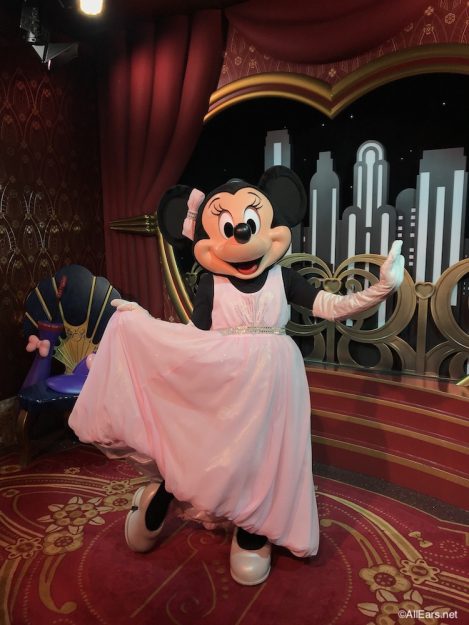 Over in Toy Story Land we rode Slinky Dog Dash, Alien Swirling Saucers, and Toy Story Mania! an embarrassing number of times!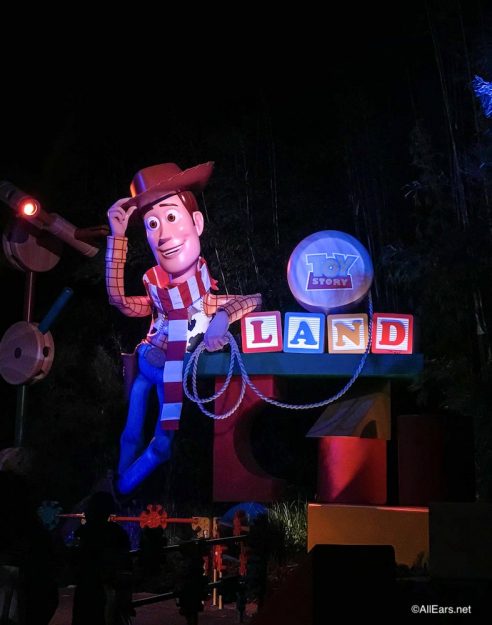 When do you see Toy Story Land like this??? Never!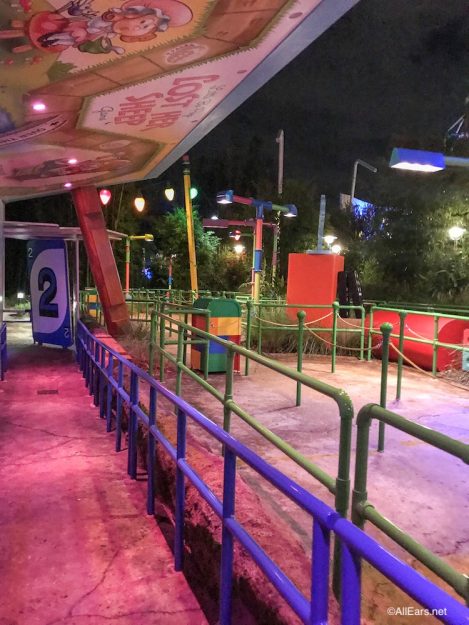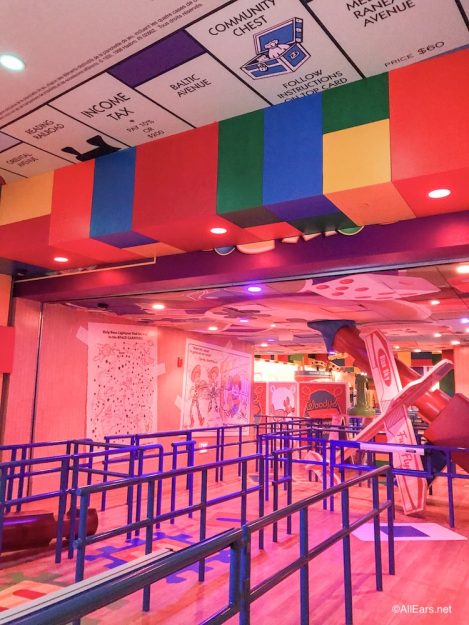 Slinky Dog Dash had the longest wait of the night, which was in the 10-15 minute range all night.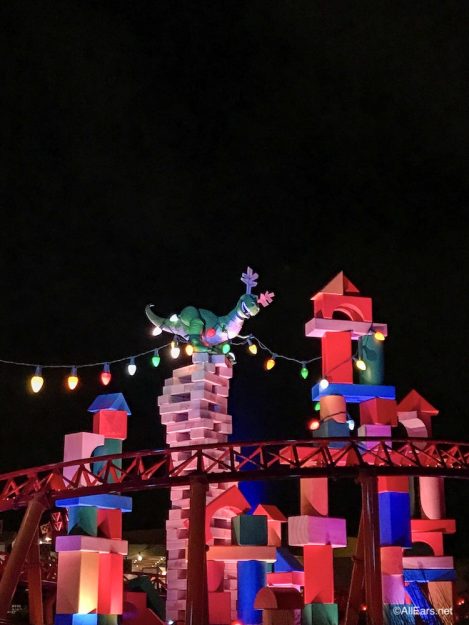 Alien Swirling Saucers had a five-minute wait time, as did Toy Story Mania!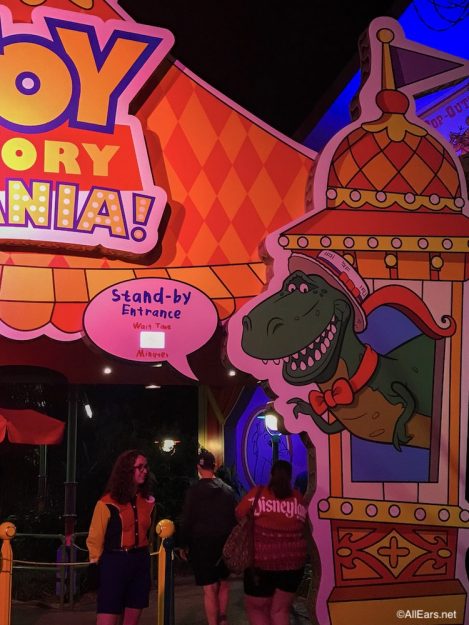 After we were done riding the Toy Story Land rides we made sure to say hello to all of the Toy Story Pals — Buzz, Woody and Jessie dressed in their Holiday best!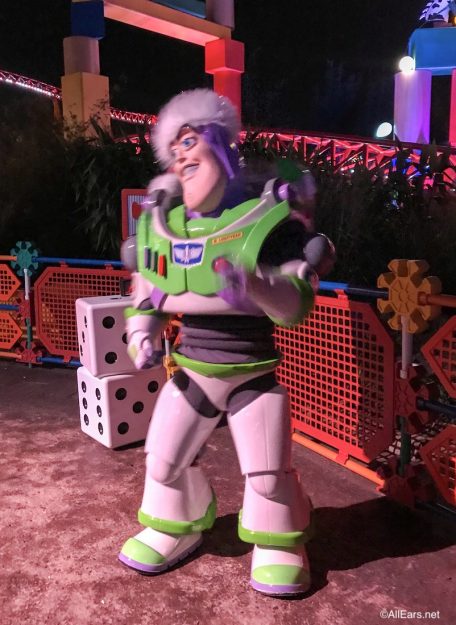 Next up was Star Wars Launch Bay. We waited 10 minutes to watch the film, and five minutes each to meet BB-8, Chewbacca, and Kylo Ren.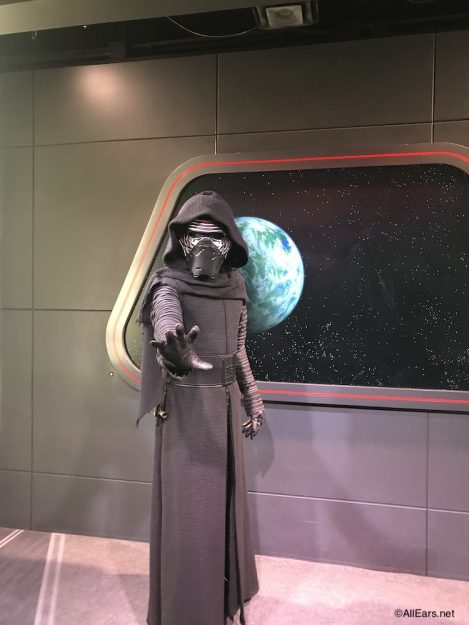 Back on Sunset Boulevard, we hitched a ride with Aerosmith on the Rock 'n' Roller Coaster after a 5-10 minute wait.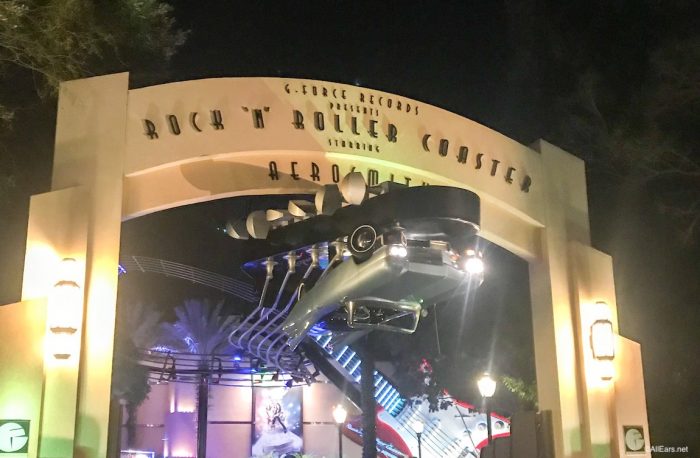 If you're brave enough to wait 13 minutes for The Twilight Zone Tower of Terror you can enjoy a pleasant elevator ride there.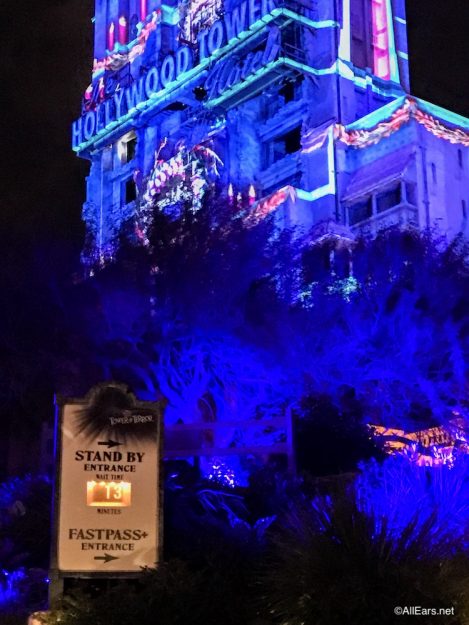 Of course to do all of this ride riding and character greeting we needed sustenance. The After Hours ticket includes select beverages (Coke, Diet Coke, Sprite, and Dasani Water), popcorn, and ice cream novelties (Mickey Bars, Mickey Ice Cream Sandwiches, Edy's Fruit Bars). You can pick these up at all of the popcorn carts and snack stands around Hollywood Boulevard and a cart across from Hollywood Scoops on Sunset Boulevard.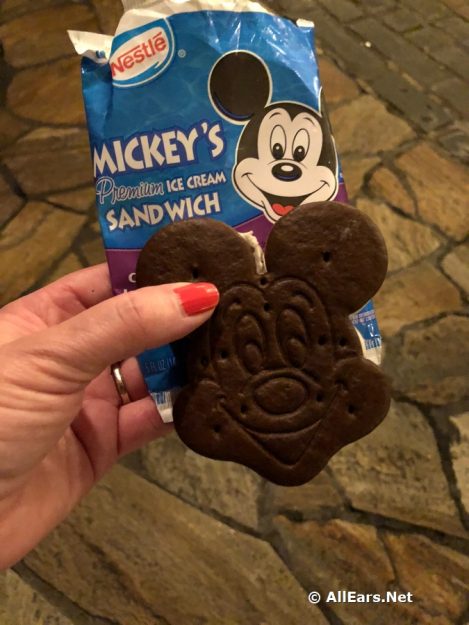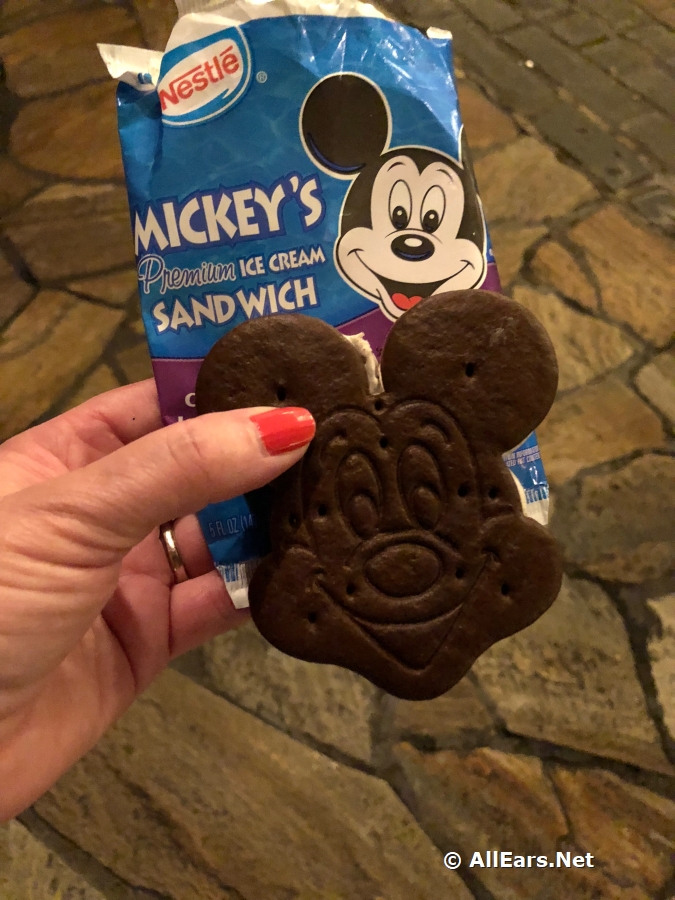 You can purchase items from the full menus at Woody's Lunchbox (and find a seat there!), Anaheim Produce, and KRNR The Rock Station. There was also a stand outside of Sunshine Day Cafe serving margaritas (for purchase) during the event.
If there are shoppers in your group, plenty of stores are open during After Hours as well. Shop your heart out at Mickey's of Hollywood, Rock Around the Shop, Tower Hotel Gifts, Tatooine Traders, Launch Bay Cargo, and the Toy Story Land carts.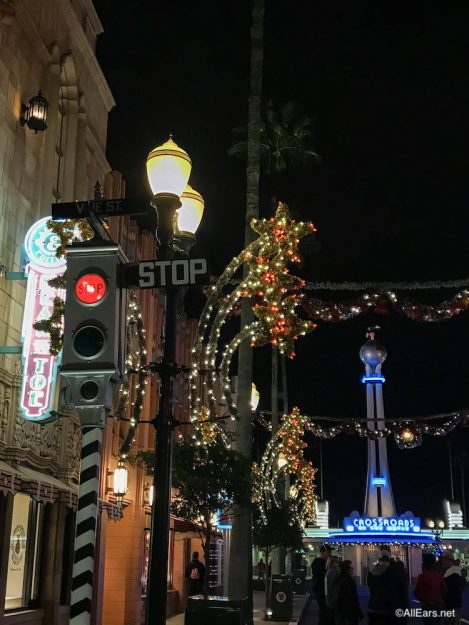 We found this to be an excellent experience and event in the park. The crowds are very minimal — which means most rides that are open are virtually walk-on. The longest we waited for a ride was the 10-15 minutes we waited for Slinky Dog Dash.
This proved to be a good opportunity to ride all of the rides in a very short time period. In addition, we had ample time to enjoy Sunset Seasons Greetings and also enjoyed taking crowd-free photos.
Should you book your ticket?
We appreciate that at $125 per ticket the price of a group or family attending this adds up very quickly.  (Note that there is a discount for DVC members and Annual Passholders.) However, for almost the same price as a one-day ticket to the park you do have the opportunity to ride all of the Toy Story Land rides, Tower of Terror, Star Tours, and Rock 'n' Roller Coaster with virtually no wait time, and numerous times if you like, in three hours.
On a normal day in the park you would be challenged to ride the three Toy Story Land rides and eat at Woody's Lunch Box in three hours.
If you are a Sunset Seasons Greetings fan, this is also a crowd-free time to watch and enjoy the show. However, if you have little ones this may not be the event for you and your family, as the kid-oriented shows and character meet and greets are not open.
Have you attended an After Hours event? Let us know in the comments below!
Remember! When you're in Disney tag us @allearsnet in your photos!
Subscribe to the AllEars® newsletter so you don't miss any exciting Disney news!
Disclaimer: AllEars.Net was an invited media guest of Walt Disney World at After Hours at Disney's Animal Kingdom. This did not influence our report; our opinions are our own.