If you are looking for an inexpensive tour at Walt Disney World that takes guests "backstage," Behind the Seeds at Epcot just might be the one for you! This one-hour experience is a guided tour of the four greenhouses and aquaculture area of The Land and it only costs $25 per adult or $20 per child — 15 percent less if you are an annual passholder, Disney Vacation Club owners or Disney Visa cardholder.
After taking this tour during a recent media event, I can't believe I didn't do it sooner. I blame that on the fact that I am not a gardener and I wasn't sure it would really interest me. But trust me when I say you do not have to be someone who enjoys working with plants to enjoy this look into alternative growing techniques used at Walt Disney World. There are several interactive parts, including sampling cucumbers grown in one of the greenhouses and feeding fish (if you choose) in the Aquaculture area. We even had a child along on our trip and she was engaged and asking questions the entire time.
Let's get started, shall we?
We met at the desk outside Soarin, which is also where you can book this tour the day you'd like go (space permitting) if you do not reserve it in advance. Our tour leader and Disney intern Sara quickly whisked us backstage and gave each person a headset with adjustable volume so we could always hear her. This is common practice on Walt Disney World tours.
Integrated Pest Management
We started our tour in a room displaying how Integrated Pest Management is used in Walt Disney World to minimize damage from pests using the least toxic methods possible. We were shown the example of parasitic wasps that kill leafminer flies. These pests treat plant leaves in the greenhouses as a buffet, but the use of wasps has virtually extinguished the need for pesticides.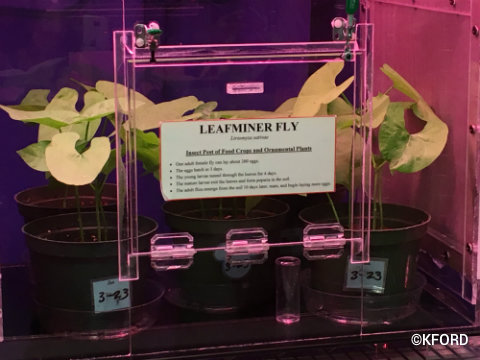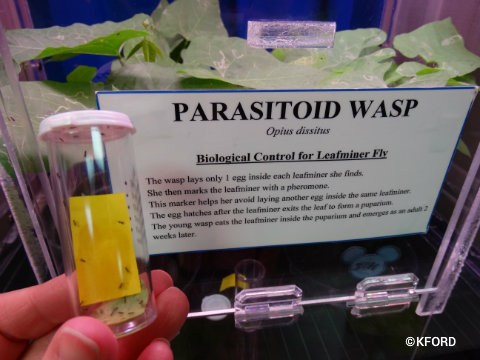 Biotechnology Lab for Crop Improvement
Next, we peeked into the Biotechnology Lab for Crop Improvement co-sponsored by USDA-ARS. Here, we looked through the glass and did not enter the lab because they have to maintain completely sterile conditions. The cast members are working on tissue culturing, which "is a fancy way of saying taking cuttings from plants in a sterile environment," Sara told us. Their goal is to use this method to get the plants to grow for an extended period of time.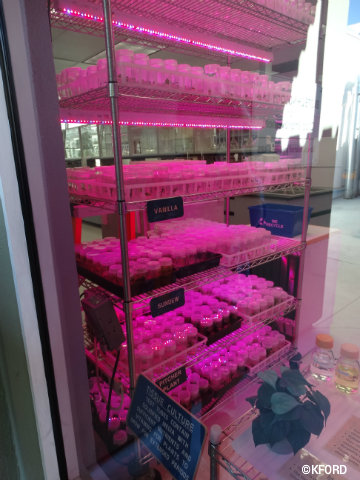 Hydroponics: Aeroponics
If you've ever ridden the Living with the Land attraction, which is a boat tour through these very greenhouses, you know that a large amount of growing space is dedicated to the practice of hydroponics, or the growing of plants without soil and distributing nutrients through water. The first section of Hydroponics that we encountered was dedicated to Aeroponics, which means the plant roots are misted or sprayed with the liquid nutrients. Plants are suspend from a conveyor belt and attached with Velcro to metal rods for vertical support. Their roots pass through a misting system as they move.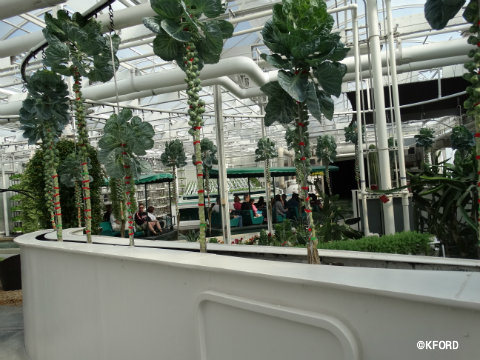 This area also is home to a Mimosa pudica (sensitive plant) named Stanley. We were encouraged to touch this plant to see the effect of the leaves closing. We were told Stanley is not like a Venus Fly Trap, which is a carnivorous plant that eats bugs. Instead, Stanley closes his leaves as a defense mechanism and will reopen them ten minutes later.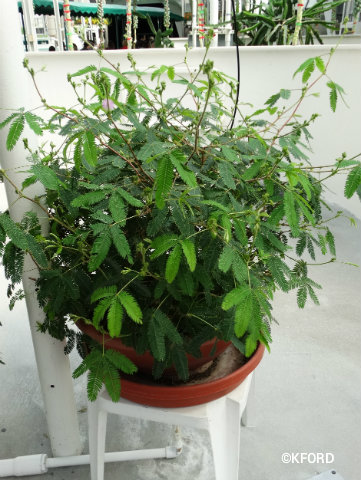 Hydroponics: Gro-tank
Then it was time to taste the efforts of Epcot horticultuists. We sampled cucumber slices and were shown how they were grown in an old fish tank — something that guests can do at home. If you'd like to give it a try, we've posted the directions from Walt Disney World below.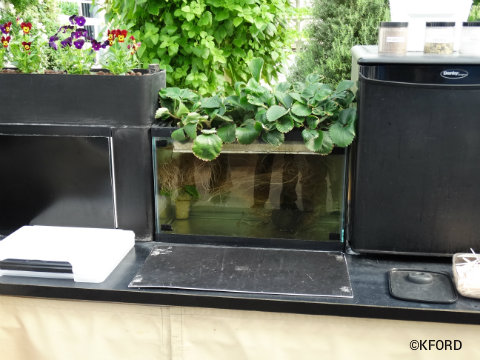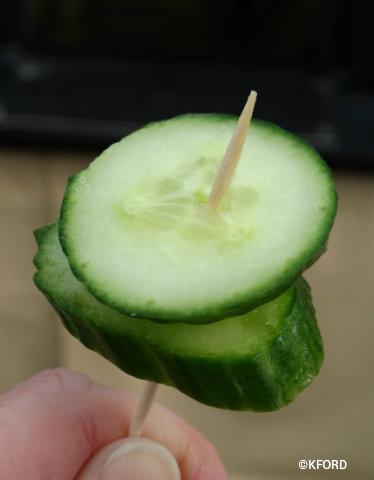 Hydroponics: Raised beds and lean-and-lower process
We passed by raised planting beds in which cast members were caring for kohlrabi, broccoli and turnups and saw huge drums of the liquid nutrients used to feed the plants. Sara explained that all the plants in the The Land greenhouses receive the same nutrients but in different quantities. We also saw tomato plants being grown with a lean-and-lower process that forces the tomatoes to the bottom of each suspended plant, making harvesting easier with a uniform method for picking.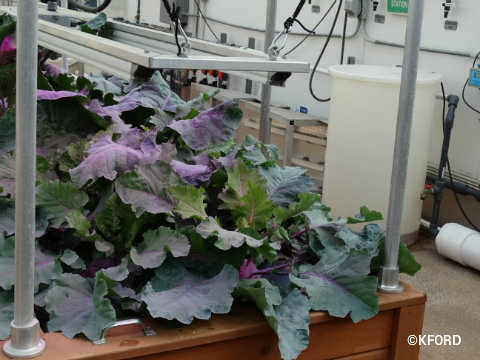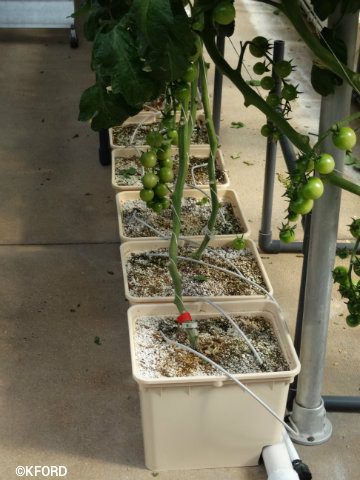 Hydroponics: Nutrient Film Technique
The Nutrient Film Technique is used to grow vegetables with less water and space. This system creates irrigation with nutrients that runs continuously and is recirculated. Here, it only takes 2 gallons of water to grow each pound of lettuce. In the fields with soil, it takes 12 gallons of water per pound of lettuce. The Land grows 2,000 heads of lettuce with this method, but in places like Japan and China, they stack the trays and grow exponentially more.
Hydroponics: Eggplants and Winter Melons
We passed by the eggplants, which some guests may be surprised to see can br grown long and skinny. Sara explained they are used for stir-fry dishes at the resort, while the more common round eggplants are grown in another part of the greenhouse. The main purpose for the eggplant demonstration, however, was to show us what looks like seed packets hanging from the eggplants. These packets actually each contains 200 mites, which escape through a hole and crawl onto the leaves for pest management. We also saw winter melons, which can grow to almost child-size — no joke — in these greenhouses.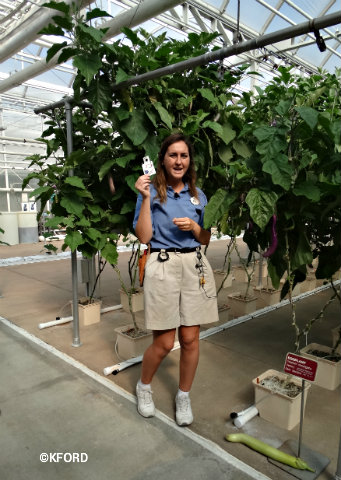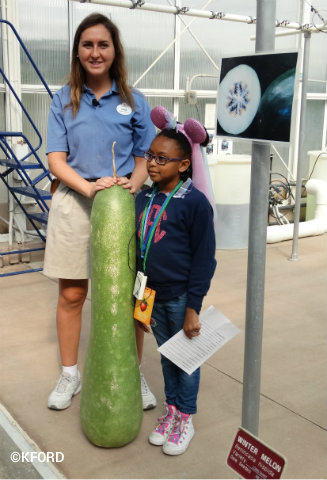 Hydroponics: Passion Fruit
This is the point in the tour where everyone is invited to sit down on a bench and listen to your guide explain how Disney pollinates its plants without the use of bees because of the tourists in The Land attraction every day. This is done through hand pollination. We were shown the beautiful flower of the passion fruit, which has both male and female parts within the same bloom. Interns like Sara are responsible for the process of rubbing the male parts on the female parts to pollinate the flower so it will grow into the fruit. Winter melons actually have separate male flowers and female flowers, which can be a more complicated process.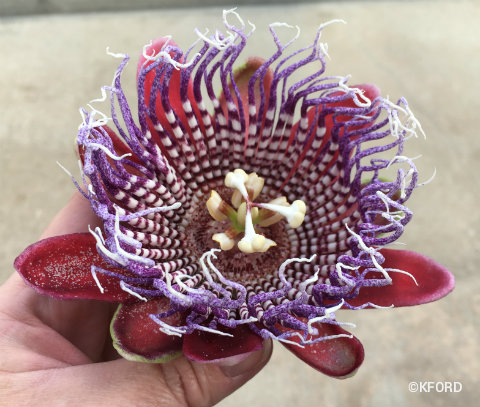 Growing in sand
Although the passion fruit is being grown on a trellis, other plants in this area — such as fig trees and sugar cane — are being grown in sand. Guests will see more than 100 varieties of plants. "The trick is to get the water and nutrients to the roots of your plant in the sand, so we do that from below the surface of the plant," Sara told us. "Everywhere you see a plant in the sand, there is actually drip irrigation running underneath it. This is efficient because if you are living in a dry area it will prevent evaporate or runoff of the water and nutrients."
Aquaculture
Next, we entered the Aquaculture area, which usually prompts excitement from guests on the attraction boats. There are about 200 species of animals that can be grown in tanks of water. At The Land, guests will see many animals, including eels and alligators. In the fish farm, there are bass and hybrid tilapia that are harvested every few days for restaurants in World Showcase. We were given food to feed the fish, if we wanted.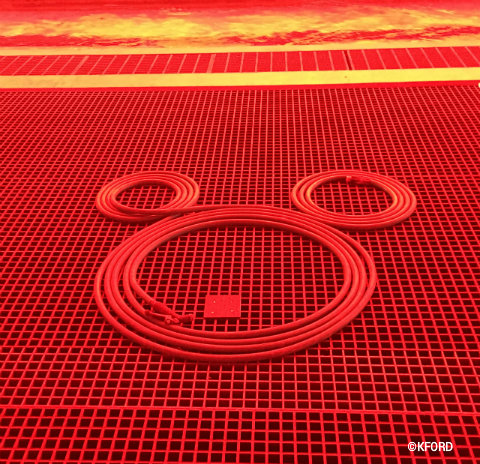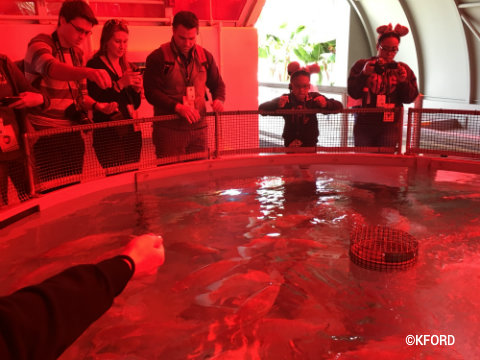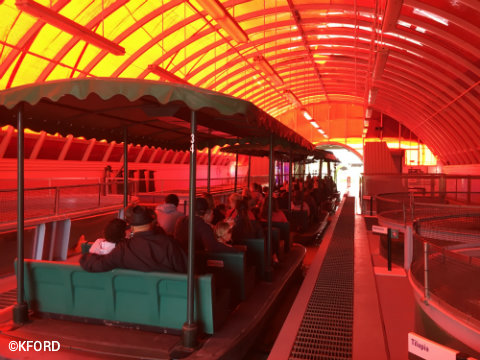 Tropical plants
Finally, we entered the greenhouse where tropical plants are grown. First we saw banana trees and our guide explained that each only grows one stalk of bananas. We saw the largest Mickey-shaped pepper tree and were invited to take exclusive tour photos here. This greenhouse also features foods such as papaya, cacao, rice and dragon fruit.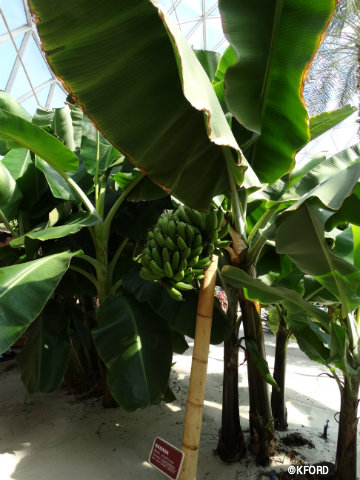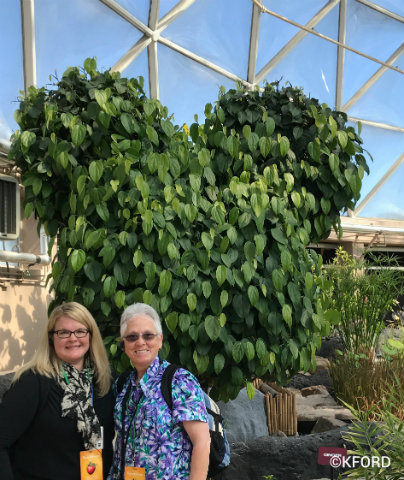 The Behind the Seeds tour takes place multiple times each day, usually at 10:30 and 11:15 a.m.; noon; 12:45, 1:30, 2:15, 3, 3:45 and 4:30 p.m. To book in advance, call 407-WDW-TOUR.
DISCLAIMER: I was a guest of Walt Disney World for its Behind the Seeds Tour. This did not affect my story; my opinions are my own.