I have written a lot about the unique experiences that SeaWorld Orlando offers children at its summer camps, and for the last three years my dolphin-loving daughter has experienced the fun for herself. She loved every minute of the five days! Registration is now open for 2018, and there are some changes to the camps. New experiences have been added to day camps for younger kids and the sleep-away camp for older students has been replaced with a new offering.
With the elimination of the residential camp comes a new Marine Science Academy for high school students. The official description is "Thinking about diving into the Marine Biology field after high school? Look no further! Marine Science Academy at SeaWorld Orlando is the perfect place for you. This highly interactive, fully immersive, fun adventure is sure to leave you amazed at what the entire Marine Sciences field has to offer. Your days will be spent learning about animals and the newest conservation initiatives from animal care specialists, aviculturists and animal trainers. Your future begins right here at Marine Science Academy!"
To attend the Marine Science Academy, students must be entering grades 9 through 12. They also will be among those to experience snorkeling in a shark cage, which is a new addition this year and exclusive to camp participants.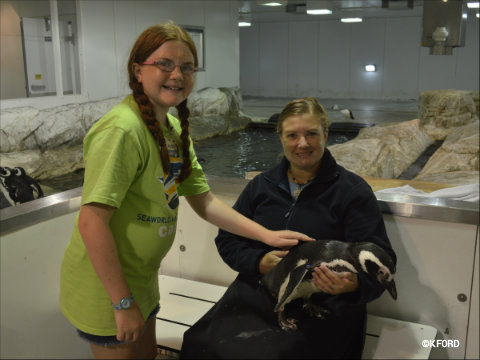 In addition, SeaWorld Orlando offers a wide variety of day camps for kids from preschool age through middle school. All of the camps are designed to allow children to interact with the marine animals as well as learn about the park's animal residents. The first camp begins June 4, and the last camp of the summer begins July 30. They all run Monday through Friday.
Day camps are organized by grade level for children going into preschool through eighth grade. Campers will focus on a different animal each day — including whales, sharks, dolphins, penguins and sea lions — and learn about them through songs, take-home arts and crafts, as well as by talking with zoological staff. Lunch, snacks, a camp T-shirt and water bottle are included in the price of camp. Participants who meet the height requirements also will have the opportunity to experience rides together.
The camp themes and experiences seem to remain the same from year to year, but this year, there are several new camps. Joining the lineup are Ocean Detectives for grades 2 and 3, Ocean Trek for grades 4 and 5, and Thrill Seekers for grades 6 through 8. There are multiple offerings for each grade level, so favorites camps will return, too, and campers who attend more than once will continue to have experiences that are new to them.
Children ages 3 and 4 can experience Seafari from 9 a.m. to noon each day. The price is $275, and this is the only camp planned for a parent and child to experience together. That price is for the pair, a complimentary T-shirt and water bottle for the camper, and a snack each day. The camp offers up-close animal encounters, crafts and select animal shows.
Camps for children going into grades 1 through 12 take place from 9 a.m. to 3 p.m. each day and cost $350 per week. (SeaWorld pass members can save $50 per camp by registering through the pass member website or by calling 1-800-406-2244.) After care is available from 3 to 5 p.m. for an additional $75 per camper per week.
Programs for upcoming kindergarten and first-graders include: Sea Hideaway (learn how animals find the best hiding places and explore animal camouflage); Do You See What I Sea? (find out how your senses compare to those of sharks, whales, dolphins and much more); and Secrets of the Sea (uncover the secrets of killer whales, polar bears, and other sea critters).
Kids going into second and third grade can pick from these topics: What's For Lunch? (find out what types of food the animals eat and then help feed dolphins, flamingos and sting rays); Ocean Detectives (discover how animals adapt to survive); and Animal Addresses (learn how killer whales, sea lions, penguins and other animals adapt to their surroundings).
Campers entering fourth and fifth grades in the fall have their choice of Animal Antics (explore the world of animal behavior and training with up-close encounters); Ocean Trek (get fully immersed in some of the world's most unique animal habitats); and Feeding Frenzy (learn how SeaWorld prepares food for over 41,000 animals and feed some of the residents).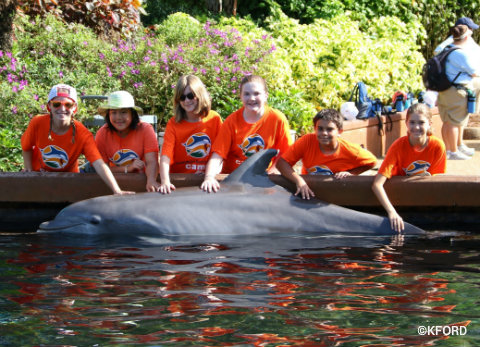 Two years ago, my then-10-year-old daughter, who wants to be a marine biologist and dolphin trainer, attended the Animal Antics day camp. Despite our family having annual passes to SeaWorld Orlando for years, my daughter was really excited about each day's activities. She especially loved all the animal encounters, which are not things you can do in the park without a special small-group tour, and the behind-the-scenes activities. The campers also were able to talk to a variety of animal trainers, which she took full advantage of.
Upcoming sixth- to eighth-grade campers focus on careers related to animal care: Zoo Careers (go behind the scenes to see what it's like to work with the animals); Marine Biology 101 (discover what it's like to be a real marine biologist and conduct hands-on experiments); and Thrill Seeekers (a week full of action-packed roller coaster fun). Participants in Zoo Careers and Thrill Seekers camp will spend one day at Aquatica, SeaWorld's nearby water park. The Marine Biology camp includes the Shark Immersion experience.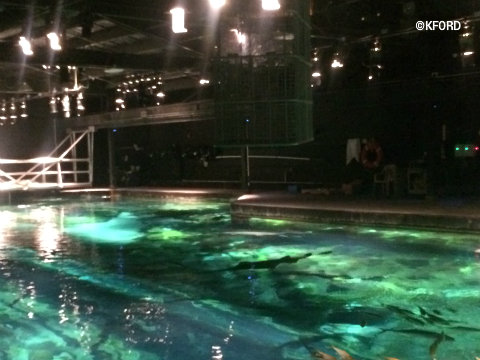 Two summers ago, my daughter attended Marine Biology 101 and had another great week full of fun experiences. Last year, she took part in Wild Careers and was able to learn even more.
For day camps, a same-day after-camp admission to SeaWorld is available at a discounted rate.
SeaWorld camps are accredited by the American Camp Association (ACA), a nationally recognized association focused on health, safety and program quality.
For more information, visit https://seaworld.com/orlando/educational-programs/day-camps/ or call 1-800-406-2244.