The focus of the Epcot International Food and Wine Festival is the marketplaces throughout World Showcase to be sure, but foodies also will find plenty of extra opportunities for specialty tastings. One such popular event each year is the Party for the Senses, which takes place inside World ShowPlace on several Saturday evenings during the festival.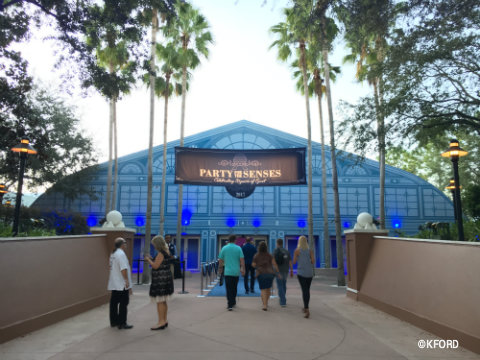 This past weekend, I was invited to attend a Party for the Senses at Epcot for the first time, and it certainly lived up to my expectations. The party basically is a more upscale version of the festival concept. It features appetizer-size dishes from Disney and celebrity chefs and wine and beer pairings. Various stations are set up around the room and guests are able to peruse and sample as much as they want during the two-and-a-half-hour event.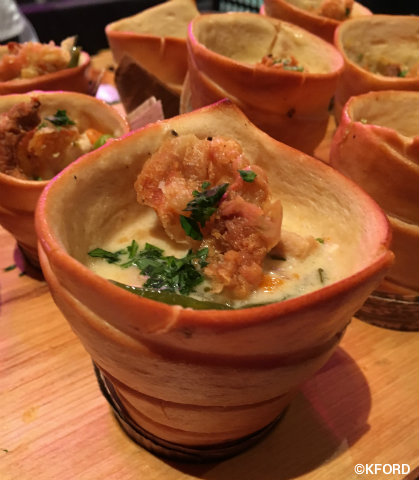 Southern Chicken Pot Pie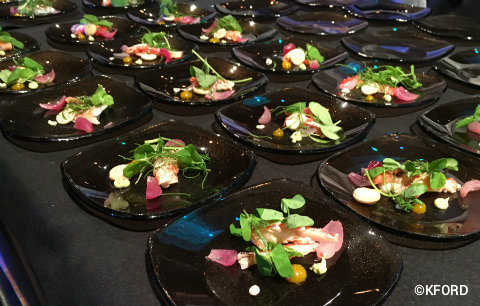 King Crab
Seared Sea Bass
The menu changes at each Party for the Senses so no two are alike. During the night I attended, party-goers could find new takes on familiar dishes, such as the Braised Beef Short Rib Roulade with Sunchoke Puree and a Salad of Sunflower Seeds, Mushrooms and Herbs and the Southern Chicken Pot Pie served in a Flaky Brioche "conewich." There were seafood specialties, such as the Seared Sea Bass with Sweet Potato Bacon Hash, Orange Soy Glaze and Beef Kimchi; the Scallop en Croute; and the King Crab with Lovage Puree, Smoked Egg Cream, Pickled Red Onions, Gooseberries and Garlic Ash. More adventurous diners could try the Seared Elk Loin with Pomegranate and Romanesco Broccoli; the Smoked Duck Sausage, Duck Liver Bechamel, Duck Fat Biscuit and Sweet Fall Preserve; and the Moroccan-Spiced Lamb Belly.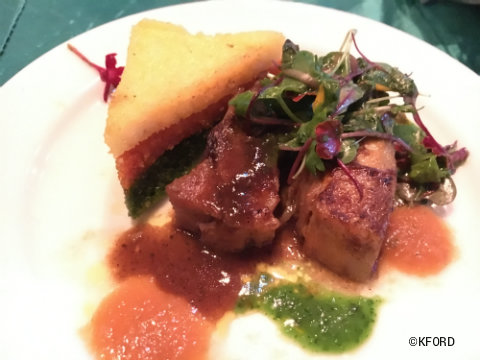 Mediterranean Style Braised Mangalitsa Pork Belly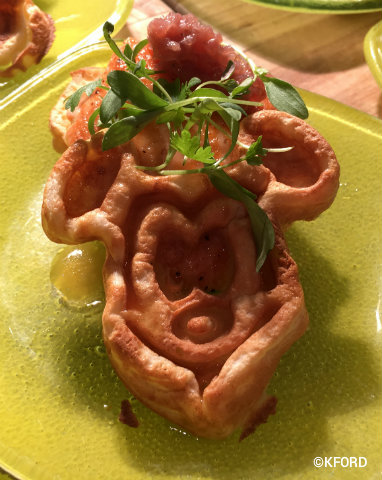 Verlasso Salmon with Mickey Waffle
My favorite dish was the Mediterranean Style Braised Mangalitsa Pork Belly served with Tri-color Polenta and a Petite Salad of Cahabo Cabernet Greens with Spicy Herb Aioli from Disney's Boardwalk Resort Catering. Hands down, the most interesting combination had to be the Verlasso Salmon served with a mini Mickey waffle topped with Maple syrup, Onion Glaze and Maple Butter Sauce. Almost everyone at my table tried this dish, and we all agreed the two flavors didn't sit well together. Some of us thoroughly enjoyed the salmon while others unexpectedly got their Mickey waffle fix.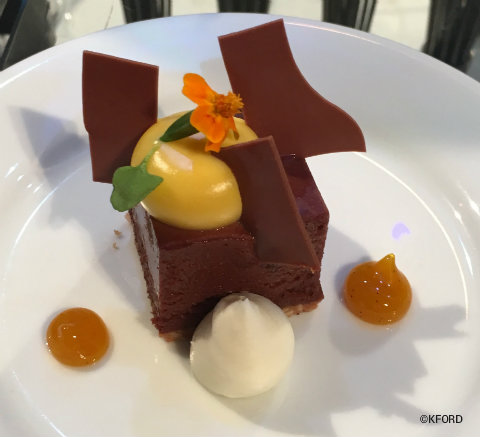 Tropical Indulgence
Those with a sweet tooth had plenty of choices — from a White Bean Yuca Cake to Assorted Macarons to Vintage Chocolate Bon Bons. My favorite was the Tropical Indulgence, which was a Milk Chocolate Custard with Mango Passion Coulis and Ginger Chantilly from the Four Seasons Resort. The combination of flavors was just delightful.
Each food grouping was paired with wines from all over the world. Some stations also offered craft beers. Water was readily available as well as a coffee and tea station from Joffrey's. In addition, guests could request soft drinks or anything that a typically stocked bar would serve.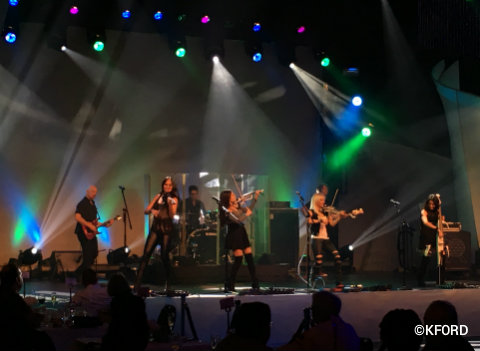 But taste and smell are not the only senses that Disney is trying to stimulate. Sight and sound came into play with the stunning performance by the Femmes of Rock, a "rock" violin act with video, lights and choreography. The group played many favorites from the '70s and '80s and as the night progressed, guests joined others on the dance floor. Each Party for the Senses has different entertainment, as well.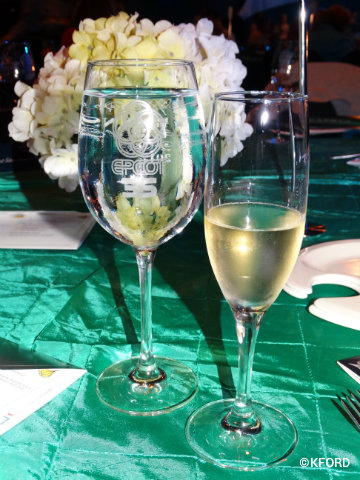 One notable change to this year's party is that everyone has a seat. In the past, only the most expensive tickets came with seating, while others had tables similar to those out in the marketplaces for standing with their food and beverages. This year, Guaranteed Seating gets you a seat at a table with other guests; Reserved Seating is a private table on the main floor; and the Wine View Lounge has private tables in the lounge with artisanal cheeses and a specialty cocktail plus early admission at 7:15 p.m. and transportation to and from the main Epcot entrance. All tickets to a Party for the Senses come with reserved seating at that day's Eat to the Beat concert and a souvenir wineglass. Prices range from $179 to $329 plus tax and including gratuity per person. Epcot admission is not included with a Party for the Senses ticket.
There are two remaining dates for this year's Party for the Senses events: Oct. 21 and Nov. 11. Oct. 21 is one of two themed parties. "Chefs from Disney parks around the globe will come together to create an evening of international tastes — this has been a super-popular event the last couple of years. Disneyland Paris, Tokyo Disneyland, Shanghai Disney, Hong Kong Disneyland, Aulani and Disney Cruise Line chefs will join our Walt Disney World chefs to showcase the best of their cuisine," wrote Pam Brandon on the Disney Parks Blog. The entertainment that night is Grace Kelly, an American musician, singer, entertainer and songwriter.
Reservations can be made online or by calling 407-939-3378 for Guaranteed Seating. Tickets to the Wine View Lounge or Reserved Seating must be made by phone.
DISCLAIMER: I was a guest of Walt Disney World at its Party for the Senses. This did not affect my story; my opinions are my own.