Here's berry good news! After a hiatus last year, Ocean Spray's popular cranberry bog is back at the Epcot International Food and Wine Festival for the fourth year. If you've attended the festival, you've probably walked right past it on the central walkway leading to World Showcase.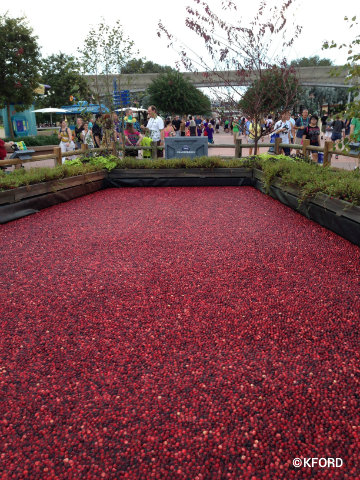 Cast members in waders stand knee-deep in the colorful bog, demonstrating how rakes are used to turn the fruit during wet harvesting. Cranberries actually grow on long vines in marshy areas, not underwater as some people might think. The night before the harvest, growers flood the area with up to 18 inches of water. Then, they use the rake-like tools to loosen the cranberries, and the fruit floats to the surface.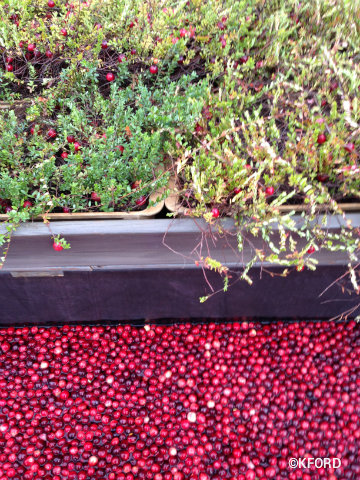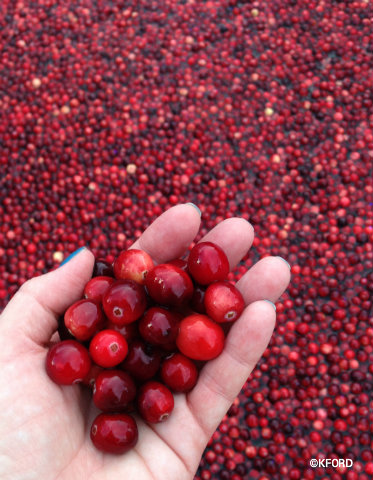 So, what you're seeing at Epcot are the loose cranberries floating in water — the final step of wet harvesting a crop. (Cranberries also can be picked dry, which is done with large machines that comb the berries off vines.) The festival schedule of September through November coincides with the annual harvest of cranberries in North America. Aside from being an interesting feature as part of the festival, the manmade bog at Epcot is a great visual way to demonstrate to kids how some of the food at the event is cultivated and harvested.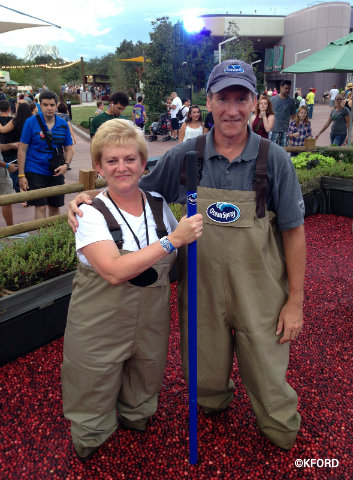 On Saturday, during the opening weekend of the festival, Ocean Spray invited members of the media to step into the cranberry bog, which contains more than 1,500 pounds of fresh fruit. Deb Koma and I were among those in the water taking photos, posting on social media and using Periscope for interviews with fifth-generation cranberry growers.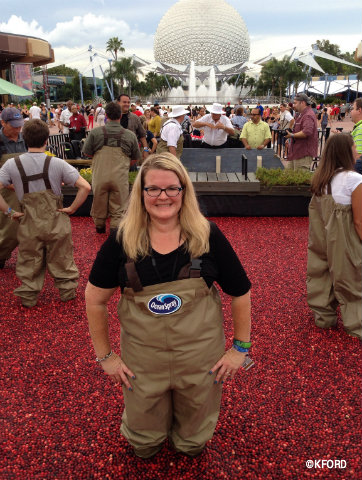 Although we were a bit nervous about keeping our smartphones from falling into the manmade bog, we didn't worry about our clothing getting wet because the one-piece waders kept us completely dry. Ocean Spray even provided us with cute red knee socks to make the attached boots comfortable. (And the waders are sized according to the boots. Who doesn't love that?!)
Here's an excerpt of our Periscope Broadcast:
Guests at the Epcot International Food and Wine Festival can visit the Hops & Barley Marketplace through Nov. 16 to taste the carrot cake with Craisins (dried cranberries) and cream cheese icing. I sampled this dessert at the Ocean Spray reception and really liked it, even though I don't usually enjoy carrot cake. At both the new Cheese Studio and the Wine Studio, guests can purchase La Bonne Vie goat cheese served with Craisin bread. Both the cake and the bread are vegetarian dishes. Across from the bog, visitors are invited to pick up a free sample of Craisins.
At Mickey's Not-So-Scary Halloween Party at the Magic Kingdom, trick-or-treaters can collect Greek yogurt-covered Craisins at one treat station.
Ocean Spray is an agricultural cooperative owned by more than 700 growers, many of whom have been in the business for generations.