Yesterday, I began my description of the Italy Pavilion. Today, I'll complete the tour.
L'Originale Alfredo di Roma Ristorante was the original (and only) restaurant at the Italy Pavilion for 25 years. It was operated by Alfredo's of Rome and was one of the most successful and profitable restaurants at Epcot. So it came as a surprise to many when their contract expired and it was not renewed. Disney rarely releases details in cases like these, which left speculation as to the "whys and wherefores" regarding the closure. L'Originale Alfredo di Roma Ristorante served its last meal on August 31, 2007.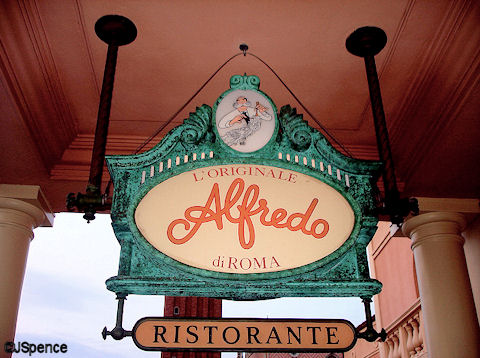 Knowing that they would not be renewing the contract with Alfredo's, Disney announced in April, 2007 that the Patina Restaurant Group would be taking over the vacated space. It's interesting to note, the Patina Restaurant Group already sponsored three eateries at Disneyland's Downtown Disney. Although the restaurant at the Italy Pavilion never closed, the Patina Restaurant Group didn't hold their official opening until September 22, 2007, as it took them a couple of weeks to change signage and make other alterations. The new restaurant was named Tutto Italia, which translates to "All Italy".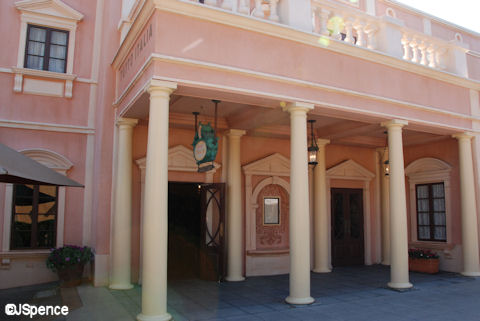 As the name implies, the menu offers a variety of Italian cuisines from all over the country. Chef Joachim Splichal created the menu which includes such items as Risotto Ai Gamberi E Aragosta (Creamy Arborio Rice, lobster, shrimp, herbs, butter, parmesan cheese), Cannelloni al Forno (baked with spinach, ricotta, bechamel and parmesan cheese), and Brasato Di Manzo Al Vino Rosso (red wine braised short ribs, mashed potatoes, and vegetables).
The exterior and interior of Tutto Italia was based on the Florentine style of architecture and design, giving it an elegant and formal appearance. This sophistication is apparent as you enter the lobby. Rich carpeting and ornate furnishings transport you to a bygone age of pomp and ceremony. In the dining room, beautiful crystal chandeliers illuminate a large chamber of dark woods and vivid colors. But perhaps the most stunning feature of this room is the wall paintings. Called trompe l'Å"il (French for "deceive the eye"), this form of artistry uses extremely realistic imagery to create the illusion that the objects appear three dimensional. When creating the murals, the Imagineers duplicated the style of Paolo Veronese (1528 – 1588) a Venetian painter of the Renaissance.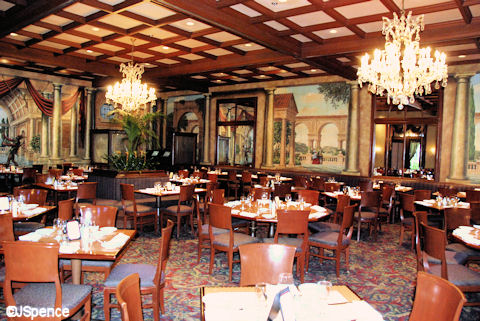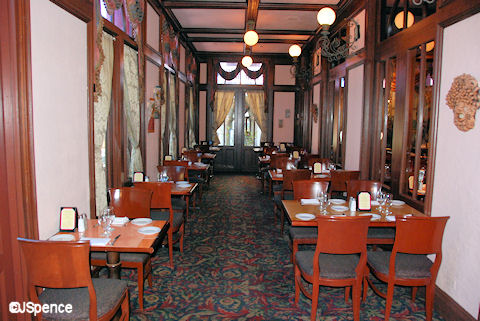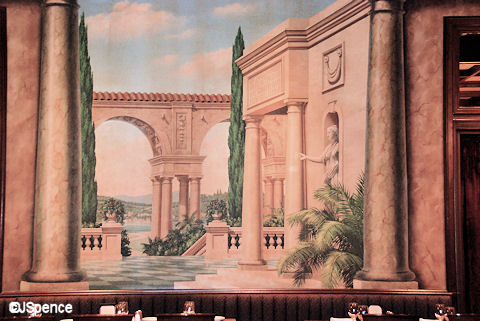 Outdoor seating is also available at Tutto Italia. When the weather is nice, it becomes a difficult choice to choose between the formal, indoor setting or the casual, sidewalk café atmosphere. Either way, you can't go wrong.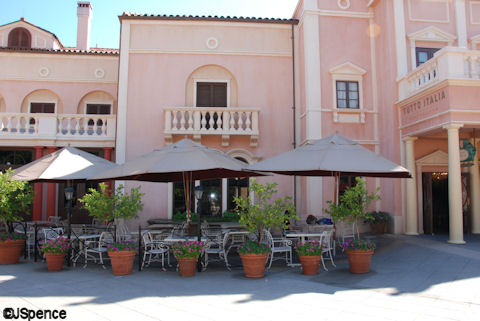 For many years, the Italy Pavilion had an unfinished look. A pleasant enough stone wall and cypress trees marked the back of the pavilion, but I always felt more could be and should be added beyond this barrier. Well it turns out I was right in my assessment. Original plans called for a gondola dark ride and a Roman ruins walk-through to be built at the back of the pavilion. I have no idea how far these concepts ever progressed, but you can rest assured it was a lack of funding that prevented these attractions.
Today, this unfinished look is gone as a new restaurant, Via Napoli, was built in the back portions of the Italy Pavilion. Officially opening on August 5, 2010, this eatery is also part of the Patina Restaurant Group which operates Tutto Italia. The architecture and design of the restaurant is based on a mix of traditional Italian styles. Florentine architect Stefano Nardini, working in conjunction with architect Rick Swisher, created a stunning building that employs the "draw concept" to lure guests to the far reaches of the pavilion.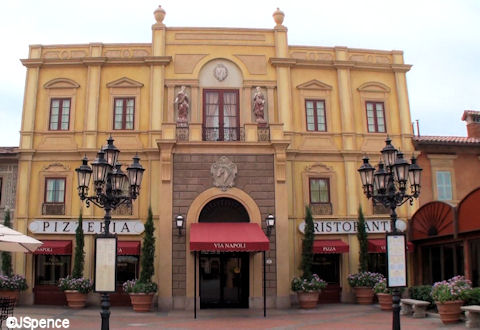 The interior of the restaurant is light, airy, and very spacious and the tables are spaced a good distance from one another. I like this as I hate to be seated so close to another party that I can overhear every word they say. Via Napoli features a show kitchen that invites guests to walk up and watch the chefs create their magic. Architect Nardini brought some whimsy to the kitchen by creating three wood-burning ovens and named them after the active volcanoes in Italy, Mount Etna, Mount Vesuvius, and Mount Stromboli. Each oven was given a face reflecting the gods whose mythology surrounds each volcano's history. The long communal table in the center of the room was built in Florence and features hand painted tiles depicting iconic monuments in Italy.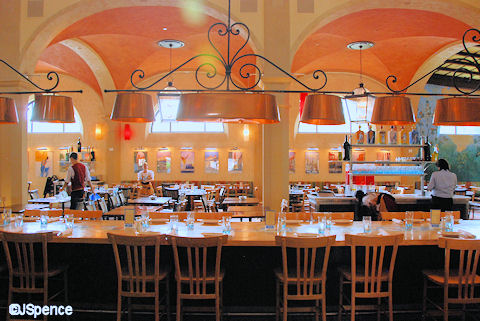 Via Napoli can seat 250 inside and 50 on the outside, covered patio. When the restaurant first opened, the patio was open air. However, doors have been added that can be opened or closed depending on the weather.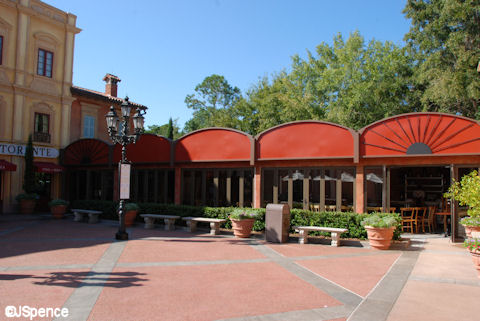 Via Napoli specializes in pizza. This is not like what you'd take home from Dominoes. This is gourmet, Neapolitan style pizza with toppings like calamari, artichoke, eggplant, prosciutto, and arugula. Of course, traditional toppings like pepperoni and mushrooms are also available. In an effort to recreate Neapolitan pizza as closely as possible, the flour is imported from Italy and the water calibrated to match the pH found in Naples.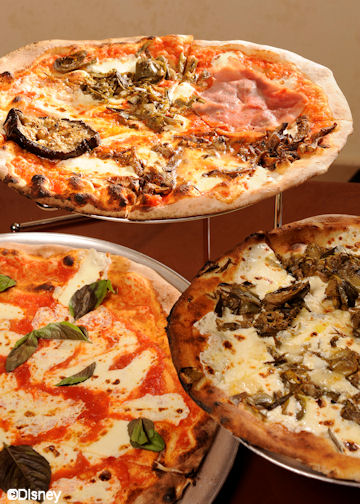 I was on hand for the grand opening of Via Napoli. If you'd like to read the blog I wrote at that time, click here.
I suspect that only Cinderella Castle is used more as a photo backdrop than the statue of Neptune at the Italy Pavilion. This fountain often has a line of people waiting to take their turn getting a picture with this Roman god in the background. The fountain is based on two sculptures, the original Neptune Fountain in Florence by Bartolomeo Ammannatin and Trevi Fountain located in Rome by Gian Lorenzo Bernini.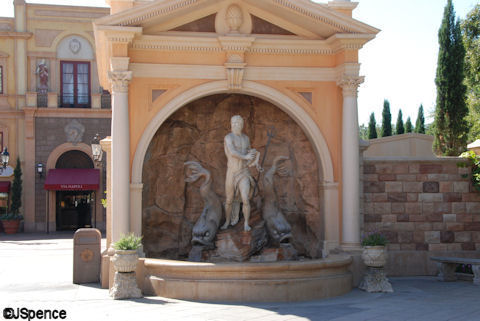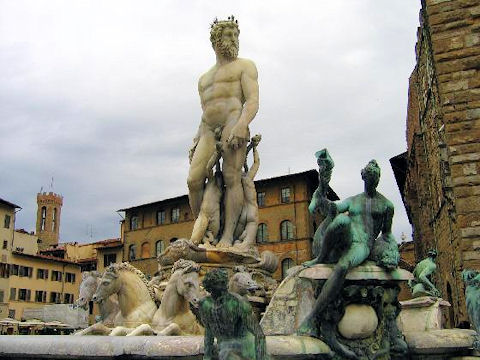 The Greeks called their "God of the Sea" Poseidon and he was usually accompanied by his trident and one or more dolphins, who were his messengers. When Rome adopted the Greek gods as their own, they often changed little more than their names. This statue is a good example depicting Neptune with his trident and two messenger dolphins.
Legend has it that if you toss a coin into Trevi Fountain, it will ensure a return visit to Rome. Perhaps a similar legend is true here and a return trip to Walt Disney World could be in your future. But remember, the legend also states that coins tossed in Trevi Fountain must be done with your back to the water and the coin tossed over your shoulder.
Next to the Neptune Fountain is a long, stone wall. Planted here are grape vines. This, of course, represents Italy's wine industry. Italy produces approximately one-fifth of the world's wine, making it the largest producer in the world. Italy cultivates grapes in virtually every region of the country and has thousands of vineyards. Italians also lead the world in wine consumption. Per capita, they drink 18½ gallons a year as compared to 6½ gallons in the U.S.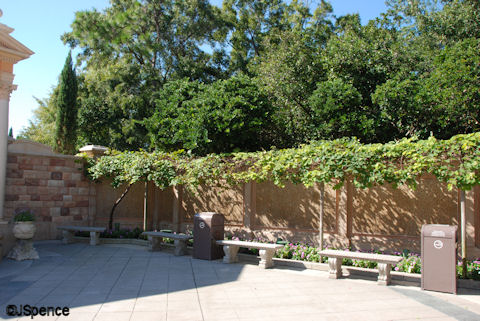 In architecture, a capital is the decorative piece that sits atop a column and receives the weight placed upon it, broadening the column's supporting surface. In the Italy Pavilion, homage is paid to a variety of renaissance-style capitals.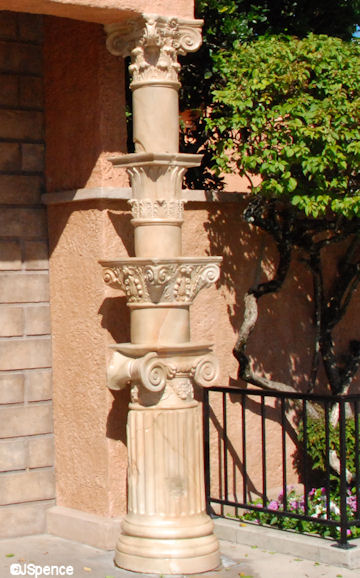 Angels were a common theme in art during the Holy Roman Empire and no depiction of Italy would be complete without a statue of one of these spiritual beings. Here we see the Archangel Gabriel. An observant eye might notice that this angel is an exact copy of the one perched atop the campanile.
Completing our circle around the Italy Pavilion, we come to a building with a red tile roof. The structure is reminiscent of a market-square city hall found in Northern Italian communities like Tuscany or Bergamo in the 15th or 16th century. If you look closely, you can see the stucco has fallen from the walls in a number of places.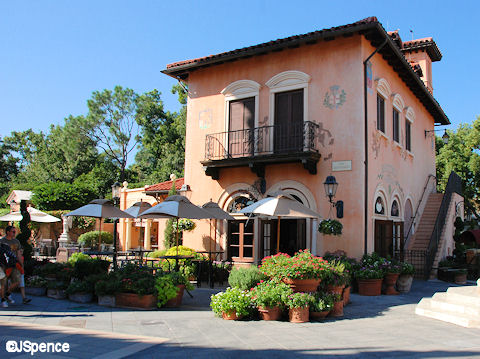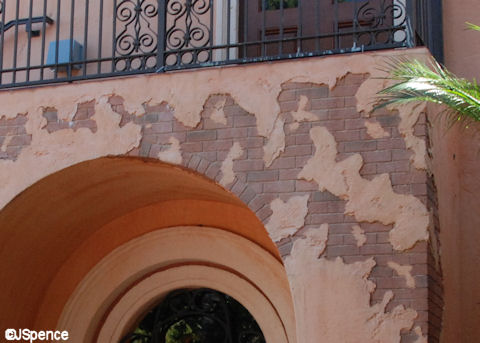 A Kidcot station can be found in this building's wing. Here, a cast member will be happy to stamp your child's Epcot Passport and teach him or her a few words in Italian.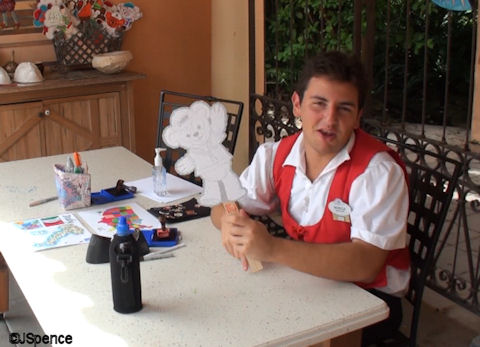 In the front half of the main building is the Enoteca Castello (Castle Wine Cellar) shop. As you might guess, this spot carries a large selection of Italian red and white wines. Wine by the glass is also sold and there are plenty of tables and chairs outside to sit with friends and enjoy your vino.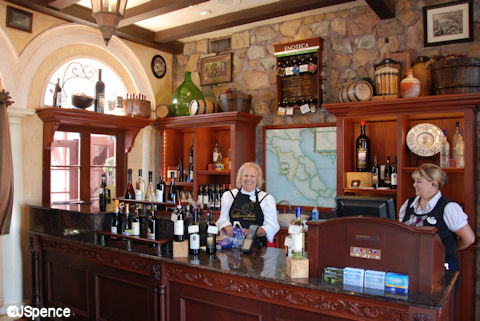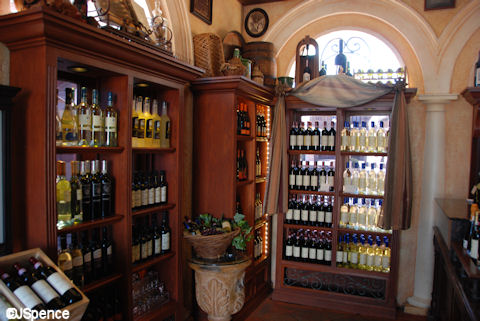 With the 2011 Food & Wine Festival, came two new vintages to this store. Sogno d'Italia (Dream of Italy) is bottled exclusively for Disney Parks by Placido and imported by Banfi Vintners.
The Chianti (red wine) is predominately made with the region's native Sangiovese grape and has a fresh and bright fruit character. The Pinot Grigio (white wine) has a fragrant bouquet, crisp fruit freshness, and lingering finish. If you want to buy your friends back home a unique Disney gift, this just might be the ticket.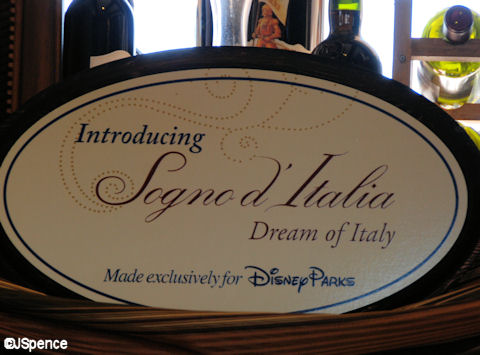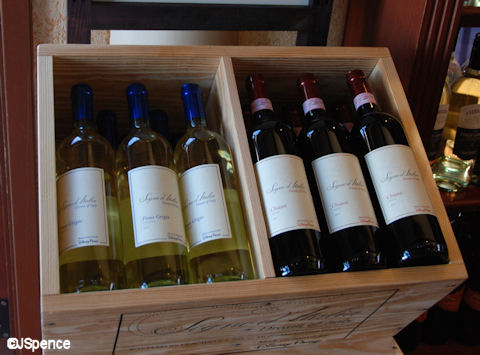 In the back half of this building is La Bottega Italiana (The Italian Boutique). Here you'll find a potpourri of Italian goodies. Candies, cookies, pasta, olive oil, spices, cooking accessories, clothing, and a lot more can be found on the shelves here. This shop deserves more than just a cursory glance.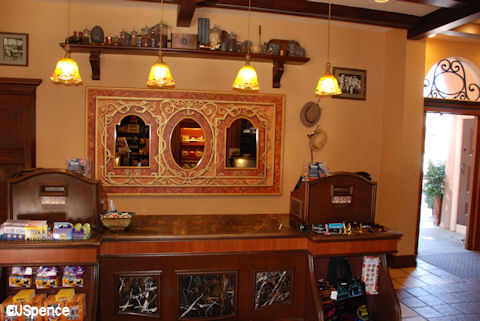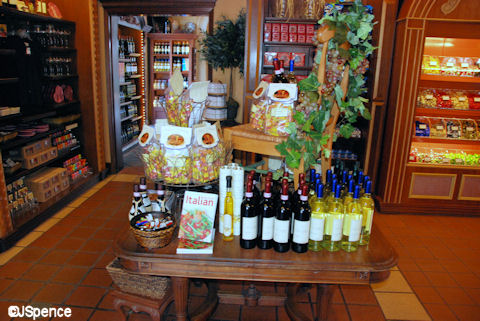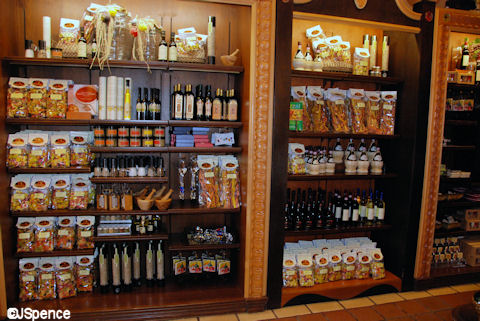 But I think my favorite item for sale at La Bottega Italiana is the hand-blown glass Mr. Potato Head inserts. These aren't your standard Hasbro pieces, but unique animal parts that are inserted into real potatoes or other vegetables.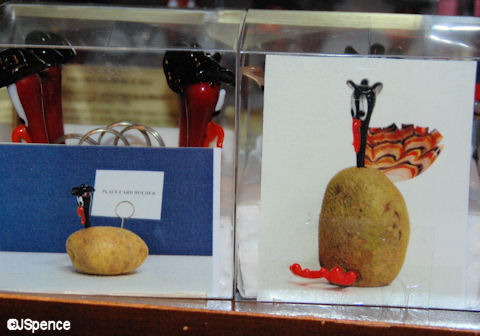 Another site seen around the Italy Pavilion is the Sicilian cart and donkey. Ornately decorated carts like this one were introduced to Sicily by the ancient Greeks and reached their peak in popularity in the 1920's when thousands could be seen traversing the island. Horses were used primarily in urban areas where roads were readily available. Donkeys were used in the country where rough terrain was often encountered. The carts were used for hauling miscellaneous light loads, such as produce, wood, wine, and people. They were also put into service at weddings and festivals.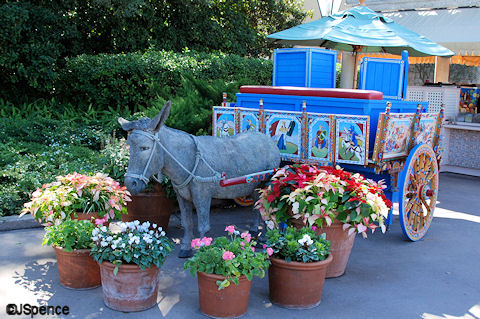 Although the Italy Pavilion has no rides, it does have live performances. Currently, a juggler and comic known as Sergio and a zany group called the Ziti Sisters perform at various times each day. Performances are presented in front of the campanile, not on the raised platform found in the middle of the piazza. Check your Times Guide for more information.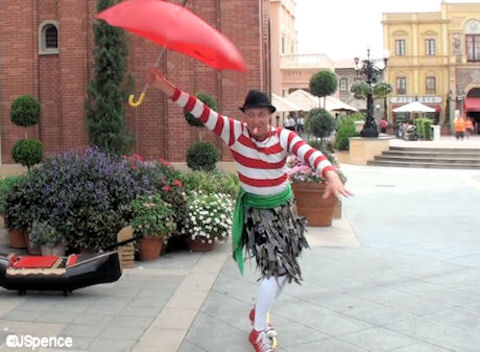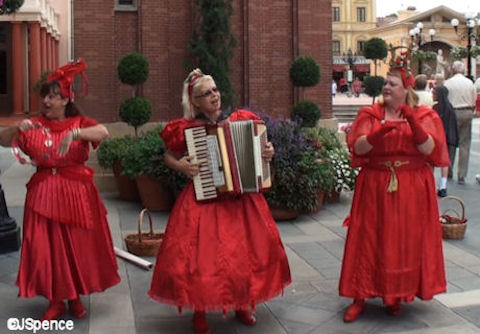 Do you know why Italians call Mickey Mouse, Topolino?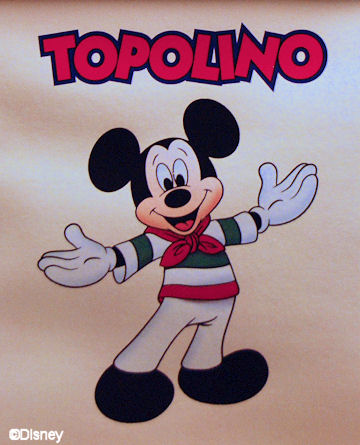 In 1932, Italian newspaper editor Mario Nerbini decided to create a new weekly for children with stories about Mickey Mouse. The first edition was published on December 31, 1932 and featured Mickey Mouse being chased by an elephant. Unfortunately, Nerbini had not properly secured the publication rights and Disney complained. So in subsequent editions, Nerbini changed the name of the weekly to Topo Lino (the little mouse) and swapped out Mickey with another mouse, also to be called Topo Lino. Eventually, Nerbini secured the rights to Mickey. With issue number 7, Mickey returned and the weekly's name was changed again, this time to Topolino (the space between Topo and Lino was removed). But by then, the damage was done and Mickey became known as Topolino in Italy.
In the Mediterranean Harbor section of Tokyo DisneySea, Topolino is honored with signage.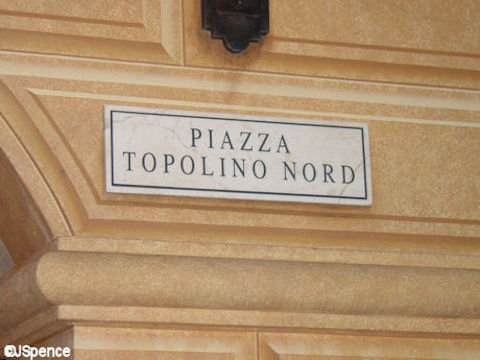 That's it for my blog about the Italy Pavilion. As always, I have created a video for your pleasure. It is twelve minutes in length. Enjoy.