I'm sure most of you who are reading this know what October 1 represents"¦October 1, 2011 to be exact.
Hands?
Yes, you in the polka dot Minnie Mouse shorts?
What?
Correct! It is the 40th Anniversary of the opening of Walt Disney World.
Of course speculation continues to mount as to what exactly will be planned, if anything, to commemorate this significant milestone in the history of the Happiest Place on Earth, and without no question, the number one vacation destination in the entire world.

So what is planned?
Who knows? I don't.
I wonder myself if there are meetings going on or if meetings have already taken place to decide if and how this milestone will be celebrated.
To be exact, it is actually the 40th Anniversary of the opening of Walt Disney World's Magic Kingdom theme park so perhaps we should be focusing on the Magic Kingdom.
One wonders, if perhaps, it would have been better had the return of the Main Street Electrical Light Parade been held off another 16 to help commemorate and celebrate the 40th Anniversary"¦besides"¦it would have been quite appropriate since that nighttime parade really brings back memories of WDW's past.
So let's see, besides that parade, perhaps a daytime parade commemorating the 40th; banners throughout the park proclaiming the celebration, and of course merchandise throughout the park; clothing, shirts, hats, sweatshirts, mugs, pins, lanyards; you name it.
Maybe a real nice show in front of the castle where Mickey and the rest of the fab five could lead the guests in a medley of songs originally heard in the Magic Kingdom.
Of course it would be nice to top the celebration off with some giveaways for the guests.
This idea may not sound too creative but hear me out.
How about a special celebration starting Oct 1, 2011 given to every 40,000th person who goes through a Magic Kingdom turnstile between that date and let's say December 31, 2012?
So here is how it would work. Starting on Oct 1, every 40,000th guest would be met with a celebratory greeting, a gold fast pass for that day, honored as Grand Marshall of either the daytime or nighttime parade, depending upon the timing of that turnstile entry, a special meal at Cinderella's Royal Table, and an opportunity to stay overnight in Cinderella's Castle.
Not bad huh?
And if you think about this, in terms of cost, it should come in at a reasonable level and promote more visits to the park during that time frame.
Well, if I had a say in all this that's what I would do.
Okay, enough of that.
If I were to say what has, in my opinion, been the most significant happening or thing to occur in Walt Disney World these past 40 years it's pretty easy for me and I can say it in one word.
EPCOT.
Why?
Well, let's consider a few things:
"¢ It was the first Disney theme park that I am aware of that served alcohol"¦a risk perhaps that I'm not sure Walt would have been comfortable taking"¦not sure"¦but it was a risk never the less.
"¢ EPCOT would bring with it an untraditional array of attractions that helped introduced the term "edutainment" to the theme park fan. Make no mistake about it; EPCOT is a museum as well as a theme park.
"¢ The unlikely happy marriage of a high tech area (Future World) and a cultural area (World Showcase) was something I'm sure not too many people had faith about buy yet here we are some 29 years later and the marriage is solid.
"¢ EPCOT's place in the Disney Endurance Series. You can talk about the Walt Disney World Marathon Weekend and how it all started with the Walt Disney World Marathon so long ago, to the Disney 10K Classic, which transformed into the Race for the Taste 10K"¦and then the Princess Half Marathon and the Wine and Dine Half Marathon"¦.EPCOT has been instrumental in bringing the Endurance Series to WDW.
"¢ Oh and let's not forget things line the International Flower and Garden Show"¦where EPCOT is the perfect place to showcase the arrival of Spring.
"¢ October used to be a slow time for WDW but not since The international Food & Wine Festival made it's appearance in EPCOT. Wow, how much has that impacted guest experiences in that theme park?
"¢ Let's continue"¦the Holidays Around the World celebrations during the Christmas Season is just a wonderful, touching way of bringing guests into the holiday spirit.
"¢ The Candlelight Processional, which used to take place in the Magic Kingdom, has a home in EPCOT. Is there anyone who can doubt the success of that event since it moved to EPCOTthe perfect Venue?
"¢ How about the facts that in one theme park you can find over two dozen restaurants representing 11 different cuisines?
I could go on, but I think you get my point.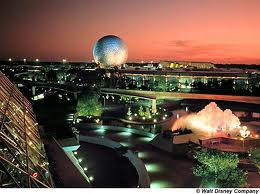 EPCOT has been home to many special events in Walt Disney World and is the perfect venue for so many special and exciting things for the guests to experience.
The World Showcase promenade is a perfect route for a parade and for those who remember the Tapestry of Nations/Dreams parade, they remember how enjoyable it was to witness the grandeur of the parade, and not to take for granted that the venue was a huge factor in how that parade was received.
Of course it goes without saying that over the years all the Illuminations shows have been spectacular with the present Illuminations: Reflections of Earth being an amazing and breathtaking show.
Many theme park industry experts have proclaimed EPCOT as the most perfectly designed and engineered theme park in HISTORY.
After almost 29 years of existence EPCOT is still "getting it done" and all other WDW theme parks pale in comparison"¦just look at the queues for the attractions in the other parks"¦look at how many disappointed guests are found in the other theme parks because there aren't enough eateries"¦look how many guests are drawn to EPCOT at night, compared to the other theme parks"¦and finally"¦look how centrally located EPCOT is to everything in WDW"¦you can get to EPCOT by car, bus, monorail, boat, and by foot power from several WDW resorts.
As the 40th Anniversary of the opening of The Magic Kingdom and Walt Disney World nears we can be thankful for so many wonderful experiences over the years.
Let's think about how many of those were due to a theme park that is known more for it's acronym (EPCOT) than its real name, Experimental Prototype Community of Tomorrow.
EPCOT…the best thing that ever happened to Walt Disney World over the last 40 years.