This is the second of two parts in which I describe how a number of friends and I did the four Walt Disney World theme parks in one day.
Park #3: Epcot
Everyone knew this park would be a challenge. It was early afternoon and we figured the crowds were peaking. We arrived at 2:00 P.M. and decided to do Spaceship Earth first. This was a toss-up"¦ we had been thinking all along to do Spaceship Earth either first or last but decided to get it over with as soon as we got into the park.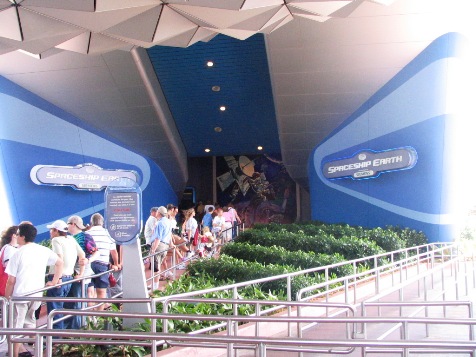 The line was fairly long but we managed to exit that attraction by 2:30.
We then needed to make a decision regarding which attraction to do next. It came down to either Soarin' or Test Track. The time board near the fountain told us that Soarin's wait was 10 minutes less than Test Track. We had to do Standby"¦ as FastPass distribution times were looking like early evening, 6 P.M. and later.
We entered the Soarin' queue at 2:40″¦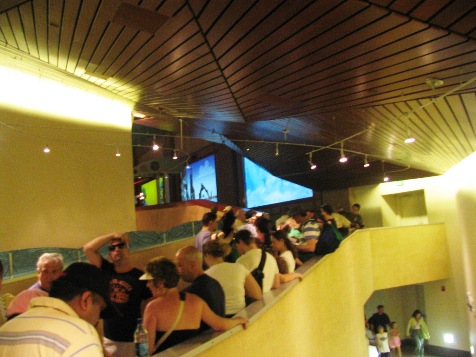 "¦and waited for 75 minutes before getting on our glider.
It was to that point the longest wait of any attraction.
We left Soarin' and The Land about 4:10 and headed over to Mexico to ride the Gran Fiesta Tour.
Unfortunately even though there was a short queue we had some problems. The CM overloaded our boat and we got stuck for a few moments.
Eventually we got the boat moving again"¦
We had finished our third park and it was only 4:35 P.M. It had taken us two hours to do DAK, two hours to do the Studios, and two and a half hours to do Epcot.
We had one park to go"¦ Magic Kingdom"¦ and that had EMH evening hours so we were looking pretty good"¦ we had seven-and-a-half hours to do three attractions.
A number of us wanted to rest while others stayed at Epcot"¦ staying at Epcot was dangerous because we came up with another challenge"¦ I'll tell you about that later.
While walking around World Showcase we stopped and enjoyed Jamie and the boys from Off Kilter.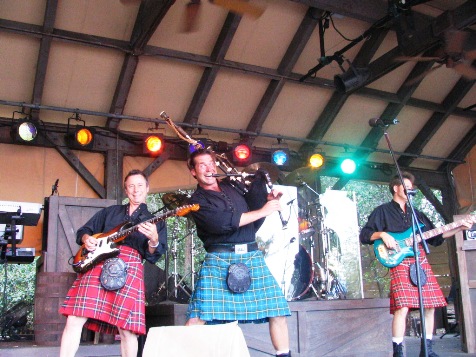 We all met up at Saratoga Springs for dinner at 6:30 and took our time and talked about our day and our prospects for MK.
Park #4: The Magic Kingdom
Now up to that point we all had some challenges to meet. My colleagues on the WDWTODAY podcast and I were challenged to do attractions we are not too crazy about.
Matt Hochberg was dragged onto Dinosaur, an attraction he really has no love for and actually dislikes; Mike Newell sucked it up and went on the Twilight Zone Tower of Terror, and Mike is not a big fan of what the Tower does"¦ but he went on; and Len Testa who gets dizzy on Star Tours gutted it out and just closed his eyes and covered his ears.
So everyone then turned their attention to me and I opened my big mouth and mentioned the dreaded Tea Cups.
"We're doing that first!" shouted my "friends."
That was followed by, "Whose favorite ride is the Tea Cups?"
Annette Owens of MEI-Travel and Mouse Fan Travel shouted, "I love it and love to spin!"
So it was decided that Annette would accompany yours truly on the Tea Cups.
We all got in line and I was thinking, "Me and my big mouth!" But I had a plan"¦ and hoped it would work.
When we got into the Tea Cups Annette let out a sinister chuckle.
Just as the attraction started I said to Annette, "I guess we'll see who the stronger of the two of us is!" She started to spin the tea cup and I countered her actions by spinning the cup the other way. Basically it was a standstill until my hands started to slip and Annette put everything into it.
I then noticed something"¦ I did not get dizzy or sick"¦ for some reason this ride did not find me light-headed and nauseous. It had been at least 14 years since I had been on this attraction.
Guess I had finally grown out of getting sick from spinning.
Not sure if everyone was happy for me or not… I know I was.
We then headed off to do either Splash Mountain or Big Thunder Mountain.
Those who did not want to get wet went to Big Thunder Mountain Railroad and those who were still reeling from the mid-90 temps of that day went to Splash Mountain.
There was an approximate wait time of 15-20 minutes for all the attractions that evening.
Our 12th and last attraction of the day was Pirates of the Caribbean. There was an interesting queue going on for Pirates. All the guests were going to the left queue and Mike Newell and I decided to go to the right queue and we had a boat all to ourselves.
To celebrate our accomplishment Len treated everyone to a Dole Whip.
We finished just before 11 P.M. and we were tired.
I think we lucked out in Hollywood Studios. Had we not been able to do that park so quickly we would not have had the luxury of waiting a few hours between Epcot and MK.
It was also proven that you need either an Extra Magic Hour morning or evening to help with extending the operating hours of your first or last park of the day.
Another important factor is the time of year you try this challenge. Early May seems a lot more accommodating than Easter Week, the 4th of July, and Christmas Day.
When we started the day there were at least a dozen of us"¦ throughout the day some dropped off and others came on.
The four of us Len, Matt, Mike, and yours truly made it through the entire day.
Only two others were with us for the entire day so a tip of the Mickey Ears goes out to Danielle DeCerbo and Marissa Daurio for putting up with our shenanigans and keeping us company for all four parks. Special kudos go out to everyone else who at one time or another joined us and energized us along the way.
Hmmm, I wonder if this could be done if the challenge was four attractions per park.
Oh, I almost forgot. Remember when I said Annette Owens and I walked around Epcot and thought of another challenge? Well, we proposed this idea to the gang and a few days later we all tried it and we ended up more wiped out from that challenge than doing the four parks in one day.
Curious?
I'll have to tell you about it sometime… like maybe next time.