WDW Chronicles: The Music of Main Street, U.S.A.
by Jim Korkis
Disney Historian
Feature Article
This article appeared in the March 19, 2013 Issue #704 of ALL EARS® (ISSN: 1533-0753)
Editor's Note: This story/information was accurate when it was published. Please be sure to confirm all current rates, information and other details before planning your trip.
"I'm walking right down the middle of Main Street, U.S.A.
It's the heart of America.
The heartbeat of a holiday.
The place was made with a magical plan
And just around the corner is a Fantasyland.
I'm walking right down the middle of Main Street, U.S.A."
I love walking down the middle of Main Street, U.S.A. I love it when the Main Street Trolley Show is being performed and colorfully costumed entertainers hop off the horse-drawn streetcar to lip-sync and dance to that pre-recorded music.
I wonder how many other guests enjoying that show realize that a similar performance happened as far back as a 1959 Disneyland parade when it was called the "Horse Car Ballet."
Actually, in those days, the theme song was "Meet Me Down on Main Street" with music by Oliver Wallace and lyrics by Tom Adair. The song was originally titled "Crazy Over Daisy" and was first used in the 1950 Donald Duck turn-of-the-century cartoon of the same name, but with different lyrics.
"Main Street, Main Street
Meet me tonight on Main Street
'Cause we've got a date tonight at eight
So meet me down on Main Street
Please don't be late, don't make me wait
Just meet me down on Main Street."
However, today the song associated with Main Street encourages us all to walk right down the middle.
I wonder how many people even realize that the song was written by Stu Nunnery, a singer and songwriter who only released one album in 1973. He eventually became a jingle writer. As Nunnery recalled, "I wrote words and music to 'Main Street, U.S.A.' in 1978 while writing for a 'jingle house' in New York. Disney bought the song and there was supposed to be a rollout of the song in 1980 when Disneyland was to celebrate its 25th anniversary. The song did not appear publicly until 1985 when Disneyland celebrated its 30th anniversary, and it was sung on a TV special by none other than Marie Osmond and a cast of characters. Since then, the song remains a parade theme at the parks and is sung by the barbershop a cappella groups walking down Main Street at the parks."
One of the things that makes Main Street, U.S.A. my favorite location at the Magic Kingdom is the music. Both in California and in Florida, it is that wonderful turn-of-the-century music provided by live entertainment that transports me to a happier place.
"The challenge was to produce atmosphere groups similar to those at Disneyland that would work in this new environment of Florida," stated former Music Director Jim Christensen.
The local Orlando talent pool in 1971 was unable to supply all the musical entertainers needed, so auditions were held in several cities around the country, including Chicago, New York City, Los Angeles, Las Vegas and Miami. Many performers did not fully understand the nature and requirements of performing in a Disney theme park and left shortly after being hired.
A 1973 picture disc called "A Musical Souvenir of Walt Disney World's Magic Kingdom" featured the following liner notes about the original musical entertainment on Main Street:
"THE WALT DISNEY WORLD BAND: This band of on-the-go musicians provides Magic Kingdom guests with plenty of Sousa marches, turn-of-the-century oldies, Disney classic favorites, and humorous arrangements of today's top show tunes.
THE DAPPER DANS: These four 'happy men of Main Street' can be found in the shops and on the street corners singing your favorite barbershop melodies.
THE SAXOPHONE QUARTET: (Keystone Kops) Dressed in nostalgic costumes of the 1920s, these talented saxophonists are ready for a musical chase down Main Street, U.S.A. just when you least expect it!
THE MAIN STREET PIANIST: Whether playing your favorite ragtime tune or leading a sing-along, this piano player is always adding to the happy mood of Walt Disney World's guests.
THE TOWN BAND: The butcher, the baker, and the candlestick maker all get together for some musical fun in Town Square."
In the earliest years, there were other musical acts like the Fire Department Band, and the Crystal Palace Trio as well.
"I was in the Magic Kingdom and heard the Dapper Dans sing live," said Ron Logan, former Executive Vice President of Walt Disney Entertainment. "I felt like I was experiencing it in 'real time' but 'real time' of the past. It hit me that the Main Street environment must be kept as 'live' as it could be. 'Live' is part of the 'real' environment."
Let's take a moment to celebrate Main Street's musical heritage:
===============
DAPPER DANS
===============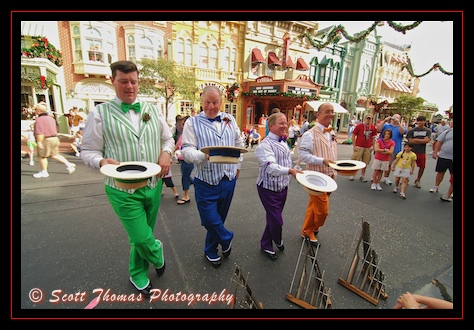 "Dapper Dan" was a turn of the century phrase referring to a well-dressed and groomed gentleman who was "dapper" or stylish.
In 1957, Disneyland entertainment director Tommy Walker arranged for a barbershop quartet to perform on Main Street. By 1959, the group was officially known as the Dapper Dans. The superb four-part harmony sung a cappella by this quartet became an institution on Main Street, with a song list of more than 100 songs.
They are official members of the Barbershop Harmony Society (formerly the Society for the Preservation and Encouragement of Barber Shop Quartet Singing in America, Inc. or SPEBSQA).
The first Dapper Dans of the Magic Kingdom at Disney World, Florida, in October 1971 were Dick Kneeland (lead), Bub Thomas (bass), Jerry Siggins (baritone), and Bob Mathis (tenor). (A line drawing of the quartet is framed in the Harmony Barber Shop.)
Their first set was at the GAF Photo Shop, performing for the cast members and their families a week before the grand opening of Walt Disney World. However, their home base is considered the Harmony Barber Shop, named after the harmony in their songs.
Both Thomas and Kneeland had been members of the Dapper Dans at Disneyland and performed until the end of the 1971 summer season, when they relocated to Florida and brought with them the Disney barber shop traditions.
It was Bub Thomas who introduced the Deagan Organ Chimes into the act at Disneyland. Comedienne Billie Bird, a friend and vaudevillian performer, taught Thomas to play the chimes, and it was her chimes that the Dans first used. Each of the eight (shaker) chimes has three octaves of a single note, comprising a C scale. The Organ Chimes were made by the J.C. Deagan Company in Chicago, Illinois, about 1901, the year of Walt Disney's birth.
While the group performs as a quartet, there are actually up to 12 singers assigned to the role, plus occasional substitutes. Membership has changed over the decades as various singers have left and new ones have been brought in to replace them.
Walt Disney loved the sound of a barbershop quartet and even asked the musical group The Mellomen to record an album of barbershop songs, "Meet Me Down on Main Street," which was sold at Disneyland for many years. The original Schwinn custom, 4-seater bicycle ridden in the early years down Disneyland's Main Street by the Dans was commissioned by Walt Disney himself.
===============
WALT DISNEY WORLD
BAND
===============
Jim Christensen was brought in from Disneyland to get the Walt Disney World Marching Band started. Unlike Disneyland's 16-piece band, Walt Disney World's had 20 pieces. Christensen's assistant was Stan Freese, who took over as the WDW bandleader. A 1972 record album was released featuring the WDW band.
===============
CASEY'S CORNER
PIANIST
===============
Even today, one of the most popular musical attractions at Disneyland is the Coke Refreshment Corner Pianist playing Ragtime music. That tradition was imported to the Magic Kingdom when it opened and continues to this day as well, even though the location has been renamed Casey's Corner.
The lengthy piano mirror allows the pianist to play and still interact with the guests who can see his face and he can see them. Besides tunes from the time period, the pianist often includes a variety of Disney tunes and corny jokes in his act.
===============
THE MAIN STREET
PHILHARMONIC
===============
Debuting in 2000, this 12-piece brass and percussion ensemble attired in red-and-white uniforms plays in Town Square, re-creating a turn-of-the-century ambience with tunes like "Take Me Out to the Ball Game," "76 Trombones" and "Alexander's Rag Time Band." In particular, they are featured in the nightly Flag Retreat ceremony. The band is typically part of the pre-entertainment to the afternoon parade on weekdays.
===============
THE MAIN STREET
BACKGROUND MUSIC
===============
In 2012, a new music loop for Main Street was created by Dean Mora and his orchestra. Mora is a Los Angeles-born pianist whose interest in music from the 1920s and 1930s was first sparked when he was 11 years old after watching the movie "The Sting." He was instantly enamored of the cars, clothes, music and the entire style of that ragtime period. In 1994, Mora formed the band Mora's Modern Rhythmists.
Today, Mora oversees four vintage-style bands that perform American dance music from the turn of the century to 1950. Using period arrangements and transcriptions from the original recordings, Mora's bands built a prestigious reputation and have played at most of the historical venues around Los Angeles, including the Palladium, Roosevelt Hotel, Casino ballroom in Avalon, the Orpheum, and the Los Angeles, Palace and Wiltern theaters.
Mora's Ragtime Orchestra was formed in 2006 to present the ragtime repertoire from the late 1890s to the 1910s. In Spring 2011, Mora was contacted by Disney Imagineering to record a new music loop for Main Street. He spent the summer helping select a new lineup of songs to be recorded, retaining some of the previous song list but adding new "old" songs. Included in that selection was Michael Giacchino's "Married Life" from the Disney-Pixar animated film "UP," arranged in the musical style of the period.
"For the arrangements, I used a good number of period arrangements, in addition to my own arrangements (as well as a handful of charts from trombonist Jim McMillen). We recorded all the tracks at Capitol Studios back in September (2011)," stated Mora.
Capitol Studios is located in the Hollywood landmark known as the Capitol Records Tower Building originally built in 1956 and renowned for its outstanding recording studios used by classic performers like Frank Sinatra, Les Paul and Nat King Cole.
The new Main Street loop premiered at Disneyland on January 9, 2012 and then in March at Disneyland Paris. It replaced the former loop at Walt Disney World in Fall 2012. Unfortunately, the new loop does not include the familiar Sherman Brothers' tunes from the Disney live action film "Summer Magic," which was a well-loved part of the loop that ran from 1992 to near the end of 2012.
While some people have claimed that Main Street, U.S.A. really has no attractions, they forget that Main Street itself IS the attraction. A significant part of all that is its distinctive, optimistic music.
===============
RELATED LINKS
===============
More about the pianist at Casey's Corner:
http://land.allears.net/blogs/debwills/2010/08/caseys_corner_pianist_jim_on_m_1.html
http://land.allears.net/blogs/jackspence/2011/01/caseys_corner_1.html
Where Does the Music Come From?
http://land.allears.net/blogs/jackspence/2013/03/where_does_the_music_come_from_2.html
The Sights and Sounds of Walt Disney World:
http://allears.net/ae/issue664.htm
Other features from the Walt Disney World Chronicles series by Jim Korkis can be found in the AllEars® Archives:
http://allears.net/ae/archives.htm
=-=-=-=-=-=-=-=-=-=-=-=-=
ABOUT THE AUTHOR:
Jim Korkis is an internationally respected Disney Historian who has written hundreds of articles about all things Disney for more than three decades. As a former Walt Disney World cast member, his skills and historical knowledge were utilized by Disney Entertainment, Imagineering, Disney Design Group, Yellow Shoes Marketing, Disney Cruise Line, Disney Feature Animation Florida, Disney Institute, WDW Travel Company, Disney Vacation Club and many other departments.
He is the author of two new books, available in both paperback and Kindle versions on Amazon.com:
— "Who's Afraid of the Song of the South"
— "The REVISED Vault of Walt": Paperback Version / Kindle version
-o-o-o-o-o-o-o-o-o-o-o-
Editor's Note: This story/information was accurate when it was published. Please be sure to confirm all current rates, information and other details before planning your trip.