Parasailing and Watersports Contemporary Resort Marina
Sammy Duvall's Watersports Center will no longer be providing watersports activities at the Contemporary Resort after August 31, 2018. Contact Sammy Duvall's at 407-939-0754 for more information.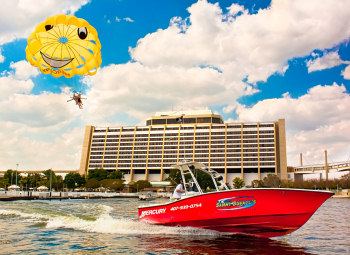 Fun for Everyone!
Sammy Duvall's offers Parasailing, Water Skiing, Wake Boarding, and Family Tubing. Personal Watercraft available for rent or guided tours of Bay Lake and Seven Seas Lagoon
Seven days a week
9 a.m. – 5:00 p.m.
Make your reservation 407-939-0754 and mention AllEars® for a Discount!
or
15% If you call 407-909-1470 or make an in person reservation. You must mention AllEars® for any discount.
Parasailing: A bird's eye view of Walt Disney World® will create lifelong memories. Parasailing may be booked as a single (one guest) or tandem (two guests flying together). Our "state of the art" parasail boat allows guests to take off and land right from the boat without even getting wet!
RESTRICTIONS: Must weigh a minimum of 130 pounds, maximum of 330 pounds. Weight restrictions apply to both single and tandem flights. Must be at least 6 years old.
Single Flight:
Regular: $95 per flight (8-10 minutes at 450 feet)
Deluxe: $ 130 per flight (10-12 minutes at 600 feet)
Tandem Flight:
Regular: $170 per flight (8-10 minutes at 450 feet)
Premium: $195 per flight (10-12 minutes at 600 feet)
Waterskiing and Wakeboarding – Enjoy natural Florida beauty in Bay Lake while having the time of your life! Guests have the option to combo water ski, slalom ski, wakeboard, and tube ride throughout hour long trips with private instructors/drivers. Five or six people can fit on one boat at one time.
$165 per hour (Prices are per boat for up to 6 guests)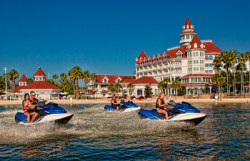 Personal Water Craft (PWC) – Personal watercrafts are a great way for guests to enjoy the natural Florida landscape cruising at 35 miles per hour. Guests may operate the watercraft freely in a buoyed off area on Bay Lake under supervision of a Sammy Duvall's Watersports guide.
$135 per watercraft per hour
Restrictions: The personal watercraft holds up to three guests, a maximum of 400 pounds. Operator must be at least 16 years old with a valid photo ID present at check in.
RESERVATIONS:
Reservations may be made up to one year in advance. Excursions may be cancelled at any time by Sammy Duvall's Watersports Centre due to inclement weather.

For group and/or corporate outings, please contact Sammy Duvall at 407-909-1470 (phone) or 407-909-1471 (fax).
A 24-hour cancellation notice is required or guest will be charged in full.
Please note: Children under 18 years of age must have a parent or legal guardian present to sign a release form.
Information provided by Sammy Duvall Watersports Centre