Tokyo DisneySea Nemo & Friends SeaRider
by Mike Schiller
AllEars®Guest Columnist
Feature Article
This article appeared in the September 12, 2017 Issue #938 of ALL EARS® (ISSN: 1533-0753)
Editor's Note: This story/information was accurate when it was published. Please be sure to confirm all current rates, information and other details before planning your trip.
*SPOILER ALERT SPOILER ALERT SPOILER ALERT*
THE FOLLOWING FEATURE CONTAINS DETAILS ABOUT TOKYO DISNEYSEA'S NEMO & FRIENDS SEARIDER ATTRACTION. IF YOU DON'T WANT TO KNOW ANYTHING ABOUT THIS RIDE, SKIP THIS FEATURE
When I wrote about the new Iron Man Experience attraction at Hong Kong Disneyland back in March, I mentioned that I have a job that gives me the opportunity to visit all of the international Disney resorts on a fairly routine basis. Well, I recently returned from a trip to Tokyo Disneyland and thought others might enjoy hearing about the new Nemo & Friends SeaRider attraction, which opened at Tokyo DisneySea back in May.
As an aside, this trip was an extra treat for me personally as, even though it was my umpteenth visit to the Tokyo Disney resort, it was my first with a family member in tow, as my college-age son joined me at the end of this particular business trip. He joined me on Friday evening and, after meeting up at the airport, we took the hour-plus bus ride to Disney's Hotel MiraCosta. For those who aren't familiar with that hotel, it's basically a part of Tokyo DisneySea and provides the backdrop for its 'entry' land (Mediterranean Harbor). It has a park entrance for hotel guests that drops you off right in the middle of the action (similar to the Grand Californian). It's a beautiful property and could very well be my new favorite Disney resort. I highly recommend a stay there, providing you don't mind taking a second mortgage out on your home. It's quite expensive, so we stayed there only one night before moving to other only-slightly-less-outrageously-priced Tokyo Disney hotels.
With a little assistance from jet lag, we were up bright and early the next morning and ready to take advantage of the 15-minute early entry time afforded to Disney hotel guests. Yes, you read that right. If you stay at a Tokyo Disney hotel, you get into the parks a whopping 15 minutes early (it's called the 'Happy 15 Entry'). And they have a grand total of two rides operating during that time. But believe it or not, it's still a significant advantage. If you've ever been to the Tokyo Disney resort, you'll know that it feels like approximately the entire population of Japan is at the parks every day. And they all line up about an hour before the park opens. So being toward the front of that crowd is quite helpful.
Anyway, after a quick ride of their Tower of Terror (which is not Twilight Zone-themed and which I think is an upgrade over the US version), we walk-jogged over to the Port Discovery land for a SeaRider fast pass.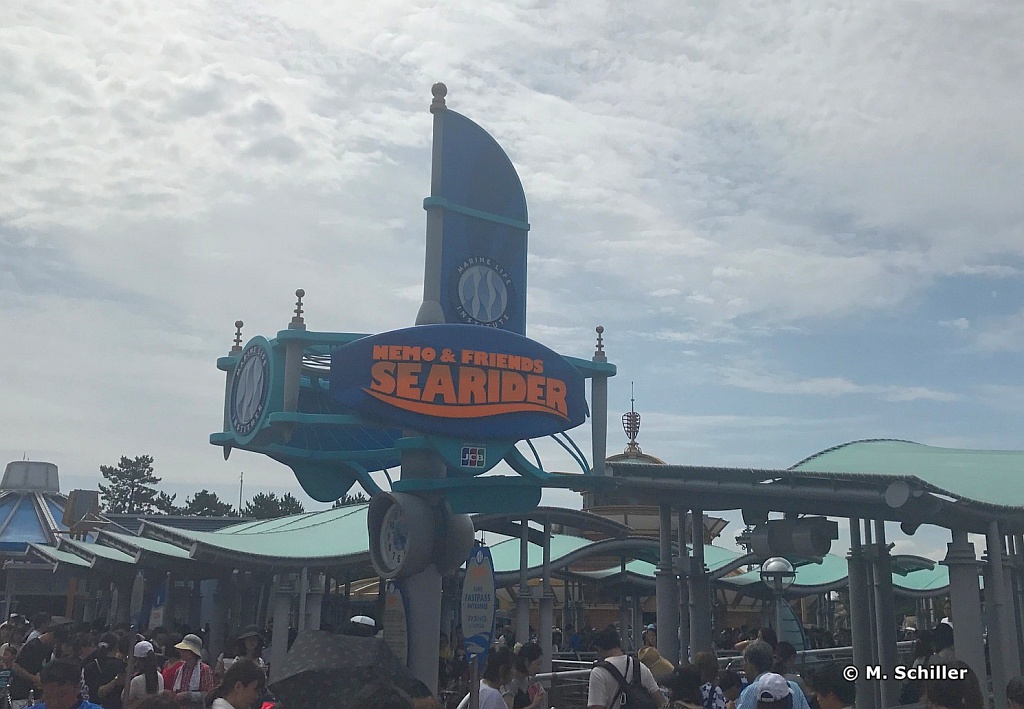 Nemo & Friends SeaRider is the anchor attraction in Port Discovery and replaces the previous anchor attraction, StormRider (R.I.P.). StormRider was a Star Tours-style simulator ride, but with much bigger ride vehicles. SeaRider took over the building and uses the same ride system, just with a new show.
The big question in my mind was 'Will Disney, after numerous attempts, finally have a true A-list Nemo ride?' While the Nemo rides at Epcot and Disneyland are fine, I find them to be under whelming. And while Crush Coaster in Paris is a good roller coaster, there's not really much Nemo to it.
At the designated time, we lined up to enter the FastPass queue, behind about a hundred other FastPass holders (we decided that they just might be giving away too many FastPasses for this ride) and slowly moved into the 'holding area' outside the building. Just like with StormRider, the line is entirely outside, which is quite an experience in Tokyo in late July. (If 95 degrees, sunny, and 90 percent humidity are your idea of a fun day outside, then I highly recommend a trip to Tokyo in mid-summer.) Eventually the doors to the building opened (before we had completely melted, fortunately) and we moved into the pre-show area, which is thankfully indoors and air-conditioned.
As mentioned earlier, this is a Star Tours-type ride but with much bigger ride vehicles. (They're almost moving theaters as much as they are vehicles.) There are two 'vehicles' in total and they both load at the same time. When you enter the pre-show area, you're sent to either the right or the left, lined up in rows, watch the pre-show, and then enter the ride vehicle.
The pre-show is used to explain the premise of the ride. There's a live cast member explaining everything (and boy, that job must get old). Unlike StormRider, they provide no English translations anywhere, so I had to surmise what was being said. Basically, it seems like we're visiting the Marine Life Institute where we will be exploring the ocean in a big fish-shaped vehicle. But since the vehicle is too big to really interact with sea life, they've invented technology to miniaturize it (and its passengers) to the size of a fish. And I'm guessing there's some sort of universal translator tech involved that helps you understand what fish are saying. They demonstrate the miniaturization tech during the pre-show by showing a vehicle in a tank in the middle of the room and, with some nice Disney special effects, shrinking it to the size of Nemo. It seemed a bit presumptuous to me for them to just assume I was OK being miniaturized, without a permission slip or waiver or anything, but then I thought, hey, what could go wrong being the size of a clown fish in the middle of the ocean?
After boarding our SeaRider vehicle, the doors closed and the fun began. SeaRider is like Star Tours in that the ride experience isn't the same every time. Due to the crowds, we were only able to ride it twice during the visit, so we weren't able to see every variation. But there seemed to be a basic pattern to each ride experience.
There are five segments to the ride. The first segment involves leaving the hangar, falling into the ocean, being shrunk, and then swimming around and meeting a bunch of Nemo characters (from both movies). The first time, Dory greeted us and very hospitably showed us around, with different characters popping up to say hello. The second time, it was Mr. Ray who first greeted us. But both times it was the same concept – swim around the coral reef area as various characters show up and talk to us. And what were the characters saying to us? No clue. It's all in Japanese.
Before moving on to the second segment, I should mention that, if you're prone to motion sickness, be aware: since you're supposedly floating or swimming in water throughout the ride, the vehicle is constantly in motion of some sort. Even when sitting still, it's slowly rocking (since you're sitting still while floating in water).
The second segment involves a ride through the EAC (East Australian Current), along with the requisite motion effects. Both times, when we were done meeting everyone around the coral reef, we jumped into the EAC along with Marlin, Nemo, and Dory. The first time, Squirt showed us the way and the second time it was Crush. We called the Squirt sequence the 'head-butt sequence' as, for some reason, all of the characters decided to head-butt our vehicle, vibrating it every time, while we were riding the EAC.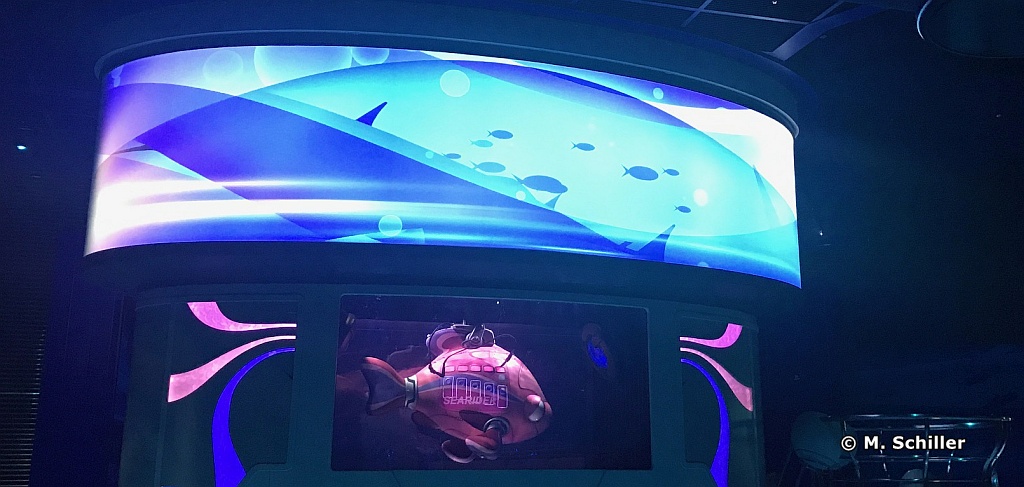 The third segment varies based on where the EAC dumps you out. One time we swam with the otters from Finding Dory. The other time we were in a field of jellyfish and had to bounce along the tops of them (a la Finding Nemo) in order to escape, with some great motion effects in the ride vehicle as we bounced along, plus some nice 'electricity' effects when we touched the jellyfish.
The fourth segment was the same for us both times (although I understand that there's an alternate segment where you're chased by a giant octopus or squid). Hank, the octopus from Finding Dory showed up, we all were sucked into a grate and, after some more EAC-style motion effects, we were dumped into an outdoor 'touch tank' at an aquarium. There was a welcome water-splash effect as we landed (Why was it welcome? See my comments above about the weather in Tokyo in July). After avoiding some grabbing hands, we were picked up by a little girl with braces, who looked at us quizzically (I guess noticing that we were a machine and not a fish). Fortunately, Hank heroically saved us, wrapping his tentacles around the poor girl's face, causing her to drop us. Hank caught us in a water-filled container of some sort and carried us, Dory, Nemo, and Marlin back to the ocean. After being harassed by some rude sea lions, Marlin's bird friends (again from Finding Dory) picked us up and carried us back to the coral reef where we began the adventure.
And then there's the fifth, and final, segment, where all of our new fish friends said goodbye to us as we became un-miniaturized. Both times, some fish was hugging or kissing us as we grew. One time the blowfish was kissing us and the other time the starfish was hugging us. Both expressed surprise as we grew during their expression of affection, and both said something that I'm sure was very funny and clever but that I couldn't understand. We then backed up into the hangar bay from which we started and were asked to leave the vehicle. 'Ride's over. Bah-bye.'
So in answer to my earlier question: Yes Disney does indeed have a true A-list Nemo ride. I thoroughly enjoyed Nemo & Friends SeaRider. It has good effects, an interesting story (and it's probably even more interesting if you can understand the dialogue), a different experience every time you ride it, and, most importantly, is fun. If you get the chance to swing by Tokyo, I highly recommend a ride on SeaRider.
= = = = = = = = = = = = =
RELATED LINKS
= = = = = = = = = = = = =
Tokyo Disney in Blog Central
The Seas with Nemo & Friends in Epcot
Finding Nemo Submarine Voyage at Disneyland
Other AllEars™ Features by Mike Schiller:
Coming Attractions: A Preview of TRON Lightcycle Power Run
Hong Kong Disneyland's Iron Man Experience
= = = = = = = = = = = = =
ABOUT THE AUTHOR
= = = = = = = = = = = = =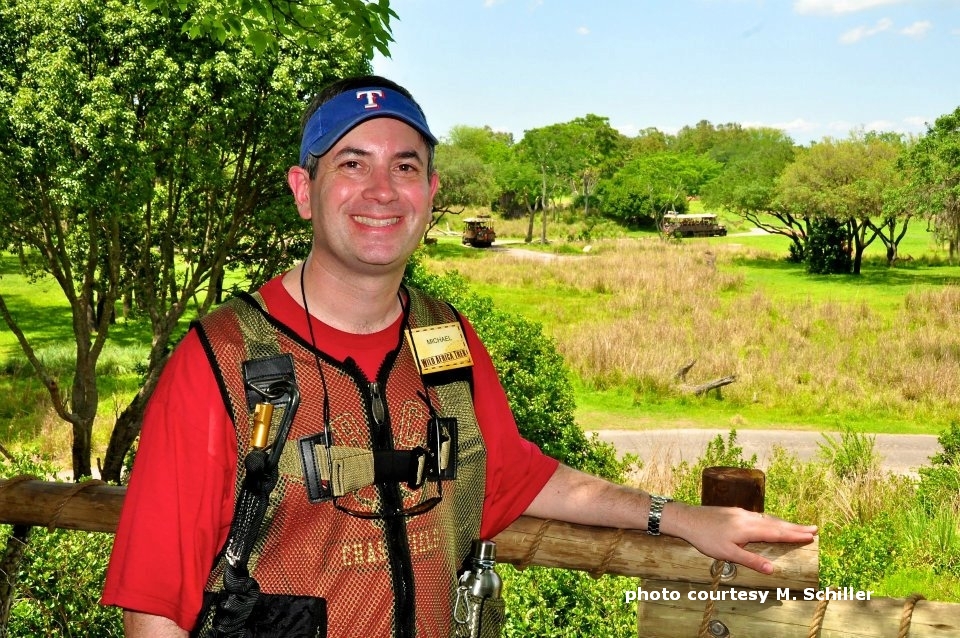 Mike Schiller is a frequent visitor to the six worldwide Disney theme park locations and is currently nearing the end of his long quest to stay at every Disney-owned hotel around the world (38 down, 4 to go). He lives in Dallas with his wife and two kids and is a published author with McGraw-Hill as well as the Chief Information Security Officer at a Fortune 500 company. Mike also enjoys watching baseball in his spare time and has attended games at every major league stadium.
-o-o-o-o-o-o-o-o-o-o-o-
Editor's Note: This story/information was accurate when it was published. Please be sure to confirm all current rates, information and other details before planning your trip.