The Music of Main Street Electrical Parade
by Al Krombach
AllEars® Guest Columnist
Feature Article
This article appeared in the August 23, 2016 Issue #883 of ALL EARS® (ISSN: 1533-0753)
Editor's Note: This story/information was accurate when it was published. Please be sure to confirm all current rates, information and other details before planning your trip.
"Ladies and gentlemen, boys and girls,
Disney proudly presents our spectacular festival pageant
of nighttime magic and imagination in thousands of sparkling lights
and electro-synthe-magnetic musical sounds… "
Multiple generations of Disney theme park visitors can easily supply the last five words of that stirring introduction. It's the Main Street Electrical Parade, and when the Disney crew packs away its 575,000 lights in a few weeks, its latest run in the Magic Kingdom will draw to a close. The unique parade is set to return to its roots at Disneyland, where it first took to the streets in 1972.
It may have debuted there, but the Disney staffers who created it took inspiration from an early entertainment at the Walt Disney World Resort. The Electrical Water Pageant began a few weeks after WDW opened in 1971 (and continues to this day). It consists of tall, lighted screens on a string of musical barges towed around the Seven Seas Lagoon for the benefit of hotel guests.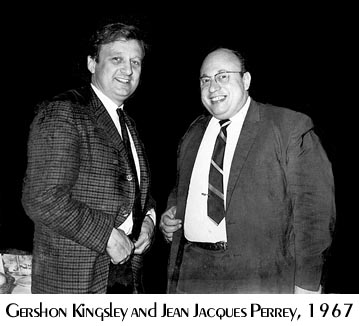 Then-Entertainment Vice President Bob Jani suggested the same show, or something like it on wheels, would help keep Disneyland guests on Main Street after sunset. Project Director Ron Miziker and show producer Jack Wagner took on the task. Jani's idea that the floats should be accompanied by the symphonic music from "Fantasia" didn't appeal to Wagner. Given two days to come up with an alternative, he rooted through his record collection, thinking some kind of electronic music would be the best accompaniment for an electronic light show. He eventually uncovered an obscure album titled "Spotlight on the Moog: Kaleidoscopic Vibrations" by Gershon Kingsley and Jean Jacques Perrey, originally recorded in 1967. On the record's B side, he found a little tune called "Baroque Hoedown."
Kingsley was a producer at Vanguard Records in New York when he and Perrey, a Frenchman who had been working in the U.S. as an organist, got together to see what they could create in the relatively new field of electronic music. Perrey was known as an inveterate experimenter, always trying to build musical compositions from sounds beyond what might come out of conventional instruments.
"In a beehive in Switzerland, I recorded miles of magnetic tape," he wrote in his autobiography. "It took a titanic amount of labor, 46 hours of cutting and gluing itsy-bitsy pieces of magnetic tape together for the final result: two minutes of music. I think I was a little crazy back then…" The tune? Flight of the Bumblebee, of course.
Bees may not have played a part in the two albums Kingsley and Perrey produced for Vanguard, but the pair employed ground-breaking electronic gadgets and multiple-track recording in new ways. Until then, instruments like the Ondioline and Moog synthesizer were mostly used to compose avant-garde classical compositions, but Perrey used them to create friendly, bouncy pop tunes — tunes like "Baroque Hoedown."
"Baroque" means in the style of 18th-century composers like Johann Sebastian Bach; "hoedown," with a country-music sensibility. The tune has been described as "harpsichord-gone-country." It was its lively, danceable beat and simple harmony that attracted the Disney parade producers. The theme was just about a minute long, but it could be "looped" to play continuously without interfering with itself, something like the music in "it's a small world."
The original Disney version was recorded by synthesizer programmer Paul Beaver and music director Jim Christensen. Jani decided to build the entire parade around the theme. Music from Disney movies was inserted into the sound track to synchronize with "Baroque Hoedown" and to accompany each lighted float derived from the movie. Sensors installed along the parade route would ensure that guests heard the appropriate music at the right time.
The Main Street Electrical Parade ran from 1972 to 1974 at Disneyland before being halted in favor of a Centennial-themed parade. A college student named Don Dorsey was hired to produce the Moog synthesizer soundtrack for that parade, titled America on Parade. When the Main Street Electrical Parade was scheduled for return in 1977, Dorsey "plussed" its soundtrack by adding opening and closing fanfares, rearranging some of the music, and incorporating the opening "electro-synthe-magnetic" announcement. In 1979, the opening announcement was recorded by Jack Wagner through a device called a vocoder to give it its robotic sound. Over its history, music themes — and floats — have been added and deleted from the parade in order to promote specific films and remain current, but "Baroque Hoedown" remains its essential theme. The nighttime parade ran at Disneyland until late 1996.
Perrey claimed he was unaware of Disney's use of "Baroque Hoedown" until he accidentally heard it during a visit to Disneyland in the 1980s. (The commercial rights belonged to the publisher, and Disney bought the tune from them.) In his autobiography, Perrey says he met Walt Disney in 1963 at a cocktail party and had several long conversations with him. "He always encouraged me to go further in my research and to be a perfectionist," he wrote. "I owe him a lot and pledge him eternal respect and veneration."
Walt Disney World's version of the parade began on June 11, 1977, running until 1991 when it was shipped off to Disneyland Paris. It returned in May 1999 and closed in April 2001. Its third engagement began on June 5, 2010, and is scheduled to end on October 9, 2016.
In its current version, some of the movie themes guests can identify along with the floats include "The Unbirthday Song" and "Alice in Wonderland" from the animated movie of that title; "Following the Leader" and "You Can Fly!" From Peter Pan; "Heigh Ho" and "Dig Dig Dig" from Snow White and the Seven Dwarfs; and "Brazzle Dazzle Day" and "Boo Bop Boobop Bop (I Love You, Too)" from Pete's Dragon (the original 1977 movie, not the live-action remake currently playing!). The patriotic final float moves along to a pastiche of American tunes including – listen quickly now — "Columbia the Gem of the Ocean," "Yankee Doodle," "National Emblem," Stars and Stripes Forever," "She's a Grand Old Flag" and "To the Colors."
Author's Note: Recordings of the Main Street Electrical Parade sound track seem to be limited to Disneyland reissues. The most recent release is a 9-minute version in "The Legacy Collection — Disneyland," a three-CD set (Walt Disney Records, 2015). It also can be found in 5-minute versions on "Official Album — Disneyland/Walt Disney World" (Walt Disney Records, 1991) and on "The Music of Disney – A Legacy in Sound," a three-CD boxed set (Walt Disney Records, 1992). A true collector's item is a limited-edition 7-inch LP recording of the original parade soundtrack issued in 1973. Interesting non-Disney versions include the CD "Heigh Ho Mozart," Disney tunes in the style of various classical composers, with "Baroque Hoedown" by Vivaldi (Delos, 1995); and on "A Disney Spectacular" by Erich Kunzel and the Cincinnati Pops Orchestra (Telarc, 1989).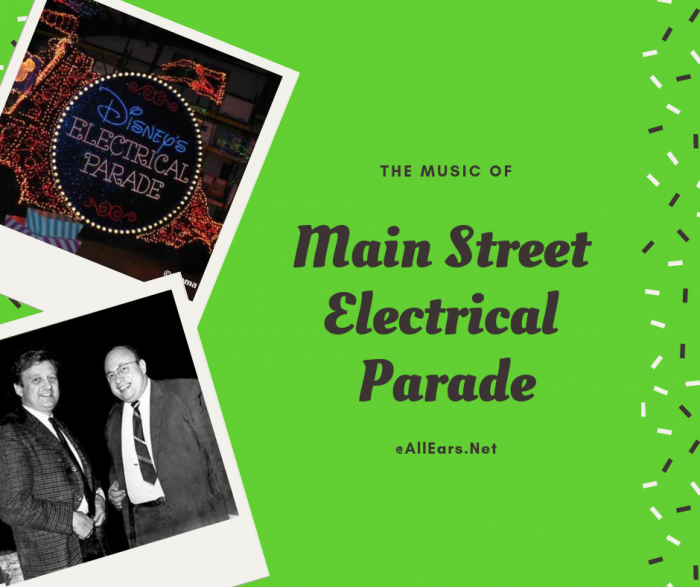 = = = = = = = = = = = = =
RELATED LINKS
= = = = = = = = = = = = =
The Main Street Electrical Parade Page (including AllEars.Net's video of the latest version)
Al Krombach has previously written on Disney music for AllEars.Net:
The Music of Epcot's Fountain of Nations
The Music of Splash Mountain
The Music of the Haunted Mansion
Finding Oscar: Academy Award-Winning Songs at WDW
The Music of Impressions de France
In the AllEars® Amazon Store:
A Musical History of Disneyland, 50th Anniversary
Tokyo Disneyland Electrical Parade
= = = = = = = = = = = = =
ABOUT THE AUTHOR
= = = = = = = = = = = = =
A professional journalist for more than 30 years, Al Krombach has worked for several Florida newspapers and retired in 2015. He is an alumnus of the Florida State University College of Music and has worked with a variety of musical groups (as an instrumentalist) and choirs (as a director). He and wife Vicky have three children and five grandchildren, every one a Disney fan. They are longtime Disney aficionados and have accumulated more than 250 park visits since the World began.
-=-=-=-=-=-=-=-=-=-=-
EDITOR'S NOTE: Would you like to be an AllEars® Guest Columnist? Check out our Writers' Guidelines and send your idea for a feature to AllEars® Editor Deb Koma HERE.
-o-o-o-o-o-o-o-o-o-o-o-
Editor's Note: This story/information was accurate when it was published. Please be sure to confirm all current rates, information and other details before planning your trip.