The Changing Face of Disney Springs Dining
by Debra Martin Koma
AllEars® Editor
Feature Article
This article appeared in the November 21, 2017 Issue #948 of ALL EARS® (ISSN: 1533-0753)
Editor's Note: This story/information was accurate when it was published. Please be sure to confirm all current rates, information and other details before planning your trip.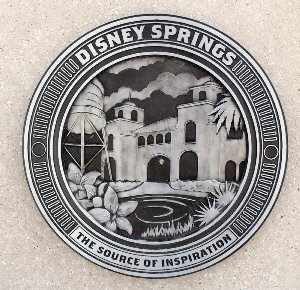 A number of years ago, Epcot's World Showcase underwent a sort of dining renaissance — Bistro de Paris in the France pavilion was renovated into Monsieur Paul, Italy added Tutto Gusto and Via Napoli, and the eateries in the Japan pavilion transformed: a name change to Teppanyaki yielded Teppan Edo, and Tempura Kiku and the Matsunoma Lounge combined to become Tokyo Dining.
It seemed Disney suddenly realized what a gem it had in all that beautiful World Showcase Lagoon water and decided to finally exploit it by adding waterside dining in the Morocco pavilion with Spice Road Table, and in Mexico with La Hacienda.
Similarly over the past few years the dining experience at Disney Springs has transformed as Downtown Disney morphed into this new shopping, dining and entertainment complex.
I've been trying to stay current with all of the eatery changes around Disney Springs and I must admit that even for an aspiring foodie like me it's a huge job! Many new spots have been added — so many, in fact, that maybe you haven't had a chance to check them all out. I thought I'd help you out in that regard, in this occasional feature that I'm calling The Changing Face of Disney Springs Dining.
As you've probably read by now, Disney Springs is divided in to four "neighborhoods": Town Center, The Landing, The Marketplace and the West Side.
Aside from the renovation of Planet Hollywood and the recent closing of Wolfgang Puck's, the West Side has probably seen the fewest changes of the four neighborhoods. However, that will soon change with the addition of Jaleo, brought by world-renowned Chef Jose Andres' ThinkFoodGroup. This new concept will have an extensive menu of tapas and traditional and contemporary Spanish cuisine. The first floor of the multi-level restaurant will feature a "grab-n-go" storefront with Spanish-style sandwiches. You can be sure I'll be checking it out when it opens sometime in 2018, but no precise date has yet been announced. Stay tuned.
Like Jaleo, though, a number of the newer Disney Springs restaurants in the other three Disney Springs neighborhoods bear celebrity chef names, so I thought I'd start this series by taking a look at a few of them.
First, there's Morimoto Asia, located in Disney Springs' Landing neighborhood. Believe it or not, this elegant pan-Asian eatery from Iron Chef alumnus Morimoto Masaharu opened back in September 2015, two years ago already. Everything about this restaurant is first-rate in my opinion — from the chic decor and friendly service to the top-notch sushi and other specialties to its exceedingly comfortable Forbidden Lounge. I've eaten here for dinner several times now, and have yet to be disappointed by anything I've selected from the menu. The melt-in-your-mouth pork spare ribs are amazing — just beware of the deadly-hot chili threads that garnish them! The orange chicken bursts with the flavor of fresh citrus and stays just this side of being too sweet. The Peking duck is among the best I've ever had, and my favorite, the tuna pizza gets better every time I have it — I just wish there was an easy way to pick it up by hand without getting the aioli all over me!
Morimoto Asia is not just great for a full meal, it's a perfect place to stop in for a drink and appetizers, or even for dessert. Upstairs at The Forbidden Lounge, with its comfy seating, is great for a drink and a sample of some of the freshly prepared sushi and sashimi. The bartenders there go out of their way to make you unique craft cocktails, based on your personal tastes. I'm still trying to replicate the "Sapphire and Sunshine" cocktail bartender April concocted just for me, with Bombay Sapphire gin, prosecco, a twist of orange, and I'm not sure what else. But if dessert is what you're after, don't miss the MMParfait — the menu says it's for two, but it can easily satisfy the sweet teeth of at least four people.
In fact, if you take a look at the AllEars.Net Rate and Review section, you'll find that it's not just me who enjoys this place. It's recommended by 100 percent of our reader/reviewers with an overall rating of 8.5 out of 10.
Less upscale than Morimoto Asia is the Town Center's Frontera Cocina, a Mexican outlet by celebrity chef Rick Bayless, a former winner of Top Chef Masters and Iron Chef America. I like Mexican food, a lot, but my husband doesn't, so when we go out to eat it's not on our radar. That's why I was looking forward to trying Frontera Cocina on my own. I hate to tell you how disappointed I was.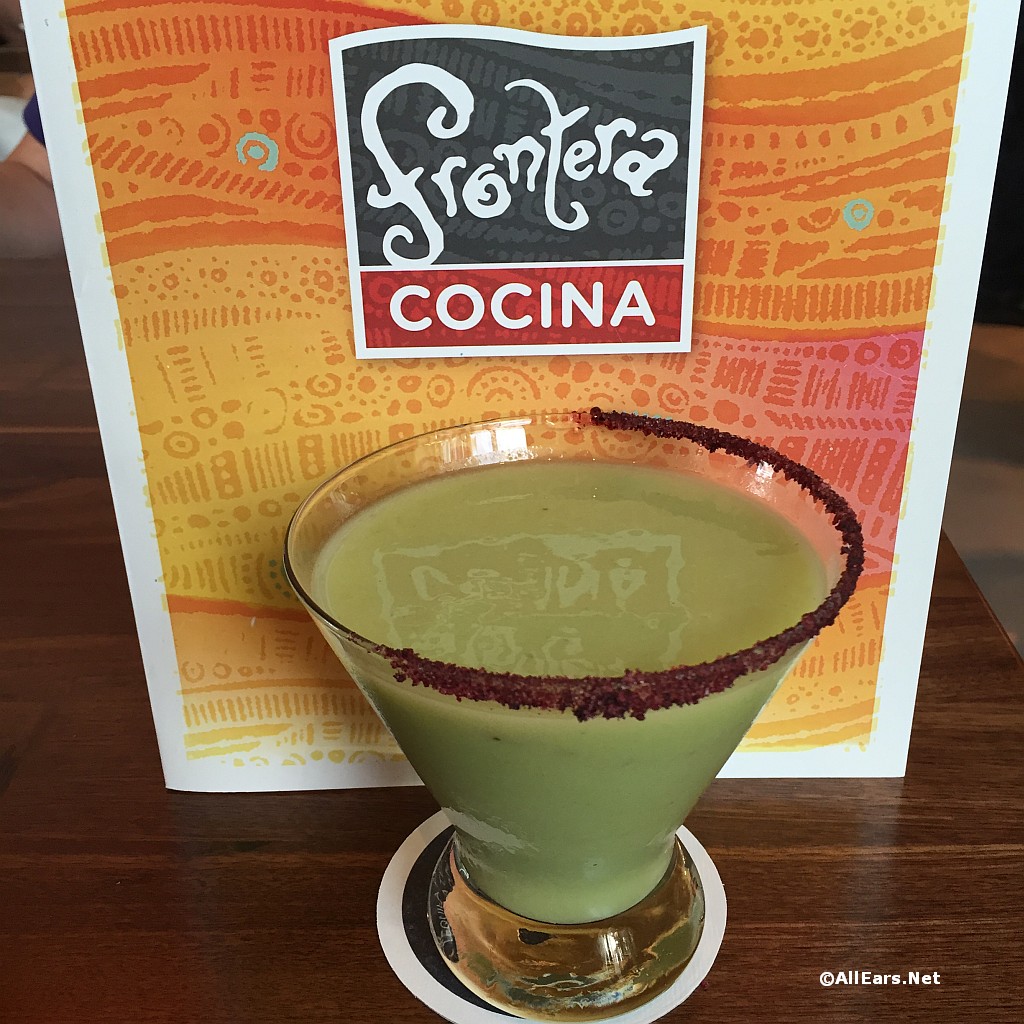 The restaurant itself has a bright, colorful sunburst mosaic on the wall, dominating the main dining room, and the bar area is tinged in blue light, giving it a very cool vibe. Still, it doesn't feel like a "fancy" place at all — in fact, just the opposite.
During my only experience at Frontera Cocina, I started with the highly touted La Cava avocado margarita (so-called, I believe, because the recipe originates from La Cava del Tequila in Epcot's Mexico pavilion). This thick concoction is about as far from a margarita as I can imagine — in fact, it's more like an alcoholic avocado milkshake. Which is OK, I guess, if that's what you're looking for. When I said I didn't care for it, the server looked like I had spit on him, and told me that "everyone" loved it. Yes, I know I'm an oddball, but I don't need my server to make me feel that way.
Then there was the question of the food. It was perfectly ordinary, not inedible, but given that Rick Bayless is widely known for his modern interpretations of Mexican cuisine I expected something a little more inspired. The pork carnitas was just OK, as were the chicken enchiladas, although their filling was a bit gluey. The plantains were plain, and the overall presentation of the food was nothing to get too excited about. Overall, I anticipated something more from such a huge name in the food/restaurant business. I overheard a woman at the next table gushing to her server about Rick Bayless, so I'm assuming she enjoyed her meal, but sadly I'm not tempted to return anytime soon, unless someone gives me a good reason.
But, enough with the negativity, because at the other end of the spectrum there's Chef Art Smith's Homecomin'.
Like Morimoto Asia, Homecomin' is located in The Landing of Disney Springs, and, also like Morimoto Asia, this restaurant is among my new favorites. I can't think of anything I've eaten at Homecomin' that I didn't want to try again. From the deviled eggs (which rival my own mother's!) to the fried chicken to the shrimp and grits, every dish is full of flavor and attractively presented. Honestly, I'd even be happy with just a plate of the savory cheddar biscuits. The casual, down-home atmosphere created by the stripped-down décor is accentuated by the incredibly warm and friendly servers.
And the desserts? Usually I prefer savory over sweet, but Homecomin's Shine Cake (made with — what else? — moonshine) literally takes the cake, in my opinion. It's not too sweet, dense and moist, rich and buttery — perfect with a cup of coffee, or a glass of ice cold milk, or even just by itself. Likewise, the hummingbird cake, a mix of pineapple and banana flavors with cream cheese frosting, originally sounded to me like a sugar overdose, but instead avoids being too cloying.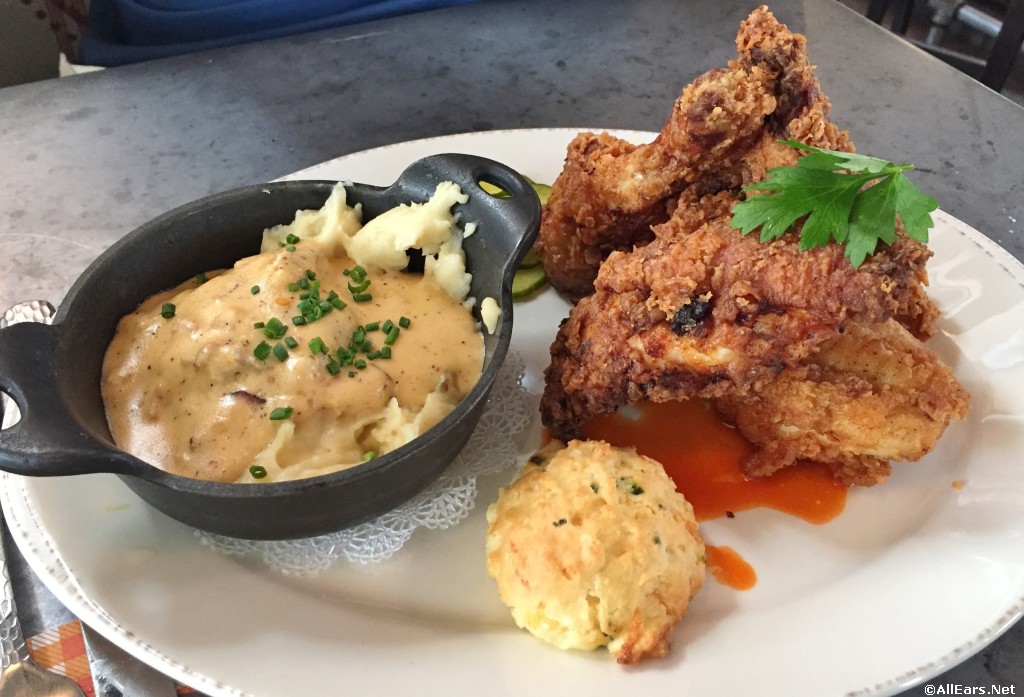 And of course, there's the Shine Bar, an inviting place serving up a full menu of moonshine, as well as specialty cocktails like the Cucumber Cooler and the Elder Old-fashioned. Like Morimoto Asia's Forbidden Lounge, it's a great spot for hanging out and enjoying a pre- or post-dinner drink… or two.
Just be forewarned — the food at Homecomin' may be casual, but the prices definitely aren't. The thing is, though, everything is so dang good that you almost don't mind that you're going a bit over your budget. And you are at Disney World, after all.
I'm not alone in my assessment of Homecomin' — 93 percent of AllEars.Net's reviewers in our Rate and Review section recommend this restaurant, giving it an average rating of 8.9 out of 10.
There are still more new restaurants, both table and counter service, and other food outlets (kiosks, wine bars, bakeries and more) at Disney Springs, with even more on the horizon — I'll tackle another crop in my next installment of The Changing Face of Disney Springs Dining. In the meantime, be sure to let us know what you think of all the dining changes in the AllEars.Net Rate and Review section, or by writing to us using our Contact Us page.
= = = = = = = = = = = = =
RELATED LINKS
= = = = = = = = = = = = =
AllEars.Net's Rate and Review — Registration is free — share your comments on Disney dining and other experiences, or read others' reviews to help plan your trip.
VIDEO: Art Smith's Homecomin' Review
VIDEOS: Morimoto Asia
-o-o-o-o-o-o-o-o-o-o-o-
Editor's Note: This story/information was accurate when it was published. Please be sure to confirm all current rates, information and other details before planning your trip.