Ticket Frequently Asked Questions (FAQ) Disneyland Resort
Disneyland last increased ticket prices on January 6, 2019.
Unless you're under the age of 3, you'll need a ticket to visit either Disneyland or Disney California Adventure. There are a number of ticket options available. "Park Hopper" tickets give you the ability to visit both parks on the same day, while with a single day ticket, you may only visit one park. An annual pass provides admission to the parks for a period of one year, some blockout days may apply.
Disneyland Ticket Basics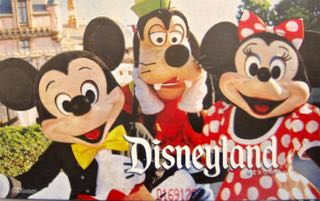 What do the Admission tickets include?
A single park ticket provides admission to one park for one day. You may exit and re-enter the park. Park hopper tickets and annual passes allow entrance to both Disneyland and Disney's California Adventure on the same day. Once inside the park you may experience all rides and attractions for no additional charge with the exception of the arcades and the Frontierland Shooting Gallery in Disneyland and the Boardwalk Games area of Disney's California Adventure.
Are there adult and child tickets? How about Senior Citizen or Disabled Ticket prices?
Tickets are sold as "Guest 10+" for adult tickets and "Guest 3-9" for a child. There is no admission charge for those under the age of 3. There are no special tickets or discounts for disabled guests or senior citizens.
Do the tickets expire?
All tickets must be used by a specific date, which is typically sometime within one year of purchase. e.g. you may not purchase a park hopper in 2019 and use it in 2021. In addition, park hopper tickets expire 13 days after the first use, even if there are unused days left.
I heard that tickets are very expensive. Are there any discounts available at all?
Discounts on multi-day park hopper tickets are available if they are purchased in advance from the Disneyland web site or the Disneyland mobile app. There is no charge to print your tickets at home using Disney's eTicket option (see below), but there is an additional charge to either have the tickets shipped to you or to pick them up at the Will Call Booth.
There are also discounts on select ticket media that are offered to Southern California residents, civilian/military personnel, or those staying in Disneyland's local "Good Neighbor Hotels." Occasionally southern California supermarket chains will offer discounted tickets.
Depending on your affiliations, you may also find discounted tickets through your bank or credit union, workplace or union. They may also be available to members of the military, teachers, and those in public service. AAA offers discounted admission as standalone tickets or part of a Disneyland vacation package.
In addition there is a "Southern California City Pass" that offers a three-day Disneyland park hopper PLUS admission to Legoland and Sea World. All tickets expire 13 days from the date the first ticket is used.
What is "Disney's eTicket?"
Disney's eTicket is an option for those who purchase their tickets on-line at disneyland.com or via the Disneyland mobile app. There is no charge to use Disney's eTicket. By selecting the "eTicket" option at checkout, your tickets will be mailed as a PDF file to the email address you provide. You can either print out the eTicket page for each ticket purchased or once at the resort you can show the eTicket barcode on your mobile device. In either case you do not need to visit a Disneyland ticket booth – simply proceed straight to any entrance turnstile where the cast member will scan the barcode from either your printed ticket or from your mobile device. You will receive a standard Disneyland ticket to be used for the remainder of your visit.
Why does Disney take my picture at the entrance turnstiles?
Disney takes a photo of all guests, whether it is a single- or multi-day ticket, when they use that ticket to go through the turnstile the first time. This photo is entered into the ticketing system and used to identify the guest on subsequent park entries. Handstamps are no longer used.
Where can I purchase tickets?
Tickets may be purchased at the ticket booths at the Main Entrance, via the Disneyland mobile app, online at www.disneyland.com, or by phone at (714) 781-4400. The prices are the same no matter how the tickets are purchased; however, for phone orders or online orders who request a paper ticket rather than an eTicket, there is an additional shipping charge.
The MWR offices on many military installations offer discounted single day and multi-day passes. These passes are usually available for purchase by civilian employees and government contractors as well as military personnel – inquire with your local MWR office regarding their policy. Military ID is not required at the Disneyland entrance gate.
Multi-day park hoppers are available at Disneyland's "Good Neighbor" hotels, usually at a discounted rate over what you would pay at the ticket booths. Sometimes the three- and four- day park hoppers offer an extra day for free. Ask your hotel if they participate in this program.
What about tickets from craigslist or eBay?
Disneyland has several authorized resellers of park tickets, however they do not conduct business on eBay or craiglist. Disney's policy is that park tickets are not transferable, and as mentioned above Disney has begun associating guest photos with multi-day tickets.
Are Annual Passes Available?
There are six different types of Annual Passes available. Two of them, the Premier Annual Pass and the Signature Plus Annual Pass offer admission 365 days a year. All of the other passes have some number of blockout days — as the price of the pass decreases, the number of blockout days increases.
Beginning in June, 2019, blockout day calendars will be park-specific. On certain days annual passes will be valid at one of the theme parks but not at the other. For example, a Deluxe Annual Pass will be valid at Disney California Adventure on June 21, but will be blocked out at Disneyland on that date.
All annual passes include dining discounts at various Disneyland resort restaurants, merchandise discounts at many locations, and special rates at the Disneyland resort hotels (subject to availability). Dining and merchandise discounts are higher for the Premier and Signature passes (15% / 20% compared to 10% / 10%).
Premier and Signature/Signature Plus passholders also receive free parking at the pay-on-entry lots such as the Mickey & Friends parking structure and Toy Story parking lot. The annual parking feature is not available with the purchase of new Deluxe or So Cal passes – only those who had these types of passes AND the parking add-on when the change was made are "grandfathered-in" and can continue to renew their pass with the parking add-on.
The Premier Pass is also valid for admission to the Walt Disney World theme parks, water parks, Disney Quest, and ESPN Wide World of Sports.
What are "Hard Ticketed Events?"
A "hard ticketed event" is a special event, such as Grad Night or Mickey's Halloween Party, where the park closes early to regular guests, and then a special admission ticket is required for admission to the event. There are often Annual Passholder discounts available for these events.
One Day Tickets for Disneyland and Disney California Adventure
Ticket:
Adult 10+
Value
Child 3-9
Value
Adult 10+
Regular
Child 3-9
Regular
Adult 10+
Peak
Child 3-9
Peak
One Day, One Park
$104.00
$98.00
$129.00
$122.00
$149.00
$141.00
One Day Park Hopper
$154.00
$148.00
$179.00
$172.00
$199.00
$191.00
Ticket Type
Adult10+
Child 3-9
2-Day, One Park/Day
$225.00
$210.00
2-Day Hopper
$280.00
$265.00
3-Day, One Park/Day
$300.00
$280.00
3-Day Hopper
$355.00
$335.00
4-Day, One Park/Day
$325.00
$305.00
4-Day Hopper
$380.00
$360.00
5-Day, One Park/Day
$340.00
$320.00
5-Day Hopper
$395.00
$375.00
Annual Passes
Disney Premier Passport
Admission to both Disneyland and Walt Disney World's Theme Parks
Includes Parking and MaxPass
$1949.00
$1949.00
Signature Plus Annual Pass
No Blackout Days
Includes Parking and MaxPass
$1399.00
$1399.00
Signature Annual Pass
Blocked out 12/21-1/4
Includes Parking
$1149.00
$1149.00
Deluxe Annual Pass/Blockout Days apply
$799.00
$799.00
The following passes are available to residents of southern California only – proof of residency will be required at the time the pass is issued.
Southern CA Annual Pass/ Blockout Days apply
This passport is only available for renewal to existing passholders
$599.00
$599.00
Southern CA Select Annual Pass/ Blockout Days Apply
$399.00
$399.00
MaxPass Add-on
$100.00
$100.00
Parking Add-on – RENEWAL ONLY
$249.00
$249.00
Blockout Day Ticket: NO LONGER AVAILABLE.
N/A
N/A