Snow White – An Enchanting Musical Fantasyland Disneyland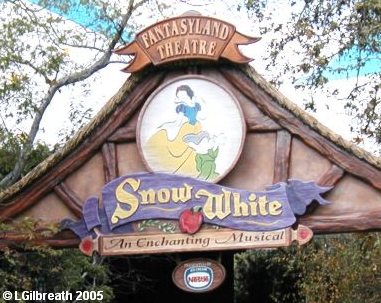 Introduction | Attraction | Touring Tips | Kids/Characters | Dining | Shopping | Interesting Facts
INTRODUCTION
This musical production brings the story of Snow White to the stage as it follows her from the Evil Queen's castle to the cottage of the seven dwarfs in the Enchanted Forest. Incorporating many of the favorite songs from the movie, like "Whistle While you Work" and "Heigh-Ho, Heigh-Ho", this show brings to life the classic scenes.
Wonderfully detailed sets like the castle and the cottage help to recreate the look of the movie. There are a variety of special effects, including the animation of the Magic Mirror.
This 25-minute production takes place in the Fantasyland Theatre, located across Small World Way from "it's a small world." It is presented several times a day — check the Disneyland Times Guide for more details.
TOURING TIPS
Seating is first come, first served. The theater is opened about 20 minutes before show time, but many people line up prior to that. The theater usually does not fill up all the way. Earlier shows have higher attendance than those later in the day.
Strollers are not allowed in the theater, and must be left in the stroller area off to the right — Cast Members will direct those with strollers appropriately.
The theater has two seating areas — floor level and bleacher seating. The floor level seating is closer but the seats are all at the same height. The bleacher seating is further away, but each row is higher than the row in front of it, making the viewing a little better. There are no individual seats — all seating is rows of aluminum bleachers with backs.
Special seating areas are available for wheelchair/ECV users and their parties. Assistive listening devices are also available.
The closest restrooms are to the left of the entrance to the theater area.
KIDS AND CHARACTERS
This is an entertaining show for the entire family.
DINING
Enchanted Cottage, Sweets & Treats is located just inside the entrance to the theater area, and offers snack foods such as popcorn, pretzels, ice cream bars, and beverages. Food and drinks may be brought into the theater's seating area. Before the show, vendors selling drinks and popcorn walk up and down the aisles.
SHOPPING
"it's a small world" — Toy Shop is located across from the theater's exit. It offers Mattel toys including Disney dolls and park attraction playsets.
Fantasy Faire Gifts – Disneyland souvenirs and plush characters
INTERESTING FACTS
Actor Patrick Stewart provides the voice of the Magic Mirror.
The musical opened in February 2004.
The area occupied by the Fantasyland Theatre was previously called Videopolis.
Previous shows presented in the Fantasyland Theatre include Spirit of Pocahontas, Animazement, and Mickey's Detective School.
If you have comments or tips to share with others about touring Disneyland, please email us. Thank you.