Believe…In Holiday Magic Disneyland
"Does your heart hold the magic of the holidays?
Is it filled with warm memories just waiting to be discovered again?
Well now is the time to open your heart, believe in that magic,
and remember those treasured moments…
Oh, they're still there, deep within you, waiting to touch you once more.
So come along as the magic of the seasons leads the way."
INTRODUCTION
Believe…In Holiday Magic is a nighttime fireworks show presented at Disneyland during the holiday season. Spectacular fireworks are choreographed to a medley of holiday music, while Sleeping Beauty Castle and the facade of "it's a small world" are colorfully lit with festive holiday images. After the fireworks finale the song "White Christmas" plays while snow softly falls on Main Street, U.S.A., Small World Mall and New Orleans Square.
INTERESTING FACTS
The show, including the snowfall at the end, is about 12 minutes long.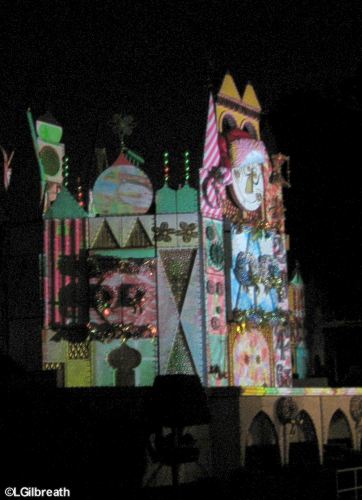 Believe…In Holiday Magic debuted during the holiday season in 2000, and ran seasonally through 2004. Since 2006 it returns to Disneyland each holiday season.
In addition to the original song "Can You Remember", the score features these holiday selections:
* Have Yourself a Merry Little Christmas (background music during the narration)
* March of the Toy Soldiers
* Toyland
* The Dreidel Song
* All I Want For Christmas is My Two Front Teeth
* I'll Be Home For Christmas
* We Three Kings
* Silent Night
* Carol of the Bells
* Medley from the Nutcracker Suite
* The Christmas Song
* White Christmas
All I Want for Christmas is My Two Front Teeth is accompanied by smiley-face fireworks.
At the end of Silent Night, a starry comet firework flies from right to left.
TOURING TIPS
The fireworks can be viewed from Main Street, U.S.A., Small World Mall, and New Orleans Square, and snow falls in all of those areas. The projections are only visible on the castle or the facade of "it's a small world". Guests often secure prime viewing spots on Main Street over an hour in advance, but except on the busiest days, it should be possible to get a spot on Main Street within about 20 minutes of show time, especially if the Christmas Parade ends not long before the fireworks start.
For safety reasons, Toontown closes about an hour before the show starts, and re-opens afterwards.
"Cherish the holidays forever and always believe."
If you have comments or tips to share with others about touring Disneyland, please email us. Thank you.