Disney and Back Again: A Dad's Journey
by Pete Murphy
AllEars®Guest Columnist
Feature Article
This article appeared in the December 9, 2014 Issue #794 of ALL EARS® (ISSN: 1533-0753)
Editor's Note: This story/information was accurate when it was published. Please be sure to confirm all current rates, information and other details before planning your trip.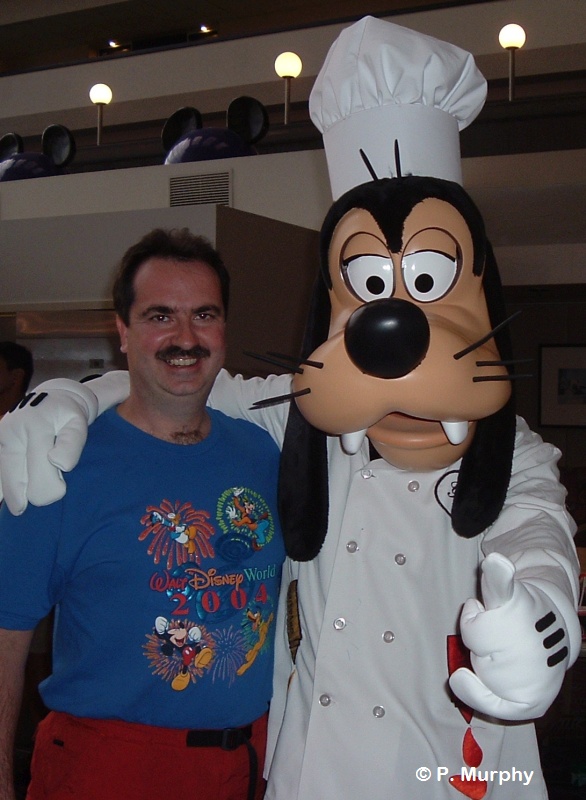 My family's sojourns to Disney World have taken the form of a trip about every two years since my kids started school. The time constraints of classes and homework, sports and other activities, and the careers my wife and I continually juggle, have largely put an end to our going twice a year. I suppose that makes our trips more special, and certainly more memorable.
We used to travel to Disney in the spring or fall, but our last trip was in the summer, to avoid the kids missing out on activities and getting behind in school. So, in June 2012, we loaded up my Chrysler and hit the road early one weekday morning, for the 20-hour trip from the Chicago suburbs to central Florida.
Our two kids, ages 5 and 9 at the time, were ensconced in the back seat, surrounded by all manner of stuffed animals, toys, and games for the road. My 300C still had that new-car smell, which would soon fade as the miles flew by and the scents of fast food and spilled milk crept into the carpeting and leather seats.
Although the route is as familiar to me as it is simple (I-65 South, to I-24 East, to I-75 South, and onto I-4), I still stuck my GPS on the front windshield as a backup navigator. I feel it transforms long drives into a sort of video game, letting me monitor things like distance traveled, miles to go, and all the cross streets and highways I pass.
That's not to say the GPS's female voice doesn't get a bit annoying when you pull off for gas and food, and there were times I wanted to chuck it out the window for nagging me to turn around and get back on the highway. The kids thought it pretty hilarious that Dad was getting picked on by a machine.
The driver's seat soon came to feel like an airline cockpit, with navigation (the GPS), instrument cluster (dashboard gauges), internal climate control (a/c buttons), and entertainment system (CD player). The effect was more immersive at night, when each cluster glowed a different series of colors. And yes, I probably could have used more sleep before hitting the road.
I learned from a kind Concierge many years ago that the cardinal rule in driving from Chicago to central Florida is to "get south of Atlanta before you stop on your first day." Having been stuck in traffic going through Atlanta in the morning, I've always made it a rule I live by. So, we stayed at a motel south of Atlanta that first night on the road and got an early start the next morning.
We decided that summer not to head straight to Disney World, but instead stayed a couple of days in Cocoa Beach to kick off our vacation. The drive to Cocoa added about two hours to our second day in the car, but the beach was beautiful and it was great to swim and bodysurf the waves. We spent two days there, and on our last night had dinner on the upper deck of a seaside pub, where we could watch the big cruise ships leaving port for the Bahamas.
The next morning Cocoa Beach was behind us, and we headed up the causeway bridge to Orlando and Disney World. Arriving mid-morning at Disney's All Star Movies Resort, we were able to check in early and head out to the theme parks. I remember the weather was clear, and the bright Florida sunshine not as hot as I'd assumed for a June trip.
Our youngest being 5, we were able for the first time in years to go without a stroller. It made getting on and off the buses easier, but we came to miss the stroller as a convenient carry-all for water bottles, raingear, and snacks. The resort buses were certainly busy that summer.Overall, though, we had few long bus stop waits while getting around Disney World, and Disney buses are (of course) air-conditioned!
We spent four days in Disney World that summer, and so had time to hit our favorite parks more than once. Magic Kingdom was the plan for our first day, and a great way to get the kids excited for the days ahead. Old favorites like Space Mountain, Pirates of the Caribbean, Haunted Mansion, Small World and Splash Mountain were the first we rode, but we also enjoyed what I still consider the "newer" offerings: Buzz Lightyear's Space Ranger Spin, Stitch's Great Escape and Mickey's PhilharMagic.
Much has changed over the years at Magic Kingdom, yet so much remains the same that touring this park is a lot like coming home. Maybe even more than coming home, as I've lived in so many places since my first visit to Magic Kingdom. Although continually renovated and updated, Magic Kingdom is still there waiting to be enjoyed, while my past homes are not.
Returning to the Movies Resort after a long day at the parks is a real pleasure. Resort staying means not having to find your car in a lot, not having to navigate to a motel, and not having to pick a place to eat at the end of the day. For me, the Disney Resorts allow time to really relax after the excitement of the theme parks.
We'd opted for Disney's meal plan as we normally do, which provides plenty of food without the need to carry cash for meals or collect a pocket full of credit card receipts. I've always liked the food selections at the All Star and Pop Century Resorts, where even picky kids can always find a burger, hot dog or pizza they like. Getting back home, you soon realize what a huge convenience this type of service is.
We usually stay in the resort complex after dinner, and let the kids swim, play, or shop at the souvenir store. Nights in the resorts are pretty quiet, so getting a good night's sleep is not a problem. We always set a wakeup call, and the kids scramble to answer our call in the mornings, hoping to hear Mickey or Goofy urge them on to another magical day. I can't help but wish this magic would work on school days.
Epcot was the destination on our second day in Disney. While the summer months are undeniably more crowded than off season, I've found that Epcot handles this influx somewhat better than the other parks. Epcot rides typically load faster and have higher ride capacities, particularly in Future World.
If Magic Kingdom is like coming home, visiting Epcot is like returning to the dynamic big city you once visited as a kid and have loved ever since. Virtually no ride experience remains unchanged from the first opening day, and indeed several have been entirely re-imagined.
From Spaceship Earth, arguably in its fourth iteration, to Mission: Space, Test Track, and The Seas with Nemo & Friends, nothing in Future World remains the same for long. I suppose it's this quest for constantly improving the immersive experience that sets Disney and its Imagineers apart from any other human endeavor. Epcot gets better every time I visit, as those riding Soarin' for the first time can attest.
I could fill pages with my experiences at Epcot, both on this trip and over the past several years. For me, the rides combine to build a bright vision of the future of our world, and lend optimism to our place in it. I can only imagine what my kids will ultimately find for their place in society, but believe that whatever they do, the influence of their Epcot experiences will help guide and assure them.
World Showcase, while remaining more a vision of its early 1980s heritage, is a compact tour of most of Europe and other parts of the globe. I really enjoy sampling several different cuisines in the course of a single afternoon, especially during the Food & Wine Festival in the fall. We missed Food & Wine on this trip, but the meals we enjoyed at the Katsura Grill in Japan, La Cantina in Mexico, and Restaurant Marrakesh in Morocco quite made up for it — not to mention enjoying a traditional "pint" at the Rose & Crown in the United Kingdom.
The film presentations, rides, dining and cast members from their various countries of origin, make me feel as though I've touched on the experiences in each of the countries in World Showcase. Like the scent of a good wine when you first open the bottle, visiting this part of Epcot has always left me wanting to experience more of those places I glimpse while walking the Showcase Plaza.
We elected to skip Animal Kingdom that summer, but we did make time for Disney's Hollywood Studios on our third day. My son is a huge fan of the Lights, Motors, Action! Extreme Stunt Show, so our first order of business on planning our day at the Studios was to find out the show times.
We scheduled our day around the Stunt Show, lining up at least half an hour before show time to get good seats. The stadium seating has an incredible capacity, so we found a good place to sit and watch the drama unfold. From the behind-the-scenes look at car stunts to the appearance of Herbie the Love Bug (who has since been replaced) near the end, the show didn't disappoint.
Star Tours – The Adventures Continue was new to us on this trip, and as a long-time fan of Lucas' vision, I was astounded at the improvements to one of my favorite rides. Toy Story Midway Mania was another favorite of ours, and one of the few rides where getting a FastPass early is a true necessity if you want to avoid long waits.
We didn't miss much at Studios that summer and were happy to have the chance to ride our "must see" attractions at least once. Repeat riding, which we enjoy in the off season, is more difficult during the summer, but still possible if you can coordinate FastPasses and regular wait lines.
I've found the best option with my family is to go early to the parks, taking advantage of the Extra Magic Hours for resort guests when possible, and not to "marathon" our park stays to the point where the kids (and parents) are worn out. Going back to the resort in the late afternoons for dinner and swimming keeps everyone fresh for the next day, and adds more quiet family time. Some of my best memories are of times at the pool or in our room, seeing excitement and joy in the faces of my children.
We rounded out our last day with a return to Magic Kingdom and then Epcot, using the Park Hopper option.As we were leaving Epcot, a cast member told us the transportation system had been suspended while the President was in town, giving a campaign speech at the Contemporary Resort complex. We happily turned around and rode Spaceship Earth and Journey Into Imagination with Figment again, before returning to our bus stop and heading back to All Star Movies.
We packed that evening, and experienced the sweet sorrow of departing Disney World early the next morning. Back in my cockpit, I felt energized enough to make the long journey home in a single 20-hour drive. With the kids sleeping in the backseat and my wife keeping me company up front, the miles after dark slipped by in a dream, free from traffic and daytime cares. Despite little sleep, I was quite myself the next day as we returned to our normal lives.
Disney World is on our schedule again for next fall. Now, if only I can arrange for Mickey to call and get the kids out of bed, and buy some air freshener for the Chrysler…
= = = = = = = = = = = = = =
RELATED LINKS
= = = = = = = = = = = = = =
See Pete's previous columns for AllEars®:
Disney Nostalgia, Issue #772, July 8, 2014
Yesterday's Epcot, Issue #781, September 9, 2014
-=-=-=-=-=-=-=-=-=-=-
ABOUT THE AUTHOR
Pete Murphy is a private practice attorney in the South Chicago suburbs, where he lives with his wife Maureen, their two children, Connor and Erin, and cat, Mittens. He is a graduate of Purdue University's English Writing Program and N.I.U. College of Law, and is a published travel writer and independent journalist. He first visited Disney World at the age of 9, and has returned more than 20 times. His favorite park is Epcot, and he enjoys returning every couple of years to see what changes Disney has "Imagineered." Pete is also a scout leader and church cantor. When not working, his interests include travel, music, novels, running, and of course, everything Disney!
-o-o-o-o-o-o-o-o-o-o-o-
Editor's Note: This story/information was accurate when it was published. Please be sure to confirm all current rates, information and other details before planning your trip.