Christmas at Walt Disney World… And Then Some
by Erin Foster
AllEars® Guest Columnist
Feature Article
This article appeared in the January 11, 2011 Issue #590 of ALL EARS® (ISSN: 1533-0753)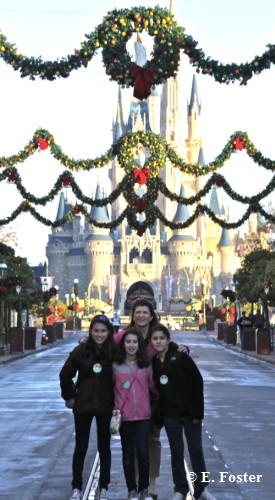 As I write this, it is four days after Christmas. I am sitting at Orlando International Airport, on Day 11 of a seven-day Walt Disney World vacation. Thanks to the "Snowpocalypse" blizzard of 2010, our flight home to New York was delayed by several days.
I am a veteran of dozens of Walt Disney World vacations. I've been here during all seasons and have spent several holidays at WDW including Mother's Day, Easter, and Thanksgiving. But even with my Disney skills, I must admit that I was more than a bit nervous about traveling to the parks during Christmas vacation. I had heard the stories about the endless lines and congestion: the half-hour waits for popcorn, the Fastpasses gone before noon. Yikes! Until now, my philosophy had been that since you can experience nearly all of the holiday events in late November and early December, when the lines are low, why subject yourself to the throngs by visiting during the actual holiday?
I was also concerned that being away from home during Christmas might make the holiday less special for the children. We'd have no big tree with presents piled beneath, no Mom's famous tangerine marmalade cake, no neighbors stopping by to visit. But despite my trepidation, the confluence of family schedules this year made Christmas week the ideal time for us all to travel to Walt Disney World together. So that's what we did.
Now I can't imagine why I was worried.
Of course I should have known that the lights, decorations, and general merriment at Walt Disney World couldn't help but put us in a holiday mood. I had also underestimated my family's ability to embrace new traditions; they really didn't miss our usual holiday happenings. In lieu of a large tree, I purchased a tabletop-sized faux tree for each of my three daughters to display in our hotel room at the Polynesian. I challenged them to decorate their trees using only non-ornament items they found or made during our stay. Bit by bit, their tiny trees became marvelous testaments to ingenuity: Charlie bent straws from Casey's Corner into tree-topping stars, Josie linked Mickey-shaped paperclips together to become garland, Louisa cut out a dozen pictures of Mickey from a Vinylmation box and hooked them on as ornaments. The trees were creative and actually quite lovely. The girls were proud of their handiwork.
As for presents, since the trip itself was a major gift, we limited ourselves to stocking stuffers. I allowed each family member to spend up to $10 on each other person in the park shops on items that would literally fit into one of that person's socks. The girls, and my normally humbug hubby, embraced this as almost a scavenger hunt. They had a wonderful time scouting for just the right mini-gift in Mouse Gear and the World of Disney store. I have to say I was truly touched by some of the selections. My daughter spent her allotment for her twin on several bags of the beloved Chip & Dale pretzels. Mmmm. Another daughter selected a Mickey logoed golf ball for her Dad to remind him of the hidden Mickey golf ball on his favorite ride, Soarin'. The cost for this was relatively small but very impactful. I can honestly say that we had more fun unpacking the special stockings, and discussing why we made each selection, than we have had in the past being buried in a mound of quickly-forgotten packages. And the clean-up was infinitely easier!
The one real gift I did bring from home was matching flannel pajamas for the entire family. Everyone indulged a longstanding whim of mine by trooping down to the beach area at the Polynesian wearing PJs and Santa hats on Christmas morning. We flagged down a good-spirited groundskeeper who took many photos of us with palm trees and Cinderella Castle in the background. Not to get too maudlin, but these photos are keepsakes I will cherish forever. I even think we entertained some guests on the ferry boat to the Magic Kingdom that morning; they waved to us while we were on the beach in our jammies.
As for missing holiday food favorites, the family was more than happy to substitute short ribs and peppermint cheesecake at Jiko for homemade treats, especially since there was no mountain of dishes to tackle after the meal. We even had the special experience of sharing our holiday with friends when we serendipitously ran into four different families we knew from home while touring in the parks. Of course I am obliged here to say that it really is a small world after all.
I'd say that my worries over holiday crowd fears were overblown. Yes, it was crowded — really very crowed. So crowded that there was an hour-long wait for the normally walk-on Grand Fiesta Tour ride at Epcot's Mexico pavilion. At the beginning of our trip, we overcame the congestion by compulsive planning. I had made Advance Dining Reservations for every meal. We woke up at the crack of dawn to hit the rides and gather Fastpasses before sleepyhead vacationers were out of bed. The compulsive planning thing really worked. I was very self-satisfied that my efforts had worked like a charm.
If I had written this a few days ago, that's where the story would have ended. I would have firmly avowed that hyper-planning was absolutely the only way to see WDW during the holidays.
And then the snow hit on our planned day of departure. Our flight was cancelled and we could not get out for several days. We were at Disney World with no hotel or other reservations. For an organizer like me, this was basically my worst nightmare come true.
Our first stop when we realized our stay would be extended was the concierge desk at our resort. I simply can't say enough wonderful things about the cast members there. They took their time scanning the options at the Disney hotels and were able to offer us choices at several price points. Last-minute hotel rooms at Walt Disney World during Christmas week! Yes folks it can be done! The concierge also helped us print out documentation on our new flights. Indeed, every cast member we encountered during our momentary panic was kind and helpful.
Since we had been on the headliner attractions during the first part of our trip, I let the girls sleep in during our bonus vacation. We had leisurely breakfasts at the hotel and got to the parks around noon — exactly what you're not supposed to do. And yet, we found plenty of great fun.
We had particularly good luck at Epcot where the girls completed three different Kim Possible adventures (Germany was our favorite), sat through several shows of Turtle Talk with Crush (he's quite a funny dude), chatted with cast members at the Kidcot Fun Stops (we learned how to say "Happy New Year" in five languages), watched many of the native performers in the country pavilions, and fully explored the Innoventions exhibits. None of those activities had any line at all.
Downtown Disney was also a great spot to spend unstructured time. We saw a movie, built Lego castles at the Lego store, and shot some dragons in a video game at DisneyQuest. Again, no lines and no waiting.
Even without planning, we had some great E-ticket ride experiences. My daughter wanted to ride Splash Mountain at night. Because it was chilly, Splash Mountain was a walk-on in the evenings. Our timing was wonderful, as we ended up going down the big drop during the finale of the fireworks — such a special moment. By the way, they turn off some of the water cannons when the outside temperature is low, so we didn't get wet at all. Additionally, we had the great good fortune to be gifted with FastPasses for Toy Story Midway Mania at Disney's Hollywood Studios. A big-hearted stranger gave them to us as she was exiting the park and we were entering to have a second viewing of the Osborne Family Lights — the perfect Christmas gift for stranded travelers.
We also took advantage of non-park activities like getting salon treatments at the Grand Floridian (nice!) and spending time reading by the pool.
Overall I'd say that having the holiday away from home was, in nearly every regard, a positive experience. I was certainly less stressed about cooking and cleaning. And the girls were challenged to be more thoughtful and creative than usual. I believe that the personal aspects of Christmas at Walt Disney World will stay with them for many years.
Eleven days at Walt Disney World during Christmas week was not what I had planned, but turned out to be both memorable and quite relaxing. I'm sure we'll be doing it again.
= = = = = = = = = = = = = = = = =
ABOUT THE AUTHOR:
Erin Foster is a charter member of the Walt Disney World Moms Panel (www.disneyworldmoms.com) and has answered more than 7,500 questions from guests about every aspect of Walt Disney World travel. She is also the Disney Food for Families columnist at DisneyFoodBlog.com. Erin is not a Disney employee and her postings here, there, and everywhere are her own and do not necessarily represent the positions or opinions of the Disney Company.
-o-o-o-o-o-o-o-o-o-o-o-
Editor's Note: This story/information was accurate when it was published. Please be sure to confirm all current rates, information and other details before planning your trip.