I guess I can cross off "spending all night in an airport terminal" from my bucket list.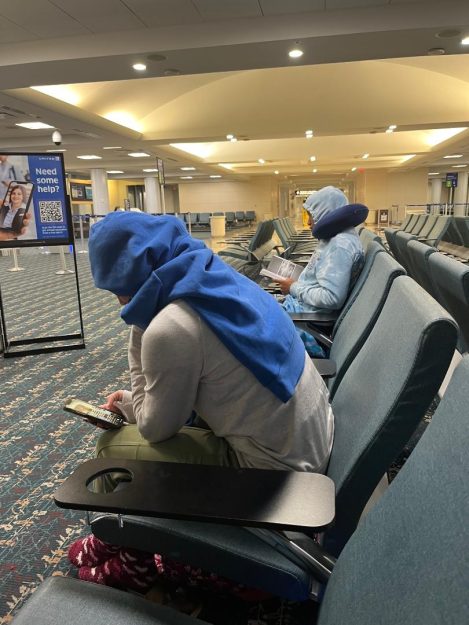 Friday, Sept. 8, was getaway day for me, our daughter Tracy and her children Abigail and Jacob after spending five great days at Walt Disney World.
We left Saratoga Springs Resort and Spa at 2:15PM and arrived at Orlando International Airport at 3PM, about two hours before our scheduled flight on United Airlines to Newark, N.J.
There were thunderstorms hitting Orlando – typical for early September in central Florida – but the foul weather hitting the Newark area was a bit more concerning: Heavy rain, high winds, hail and the threat of tornadoes. A video sent by Tracy's husband showed marble-sized hail pellets on their driveway.
It was a bit disconcerting to see the long lines of people as we made our way to Terminal B, Gates 40-48. It turned out several United flights had just been canceled and all of them were bound for Newark.
Not to worry, I thought. Our flight was still listed as "on time" on the incoming/outgoing flight board.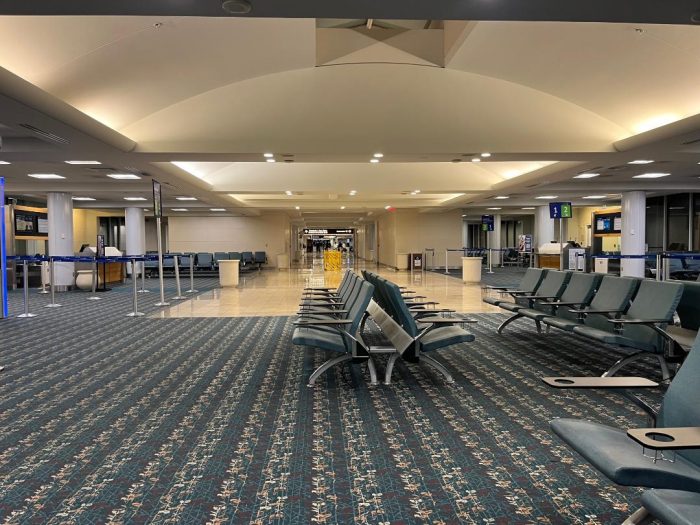 In a matter of minutes, however, that "on time" designation was changed to "delayed." My wife Janet then phoned me with the bad news: Our flight had been canceled as well.
Just a few minutes later, after much haggling with a United agent, Janet managed to secure seats for the four of us on a 6 a.m. flight Saturday morning.
The question now became: What do we do for the next 13 hours? Most airlines won't put you up in a hotel when the reason for cancellation is weather-related. "Unless it's a United problem," a gate agent told me, "you're on your own."
Janet checked availability at the Hyatt Regency Hotel inside the Orlando airport, but it was booked solid. If we tried to find a room at a hotel near the airport, we'd have to find one with shuttle service to and from the airport.
Could we trust that they'd be able to get us back to the airport in the wee hours of the morning? And did we really want to go through the TSA checkpoint again?
Ultimately, we opted to stick it out in the terminal.
Hey, we had just spent countless hours dealing with the virtual queues for the new TRON Lightcycle / Run in the Magic Kingdom and Guardians of the Galaxy: Cosmic Rewind attraction at EPCOT, what was the big deal waiting a few more hours for our flight?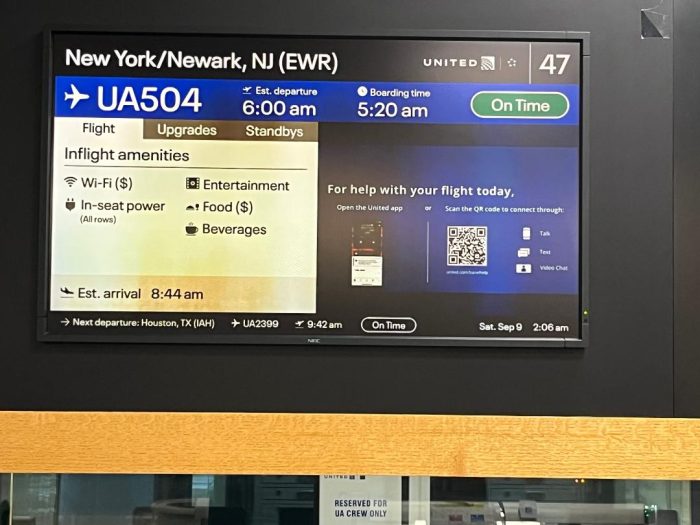 We found an area near the Gate 48 desk, close to the window and away from the hundreds of people still milling around, and we settled in for the night. "It'll be fun to sleep in the airport," was Jacob's observation.
After a half hour or so, I walked up to the main hub of the terminal, bought a sandwich and filled my water bottle. When I returned, Tracy and Abigail walked up to the hub and bought burgers, fries and drinks at Wendy's, as well as some blankets and a pair of sweatpants.
We were ready to hunker down.
By 7PM, most of the passengers on the canceled flights had either left the terminal or had staked out their own areas to spend the night. Most of the outbound flights to other cities had departed. Every once in a while, passengers from an arriving flight would walk into the terminal and make their way to either the exit or baggage claim.
But the terminal was getting noticeably less busy.
Announcements over the loudspeakers, which I barely noticed before, were starting to get annoying, particularly the ones paging passengers who were late getting to their gates … and the repetitive admonishments about how we should not accept bags from strangers always hit a nerve.
Thankfully, by midnight, the announcements stopped.
Despite the cacophony of announcements and passengers' loud conversations, Jacob – stretched out over two empty seats and covered with blankets – fell asleep around 9 p.m. Thankfully, he slept soundly until about 5AM, when the majority of the passengers on our flight began arriving.
Around 1AM, janitorial staff members began making the rounds. One man, who was responsible for emptying trash cans and dusting, made quite a racket removing and replacing trash bags. Who knew plastic bags could generate so much noise?
After he was finished, a woman sitting atop a riding vacuum cleaner [it reminded me of the Zambonis they use to resurface ice hockey arenas] zipped through the terminal, zig-zagging around each row of seats. Thankfully, she saw us and steered clear of our little encampment.
Every two hours or so, a man with a clipboard in hand walked through the terminal, checking to make sure every door leading to a gangway was locked.
At around 2AM, I decided to walk around the empty terminal. I worked nights for 15 years, so I have an idea of what an empty building looks like. Only when I was at work, people were … well, working. The only people I saw during my little terminal stroll were passengers stretched out on the floor or on chairs, trying to sleep.
I never noticed how bright the lights are in a terminal until I tried to close my eyes in a vain attempt to get some sleep. I ended up pulling my Disney cap over my eyes to shield them from the glare.
I tried to get comfortable on the floor [big mistake], but mostly, I sat in a seat with my legs propped up on my carry-on suitcase.
I managed to doze off for five minutes, if that.
By 3AM, a strange phenomenon occurred. After spending six days in the sweltering heat in the Disney theme parks, the air conditioning inside the terminal – which was quite comfortable when we first sat down – began to feel as if we were prisoners inside a meat locker.
Tracy and Abigail wrapped sweatshirts around their heads and passed the time by reading or looking at their phones. I put on my Bluetooth headphones, which served as impromptu earmuffs.
By 5AM, a slow trickle of passengers became a large influx. It was time for us to gather our belongings, watch our head and step, and get ready to board the flight home – at long last!
United Flight #504 – MCO to EWR – left on time at 6AM and arrived at its destination at 8:40AM … a rather uneventful end to an experience that won't soon be forgotten.
Chuck Schmidt is an award-winning journalist and former Disney cast member who has covered all things Disney since 1984 in both print and on-line. He has authored or co-authored seven books on Disney, including his On The Disney Beat, for Theme Park Press. He also has written a regular blog for AllEars.Net, called Still Goofy About Disney, since 2015.