Get ready friends, a game with some intensely debated rules has now released a 100th Anniversary version you'll want to get your hands on.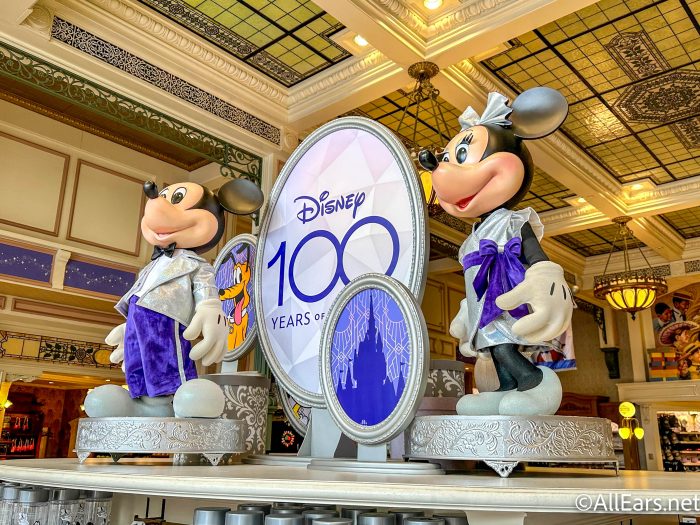 We've seen all kinds of 100th Anniversary merchandise released online and in the parks, and some have been so popular that they've sold out! But now we've got a NEW item to show you.
DISCLOSURE: This post may contain affiliate links, which means when you click a link and make a purchase, we receive a commission.
Amazon now has Uno Cards themed to Disney's 100th Anniversary available for pre-order! That's right — it's the game we've all apparently been playing "wrong" for years but with a 100th Anniversary look. 😂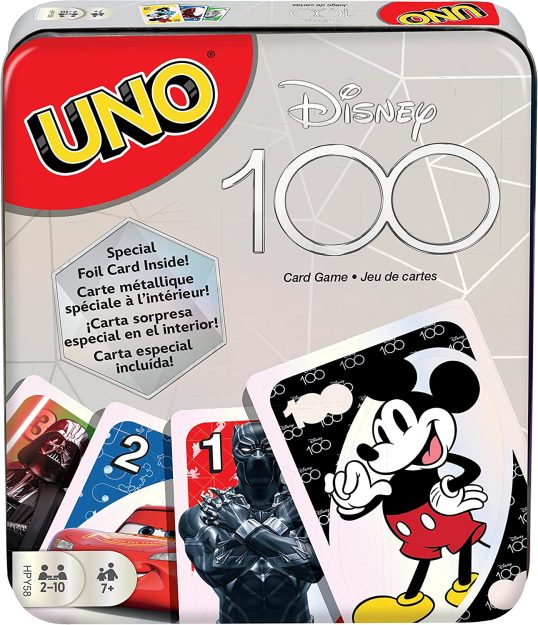 This 100th Anniversary version of the game comes in a storage/travel tin themed to the occasion, plus it has a collectible foil card.
It is an Amazon-exclusive item, so don't expect to find it anywhere else!
The game will officially be released on June 21st, 2023.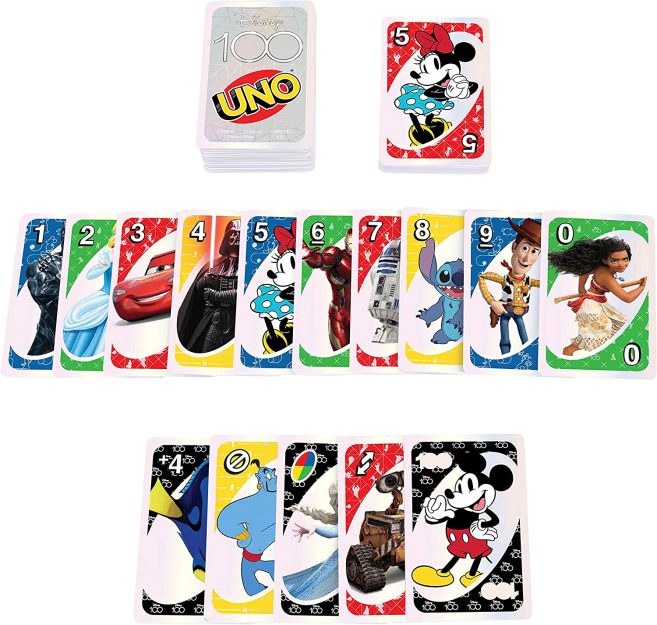 Pre-order it now to make sure you get it as soon as it's released!
In case you're not familiar with what we mentioned before about how we've all been playing Uno wrong, this all started thanks to various statements Tweeted by the Uno account in recent years that have revealed rules many of us apparently never knew about. For example, did you know that you can't officially stack a Draw 2 on a Draw 2?!
The rumors are true. You cannot 𝘰𝘧𝘧𝘪𝘤𝘪𝘢𝘭𝘭𝘺 stack a Draw 2 on a Draw 2. https://t.co/ZrTfsR50Km

— UNO (@realUNOgame) September 28, 2022
You also can't stack Draw 4 cards or stack a Draw 2 onto a Draw 4.
If someone puts down a +4 card, you must draw 4 and your turn is skipped. You can't put down a +2 to make the next person Draw 6. We know you've tried it. #UNO pic.twitter.com/wOegca4r0h

— UNO (@realUNOgame) May 4, 2019
And over the years, they've even released "rules of the day" that apply for that day only if you 
really
want to get creative.
(1/2) Skipping never felt so good. If someone plays a Draw 2 on you and you have a Skip card of the SAME COLOR in your hand, you can play it and "bounce" the penalty to the next player! pic.twitter.com/c6wUN5Z78e

— UNO (@realUNOgame) May 6, 2020
Let's just say, some people have been LESS than pleased by some of Uno's "reveals" of the rules we've all been breaking, as
Today
shares.
No matter what rules you play by, we think having the Disney100 set will make your game just a tiny bit more fun. We'll keep an eye out for more 100th Anniversary news and share that with you, so stay tuned!
Will you be picking up this Uno card set? Tell us in the comments.