DISCLOSURE: This post may contain affiliate links, which means when you click a link and make a purchase, we receive a commission.
It's finally here!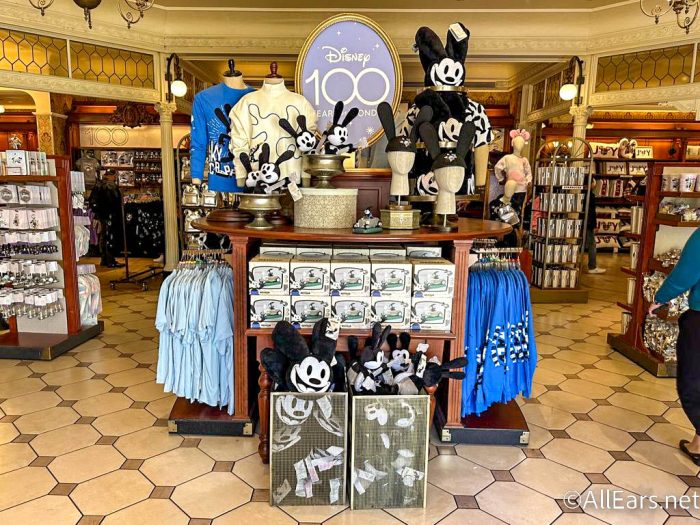 We just recently spotted the new Oswald 100th Anniversary collection, and we've seen plenty of other 100th Anniversary collections released so far. But part of the new Disney Decades Collection has now been released and for this one, we're going back to the 1920s!
The 100th Anniversary Decades Collection is focused on releasing merchandise representing the many decades during which the Walt Disney Company has existed — it is celebrating its 100th Anniversary after all!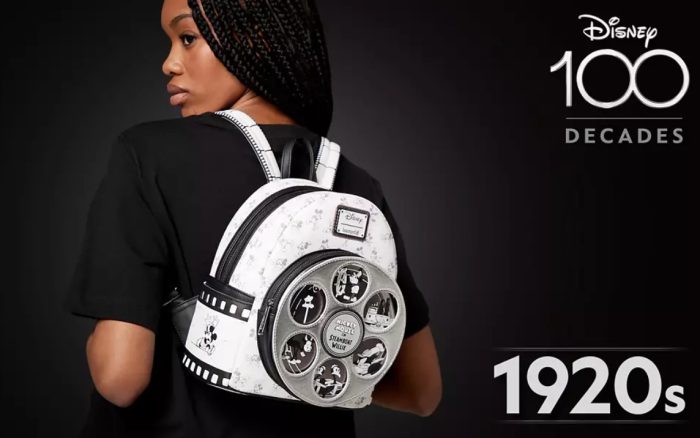 The designs for the 1920s collection are inspired by the Mickey Mouse short that really kick-started things, and the minimalistic black and white designs really encapsulate that vintage feel. This 20s collection has new items including ears, a new Loungefly, and more! Let's go through them here.
Pop on the Mickey Mouse Steamboat Willie Ear Headband for Adults before heading into Disneyland to celebrate the 100th Anniversary. These plush ears feature a variety of scenes from the short on both the front and back of the ears.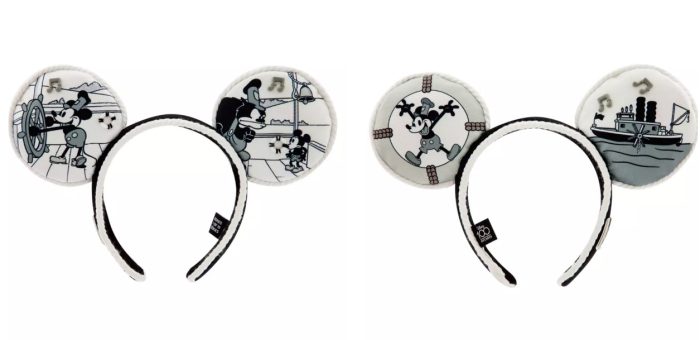 The ears and headband also have a rope trim giving them a nautical vibe. And you'll find adorable tiny music note appliques — we can almost hear him whistling! Grab these ears from shopDisney for $39.99.
Another item to grab before your Disney trip is this Mickey Mouse Steamboat Willie MagicBand+! Not only is it festive, but it's a limited edition item so be sure to buy yours now!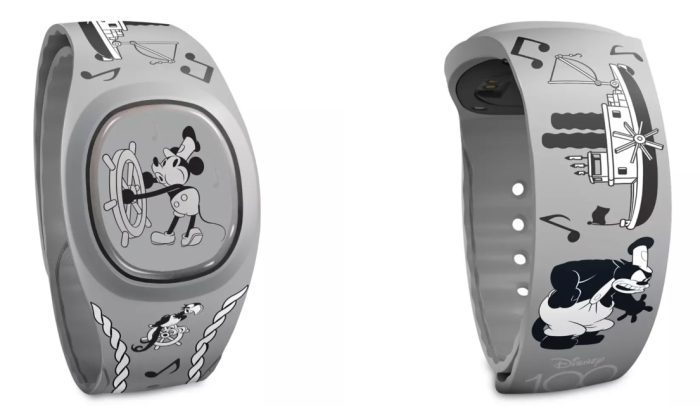 The puck (center portion) features Willie whistling along. The band is covered in characters and images from the short, all in the grayscale color scheme. Purchase one for yourself for $64.99!
Whether you are purchasing it as a kid's toy or a collectible to display, the Steamboat Willie Musical Boat has everything you need to re-create the iconic musical short.
This set comes with a replica of the steamboat as well as figurines of Mickey, Minnie, cow and goat figures, and a Steamboat Willie sign. The boat itself even plays "Turkey in the Straw!" Purchase this on shopDisney for $59.99.
Do you like to collect Disney plushes? Then you need this Mickey and Minnie Mouse Steamboat Willie Plush Set! It's available online and we spotted it in Disney's Animal Kingdom too.
Both characters' vintage designs are recreated as these adorable plush toys.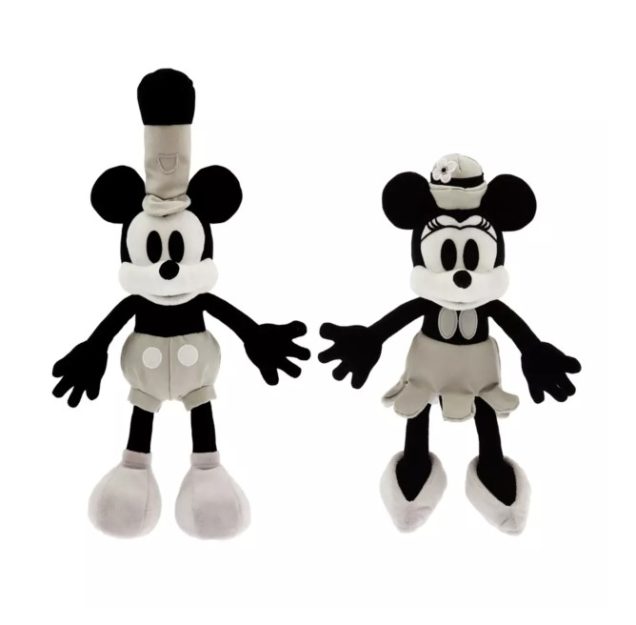 These two come in a set, both in their iconic outfits from Steamboat Willie right down to their hats! You'll receive these in a special Disney100 bag. You can find this set online and in the parks for $44.99.
Pin collectors, hurry! This Mickey Mouse as Steamboat Willie Pin that's part of the Decades collection is another limited edition item so it could be tough to find later.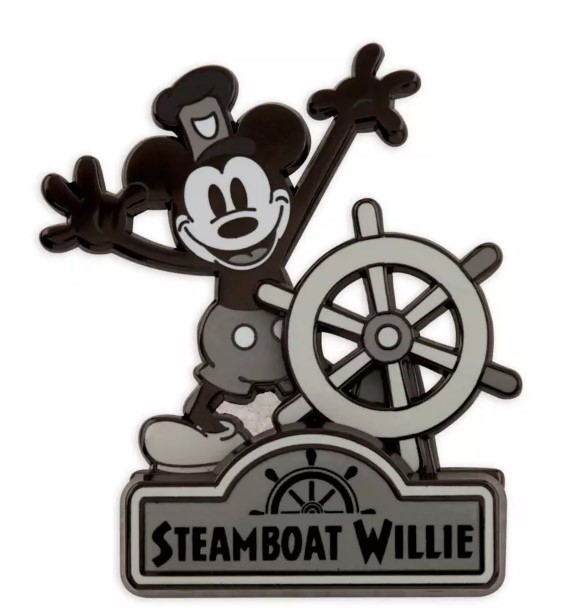 Mickey looks as happy as ever behind the wheel! This pin is unique — it's a pin-on-pin design. Plus, it comes on a special 100th Anniversary Decades card. It is available on shopDisney for $29.99.
If you need somewhere to display your pins, check out the Disney100 Pin Collector's Board. This double-sided board sits upright to display your pins wherever you'd like!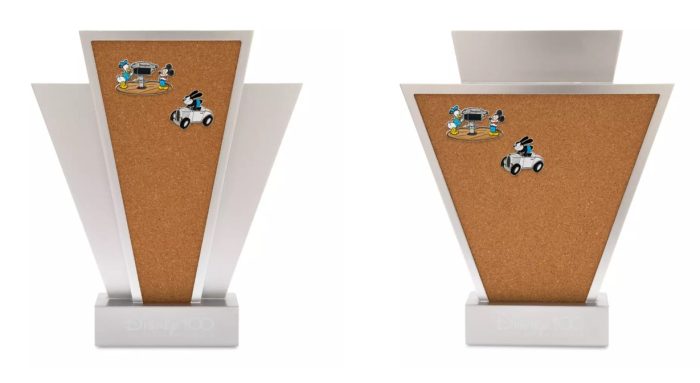 The art deco design screams 1920s. The base has the Disney100 logo on it, and you can get this online for $79.99.
Last but certainly not least, we have the Mickey Mouse Steamboat Willie Loungefly Mini Backpack! The focal point of this bag is the film reel front pocket, with open windows showing different scenes from Steamboat Willie. The best part? It turns!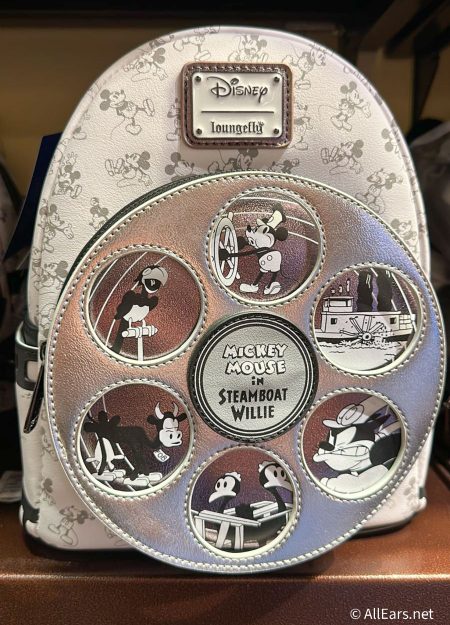 You can move the film wheel to reveal the scenes through the windows! How cool is that? The rest of the bag is covered with a muted print of vintage Mickey Mouse and there's a black film strip detailing on the side pockets. Find this online and in the parks (we found it in Animal Kingdom) for $88.
And those are all the items available in this new collection! If you're looking for more Disney merchandise, make sure you check out the new McDonald's Happy Meal toys or see the collection you can grab at Target. As always, stay tuned to AllEars for all the latest Disney news.
Which decade are you most excited for? Tell us below!