We've shown you a LOT about the Disney Cruise Line ships, from the entertainment to the food to the rooms.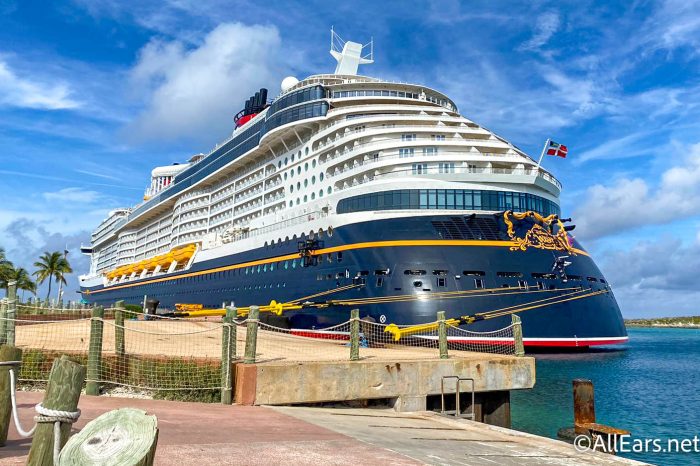 But, while Disney Cruise Line is a big deal to us, other cruise lines are doing some big things, too! In fact, the BIGGEST cruise ship in the world is currently in the works, and we have a ton of details!
The Icon of the Seas from Royal Caribbean will become the largest cruise ship in the world when it officially sets sail out of Miami in 2024, according to The Orlando Sentinel.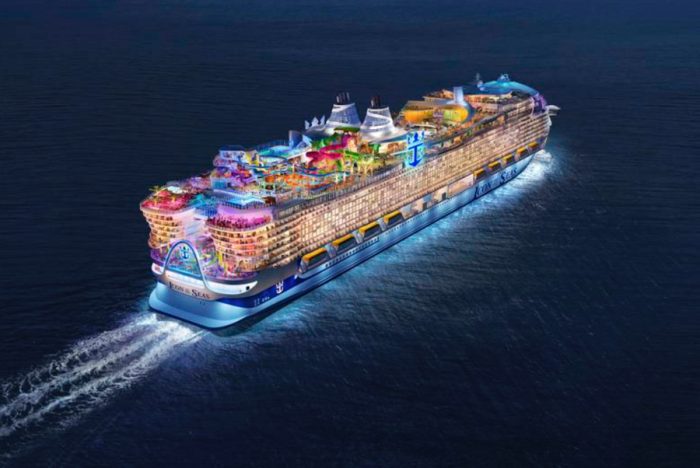 The ship will have 20 decks, weigh 250,800 gross tons, and be 1,198 feet long.  But, it will not be the largest in terms of passenger capacity based on double occupancy. It will hold 5,610 passengers compared to the current largest cruise ship's — Wonder of the Seas — 5,734 passengers.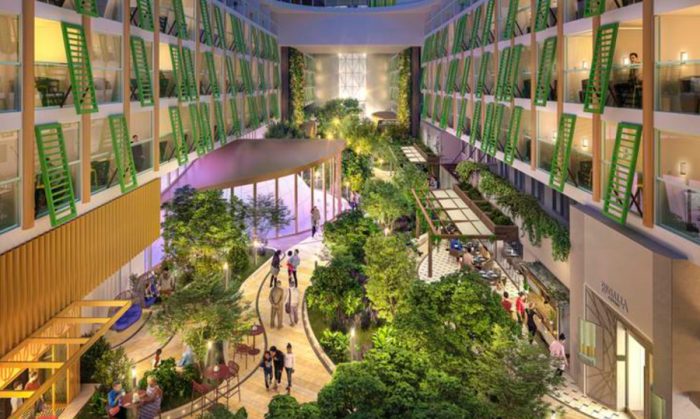 The chief product innovation officer for Royal Caribbean, Jay Schneider, says the will be providing more space to passengers in both public spaces and staterooms on the Icon of the Seas.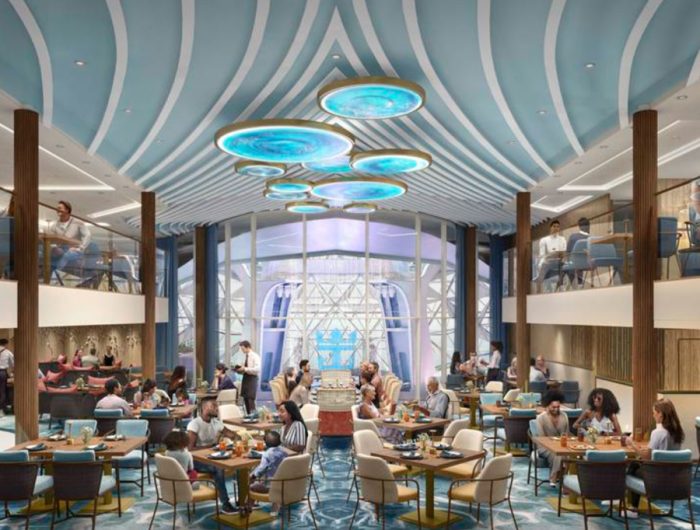 But, the maximum capacity of the ship IS more than the Wonder's. Icon of the Seas' maximum capacity will be 7,600 compared to the Wonder's 7,084.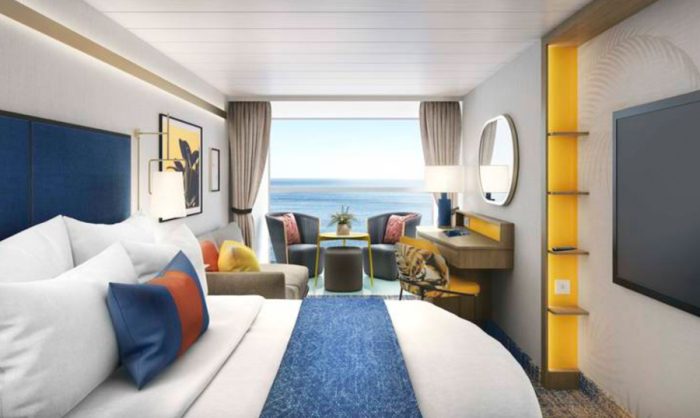 The Icon of the Seas will also have bigger staterooms than Royal Caribbean has had before (except for the interior rooms) and the largest area for suit guests to date, which will cover three decks.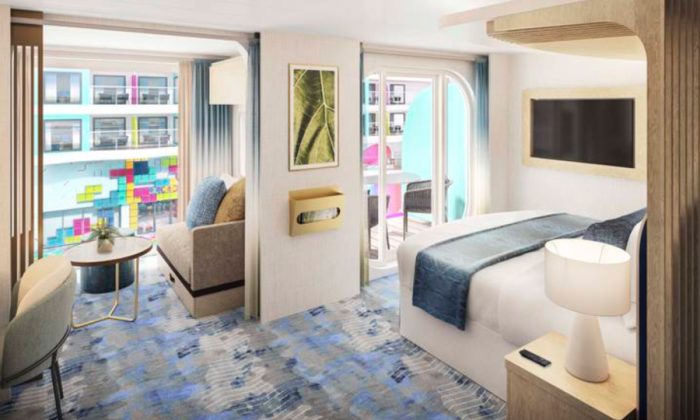 Royal Caribbean held a media preview recently, and showed a bunch of first looks at the concept for the ship. One of the major things on this new ship will be this giant dome that goes over the bow of the ship's top decks.

This is the AquaDome and will be home to the AquaTheater, which is where performances by divers and aerialists will take place. This new location will let the shows have more lightning and special effects. These performances will happen at night, but during the day, a 55-foot-tall waterfall will be on display here.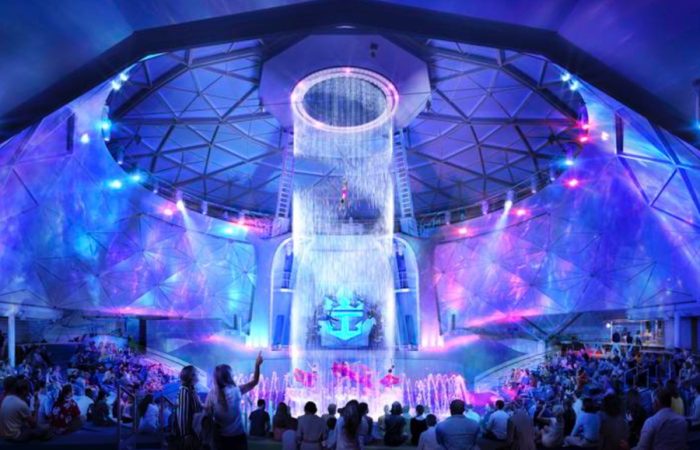 There will still be a version of the BoardWalk area on the ship — it will be a more whimsical neighborhood called Surfside that will be geared toward families. There will be a carousel, but it will feature marine animals instead of your typical horses.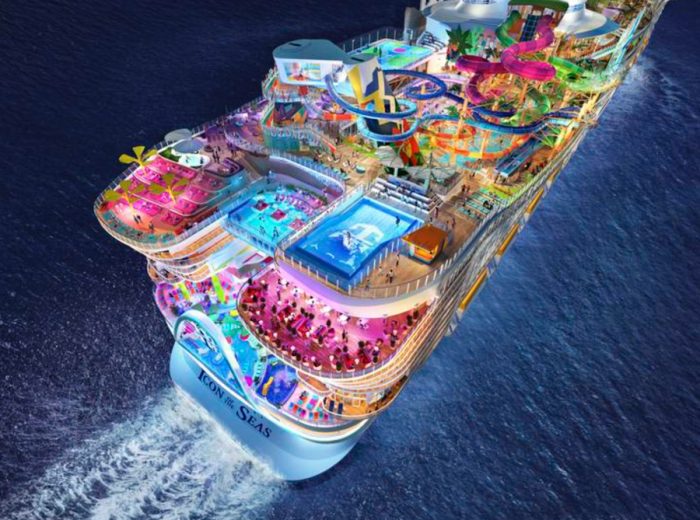 This area will also be home to the Sugar Beach ice cream and candy venue which is ideal for kids, but it will be designed to still give relaxing spaces for adults to hang out while kids play in Splashaway Bay. There will also be a nearby arcade, the kids Adventure Ocean club, and spaces for teens.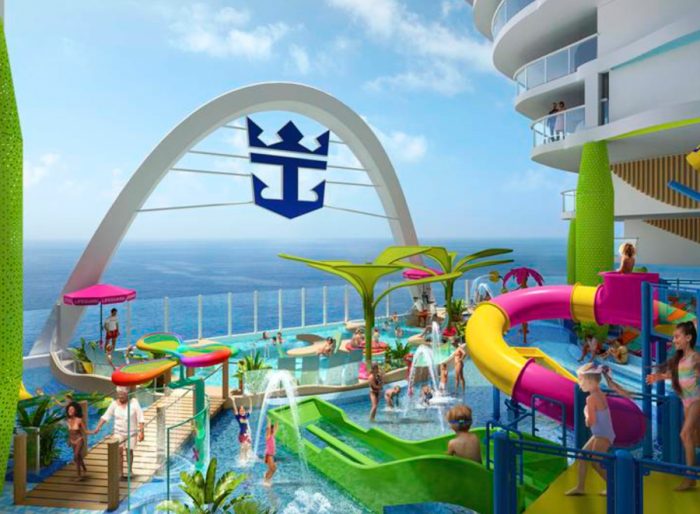 Surfside will also be where the largest and most expensive suite on the ship is located. It's the three-story Ultimate Family Townhouse, which will have its own slide and private access to Surfside.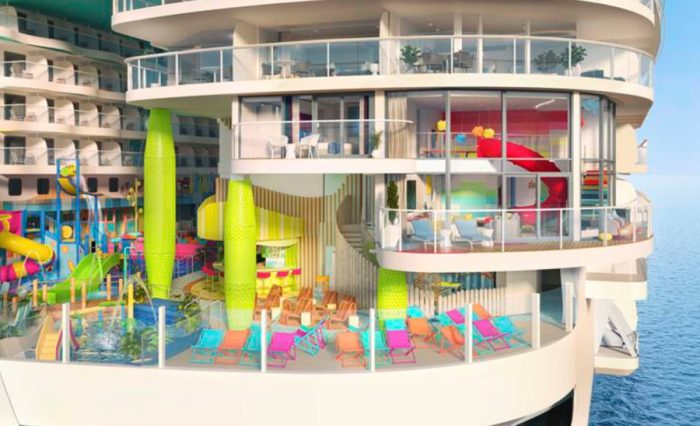 When it comes to water slides, Icon of the Seas will have six slides on two towers, which will make it the largest water park at sea. This area will be called Category 6 and will be located in Thrill Island.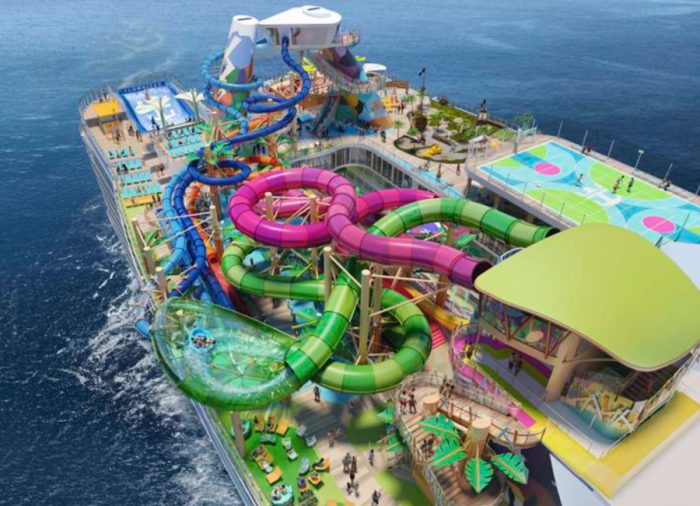 There will also be a completely new experience called the Crown's Edge on the ship. It's like an adventure trail, and it's probably not for you if you're afraid of heights! Schneider describes it as follows:
"So you'll harness up in kind of a unique harness, tethered. … There's a series of obstacle-esque sort of experiences you can kind of move around because you're tethered in case you do fall, and then you walk out, and then as you get to the end, just to mess with you we will drop the floor out from underneath you and you will then — we'll call it fly for a better way to say it."
Yep, you'll be flying out over the ocean — over 150 feet above it, actually.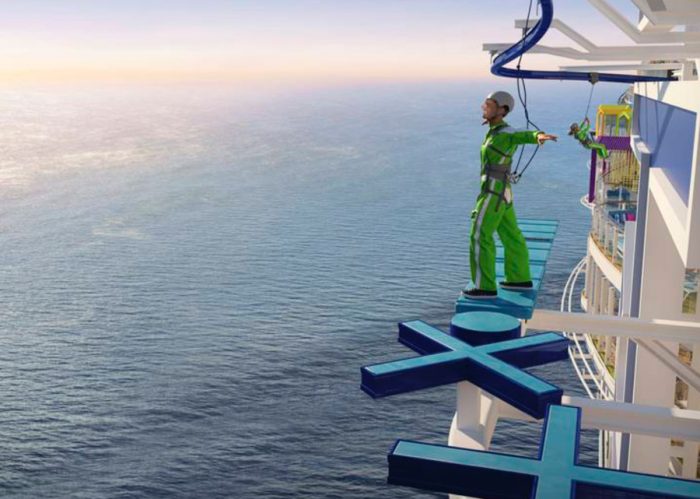 For something way more relaxing, guests will be able to check out the pools on board. There will be seven pools in total and nine whirlpools, and one of the pools will have the cruise line's first ever swim-up bar on a ship.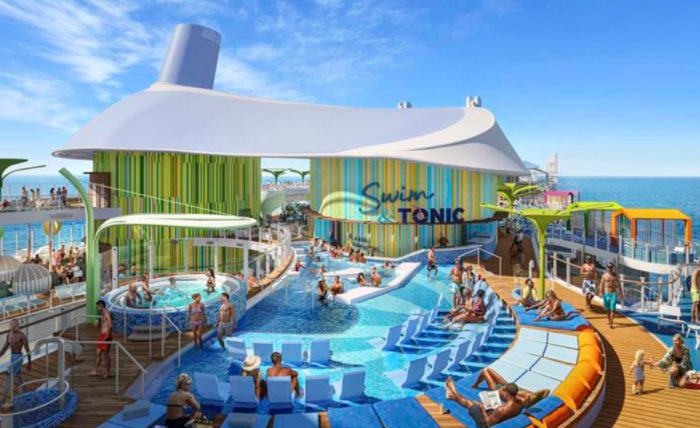 Here's another look.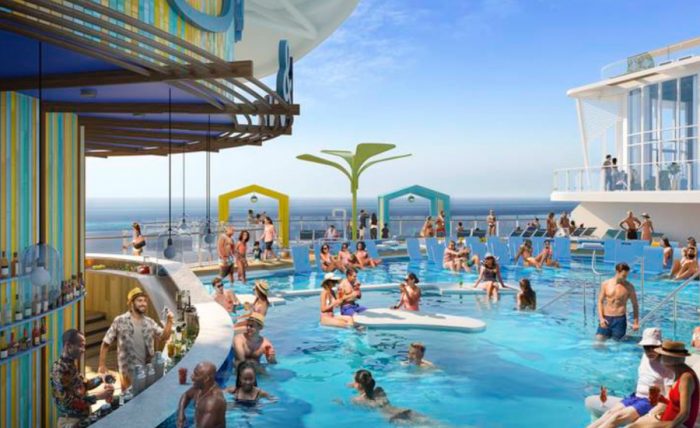 There will also be an infinity pool suspended 135 feet above the ocean.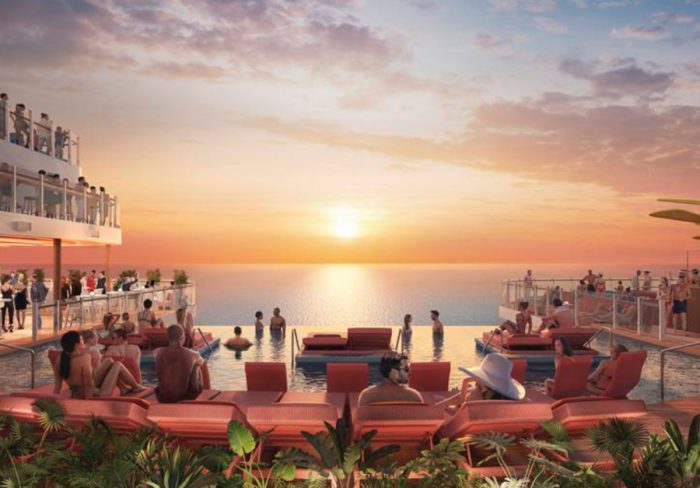 The ship is supposed to start 7-night Eastern and Western Caribbean voyages from Miami on January 28th, 2024. But, it will get to Florida in December of 2023. You can go ahead and book your trip now!
For more on cruises, check out Come With Us To Experience Halloween on the High Seas on Disney Cruise Line Disney Cruise Line Changes Early Booking Dates For Hawaii Cruises Disney Cruise Line is Going to Australia and New Zealand for a Limited Time.
Stay tuned to AllEars for more news and updates.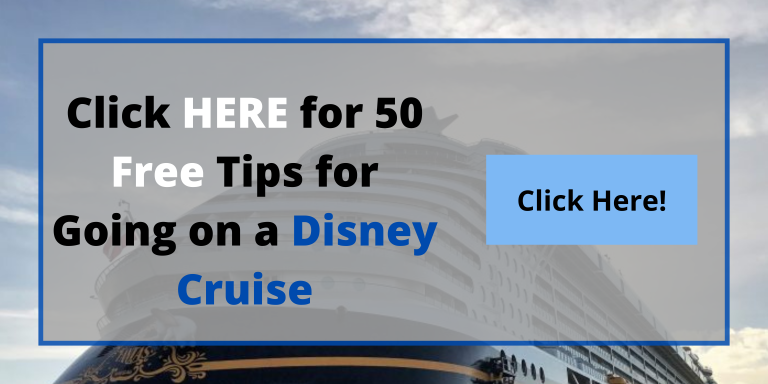 Would you book a trip on this new cruise ship? Tell us in the comments!