Disney's newest after-hours event celebrates six decades of graduating classes!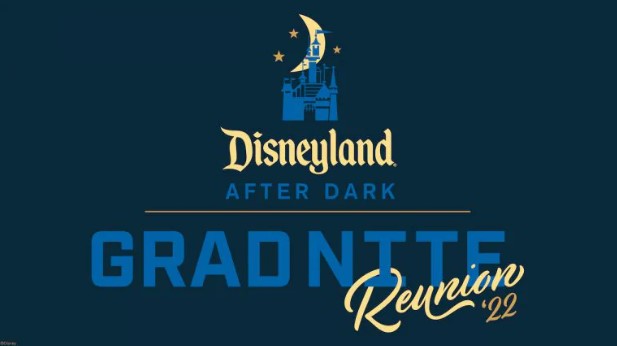 The Disneyland After Dark: Grad Nite Reunion takes place on June 23rd, 28th, and 30th from 8PM to midnight, and attendees get the chance to check out rare characters, unique photo backdrops, nostalgic eats, and more — all themed to graduation! We got the opportunity to visit for the first event on June 23rd, and here's what it was like!
The Grad Nite Reunion takes place in Disney California Adventure, and ticketholders can enter the park as early as 5PM with no theme park reservation necessary. Let's head in!
Atmosphere
We entered Disney California Adventure around 7:30PM, and we headed straight for the check-in area.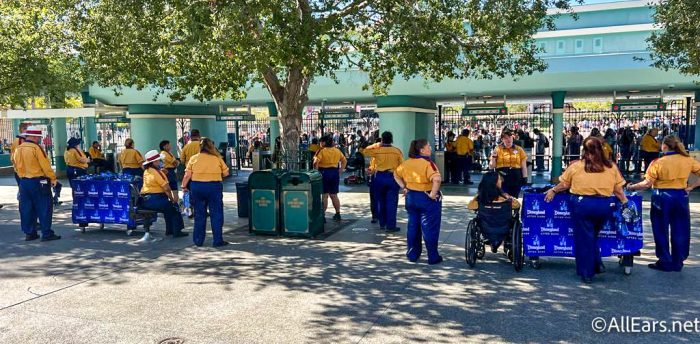 There were signs directing attendees where to check in, so it was easy to figure out where to go!
Cast Members were ready to help guests check-in, and it was a pretty easy process.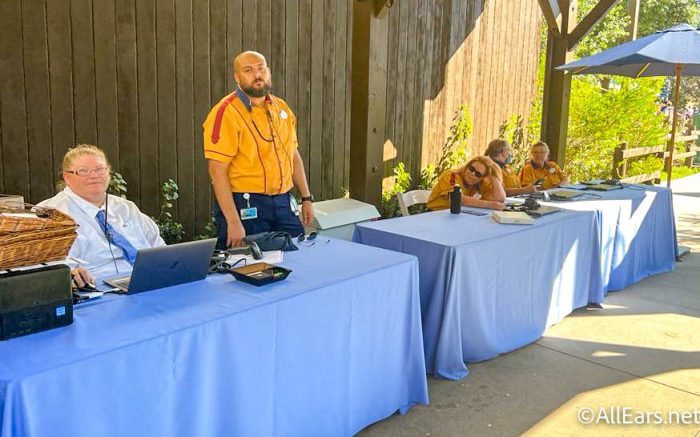 Ticketholders get this free commemorative credential lanyard as well as a guide map.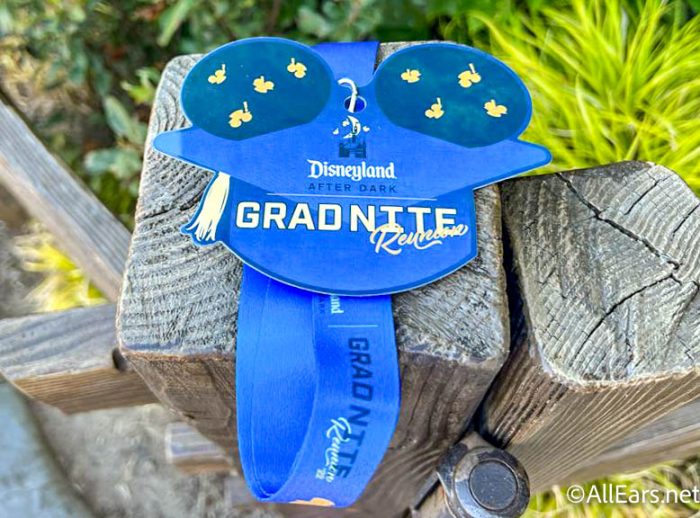 The guide map has all the info you need to make the most of the event!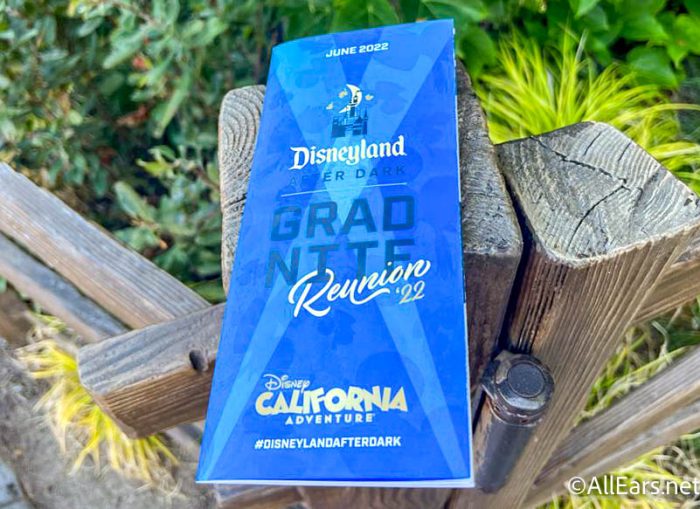 Inside you can check out all the characters, "clubs" and activities…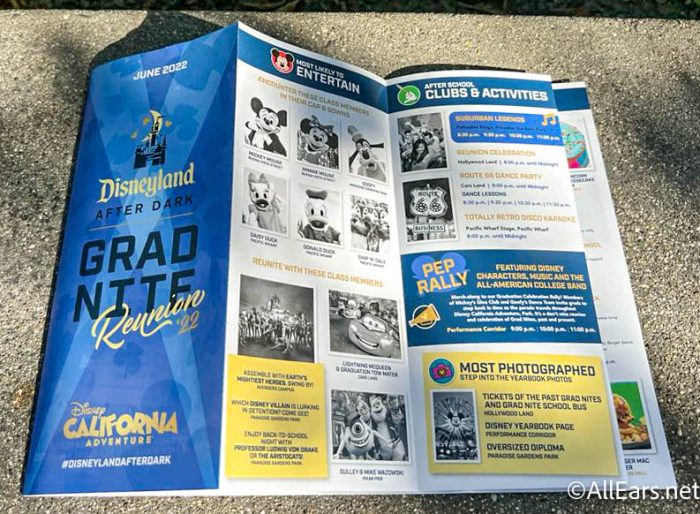 …a map of Disney California Adventure and where to find the special events and entertainment…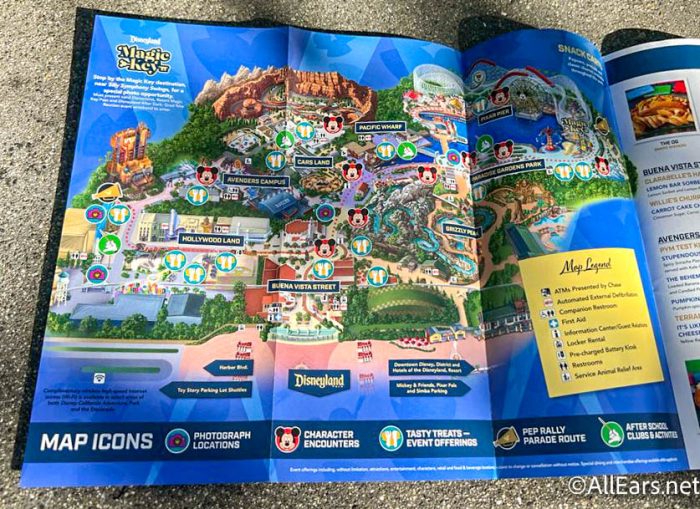 …all the exclusive event food and drinks…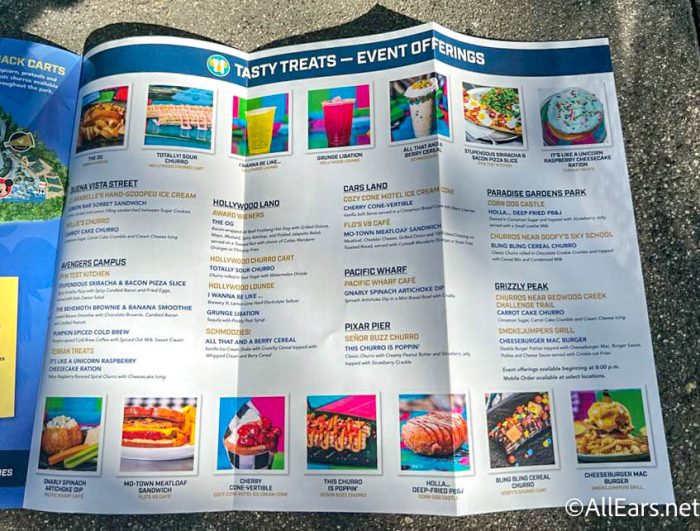 …and more information about the park and Disney PhotoPass. Ticketholders get unlimited downloads of Disney PhotoPass digital photos taken during the event, so you can keep those memories forever!
We noticed a few signs with a QR code advertising possible ticket availability.  If you still want to attend this event, you can buy tickets for June 28th for $150 or June 30th for $154.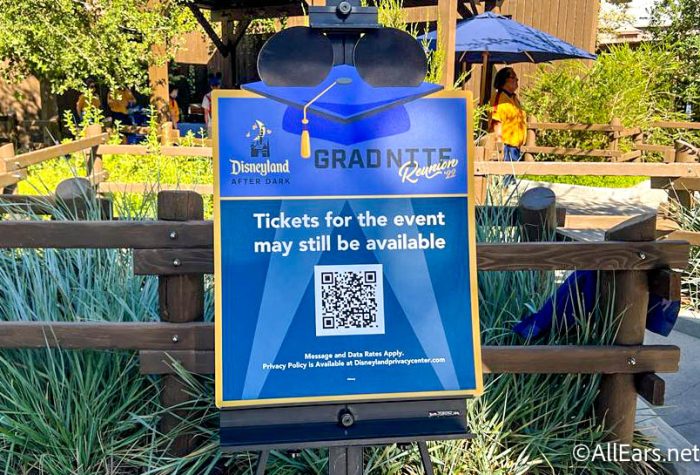 Just keep in mind that theme park parking is not included in your ticket! It costs $30 per car.
Food
There were several event-exclusive foods available, and we gave three of them a try! We started out with the Stupendous Sriracha & Bacon Pizza Slice from Pym Test Kitchen in Avengers Campus.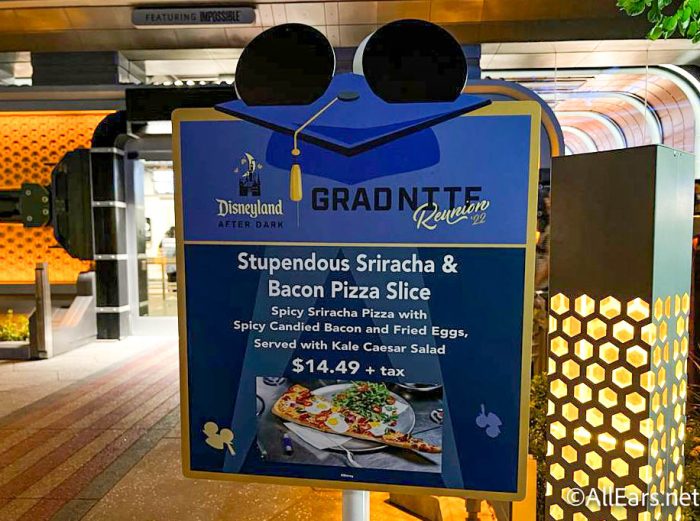 This pizza is spicy sriracha pizza with spicy candied bacon and fried eggs, and served with kale Caesar salad for $14.49.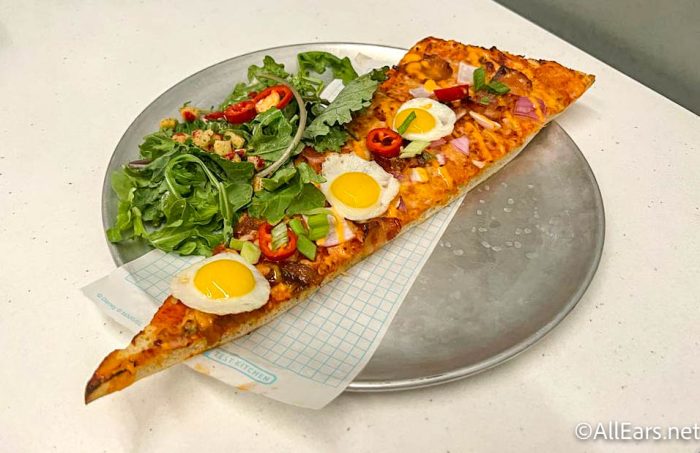 Also in Avengers Campus, you can visit Terran Treats to try the It's Like a Unicorn Raspberry Cheesecake Ration for $7.25. This treat is a yellow raspberry-flavored spiral churro with cheesecake icing.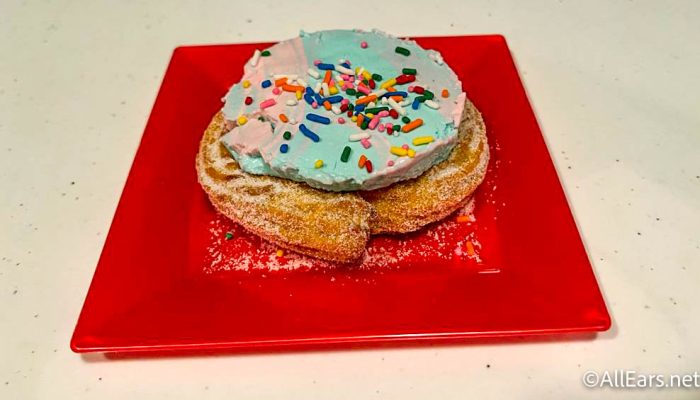 The Cherry Cone-vertible from the Cozy Cone Motel in Cars Land is $7.99.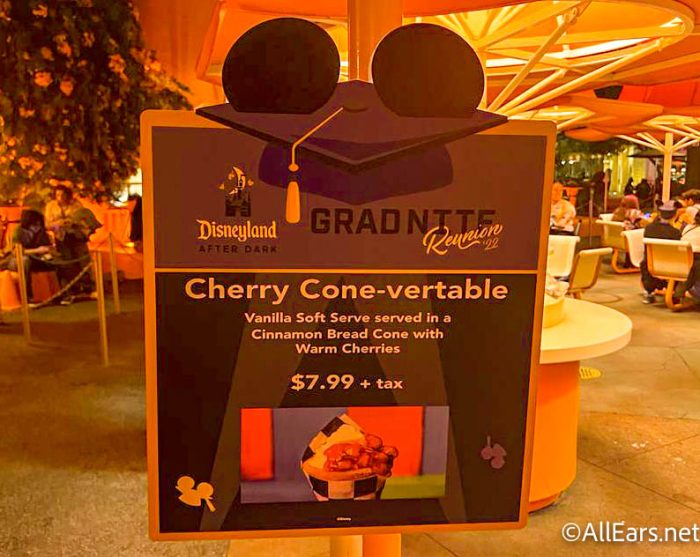 This treat is made with vanilla soft-serve served in a cinnamon bread cone with warm cherries.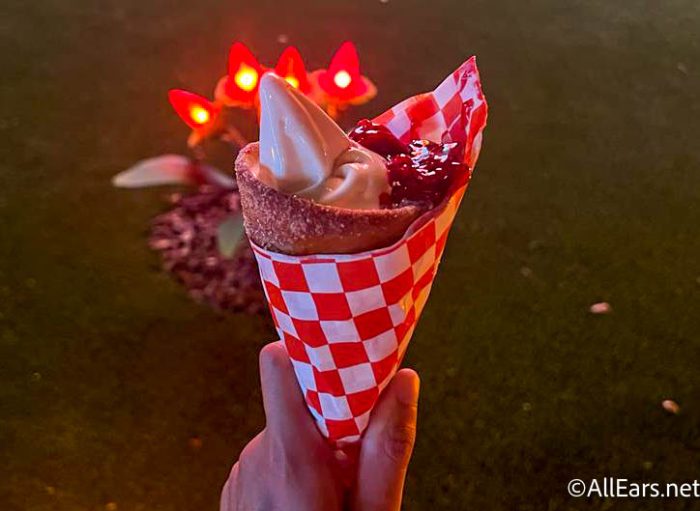 The Cheeseburger Mac Burger was available at Smokejumpers Grill in Grizzly Peak for $15.49.
It's double burger patties topped with cheeseburger mac, burger sauce, pickles, and cheese sauce, served with crinkle-cut fries.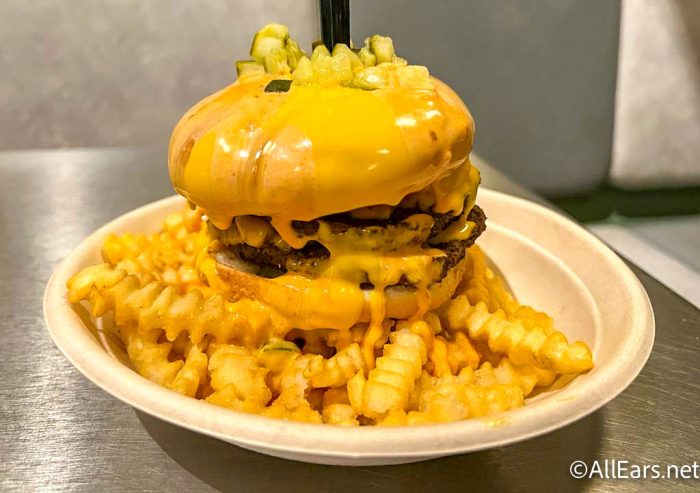 Now that we're full, let's check out all the entertainment!
Entertainment
The biggest event of the night was the Pep Rally, during which guests could catch Mickey's glee club, Goofy's dance team, and the Disneyland All-American Band! Mickey led the Pep Rally, of course.
After Mickey came the Grad Nite Reunion float featuring Max Goof dressed as Powerline, as well as Mickey's glee club!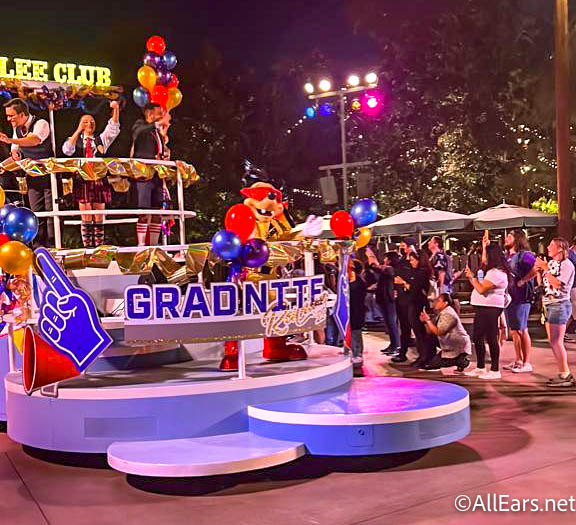 Goofy was READY to lead his dance team. Peep that outfit!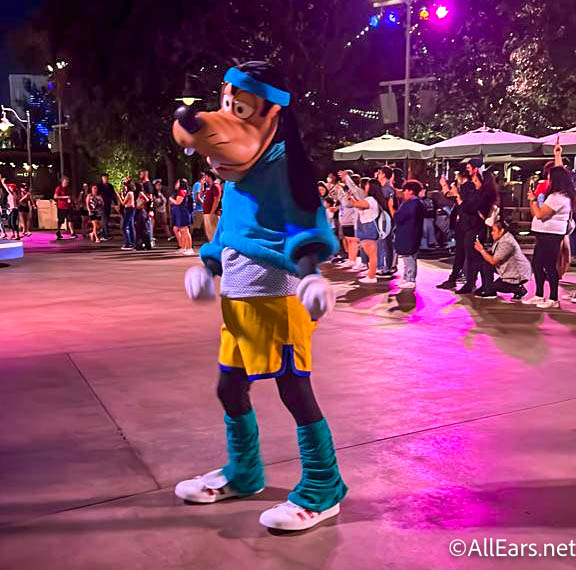 Minnie, Donald, and Chip were also ready to dance!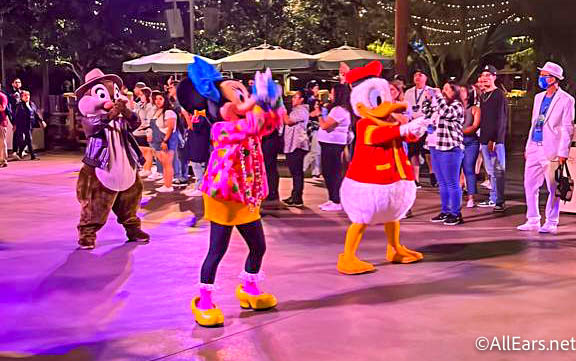 So were Daisy and Dale!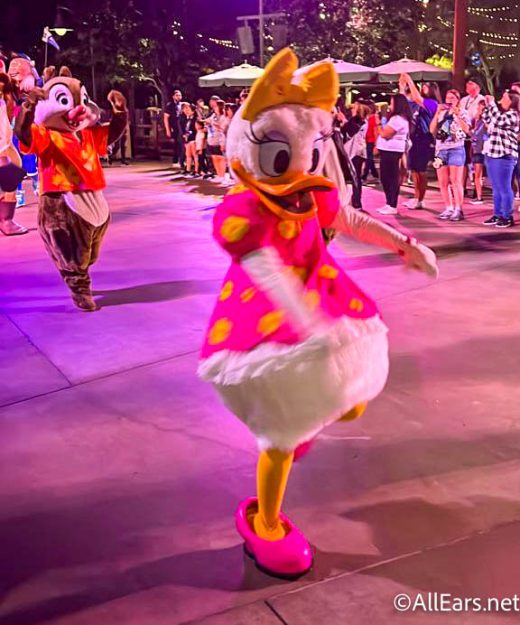 The Disneyland All-American Band also joined in on the fun! This musical group recently returned to Disneyland for the first time in two years.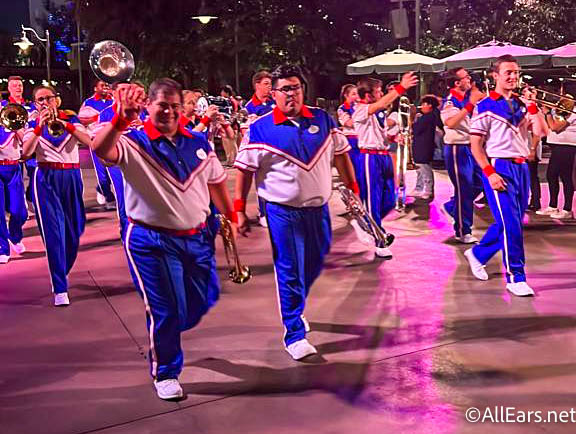 Over in Cars Land, there was also a Decades of Music karaoke party! This event featured retro songs and dances from the 1960s.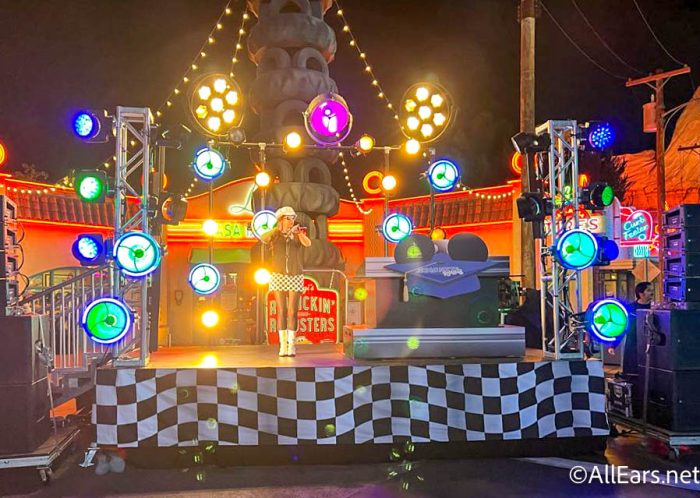 If you have time, you can also visit a more contemporary dance party in Hollywood Land!
Characters and Photo Ops
Grad Nite Reunion photo backdrops were available throughout Disney California Adventure, with characters around at times — dressed in their graduation best! We spotted Chip in a purple cap and gown.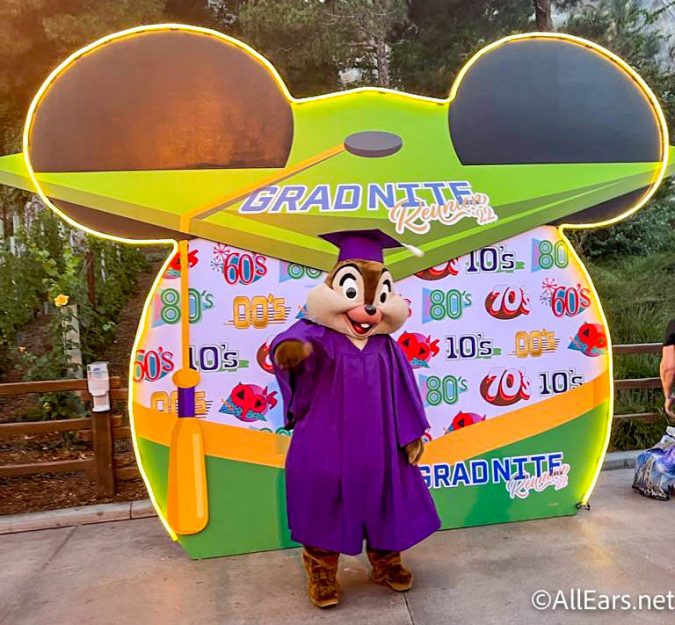 Sulley was wearing his Monsters University jacket…
…and Mickey and Minnie wore matching red caps and gowns!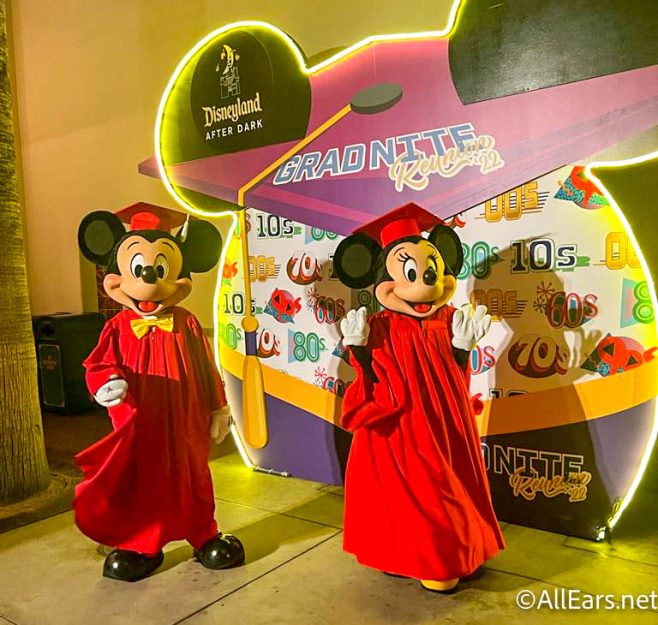 Daisy chose a light blue cap and gown.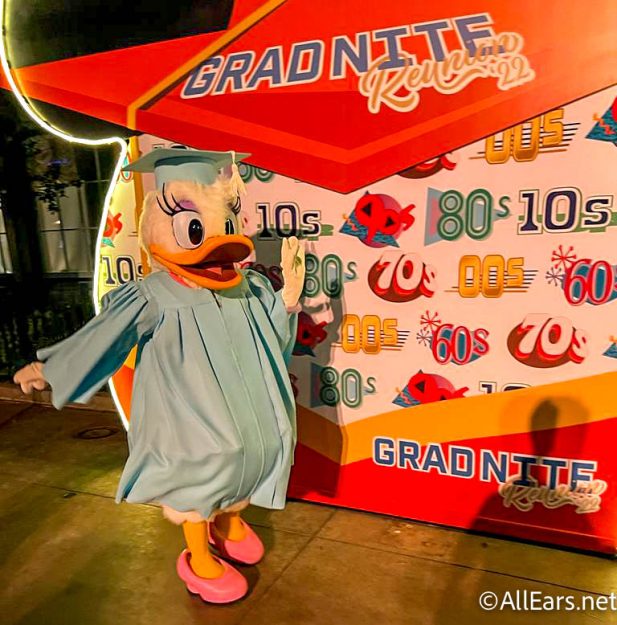 And Ludwig von Drake, whom you may remember from Duck Tales (he's also Donald Duck's uncle!), taught a lesson.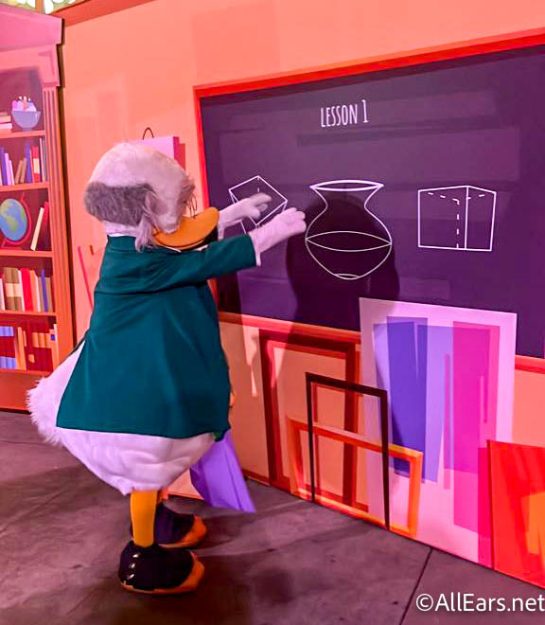 A variety of colorful Grad Nite backdrops were around the park, featuring the previous six decades.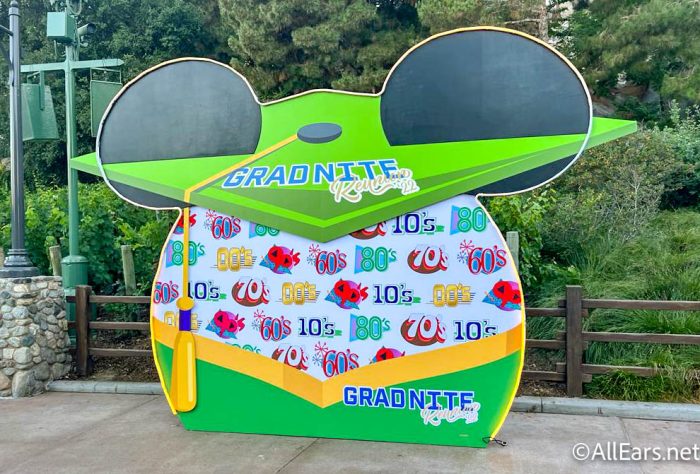 There was also a yearbook backdrop with a few interesting graduates, including characters like WALL-E, the Beast, Mirabel, and Elsa. If you look closely, everyone won an award! (Mirabel was voted Most Gifted!)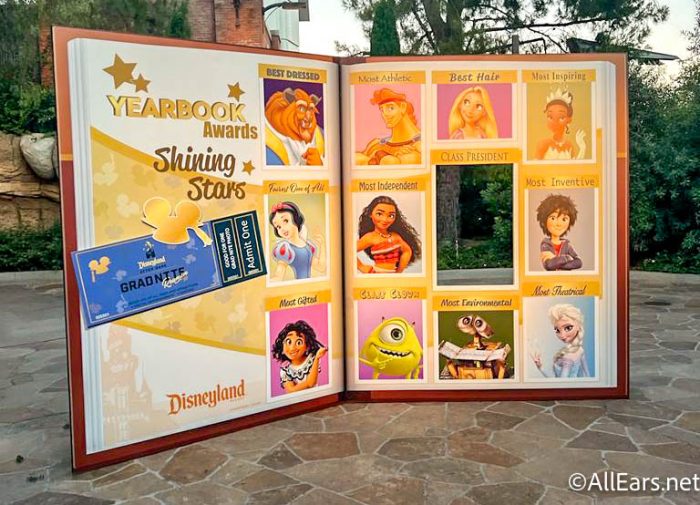 You could take pics in front of the Grad Nite "bus…"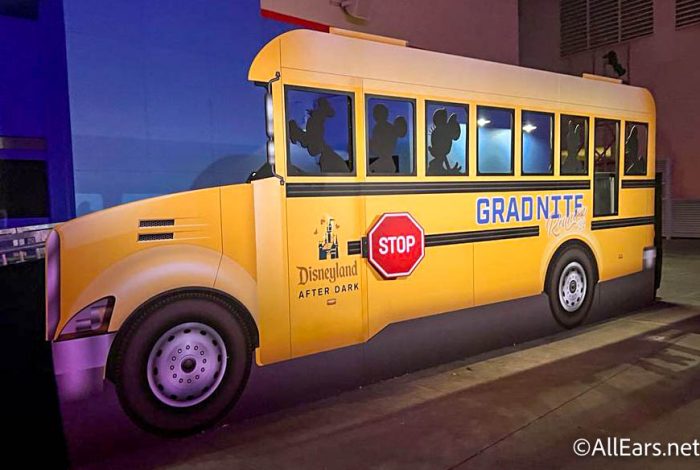 …and this "diploma" with a beautiful background of Pixar Pier. Remember, Grad Nite Reunion ticketholders get unlimited PhotoPass downloads from the event, so you might want to take advantage of these fun backdrops!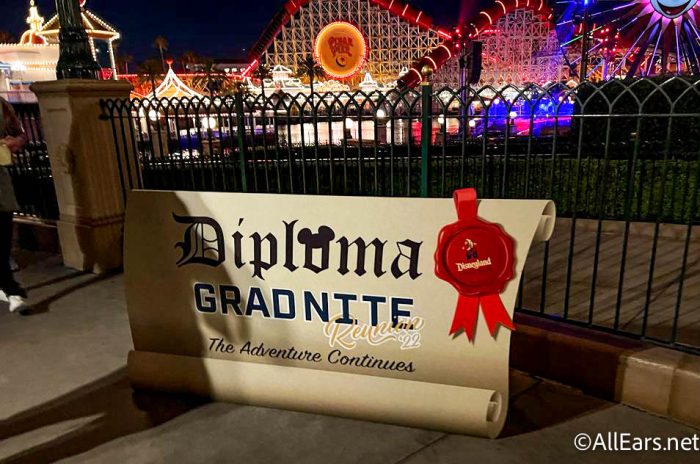 Thanks for coming along with us! Tickets are still available for June 28th and 30th, but don't wait too long to place your order! Keep following AllEars for more Disney news!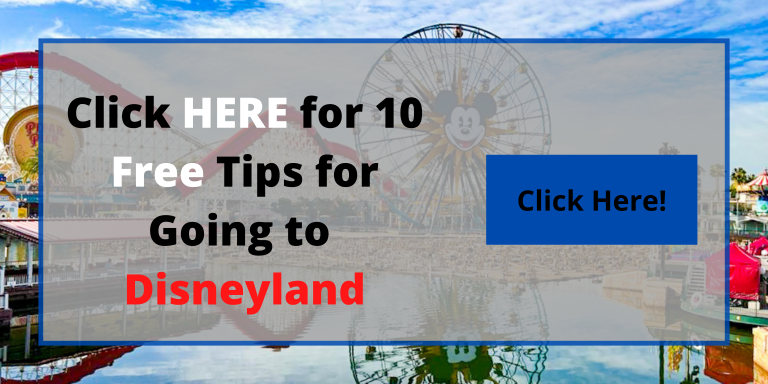 Do you have plans to visit the Grad Nite Reunion? Tell us in the comments!