Lots has been going on at Universal Orlando lately!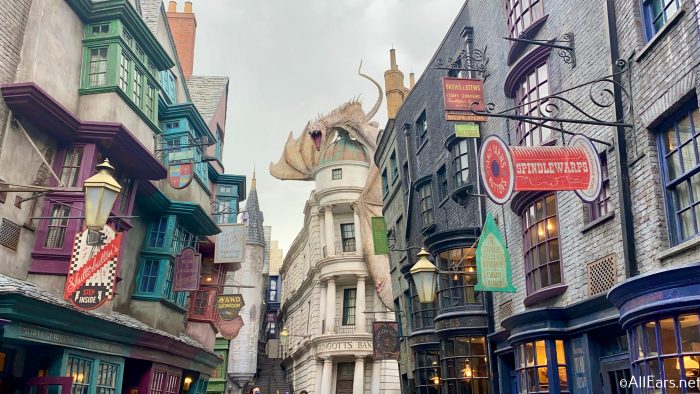 Universal Orlando has been gearing up for a great summer. You'll be able to ride the much-anticipated Velocicoaster and cool off on some water rides — if the parks don't reach capacity first! But if you're looking for ways to save, the Universal Dining Plan may be the perfect addition to your vacation.
And we put that Dining Plan to the test! We're going to tell you exactly what you'll get for your money — and help you decide if it's worth it. So let's get started!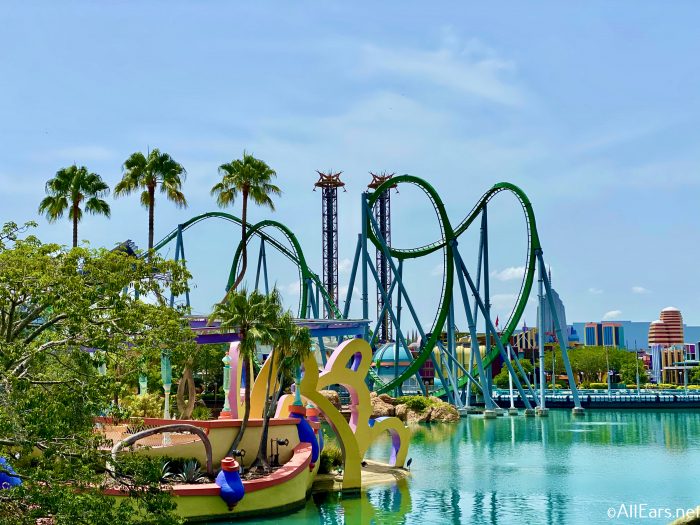 When you go to purchase a Dining Plan, you'll have a few options to choose from. The Adult Dining Plan costs $25.99 per person, and it includes a Quick Service meal (that comes with an entree and a non-alcoholic beverage), a snack, and a non-alcoholic drink. The Child Dining Plan costs $17.99, and it's for ages 3-9. You'll get a kid's Quick Service meal, a snack, and a non-alcoholic drink. Keep in mind that these prices do not include tax.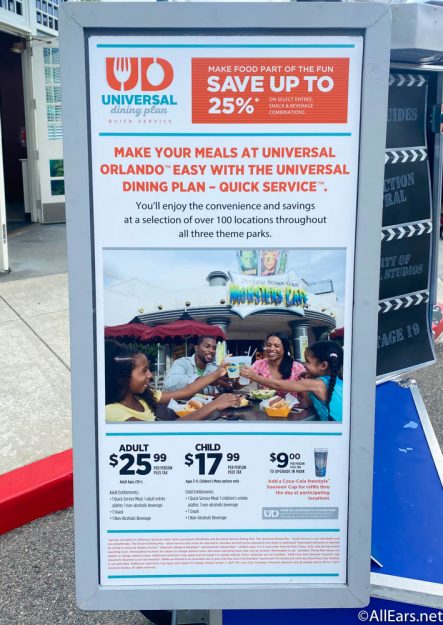 You can purchase the Dining Plan online before your trip, at any participating Quick Service location, at Guest Services, or at the Dining Reservation Cart in each park. They'll give you a Dining Card that you can use throughout your visit!
You also have the option to add the Freestyle package. It costs an extra $9, and it'll get you a souvenir cup with free refills all day at participating locations. A fountain drinks normally costs $4, so you'll have to get at least 3 throughout the day to save.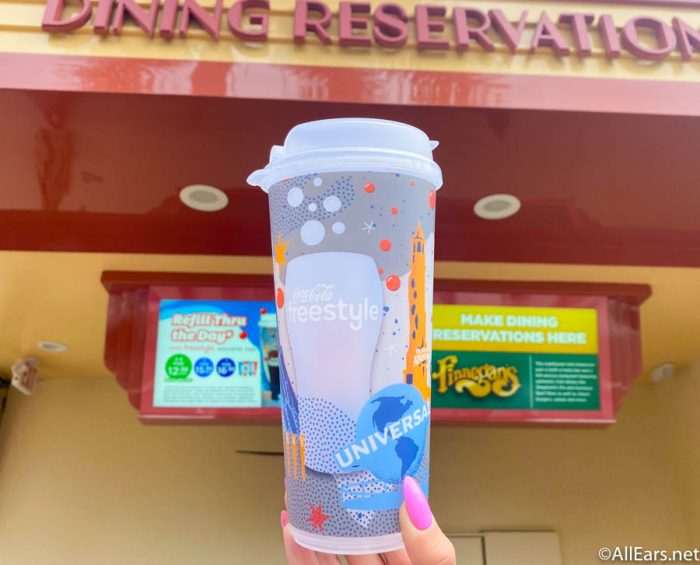 Keep in mind that you can buy the Freestyle souvenir cup outside of the Dining Plan. That'll cost you anywhere from $12.99-$16.99, depending on how many cups you're buying at once!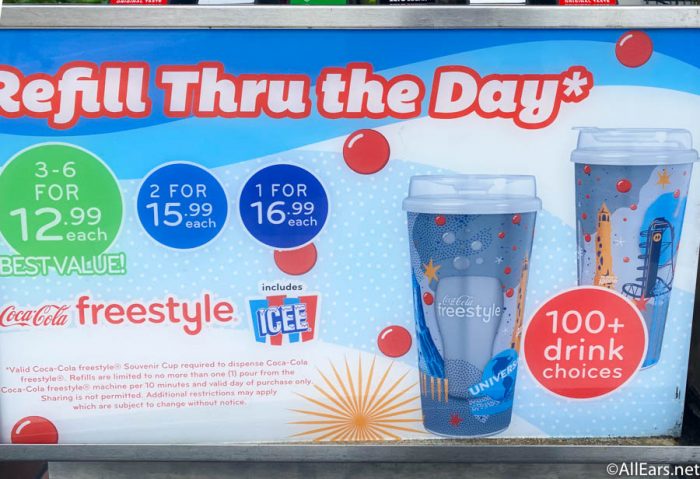 Of course, we got started right away and grabbed our first drink at an outdoor cart! If you do get your refills at a cart, the Team Member will give you a paper cup with your soda of choice, so you can pour it yourself into your souvenir cup. This is just an added safety measure!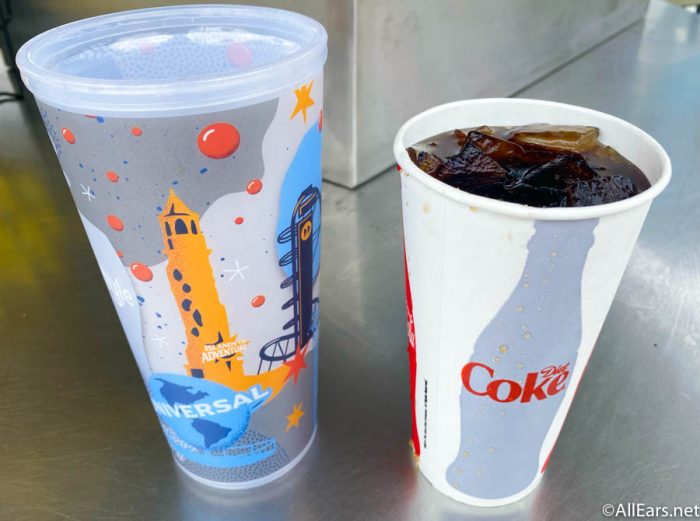 Not long after, we grabbed soda #2 — this time from a refill station. We were trying to get our money's worth, after all!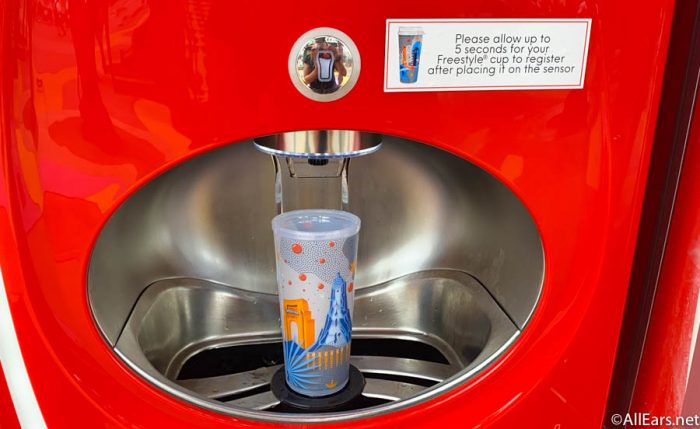 We just kept chugging that soda! We were on drink #4 by the time we stopped to say hi to Guy Diamond…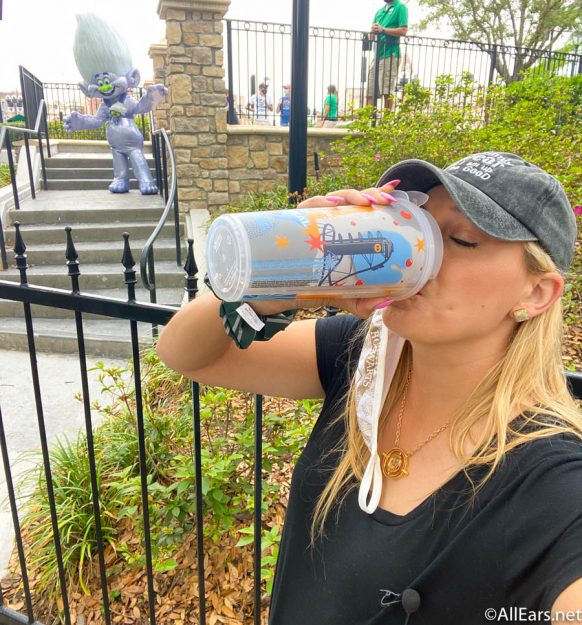 …and then we stopped for lunch at Fast Food Blvd! We used Mobile Order, but because we were on the Dining Plan, the process was a little different. After we were assigned a table, we had to go up to the register to tell the Team Members our table number. If you aren't on the Dining Plan, you'll just scan the QR code on the table as usual.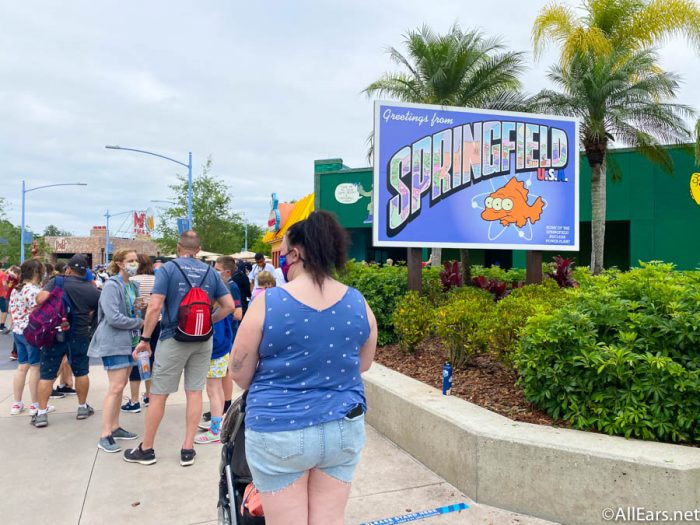 We opted for the Clogger Burger Combo! It comes with a Burger topped with Applewood Smoker bacon, Kurly fries, and a regular shake. It costs $19.99 if you aren't on the Dining Plan! If you're on the non-Freestyle plan (no souvenir cup), you'll get your entree and a drink. If you're on the Freestyle plan, they'll refill your cup.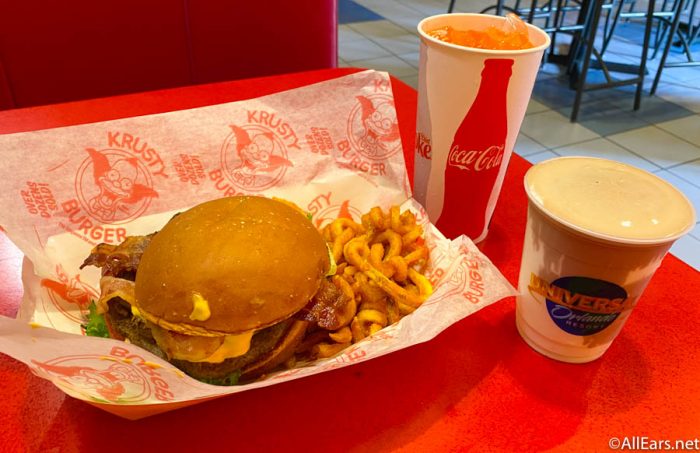 So to maximize our meal, we got the burger, shake, fries, and another soda refill. That's drink #5 (we should note we were feeling a little shaky by this point).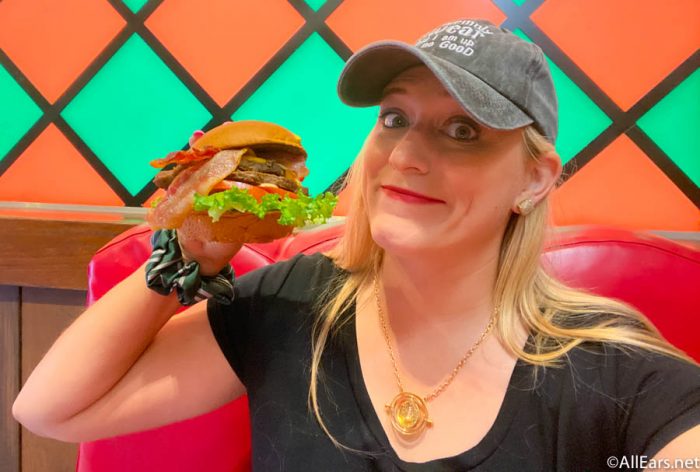 With our Quick Service meal checked off the Dining Plan, we just had our snack left. So we headed over to Diagon Alley! But as we're stepping into The Wizarding World, there's an important point you'll want to note about that free drink on the regular Adult Dining Plan. Since there's no soda in The Wizarding World, you can get a small drink like pumpkin juice or tea (but no Butterbeer!). Note that this does not apply to those refills, though — so fill up your cup before you head into the land!
You have quite a few snacks to choose from in Diagon Alley: ice cream from Florean Flortescue's Ice Cream Parlor (in a cone, but not a sundae or souvenir cup!), any kind of Butterbeer, or a specialty drink like Green Ale. And if you aren't in The Wizarding World, fun fact! Cinnabons count as snacks, too.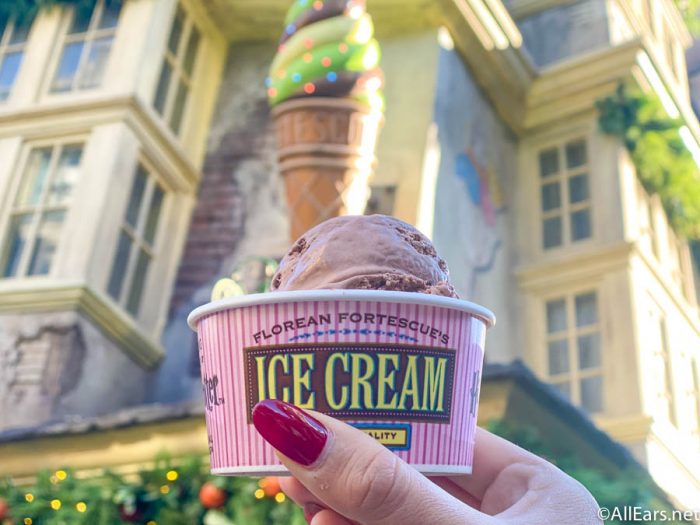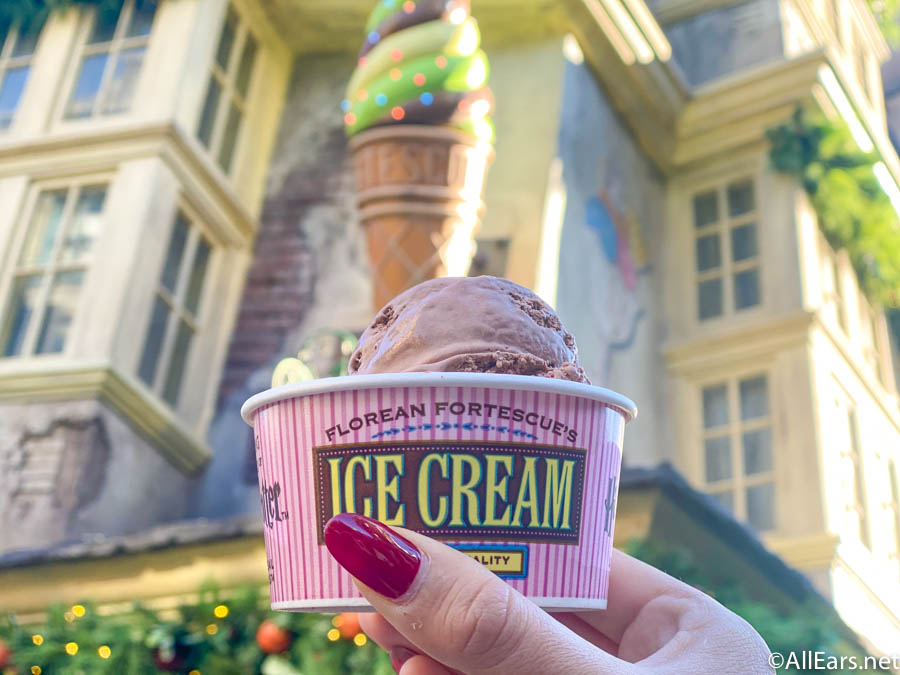 Now, we're really trying to get our money's worth, so we picked one of the most expensive snack options in the park: Butterbeer ($8)! Just keep in mind that you aren't able to Mobile Order your snacks if you're on the Dining Plan, so you may have to wait in a longer line.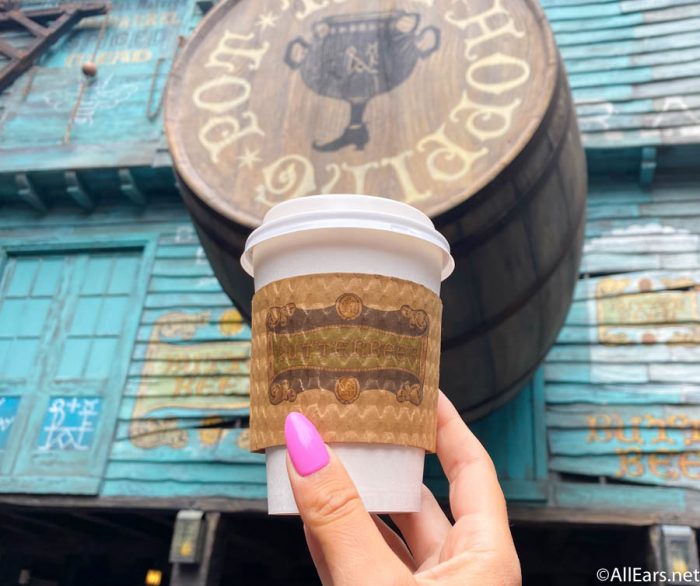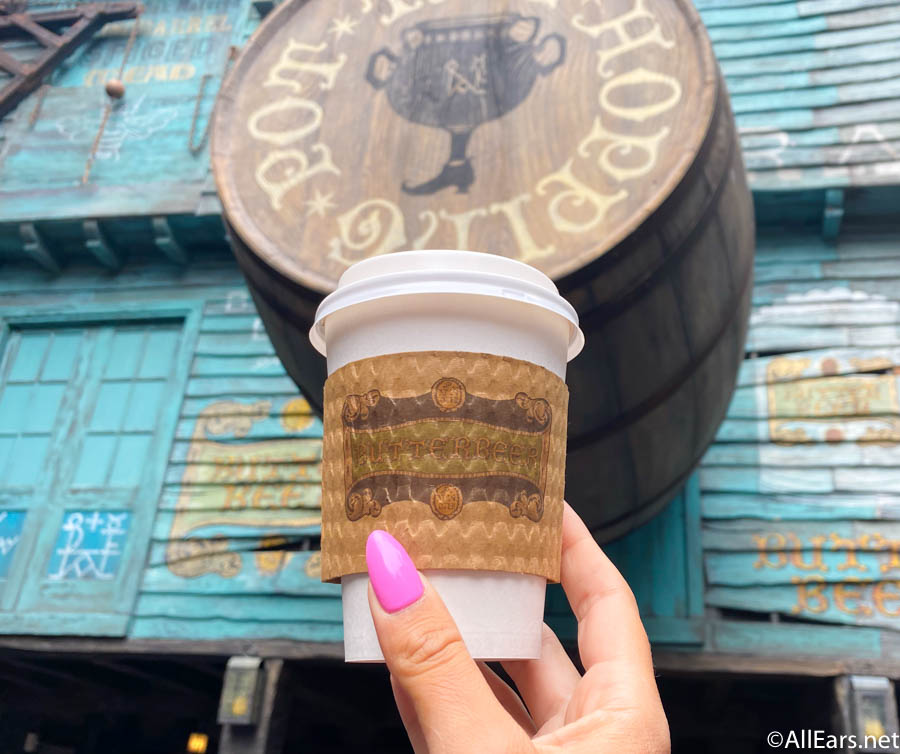 And once we left the land, we refilled our Freestyle cup for soda #6!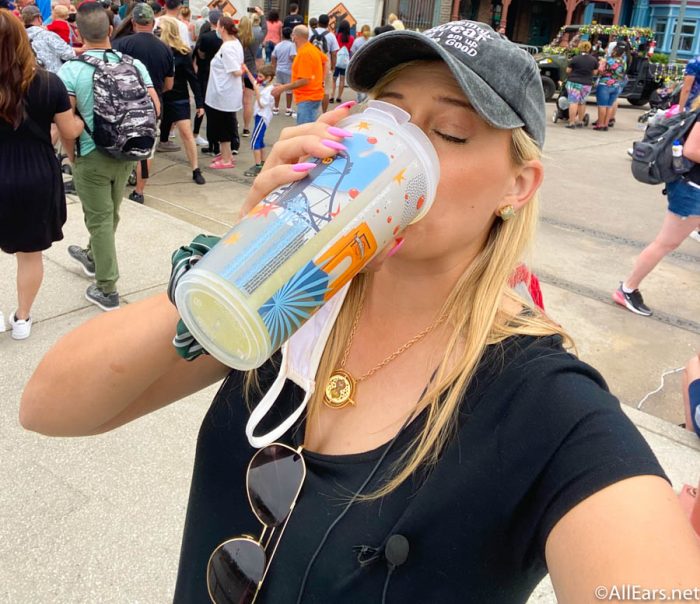 In case you didn't know, icees count in your soda refills, too! So of course, we grabbed one.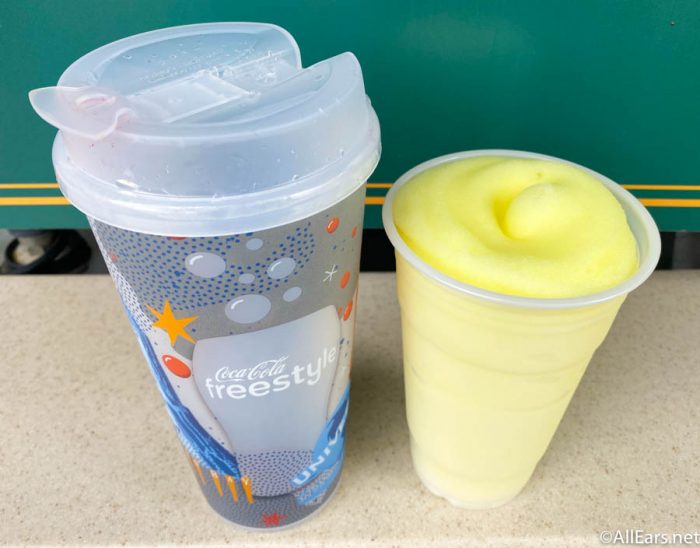 That makes refill #7!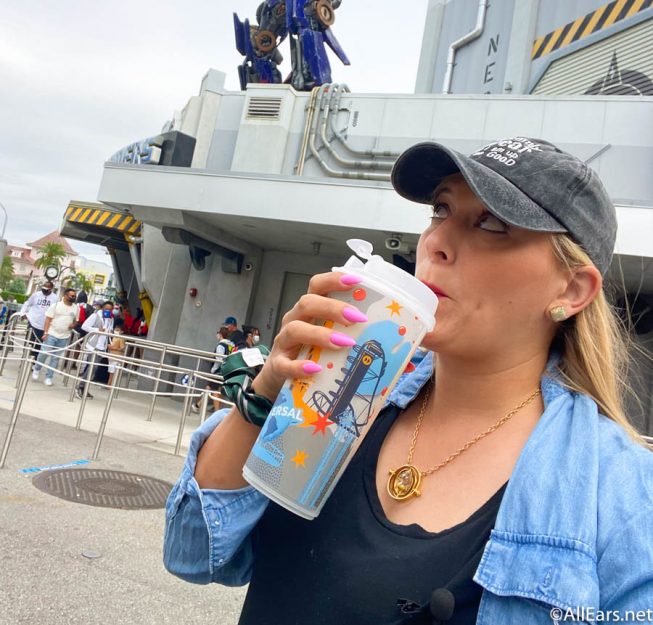 Then, we snagged icee #2 (aka refill #8!) and stopped to visit a different robot.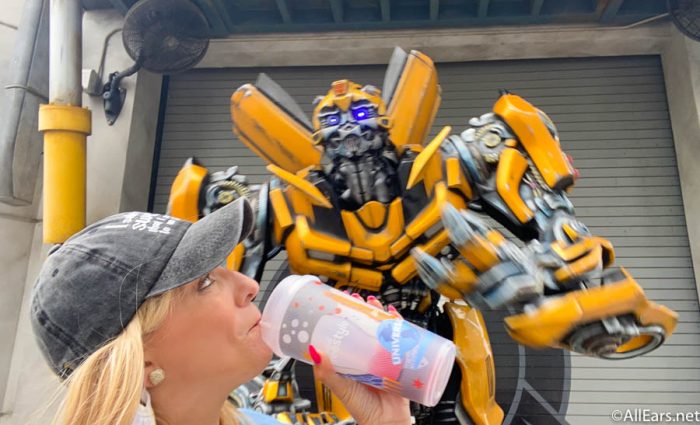 Ironically, our 9th refill was ginger ale, to calm our stomach from all that soda.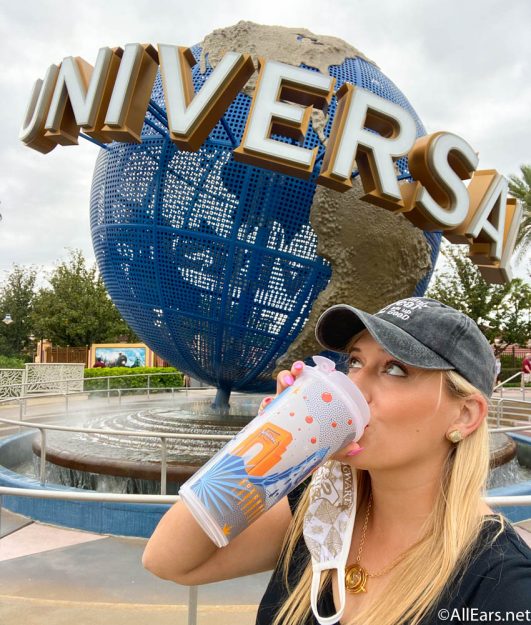 Then, we took our 10th soda to go! This brought our grand total for the day to $71. Of course, we only spent $35 — $26 for the Dining Plan and $9 for the Freestyle cup. That means we got over double our money's worth!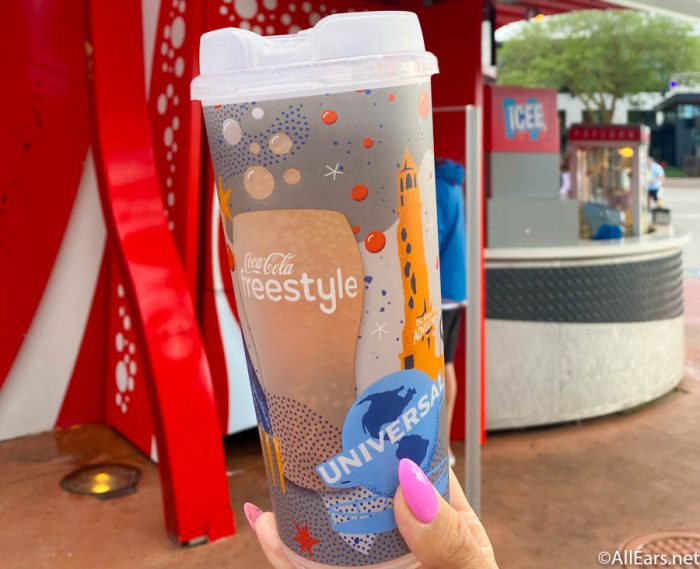 Of course, we were trying really hard to get the best value possible. If you actively try to make the most out of your Dining Plan, then you're going to save big. In that case, it may be a great option for you! There's a lot of options for snacks and drinks, too. But if you're not looking to eat a ton, you may want to skip it. You don't want to spend more than you consume!
We'll keep you posted with the latest Universal tips and news, so stay tuned to AllEars!
Join the AllEars.net Newsletter to stay on top of ALL the breaking Disney News! You'll also get access to AllEars tips, reviews, trivia, and MORE! Click here to Subscribe!

Have you ever tried Universal's Dining Plan? Let us know in the comments!