To all who come to this photo trivia game, welcome! Along the way, the photos can make us relive memories and see details that Walt's Imagineers put into everything we love in Walt Disney World!
Here we go: the last of February!
You may have heard that Scott Thomas is retiring from AllEars; Scott is a wonderful photographer and a great friend.
This makes the me the last of Deb's team. But as long as you want me and my little game, I figure I'll stick around. And the new team treats me well.

Now, if I won the lottery and was touring all the Disney parks… I might still do it. So I could I say, "Look where I am today! HA!"

I'm waiting for the first person to say, "It's okay. You can go now." 🙂
And now: Challenge #677: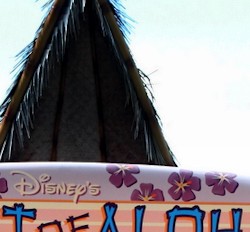 And here's the answer:
Disney's Spirit of Aloha Dinner Show at the Polynesian!
Quick story (somewhat): my husband and I went here. When it was time to teach the hula, they send the dancers into the audience to pick a guest. This poor woman got shot down by 9 tables! All because the girlfriends/wives were jealous. So of course my husband went and I smiled at the woman and said, Take him. Well… it ends up she picks the person who is the "surprise feature dancer". So this spotlight goes on, and here comes John with this woman & since he was a good sport, they sent another woman to dance with him. My husband is NOT shy and he danced all over that stage in his banana leaf skirt and the two women. When he came back to our table, he told each guy who had said no, "That could have been you." I'm glad they did because John was so much fun up there.
Tom Patton was the first to send in the correct answer! Congratulations to Tom and all our winners this week! Andreas Beer, Luis Rodriguez, Debby Stailey, Grumpys Groupies, Andy Hickey, Ken Maikowski, Sherry Knoster, Team Hill, Dee Dee Kenney, Ed Suscreba, Emily Hudson, Richard Long, Terry Gengler, Tommy Montgomery, Jim & Lorie Sonnen, Barbara Hicks, Beth Mcmeekin, Brooksbunch, Sandie Albrecht, Axel Beer, Beau Harrison, Gabi Rosa, Joseph M. Zafia, Brian Gallant, Adolph And Kimberly Timm, Phyllis, Steve Knapp, Gloria Martin, Karen Fichter, Janet T Thorn, Jim Wieczorek, David Brown, Leach Family, The Nufranick Family, David Benjamini, Holly Baxter, Glenn And Nancy Motson, Aljaneen Curtis, Herb Miller, Robert Wescovich, Ward Conolly, Vera And Izzy Williams, Joann Albrecht, Kenneth Jackson, Nance Speth, Emily, Tony Bivens, Gracie Belle, Tim Burr, Chad D, Barbara D, Tammy Warmouth, Elaine Prosecky, Stacy Sanders, Sue And Ed Adams, John Debow, Susan, John Debow, Sue Bridges, Sandra Debow, The Gunnels Gang, Dan M., Bonnie Jean, The Kertes Family, Kiersten, Sandy Gempp, Martha And Justin Collins, Paul And Kelli Grundman, Kerry A., Josh Weiss, Lou Bodofsky, Alan Gates, Les Whitten, Jp, David G Crockett, Arlene Vicek, Linda College, Jennifer Petix, Mis Jamie Marie, Laurie Walker, Claire Gregory, Ron Darschewski, Ronald Darschewski, Sands Family, Blake Schmidt, Caroline Sciore, Jim Finley, Kristi Jack, Hunter Armstrong, Brian Richmond, Deb Ragno, Jami Thomas, Timothy Snyder, Barclay Bakkum, Linda Hoffman, F Williams, Theresa Rucando, Jeff Blank, The Kuroly Family, Barry Gruber, Cheryl Costello, Martin Cassidy, Coli Moore, Michelle Fure, Mark Hardy, Troy Duhon, Jeremy Reichelt, Ken Savage, Melody Odonnell, Cathy Connors, Peter Prendergast, Bob & Kathy Mckim, James Malue, Shannon Benton, Kim Juday, Nancy Cole, Dave Z, The Wolfe Family, Tammy Cronin, Melissa Littman, Vicki Britt, Scott Cerino, Linda Ranatza, Sheila Bagg, Sherri Pell, Karen J Bellamy, Sherry Trapp, Donald Purney, Rebecca Keenan, George Mundy Jr, Beth Wolf, Vincent Degasperis, Maddie Inman, Emily Robinson, Lori Rienhardt, Jane Johnson, and Howard Mcallister!
______________________________________________________
Challenge #678 for February 28th, 2021 Where in the world is this?
Going back into the parks and BACK IN TIME!
Hint: the 20th anniversary to be exact.
Do you know? Do you have a guess? Send in your answer before the end of the day on Thursday, March 4th by clicking on the blue box below. Please do not post your answers on this blog post.
See you soon, Players!

_____________________________________________________________________
Everyone who sends in a correct answer to a Where in the World Challenge this month will be entered in a drawing at the end of the month for some special AllEars® goodies!
Be sure to follow @allearsnet on Instagram and Twitter!
Check out our YouTube Channel for reviews, news, information, and more!
Click below to subscribe to the AllEars® Newsletter so you don't miss any of the latest Disney news!