To all who come to this photo trivia game, welcome! Along the way, the photos can make us relive memories and see details that Walt's Imagineers put into everything we love in Walt Disney World!
We celebrated Washington and Lincoln's birthday as well Ash Wednesday and the start of Lent!
I forgot to mention that the groundhog decided it's six more weeks of winter. Isn't that great?

And now: Challenge #676: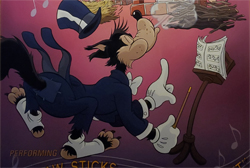 And here's the answer:
The Big Bad Wolf's poster in Mickey's Philharmagic!
Jim & Lorie Sonnen was the first to send in the correct answer! Congratulations to Jim & Lorie and all our winners this week! Gloria Martin, Debby Stailey, Ken Maikowski, The Kertes Family, Claire Gregory, Grumpys Groupies, Deb Ragno, Laura Sponaugle, Luis Rodriguez, Jim Finley, Brian Gallant, Josh Weiss, Phyllis, Tammy Warmouth, Sherry Knoster, Dee Dee Kenney, Grumpys Groupies, Glenn And Nancy Motson, Team Hill, Jim Wieczorek, Richard Long, Emily Robinson, Brooksbunch, Terry Gengler, Hunter Armstrong, Ken Savage, Andy Hickey, Vera And Izzy Williams, Jennifer Petix, Jennifer Petix, Emily Hudson, Joseph M. Zafia, Sue Bridges, John Debow, David, Sandra Debow, Timothy M Haggerty, Beau Harrison, Ronnie Alvarado, Sue And Ed Adams, Susan, Ward Conolly, Michelle Fure, Karen Fichter, Scott C., Belicia, Robert Wescovich, Leach Family, Martin Cassidy, Martha & Justin Collins, Les Whitten, Janet Thorn, Scott Cerino, Joann Albrecht, Arlene Vicek, Laurie Walker, Nance Speth, Sandy Gempp, Robert Hicks, Nancy Cole, Carolyn Kelley, Kiersten, Howard Mcallister, Sands Family, Sandie Albrecht, Ed Suscreba, Tracy Luzzi, Russ Morgan, Holly Baxter, David G Crockett, Barry Gruber, Greg Gordon, Patricia Amato-Peyko, Kevin Stanford, Carol Hoyt, The Kuroly Family, Jeff Blank, Lisa Harden, Michael P Weeman, Theresa Rucando, James Malue, Linda Ranatza, Kim Derr, Mike Haeberle, Bob Patterson, Rebecca Keenan, Janet Petrocelli, Jodi Cook, John Phillips, Mike Haeberle, Tom Patton, Timothy Snyder, Kim Juday, Lori Rienhardt, Sarah Kreps, The Gunnels Gang, Fred Terluin, Lori, Elizabeth Kinnear, Elaine Prosecky, Tammy Cronin, Pam And Kevin, Stacy Sanders, Mis Jamie Marie, Colin Moore, Melissa Littman, Jennifer Hess, Tricia Petty, Linda Hoffman, Mark A Potosky, Cheryl Costello, Shannon Benton, Cathy Connors, Mark Hardy, Caroline Sciore, Roye Ann Morris, Bob & Kathy Mckim, Barclay Bakkum, Sherri Pell, Ruth Woodhouse, Sharon Leitgeb, Beth Wolf, Christy Schor, Donald Purney, George Mundy Jr, Jodie S., Vincent Degasperis, Vicki Britt, Maddie Inman, and Jane Johnson!
______________________________________________________
Challenge #677 for February 21st, 2021 Where in the world is this?
Leaving the parks for the dinner show at one of the resorts! The show itself is classic.
Hint (Vicki Britt, don't look here): it's at one of the original three resorts and the show reminds me of Lilo & Stitch.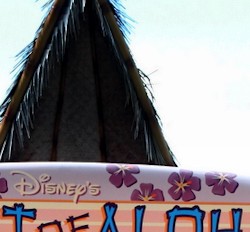 Do you know? Do you have a guess? Send in your answer before the end of the day on Thursday, February 18th by clicking on the blue box below. Please do not post your answers on this blog post.
See you soon, Players!

_____________________________________________________________________
Everyone who sends in a correct answer to a Where in the World Challenge this month will be entered in a drawing at the end of the month for some special AllEars® goodies!
Be sure to follow @allearsnet on Instagram and Twitter!
Check out our YouTube Channel for reviews, news, information, and more!
Click below to subscribe to the AllEars® Newsletter so you don't miss any of the latest Disney news!