Today, Disney+ viewers can finally see director Niki Caro's live-action version of the 1998 animated feature Mulan.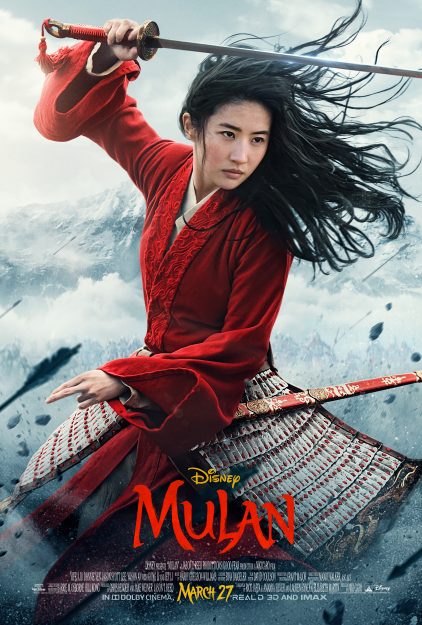 Based on the centuries-old Chinese "Ballad of Mulan," the film tells the now-familiar tale of Mulan ((Yifei Liu,) a girl possessing a keen intellect and extraordinary gifts, in a time when neither are considered desirable traits for women.  After washing out completely in her attempts to favorably impress the local matchmaker, she is dealt another blow when her father, as the only male representative of the household, is conscripted into the Emperor's army to fight the Northern invaders.  Barely able to walk unassisted, due to injuries he sustained in an earlier war, her father will lose his life if he goes and his honor if he stays.
Reporting as a son of the family, Mulan takes her father's place determined to protect him, her family, and China, despite knowing that exposure will mean expulsion at best, and execution at worse.
Reporting as a son of the family, Mulan takes her father's place determined to protect him, her family, and China, despite knowing that exposure will mean expulsion at best, and execution at worse.  While her path yields a multitude of challenges, ranging from warlords to witches to misogyny to body odor, it may reward her with affirmation and self-discovery at the end.
When looking at the long slate of live-action remakes, Mulan is probably not the one that brings the most original material to the animated version (that would likely go to Tim Burton's Dumbo, proving that you should be careful what you wish for,) but it does manage to create its own identity separate from the first film.
Gone are the cute sidekicks and the wise-cracking dragon, replaced instead by a mystical guardian phoenix — which makes more sense historically, as Chinese iconography typically has a dragon representing the Emperor, and a phoenix representing the Empress.
In a move that makes their relationship a little less imbalanced in terms of power structure, Mulan's kind-of-love-interest, Captain Li Shang, is replaced with fellow recruit Honghui (Yoson An) who may not recognize her as a woman, but easily realizes her worth as a warrior.  Packed with beautiful, flowing wuxia wire-fu that resembles Crouching Tiger, Hidden Dragon more than a little, it is a terrible disservice that most people will now only ever see it on their home television sets, when it looks so gorgeous on the big sceen.
Mulan has also been given slightly different villains to combat this time around, as Shan Yu and his falcon are replaced by Böri Khan (Jason Scott Lee,) and his magical witch Xianniang (Gong Li.)  A decent amount of time is spent developing their motivations and giving them rationales for their behaviors.
Khan appears to have some legitimate grievances against the emperor who, when you think of it, may be a questionable ruler anyway, given that he is the one setting down the rules that cause Mulan all this suffering in the first place.
Xianniang is easily one of the most interesting characters and one of the few elements completely new to either the ballad or the original film.  Ostracized and banished from her original tribe because of her strong chi and powerful abilities, she aids Khan in an uneasy and imbalanced alliance, more out of a desire to be both free and part of something than any sympathy to his cause.  She represents a cautionary tale to Mulan:  An illustration of what the world's unkind treatment can make of a woman.
Where most criticism will likely lie is in Mulan's characterization herself.  Because she doesn't have the humanizing sidekicks to joke with, we don't get as much insight into her as a person as we did with the animated Mulan (voiced by the ever-wonderful Ming-Na Wen) and she tends to come off a little stoic — all honor and responsibility and earnestness. In this, she mirrors both Carol Danvers from Captain Marvel and Elsa from Frozen, all three of them examples of strong women forced to repress their extraordinary potential.
That all of them have been portrayed as having less inner life than their supporting characters could be either because of the heavy story baggage they usually have to carry as Strong Female Characters™ or perhaps because a woman in those positions of responsibility, fighting her own particular battles, has neither the time nor the obligation nor the luxury to expose her personal self and vulnerabilities to the world.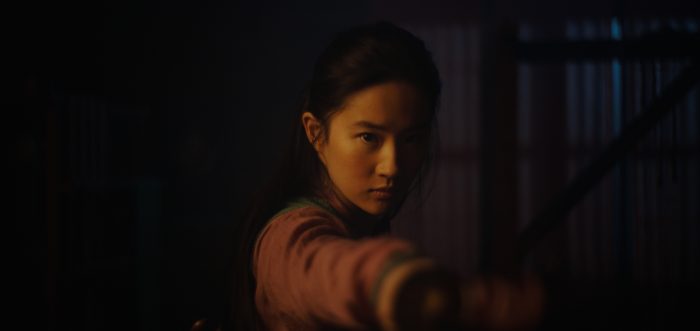 Mulan isn't a perfect film —  I would have particularly liked Xianniang to have had a bigger role in the story as she seems like a much better foil for Mulan than Khan.  I also find the constant emphasis on Mulan as representing the virtue of Family vs all the other cardinal virtues of Loyalty, Bravery, and Truth is a little compartmentalizing and kind of disappointingly domesticating, but I also thought it was short-sighted of Mulan to go back home at the end of the 1998 film as well.  
When it hits, though, it is markedly effective.  In the very beginning of the film, we are treated to a vision of Mulan as a young child, lively and energetic, athletic and full of spirit.  After some discussion with Mulan's Mom (Rosalind Chao, fierce as Asian mothers can be) Mulan's father takes Mulan aside and tells her gently that all these assets are things that belong only to men.
That to fit in and bring honor to her house as a woman, she must take all her talents, all the things that make her special and give her joy, and smash them down deep inside and never let anyone see them again.  The fact that he clearly does this out of love and care for her, only makes it the more heart-rending. How many real girls have had to learn this lesson throughout time?  How different would our society be if they had not?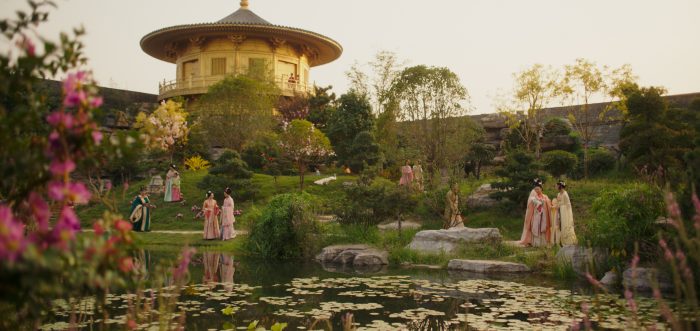 Mulan is a beautiful movie with a lot of action that manages to be satisfying both as a homage to the original film and a standalone story.  Its messages of equality, independence, and self-discovery are as unfortunately relevant today as they were back in 1998 or 400AD.  It's a pity not to see these grand martial arts battles and sweeping backgrounds on a big screen, but even on a small one, Mulan gets down to business — as she always has.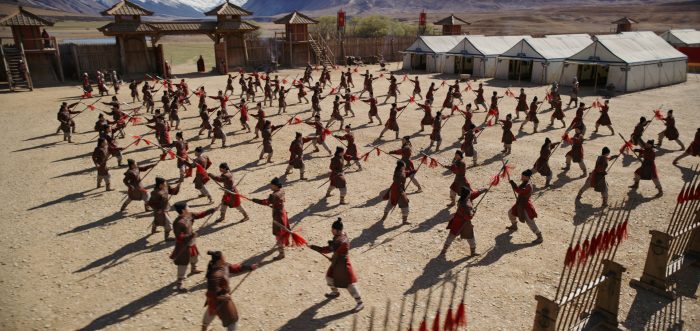 Mulan is presented by Walt Disney Studios Motion Pictures. Rated PG-13. Running time: 116 min.  It stars Yifei Liu, Donnie Yen, Tzi Ma, Jason Scott Lee, Yoson An, Ron Yuan, Rosalind Chao, Nelson Lee, Cheng Pei-Pei, Gong Li, and Jet Li.
Directed by Niki Caro with screenplay by Rick Jaffa & Amanda Silver, Lauren Hynek & Elizabeth Martin, based on the narrative poem "The Ballad of Mulan."
Starting September 4th, with Premier Access, viewers can watch Mulan in advance of all Disney+ subscribers for $29.99.
Be sure to follow @allearsnet on Facebook, Instagram and Twitter!
Check out our YouTube Channel for reviews, news, information and more!
Click below to subscribe to the AllEars® newsletter so you don't miss any of the latest Disney news!