After Kevin Rafferty landed an entry-level position with WED Enterprises in the 1970s, he had a brush with greatness on his first day on the job.
There he was, the new kid in town, still finding his way around the fabled hallways of 1401 Flower Street in Glendale, Calif., when in walked legendary artist Herb Ryman.
"On my very first day working in special services (where, among other tasks, I was to dry-mount and cut mats for original art for the designers), Herbie breezed in and lit up the room where I was with a sparkle in his eye, a beaming smile and highly energized exuberance."
Thus began a decades-long, one-man admiration society that has lasted to this day.
EMBODIED THE SPIRIT OF IMAGINEERING
"I will never forget that moment because instantly, Herbie embodied the spirit of Imagineering, which made this new kid feel warm and welcome and so happy to be there.  I had no idea who this man was, but it was love at first sight.
"There was something very special about Herbie and he immediately wanted to know who I was and to learn everything there was to know about me. Herbie was one of the very first people I spoke to when I began my long career at WED.
"And there could not have been anyone better to meet for a new Imagineer who was about to start an entry-level job in such an iconic place filled with iconic people – like Herbie," said Rafferty.
Like a well-placed dab of oil paint on a canvas, Herb Ryman left an indelible mark … on the art world, in general, as well as on the countless people he touched over the course of his remarkable life.
Rafferty, fresh off his latest and greatest creation, Mickey and Minnie's Runaway Railway at Disney's Hollywood Studios, considers himself beyond fortunate to have crossed paths with the Disney Legend.
IMPROMPTU MEETING PLACE
It turns out the small space occupied by Rafferty at WED Enterprises [the forerunner of Walt Disney Imagineering] was the impromptu meeting place for the cream of the crop of Disney artists and designers, including, Claude Coats, Harper Goff, Sam McKim, Marc Davis, Colin Campbell, Ward Kimball … and Herb Ryman.
Over those first few months at WED, Rafferty got to know them all. But in Kevin's mind, Herbie was the leader of the club. "Herbie was always an optimistic breath of fresh air, an always happy-go-lucky, happy to be an Imagineer, happy to be alive man of pure and perfect talent.  As far as I know, he never had a bad day … He was one of the kindest, most gentle gentlemen I've ever known," Rafferty said.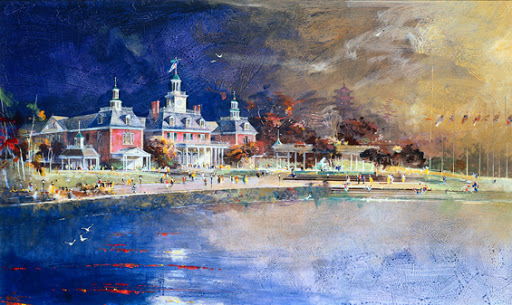 "Through my many short-but-sweet visits with Herbie, I learned about his world travels to Africa, India, remote exotic islands across the globe and everywhere in-between, not to mention a year spent tagging along with the Ringling Bros. and Barnum & Bailey Circus, all the while sketching and painting and learning about the world while exploring almost every inch of it."
Ryman, of course, was the artist tapped by Walt Disney in 1953 to pencil sketch the first concept drawing of Disneyland. He also did extensive work on the 1964-1965 New York World's Fair. His artwork, as well as the impact he had on his fellow artists, was multi-faceted as well as multi-generational.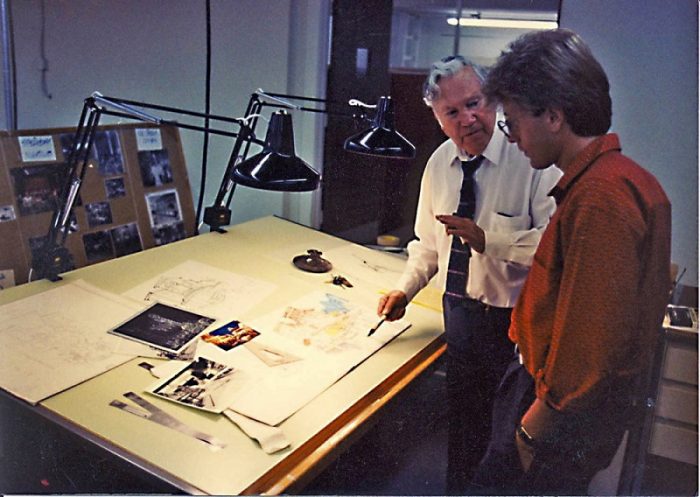 He was generous with his time, sharing his expertise with many young, up-and-coming artists.
"He was a color master and, where other artists feared straying from the norm – coloring within the lines, so to speak – Herbie splashed dynamic color in places on the canvas you would least expect anyone to do, but his magic touch helped bring to finishing touch to the work of many artist/designers at WED.
"It seems in his later years [at WED], he spent more time working with the younger artists on their art than he did producing his own art.  And the place was so much better for that. His influence could be felt for years after his departure."
During the latter stages of his Disney career, Ryman was knee-deep in creating design elements for Epcot, Tokyo Disneyland and Euro Disneyland, now Disneyland Paris.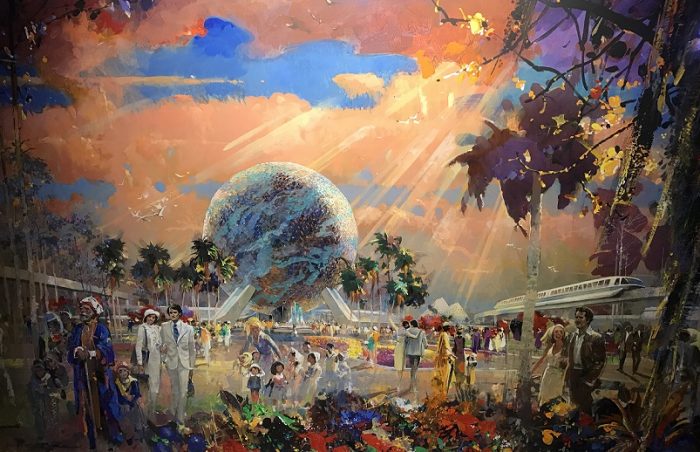 According to Rafferty, "One of my favorite [Herb Ryman paintings] is the iconic image of Spaceship Earth with all of the interesting people from exotic places in the foreground. The reason I love that one is because in the right lower frame of the piece, Herbie painted in my early mentor, Randy Bright and his wife.  I thought that was so cool."
During his first few years at WED, Rafferty says he "began to understand and appreciate the influence Herbie had on all of the new designers from the 'second generation' of Imagineers.
LIKE A BEE POLLINATING OTHERS' WORK
"He was like a busy bee at WED, flying into artists' offices and pollinating their work with a bit of advice or even wide swath of bright red paint."
Rafferty is proud to have an original pencil sketch by Ryman in his home. It's titled "Studies of the characters for Anna and the King of Siam" [which he hand-wrote across the bottom of the piece]. He drew it when he was an art director in the movie industry before working for Disney.
"I purchased the piece at an early Ryman Arts show at Marty Sklar's house," Rafferty said. "Marty loved that man. So did I."
Marty Sklar, the former president of Walt Disney Imagineering, was so enamored of Ryman's work that after Herb died in 1991, Marty, his wife Leah, Harrison [Buzz] Price and his wife Anne Shaw Price, Sharon Disney Lund and Lucille Ryman Carroll founded Ryman Arts, Southern California's preeminent arts education program geared toward underserved young artists.
In yet another case where the apple doesn't fall far from the tree, Marty and Leah's daughter Leslie grew to be a big fan of Herb Ryman's work.
"Herbie did take interest in me and my brother Howard, and we were both lucky recipients of Herbie originals," Leslie said. "In recognition of his bar mitzvah, Howard received a beautiful ink drawing of a Buddhist monk, while for my bat mitzvah, I was given a flat rock painted with a passage from a Robert Louis Stevenson poem on one side and a gorgeous illustration of the poem on the other."
Marty often related the Herb Ryman-themed story of Leslie's college graduation gift.
"When my folks asked what gift I wanted upon my graduation from Smith College, I half-jokingly (but only half!) asked for a Ferrari. Of course, that was never going to happen. So I adjusted my request and asked for a Herbie painting."
To fulfill that wish, the three Sklars visited Herbie at his home and perused the masterpieces he had on display.
CREATED A VERSION JUST FOR HER
"My favorite was a watercolor, 'The Pink Marble Bridge, Summer Palace, Peking,'" Leslie said. "But that one belonged to Herbie's sister, Lucille. So Herbie painted a version just for me! I treasure it and have it hanging in a place of prominence in my home."
As it turns out, Herbie created several versions of that watercolor, a number of which are reproduced in the book about Herbie and his work, A Brush with Disney.
"I imagine everyone thinks theirs is the best!" Leslie said.
Which, as Rafferty reiterated, is a fitting way to describe Herb Ryman: The best.
Join the AllEars.net Newsletter to stay on top of ALL the breaking Disney News! You'll also get access to AllEars tips, reviews, trivia, and MORE! Click here to Subscribe!