Oh boy, everyone buckle in! It's about to get REAL up in here!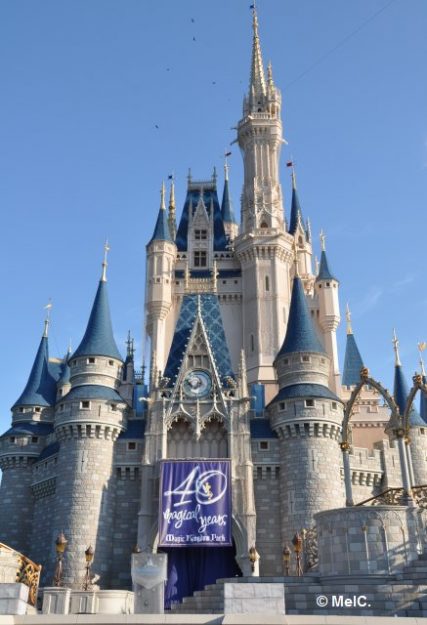 We thought it would be fun to take a multi-part look at rides, restaurants, and shows around Walt Disney World and break down IF WE HAD TO CHOOSE… which would we keep as long as possible, modify to make better, or close altogether. 
Listen, we get it. Our opinions are most definitely not everyone's! One person's favorite must-do ride is certainly on many other's least favorite list and vice versa. We're trying to look at this as objectively as possible, but each person's tastes will vary.
For our spin through Magic Kingdom, we're going to choose one ride for each category… plus one honorable mention because we can't help ourselves.
Let's see what we'd Keep, Change, or Close in Magic Kingdom!
Keep
Haunted Mansion
"Oh, we didn't mean to frighten you prematurely!" Disneylanders, you got the O.G., and while the New Orleans plantation home setting is lost in Disney World in place of more forgiving theming in Liberty Square, there's just something about the Walt Disney World mansion.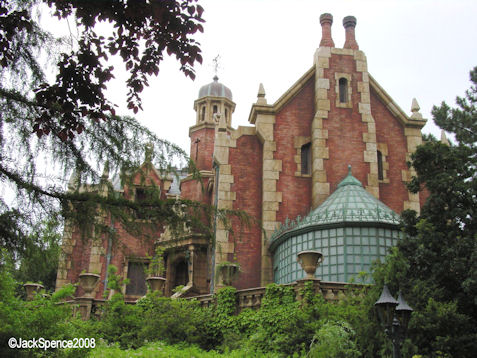 Yes, Florida's version loses the walk-through portrait hallway, and Disney Worlders are STILL holding their breath that we'll one day see Hatbox Ghost appear in the Disney World mansion. Disneyland gets high marks for being the first and pioneering the attraction, no doubt there.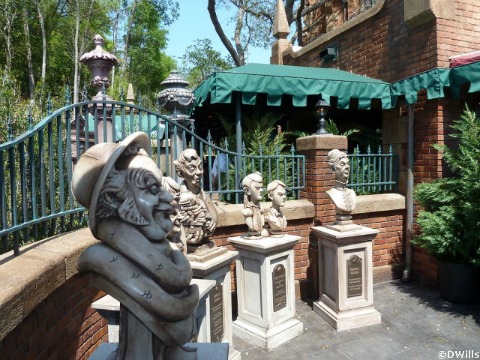 But Disney World has a few unique elements that can't be overlooked! The addition of the walkthrough interactive graveyard to the queue in 2011 was a big hit. Guests old and young enjoy playing with the interactive tombs while they wait to enter the mansion (Haven't we all wondered what a cat as a musical instrument would sound like?!)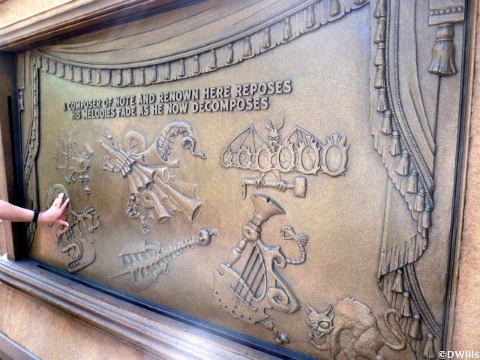 The original spirit of the Imagineers' graveyard is kept alive and, arguably, showcased better than at the original in Disneyland. The animatronic Madame Leota gravestone outside the entrance still gives us the creeps. Those eyes!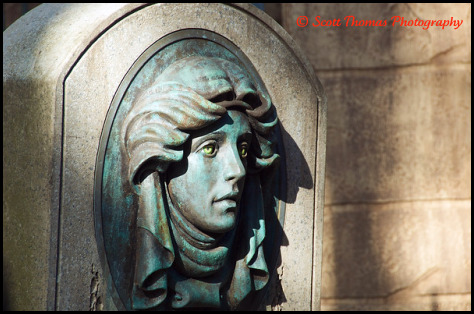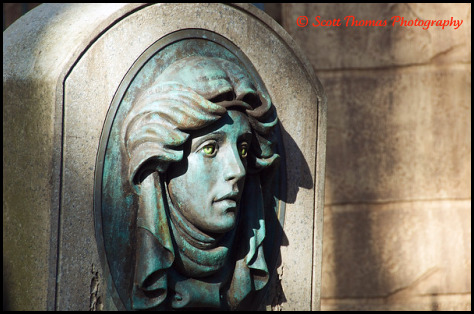 Though much of the attraction is nearly identical to the Disneyland setup, Florida takes it a step further with the endless stairway room.  This effect is  eye-catching and plusses the ride to a new level.
Even the mansion itself is given a spookier context — isolated to a corner of the Park, it feels remote and abandoned. Across Frontierland and Liberty Square, guests can look back and see it hovering ominously against the edge of the water. It's hard to get that same vibe in Disneyland with Splash Mountain just a stone's throw away! This attraction built on its roots in Disneyland and has become its own entity we wouldn't dream of changing.
Honorable Mention: Space Mountain
Come on guys — it's the original. Those iconic white spires started in Disney World. It's seen changes over the years, but this ride is just as thrilling as it was when it opened in 1975.
Change
Tomorrowland Speedway
This one is a toughie. Sure, it could be argued many rides at Disney World could use a major change. Heck, many of the rides in Disney World like Pirates of the Caribbean and "it's a small world" pale in comparison to their California counterparts in many guest opinions. But one attraction that just needs to be updated like, yesterday, is the Tomorrowland Speedway.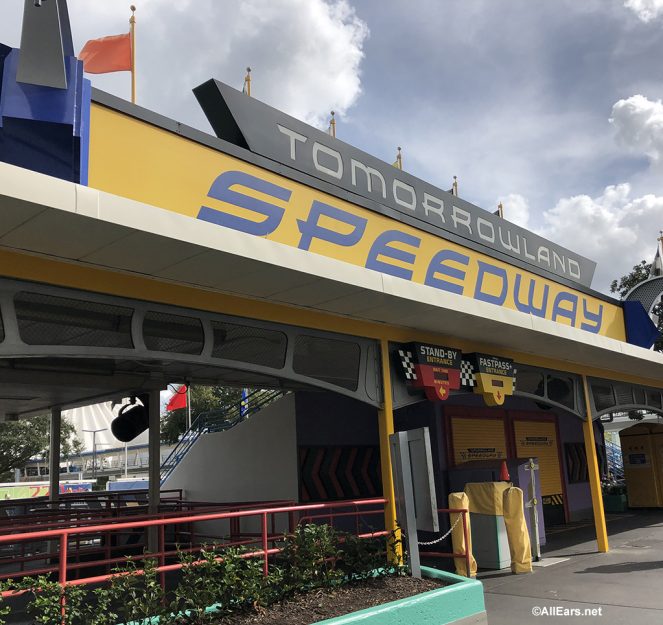 This ride has always been immensely popular with children since the original Autopia in Disneyland; what child DOESN'T want a chance to get behind the wheel of a car and drive all on their own?! But one quick stroll past this ride makes it clear why it is in need of a change — it's 2019, but we're still coughing our way through a cloud of exhaust walking past this ride.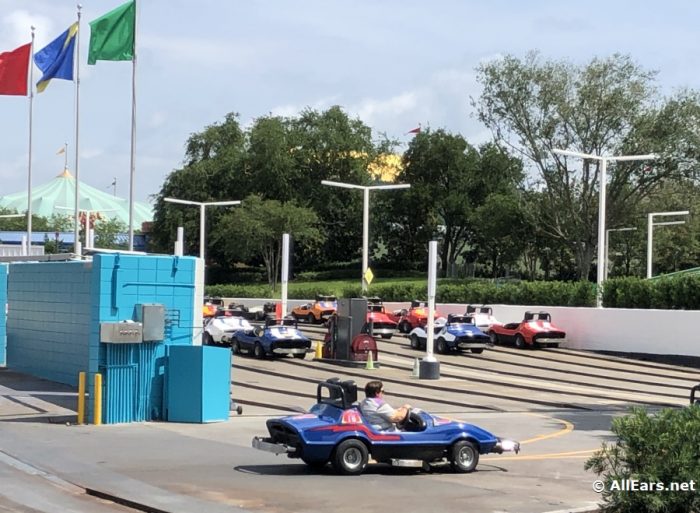 In a time where renewable energy and the environment are on everyone's minds, it's almost mind-boggling this attraction still exists in this form. Is it a classic beloved by generations of children? Sure. Anyone who has taken a ride on this attraction likely remembers the sound of those combustible engines chug, chug, chugging down the tracks. But times, they are a-changin'.
An unfounded rumor circulated not long ago that Tesla was in talks to sponsor the ride and provide electric-powered cars for the attraction. Disney responded that this was not true, but it certainly would have made sense.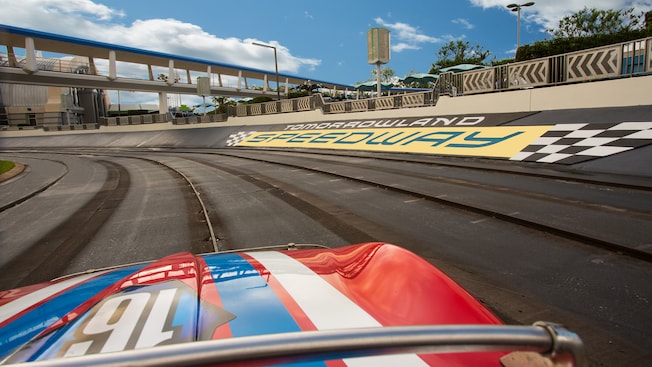 It was recently announced that for the first time, the Speedway would be receiving a seasonal overlay for the Holidays this year… so it's clear Disney still has a lot of love for this classic attraction. While there's no reason to suspect this ride will undergo much, if any, change in the coming years, it certainly seems due for a big one.
Honorable Mention: Big Thunder Mountain Railroad
Have you SEEN the original in Disneyland after its 2014 updates?! So. Much. Better. Seriously, once you see the dynamite "explode" on the last lift in Disneyland, it's hard to go back to the Disney World version, even with their fun interactive queue featuring… dead canaries.
Close
Magic Carpets of Aladdin
If one ride gotsta go, it's gonna be this guy for us. Disney World has THREE separate Dumbo-esque rides. Dumbo in the Magic Kingdom, Triceratops Spin in Animal Kingdom, and this guy.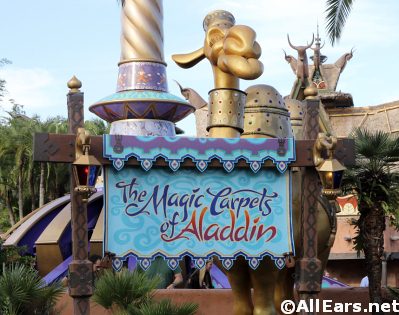 This ride opened back in 2001 and, at the time, served as a much-needed overflow ride for parents with kids dying to ride Dumbo but not willing to wait in that long line. Problem was, 11 years later Dumbo reopened after its relocation to New Fantasyland with twice the ride capacity.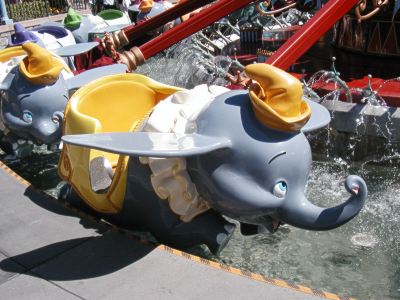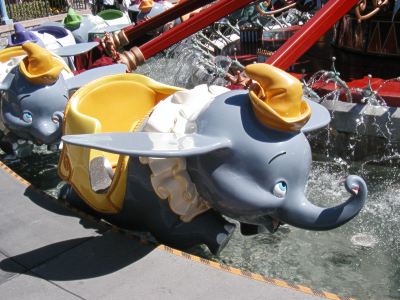 Sure, the camel is fun. You can sit back and watch it spit on unsuspecting guests. But this ride is otherwise a large eyesore in the middle of heavily themed Adventureland. As you pass the Swiss Family Treehouse and near the Jungle Cruise, you'll see the exotic Enchanted Tiki Room and the nearby Bazaar. Everything is lush and themed for the area, except for this attraction.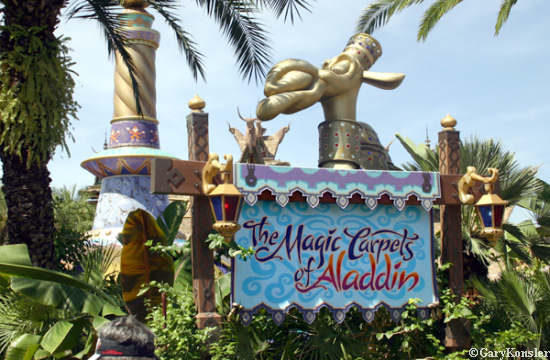 We're not saying the ride is bad — far from it! It's just not necessary in our eyes. It was a stopgap for Dumbo, and it's time to move on.
Honorable Mention: Stitch's Great Escape!
We know — it's hard to even really count this ride, right? This ride has been rumored permanently closed for the past year, but Disney has never confirmed it. In fact, the Walt Disney World website still shows it as an open attraction in Tomorrowland — though listed as "temporarily closed."  Open or closed, it was just never very popular. Guests who had a chance to ride its predecessor, ExtraTERRORestrial Alien Encounter, will remember how truly terrifying that attraction was. So much so that when Stitch was swapped into the existing ride to lighten it up, guests were confused if it was supposed to be scary, funny, or both. Hot dog burps simply couldn't save this ride.  Now it occupies a large valuable chunk of Tomorrowland real estate that could be put to much much better use.
What do you think? Totally agree with our assessments or totally ready to fight? Let us hear it in the comments!
Click below to subscribe to the AllEars® newsletter so you don't miss any of the latest Disney news!


Do you agree with any of our choices? Not so much? Let us know in the comments which rides YOU would choose!