Halloween Time has officially kicked off at Disneyland Resort, and all over the Parks and Resorts, guests can find edible treats (some with creative tricks!) to celebrate the season. We're bringing you a sneak peek and a full list of the Halloween Time eats and drinks!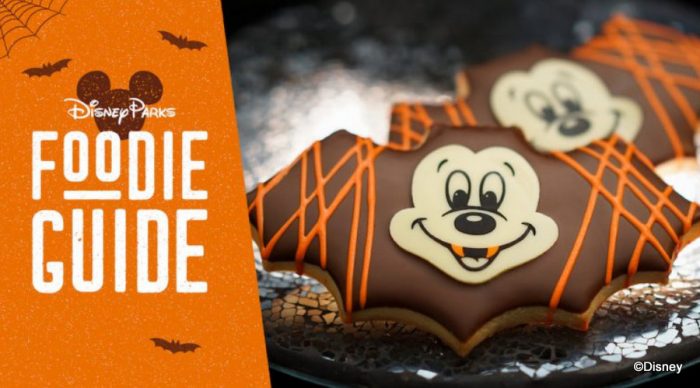 Churros
Because this is a Disneyland holiday event, you know there must be churros. Many, many variations of churros!
Disneyland Park Halloween Time Churros
Disneyland Park has five churro options: Maleficent at the Town Square/Castle cart, Pumpkin Spice near Buzz Lightyear, Coco near Big Thunder Mountain Railroad, Bride near Haunted Mansion, and Groom near Critter Country!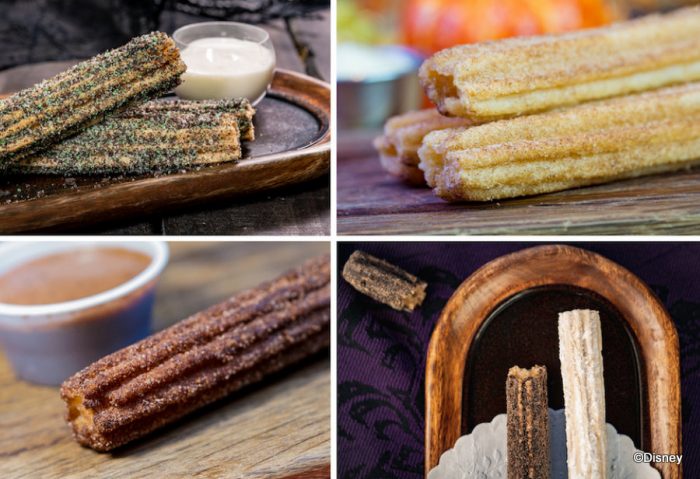 Disney California Adventure Park Halloween Time Churros
Disney California Adventure has five churros, too! You'll find them at various carts, and most come with fun toppings and dips! DCA churros include Pumpkin Spice at Willie's Churros near Buena Vista Street, S'Mores near Redwood Creek Challenge Trail, Caramel Apple near Hyperion Theater, Haul-O-Ween at Cozy Cone Motel, and Horchata near Goofy's Sky School.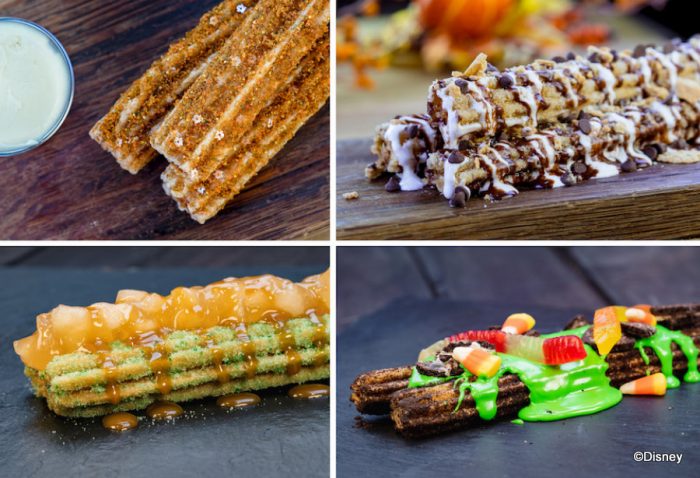 Disneyland Park Halloween Time Treats
Candy Corn-inspired Cotton Candy can be found at carts throughout the Park.
Carnation Cafe is serving up a Spicy Fried Chicken Sandwich that'll heat up your celebration! Jolly Holiday's got a Toasted Salsa Roja Chicken Sandwich Combo, a slightly spicy pulled-chicken sandwich served up with a bowl of soup!
The Trick-or-Treat Sundae Duo is a bit of an ice cream trip in a bowl. You get a pile of sweet on half the sundae and a pile of sour on the other. Definitely get a friend (and a stack of napkins) to help with this one! You'll find it at Gibson Girl Ice Cream Parlor.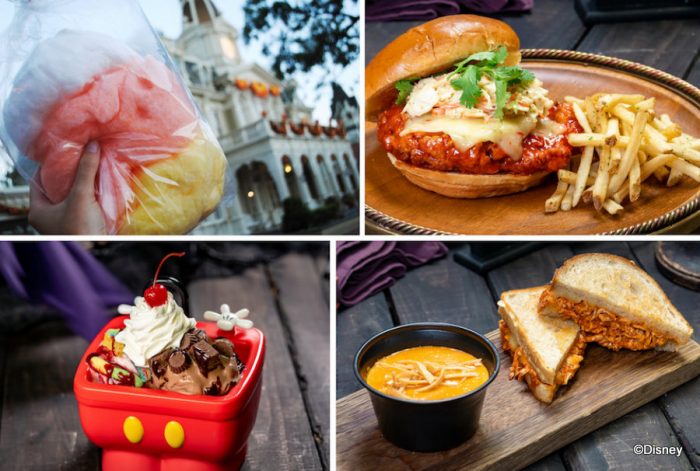 Jolly Holiday also has a slew of sweet treats. The Sweet Potato Hand Pie, Cruella De Vil Brownie, and Graveyard Cupcake are all basically repeats from last year (though the cupcake has a cherry filling this time around).
Other Jolly Holiday offerings include a Spiced Bundt Cake, Layered Pumpkin Cheesecake (with to-die-for spiced whipped cream!), a Pumpkin Muffin, and a Mummy Macaron with cookies-and-cream filling!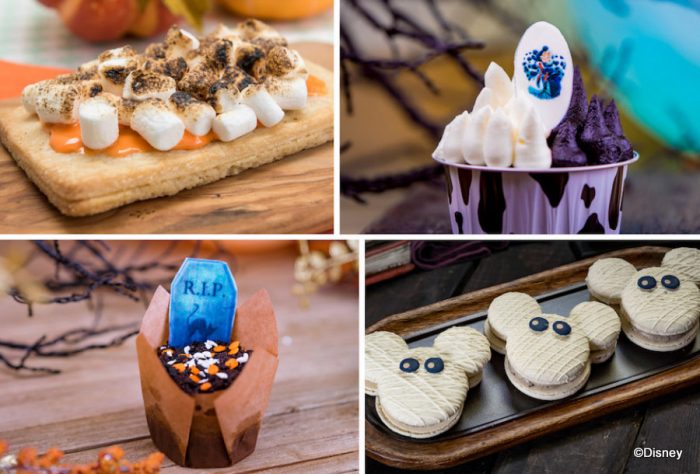 Market House offers a (cute Mickey) Bat Cookie while Plaza Inn has three sweet treats: Monster Halloween Cake complete with sugar eyeballs, Chocolate-Coffee Yule Log, and Halloween Minnie Mouse Cake.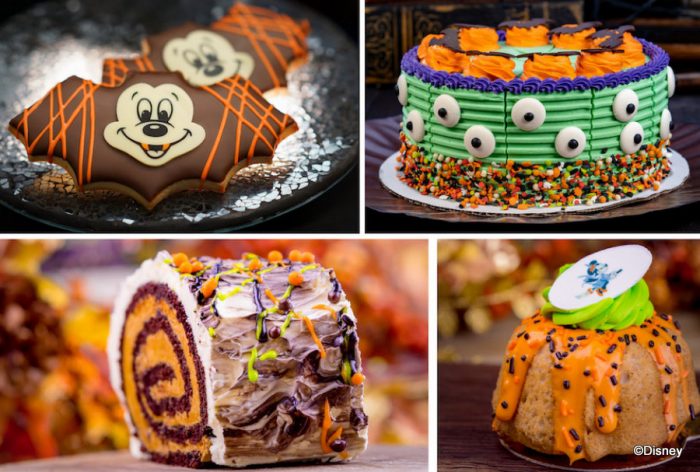 Red Rose Taverne (the seemingly permanent overlay at Pinocchio Village Haus) is offering its Black Rose Dessert again and a seasonally perfect Pumpkin Spice Shake.
Galactic Grill is selling Darth by Chocolate Parfait (hello, clever name!), Blood Orange Slush, and Loaded Fleet Fries. So much to love here.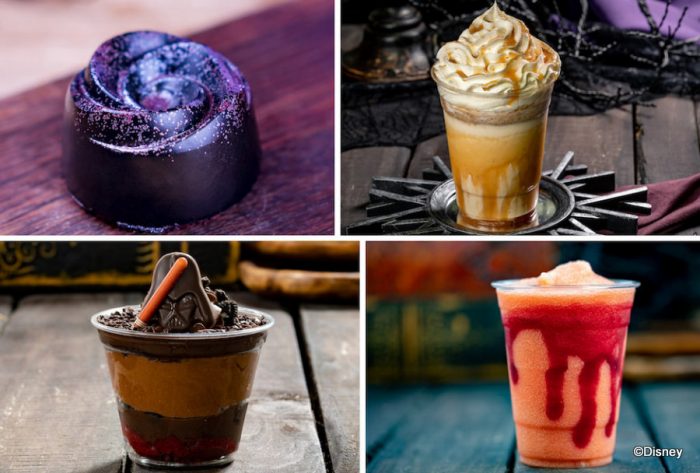 Alien Pizza Planet has a special Supernova Special: Delicium 639 Pizza and a delicious Flavus Tropicus Parfait (topped with a little green alien medallion).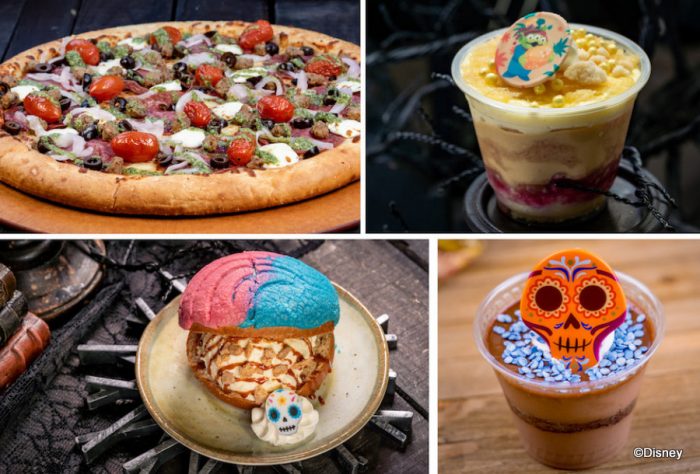 Rancho del Zocalo has several offerings that celebrate Dia de los Muertos including Mexican Hot Chocolate, Pan Dulce Ice Cream Sandwich (with a colorful shell-inspired roll — pictured above), Long-Forgotten Dueling Tacos, Frozen Abuelita Horchata, and Orange Sugar Skull Pot de Creme (pictured above).
In addition to the pizza and parfait above, Alien Pizza Planet also highlighted the little green men themselves with a Vampire Alien Macaron with lemon filling. Adorable and delicious, we say!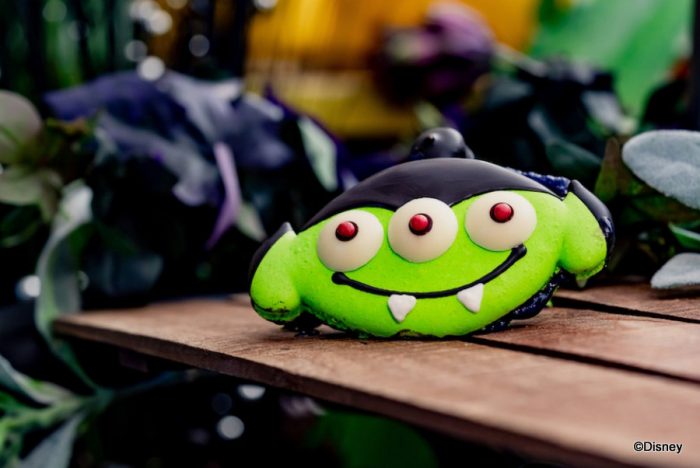 Disneyland locations are also offering some funnel cake options (per usual!). Stage Door Cafe has an Apple Pie Funnel Cake, and Hungry Bear Restaurant has a Dead-Cadent Funnel Cake (topped with a brownie!!).
Golden Horseshoe offers a Churro Sundae complete with cajeta and cookie dough ice cream!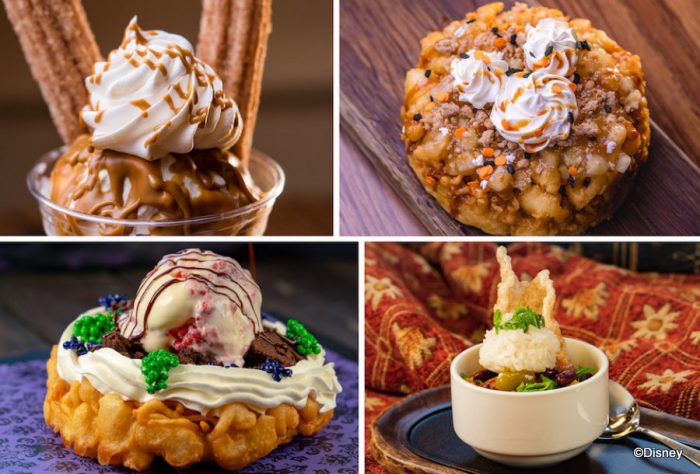 Blue Bayou brings three options — two of which are savory: We've BEAN Dying to MEAT You! Red Beans and Rice Soup (pictured above) and Dynamite Seafood Hush Puppies. Opera Singer Cake is the classic restaurant's sweet offering.
At Cafe Orleans, diners can order Sarah 'Sally' Slater's Swamp Fries and Swinging Wake Cake with caramel-banana filling.
Harbour Galley has two Halloween Time menu items: 13th-Hour Brew (ice coffee with vanilla cream) and The Ghost Mariner's Seafood Boil.
The Wedding Cake is a sweet offering at French Market. This cake features cherries and a "splatter of cherry sauce". Sounds gruesome!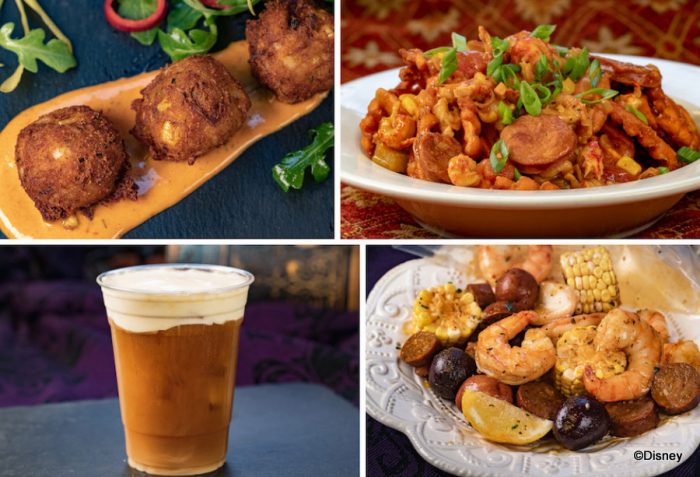 Mint Julep Bar is celebrating the seasons with the Blackberry Mint Julep and Pumpkin Spice Beignets (naturally!).
Over at Royal Street Veranda, Pickwick Ghost Punch and Professor Phineas Plump's Cure-All Fritters make a fun snack, while Bengal Barbecue brings Lamb Kofta to the party!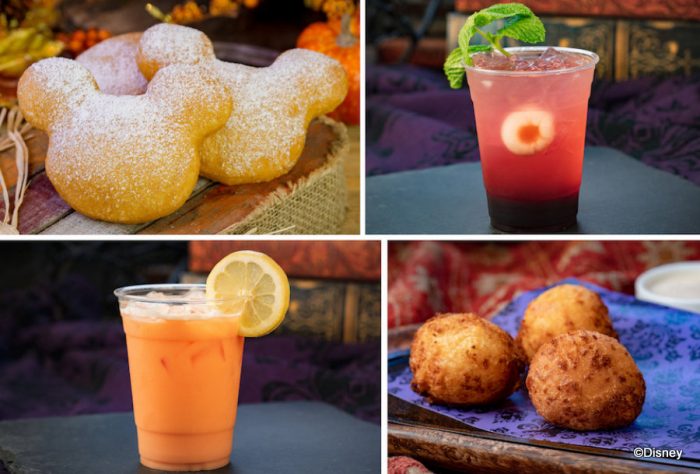 Disney California Adventure Park Halloween Time Treats
Candy Corn Cotton Candy can be had at carts in California Adventure, too, so don't worry about being too far from your seasonal direct sugar rush!
Vampire Mickey Sourdough Bread was seriously popular in years past, and this year guests can get their own loaves at Mortimer's Market!
Smokejumpers Grill is the place to go for Green Apple Spell Lemonade while Carthay Circle Restaurant and Lounge is pouring out Poison Apple-Tinis (with skull glow cubes!)!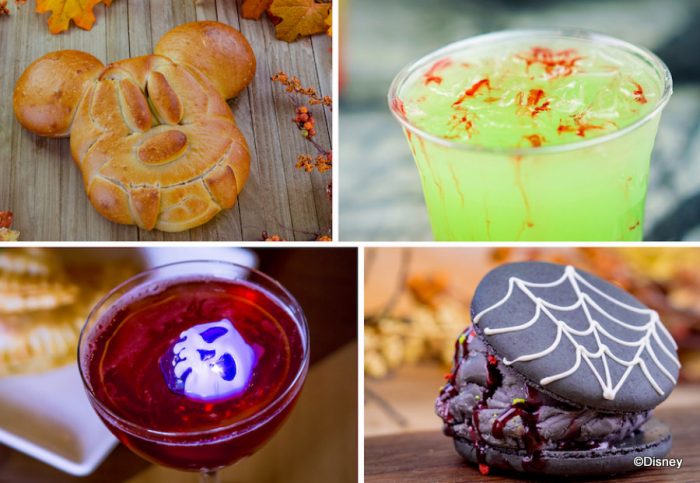 Clarabelle's is seriously winning the Halloween Time treat game with five sweet options! The Spider Silk Macaron Sandwich (above) contains cherry ice cream and Pop Rocks! The Minnie Witch Ice Cream Bar and the Vampire Mickey Ice Cream Bar start with a vanilla bean ice cream base, add a dip in chocolate, and finish with fun accents.
The Spiked Hard Apple Float helps fuel grown-up fun while the Boogie Man Sundae uses mint chocolate chip ice cream and gummy candies in an ode to worms in dirt.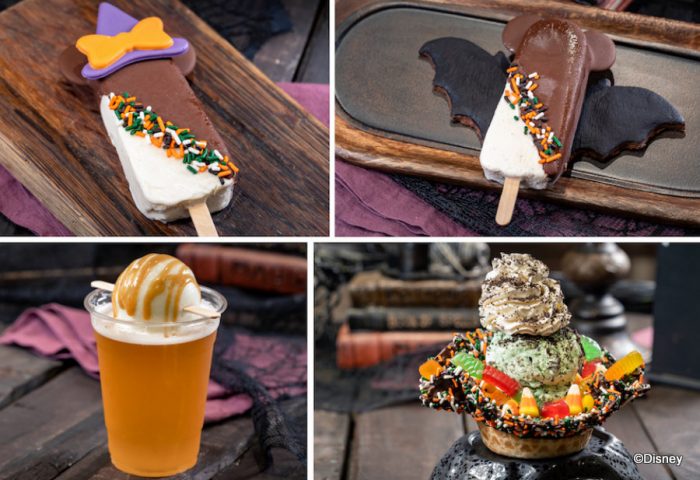 Award Wieners is serving up sweet and savory fries. Sweet funnel fries are topped with crushed Oreos and cream cheese sauce for Oogie's Worms & Dirt Funnel Fries. The Rest in Peace-Strami Fries start with a base of filmstrip fries and add pastrami and toppings.
Schmoozies offers up a Mummy Donut, a Minnie Witch Shake, and a Caramel Apple Smoothie.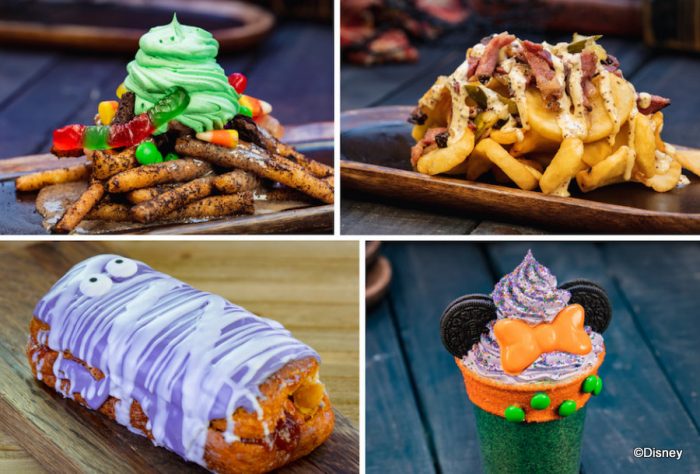 Hollywood Lounge has a TON of beverage offerings for Halloween Time! Honest Abe Apple Pie Cider (Draft Beer), Stone Ghost Hammer (Draft Beer), Elysian Night Owl Pumpkin Ale (Draft Beer), Left Coast Voodoo (Draft Beer), Howl-O-Ween Concoction, My Bugs! My Bugs!, Worms, Dice & Everything Nice, Ghoulish Delight, and Supernatural Spirit are all adult beverage offerings.
And to go with those libations: Monster 129 Tacos with pork belly!
Studio Catering Truck also has the Monster 129 Tacos and also offers the family-friendly Eerie Elixir, a green apple slush.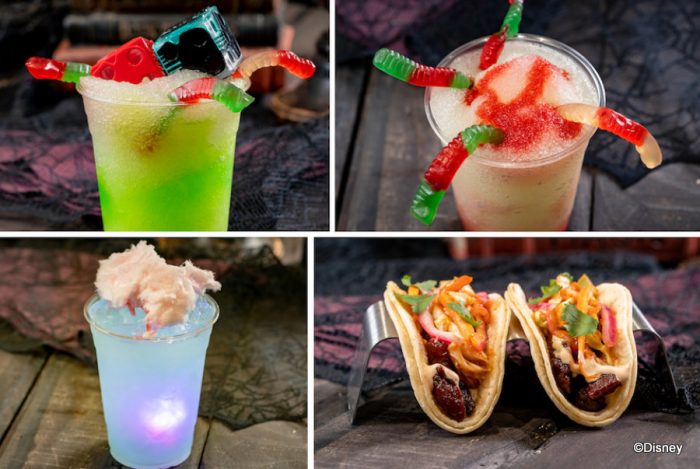 In Cars Land, Flo's V-8 Cafe is serving a Pumpkin Spice Shake, and Cozy Cone Motel has two clever (repeat) offerings: Slow-Burnin' Mac 'n' Cheese Cone and "Spoke-y" Cone Macaron.
Sonoma Terrace offers Snake Eyes Sludge (thankfully just edamame hummus dip with accompaniments!) and De Vil-ishly Delectable Wings.
At Cocina Cucamonga, grab your Mexican Hot Chocolate.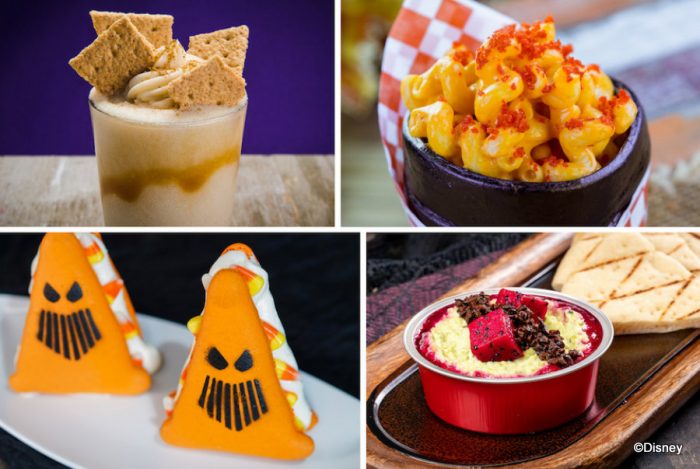 Pacific Wharf Cafe is upping its bread pudding game this season with Maple-Bacon Bread Pudding. They've also got the Vampire Mickey Sourdough Bread, Bacon Cheddar Ale Soup, and Anaheim Brewery Oktoberfest.
Gourmet Coffee on Pacific Wharf is selling a cocktail called Frog's Breath (frozen lime and coconut cocktail).
The Pacific Wharf Distribution Co. Beer Truck is selling Karl Strauss Oktoberfest Beer.
Vampire Mickey Sourdough is also at the Boudin Bakery Bread Cart. (Carbs everywhere!)
Corn Dog Castle is offering the Spicy Pepper Jack Cheese Stick again this year.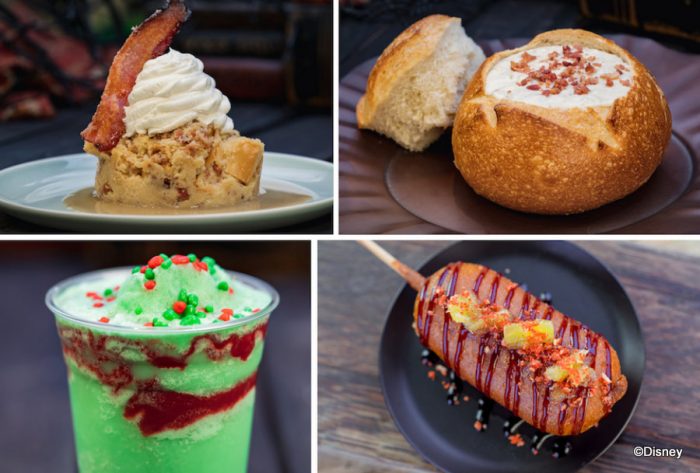 Paradise Garden Grill has a full menu of seasonal eats like Agua de Jamaica Slush, Pollo Verde Wet Burrito, Ensalada de Frutas, and Coco Cake.
Boardwalk Pizza & Pasta has a vampir-iffic Anti-Vampire Chicken Pizza (a repeat from last year!) and Pumpkin Cheesecake.

Bayside Brews has two drink offerings: ACE Pumpkin Hard Cider and Karl Strauss Oktoberfest.
Lamplight Lounge is offering Ghost-ly Pepper Nachos with ghost pepper cheese sauce. Yeah, that one's gonna hurt!
The Hyperion Cart is serving up ACE Hard Pumpkin Cider and Samuel Adams Oktoberfest.
Disneyland Resort Hotel Halloween Time Treats
Disneyland Hotel's Coffee House has a Pumpkin Spiced Latte and a Pumpkin Muffin for the season! 
Disney's Grand Californian Hotel has a fantastic Lobby Holiday Cart with lots of fun options! They'll have cookies on rotation that feature Disney villains plus a Cookie Box, Poison Apple Cookie, Chocolate Chip Cookie Shot Glass (!!), Oogie Boogie Crispy Treat, Whoopie Pie, and Caramel Apple Pound Cake.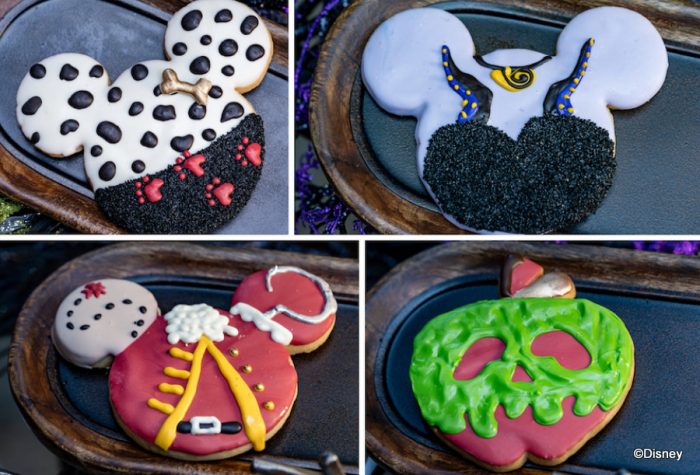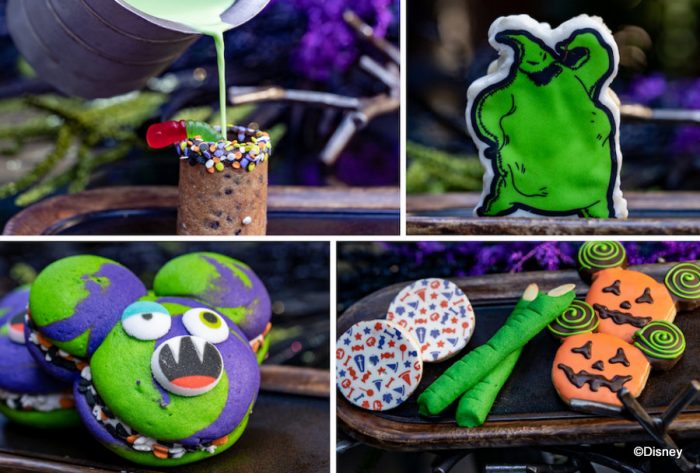 At PCH Grill and Surfside Lounge at the Paradise Pier Hotel, find a Pumpkin Spice Latte and the Sea Witch (a rum drink). The Sand Bar is serving up the Sea Witch, too!
Surfside Lounge also has a Specialty Burger topped with Jack cheese and chipotle sauce, Puttanesca Pasta, a Mickey Crispy Treat, and Chocolate and Pumpkin Mousse Trifle.
And just like that, Halloween Time has a lot of culinary bases covered, so make your plans now — then pop back in here to let us know what you loved!