The opening dates for Star Wars: Galaxy's Edge are inching closer and the inner Star Wars geek inside of me is jumping for joy!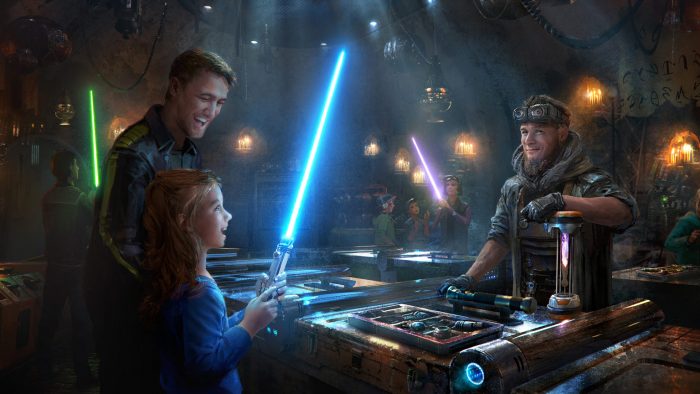 Phase One of the new land will open at Disneyland on May 31. It will open at  Disney's Hollywood Studios on August 29. We do not know much about Phase Two just yet. I literally cannot wait to step on the planet of Batuu, to experience the world I have fallen in love with on-screen in a real world setting.
I am so pumped to sip on a glass of Blue Milk while hanging out at Oga's Cantina… To ride on Millennium Falcon: Smugglers Run, so I can finally prove to myself that I would be a boss lady pilot.
I've also been thinking about my shopping experience while visiting Black Spire Outpost. I wonder… what will I be able to buy? Or the more important question, what will they likely NOT sell at Star Wars: Galaxy's Edge?
Disney already has a lot of awesome Star Wars merchandise. But, I know that there are still a few obvious items that we would all totally buy that Disney either isn't selling or hasn't started to sell.
Here are a few of our ideas for what merchandise SHOULD be sold at Star Wars: Galaxy's Edge.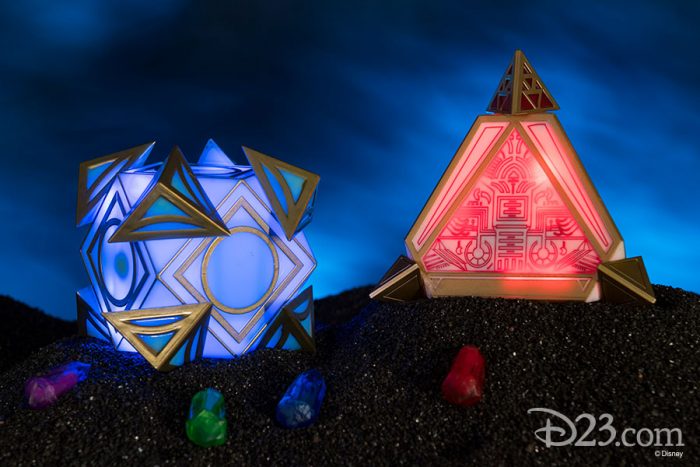 1.  Leia Bun Ears 
We want our own pair of the iconic Leia buns from Episode IV! It would be so perfect if Disney fashioned a pair of "ears" that sat on the side of our head. They could be made of a cute yarn or something. And if you don't want buns on the side of your head, it would be cute to have a pair of Minnie ears that looked like those little buns.
2. A Star Wars Bibbidi Bobbidi Boutique 
OK, OK, I know this isn't strictly merch. But, I would totally throw my money at the opportunity to have a Star Wars-themed Bibbidi Bobbbidi Boutique or Pirate's League-type experience. They could do cute little buns in your kiddo's hair (or mine!), or they could get their faces painted like Darth Maul. Terrifying, but still awesome — until the time came to take the paint off! Kids could pick out classic Star Wars costumes to wear around Galaxy's Edge. It would be so much fun!
3. R2-D2 Droid 
I want my very own best friend, R2-D2. Don't you? Disney sells a fun BB-8, but I would love for them to do more for R2. I don't really know what all I would want the R2-D2 droid to do. But I know I would pay caboodles of money to have one.
What? You say I might get the chance? We recently found out that we will actually be able to build our own droids. These droids will interact with their surroundings while in Star Wars: Galaxy's Edge.  I just hope that they are able to interact and do things outside of Disney World as well!
4. A Han Solo Gun
I know Disney won't sell this since they don't sell guns in the parks. But think how fun a toy version of Han Solo's gun would be. The gun could be like a stepped up more realistic looking Nerf gun. Or it could have a laser attached, so you could play with it in the dark and the laser would make it look like you were shooting. I'm picturing an experience like laser tag… but at home with your Han Solo gun!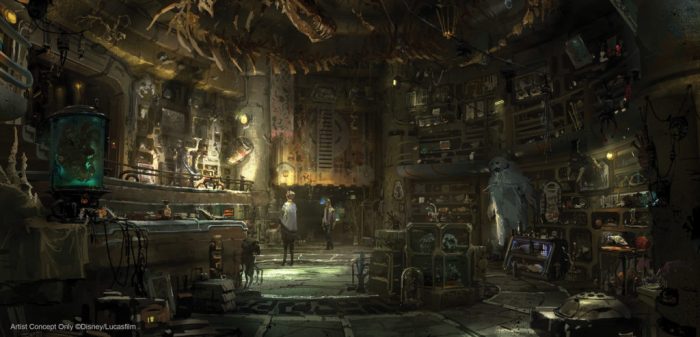 5. Belt, Satchels, Backpacks
WE NEED CHEWIE'S SATCHEL PEOPLE. I would rock that satchel around the park so much. It is such an easy thing for Disney to replicate and sell that I really hope they do it. But, honestly who knows! I'd also love to see Boba Fett's utility belt at merchandise shops throughout Galaxy's Edge. What would I put in there… who knows? Boba had his secrets, I have mine!
Another NEED is Rey's backpack. It would be the perfect park backpack since it would be able to hold a bottle of water at the bottom. And of course, you can fill it with the loads of other Star Wars merch you'll be spending way too much money on while at the parks.
6. A Star Wars Cookbook
I would love to have a cookbook with the recipes the Disney chefs created for Star Wars: Galaxy's Edge. Wouldn't you love to see how they thought to recreate different foods and drinks from the films? Then we could try to recreate the dishes at home. This would totally help with those post Galaxy's Edge blues that we will all likely feel after experiencing the land for the first time.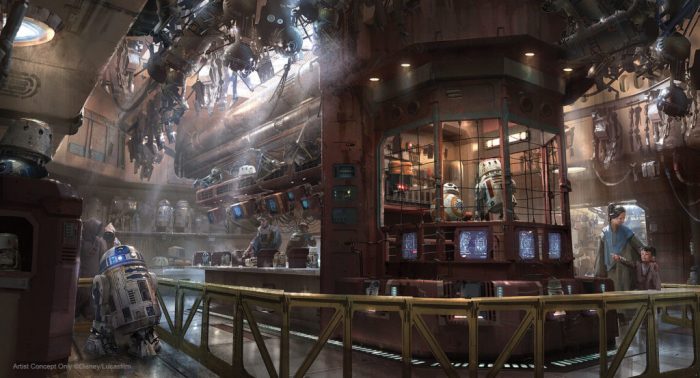 Of course other than the droids… these ideas are ones that we have come up with on our own and we literally have no clue if they will make their way into Star Wars: Galaxy's Edge. We just WISH that they would, because we know that Star Wars lovers like myself and so many others would fly to the edge of the galaxy just to have them!
Less than 60 days people… are you ready?
What do you hope to see at Star Wars: Galaxy's Edge? Let us know in the comments below! 
And don't miss our other recent posts about Galaxy's Edge:
Stay on top of all the Galaxy's Edge news! Click below to subscribe to the AllEars® newsletter!