The Disney Imagineers have always been known for their attention to detail — for ensuring that all of Disney's rides and shows, theme parks and resorts, were "just so," right down to the very tiniest specification. That's what has made visiting the Disney Parks so very magical over the years.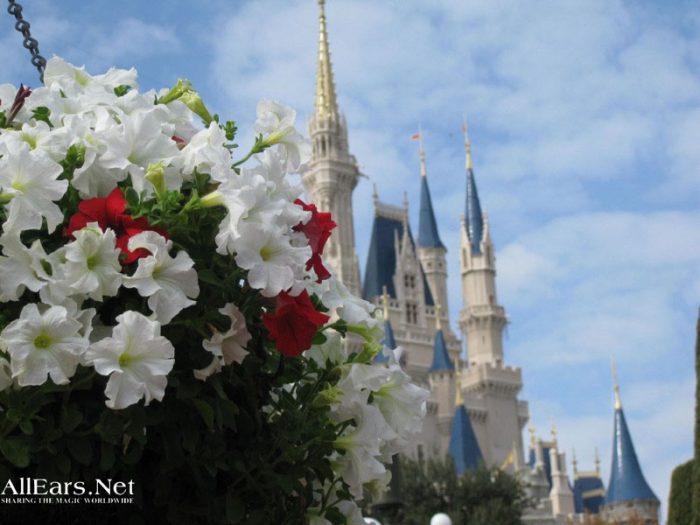 Sadly, though, over the years some of those little details have gone by the wayside. I'm not talking about BIG things like rides and shows and restaurants that may have closed, or subjective things like better customer service (because I think their customer service is still pretty great!).  I mean those little extras that helped create the illusion that you were someplace else, someplace special. They gave Disney World its character.
We spend a lot of time covering what's new in the World, but please allow us to get a little nostalgic for a few minutes. Here are a few of those long-forgotten, uniquely Disney touches that we think they should totally bring back!
Swizzle Sticks
Do you remember when almost every Disney World restaurant or lounge had its own swizzle stick or fruit pick?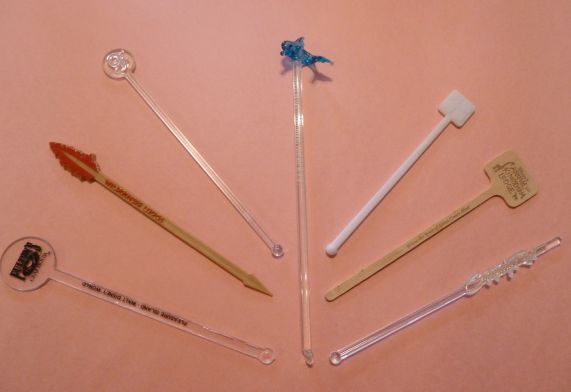 They were such a fun — not to mention FREE — souvenir. And they were unique to the resort or restaurant you had visited, not some generic wooden stirrer. That beautiful, blue glass dolphin in the center in the photo above was from the Polynesian, probably 'Ohana. I get that customized items like these were expensive to produce, and I believe that they actually did charge for them eventually. But what a cool keepsake. I still use these swizzle sticks occasionally when I have a drink at home, and they make me smile.
A few spots may still have their own swizzle sticks, but I'd love to see these special stirrers brought back or a larger scale. Wouldn't you love to have one from Oga's Cantina?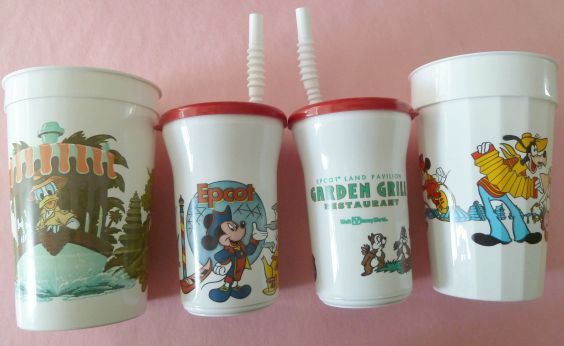 Souvenir Cups
In these days of standardized paper products across the Disney World resort, it's hard to believe there was a time when many lands or areas around the World had their own individual kids' cups. As you can see from my collection above and below, we have a cup that represents the Magic Kingdom's Jungle Cruise, an Epcot cup that featured an image from various World Showcase pavilions, a special cup from the Garden Grill at the Land, and… well, I guess it's a different Epcot cup. Then there are the cups from '50s Prime Time, the Polynesian (I think we did the luau) and yet another from Epcot. Guess I went there a lot. In any case, these were such a fun and unique touch — something you couldn't get anywhere else, not even in Disneyland!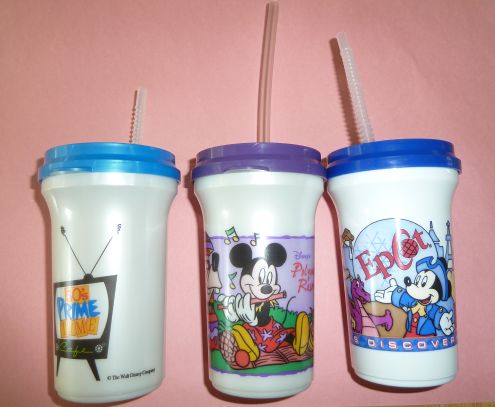 Wouldn't it be great if they brought these back? With the movement toward being eco-friendly, wanting to reduce, reuse and recycle, they sort of make sense. You wouldn't need to get a new straw or lid with every drink — most of these cups had their own. The cups were included in the price of your drink back then — today, you can buy souvenir mugs and steins, and I'd venture to say that a lot of us would pay for these differently themed cups, too, just to have one that says "Pandora" or "Woody's Lunchbox."
Resort Directories of Services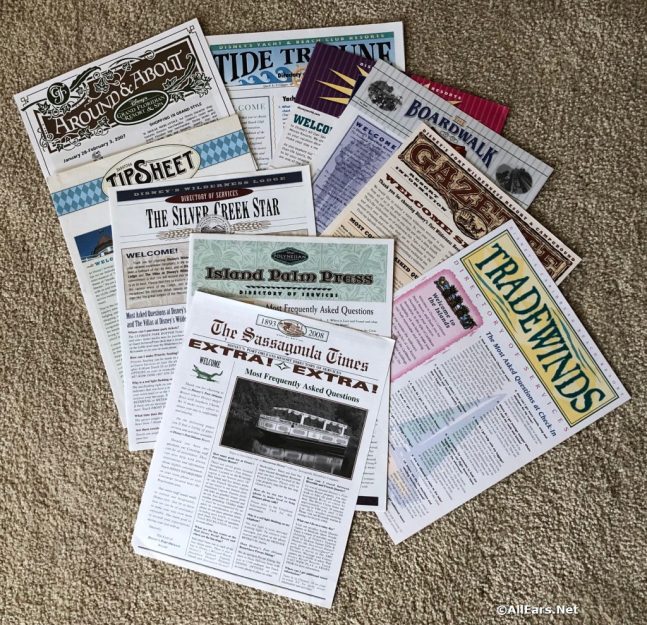 Every resort had one of these themed newspaper-like listings of the services it had available. I loved the titles — Sassagoula Times, Saratoga Springs Tip Sheet — and the fact that they continued the story of the resort. Again, I'm sure they were expensive to produce, but they were so much more charming than the rather bland flyers you get in the rooms today.
Customized Stationery and Postcards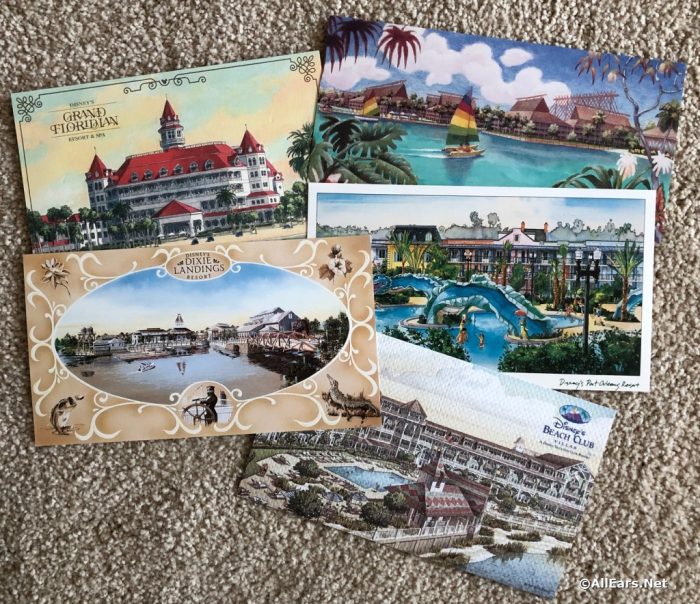 Here's another item that seems to have gone missing, and I wish they'd bring it back — special stationery, including postcards. I used to love peeking in the desk drawer and find those few sheets of paper and envelopes there, not that I ever planned to send a letter to anyone. I just enjoyed seeing what designs they used. I'm not really a collector, despite what my nostalgia here may lead you to believe, but I did save some of these postcards because they were so darn pretty — and unique. You couldn't find them anywhere else, just at that resort.
Mickey-shaped Butter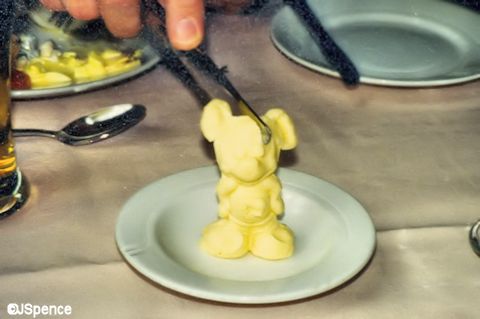 You know how excited you get when you see a Mickey waffle? OK, maybe that's just me, but seeing a waffle with Mickey's smiling face on it makes my day and makes me want to smile back.  There was actually a time when they used to serve you butter that looked like Mickey. I don't mean a pat of butter shaped like Mickey's head, although I'd settle for that. (And I think you might occasionally still see those at some special events.) No, this was a full-body Mickey figure, completely made of sweet cream butter. It always made folks chuckle, even as they were sadistically cutting an ear off!
Zip-A-Dee-Doo-Dah Tip for the Day
I don't have a photo for the last thing on my "resurrection" wish list. It is the old Disney TV spot, the Zip-A-Dee-Doo-Dah Tip for the Day. I mean, we all love Stacey, who hosts the "Must Do Disney" program that's been running on a continuous loop at Disney resorts for the last several years. But I think it would be a refreshing change to break up her action with a little zippy tip set to that familiar tune. With a little updating, I think it could work!
If you don't know what I'm talking about, here's a taste.
Informative, concise, and full of pep. What's not to like? I used to love that music so much, I had a snippet of it as the start-up sound on my computer. Don't you think it would get you heading to the parks on a happy note? They should totally bring it back.
Well, that's my list of those special little touches that Disney used to do so well that I'd like to see again. What about you? Do you have any you'd like to see them bring back? Let us know in the comments!
Remember! When you're in Disney tag us @allearsnet in your photos!
Subscribe to the AllEars® newsletter so you don't miss any of the latest Disney news!