Overnight, while we here on the East Coast slept, multiple entertainment and news outlets on the West Coast released news — a TON of news! — about the hotly anticipated Star Wars: Galaxy's Edge land coming this summer (maybe June?) to Disneyland Resort and later this fall to Walt Disney World's Disney's Hollywood Studios!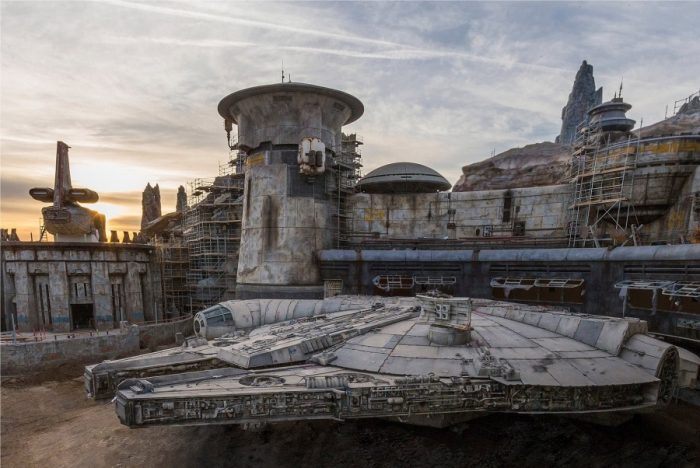 Here's a summary of what we've learned so far, with more details promised throughout the day.
As you may have read elsewhere if you've been following the Star Wars: Galaxy's Edge development, the rich backstory of the new land is based on the planet Batuu, in a location known as Black Spire Outpost.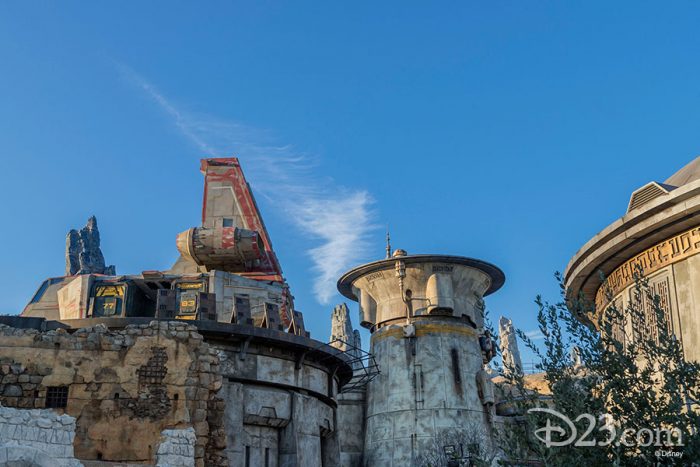 The outpost is remote and nearly forgotten, and so has become a base for many unsavory characters — as well as for those who, for various reasons, want to stay out of the  way of the despised Empire.
Star Wars: Galaxy's Edge will allow you to immerse yourself in this world in a wide variety of ways.
Attractions
There will be two attractions that will put you in the middle of the Star Wars action:
— Millennium Falcon: Smugglers Run  — In this totally immersive attraction, the experience begins with the queue, as you wind your way through passages that give you an up-close look at what was once called "the fastest hunk of junk" in the galaxy.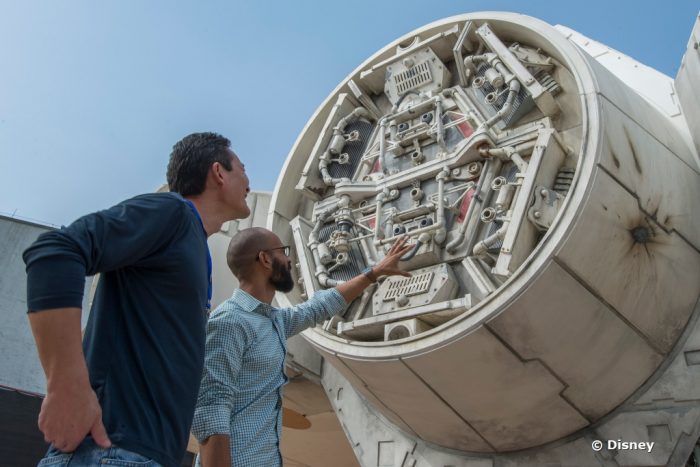 You eventually encounter a new character, an animatronic Hondo Ohnaka, who gives you your "mission." You eventually board the Millennium Falcon and will have the chance to either pilot the craft or serve as a gunner or flight engineer.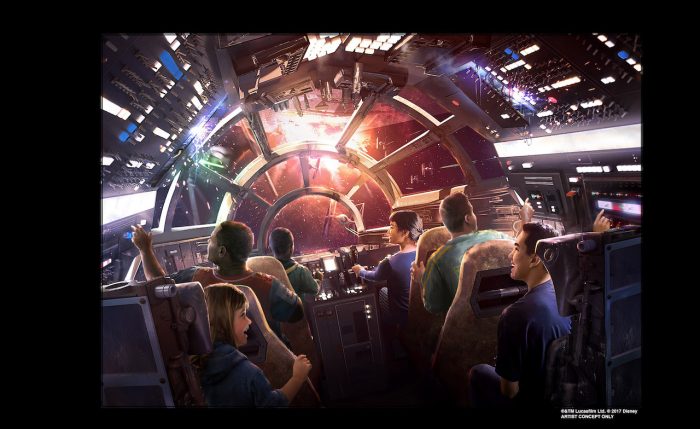 After your thrilling flight, you'll then have the chance to explore Batuu further.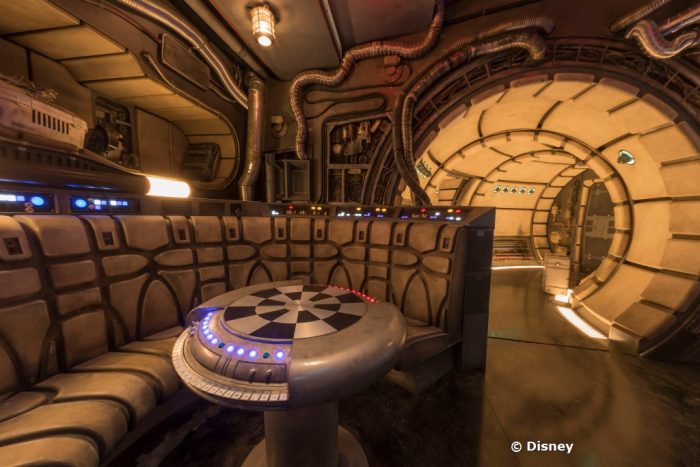 — Star Wars: Rise of the Resistance — This new attraction is billed as "one of the most advanced and immersive experiences ever undertaken by Walt Disney Imagineering." In this attraction, you'll have the chance to board a Star Destroyer and join a battle against Darth Vader's grandson, Kylo Ren, and the First Order.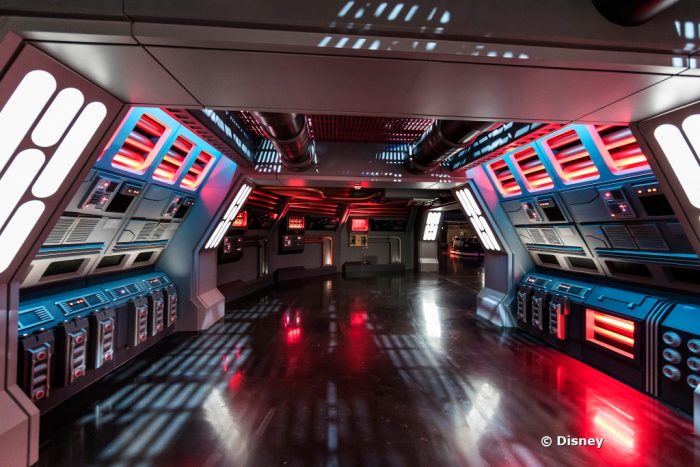 You'll also visit a hangar with two impressive AT-AT walkers. Actors Adam Driver (Kylo Ren), Jon Boyega (Finn), Oscar Isaacs (Poe Dameron) and Daisy Ridley (Rey) all play a part in this experience, as well!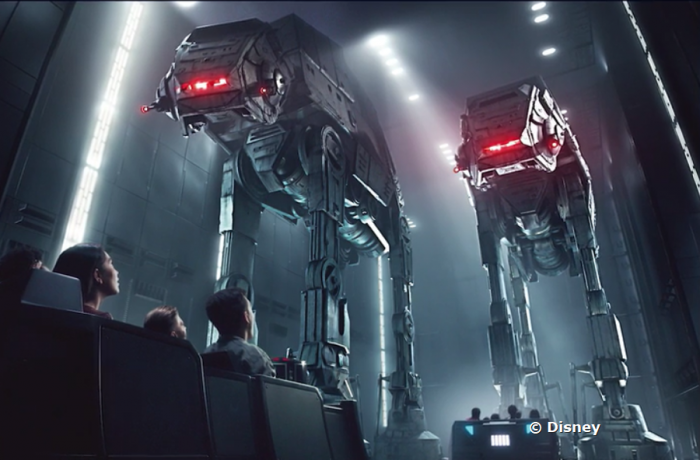 Food and Drink
To add to your fully immersive experience as a visitor to the planet Batuu, there are several places to grab an "out of the this world" bite to eat or a drink.
Docking Bay 7 Food and Cargo –  The chef at Maz Kanata's castle on Takodana, Chef Strono "Cookie" Tuggs, now brings his traveling diner "Tuggs' Grub."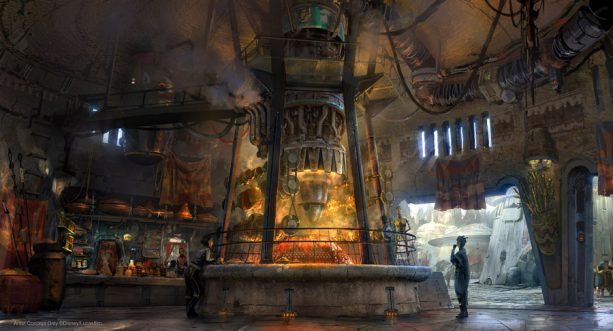 Ronto Roasters –  An old podracer engine and a former smelter droid, 8D-J8 serve up tasty Ronto fare — whatever that is!
Milk Stand – Offering both blue and green milk, from the Bubo Wamba Family Farms.
Kat Saka's Kettle – A street market stall sellling "Outpost Mix" (which is really a blend of sweet, savory and spicy popcorn).
Shopping
The Black Spire Outpost may be a place for smugglers, but legitimate shoppers have plenty of stores and market stalls to visit.
Dok-Ondar's Den of Antiquities – This location sells and buys rare and unique items from across the galaxy.
Savi's Workshop – Handbuilt Lightsabers – This store has its own interesting backstory, with the Gatherers, a group whose members have dedicated their lives to restoring balance in the galaxy by passing on their knowledge of Jedi lore and the Force.  This is place where you can customize your own lightsaber!
Droid Depot – Construct your own astromech droid and take it home!
First Order Cargo – The First Order officers have brought in crates of gear, uniforms and other supplies that you can have for your very own.
Resistance Supply – A makeshift stall that supplies Resistance uniforms, pins, badges, hats, helmets, jackets, maps, tools, training supplies, food rations and other items.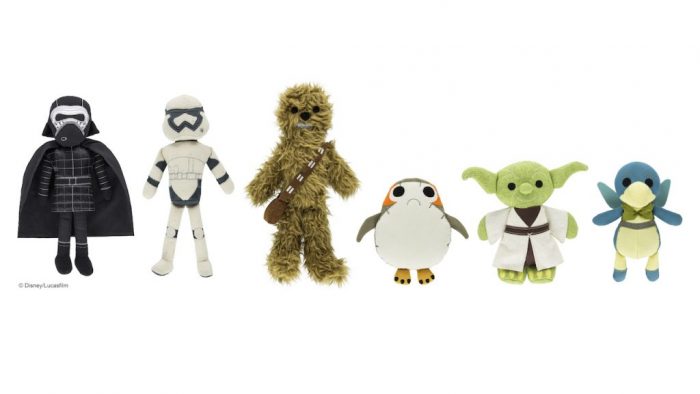 In addition, there are market stalls, adding to the street atmosphere:
Toydarian Toymaker (toys)
Creature Stall
Black Spire Outfitters (clothing)
The Jewels of Bith (accessories)
Play Disney Parks App
Finally, the Play Disney Parks App will add to the entire Galaxy's Edge experience by tying to the attractions and other aspects of the Black Spire Outpost.
As we said earlier, we'll have MUCH more on all the new Star Wars: Galaxy's Edge offerings as the day goes on, so please check back often!
In the meantime, let us know how you feel about all this new Galaxy's Edge detail by leaving us a comment below!
And check out some of our other posts about this new land that has us SUPER excited:
Remember! When you're in Disney tag us @allearsnet in your photos!
Subscribe to the AllEars® newsletter so you don't miss any of the latest Disney news!