Millennium Falcon Attraction — Coming in 2019 Star Wars: Galaxy's Edge Disney's Hollywood Studios
APRIL 6, 2018: A few details about the technology behind the upcoming Millennium Falcon attraction have been revealed by one of its developers, NVIDIA Corp., maker of graphics processing units (GPU) and related technologies. An entry on the company's blog said that when the new attraction launches, "riders will enter a cockpit powered with a single BOXX chassis packed with eight high-end NVIDIA Quadro P6000 GPUs, connected via Quadro SLI. Quadro Sync synchronizes five projectors for the creation of dazzling ultra-high resolution, perfectly timed displays to fully immerse the riders in the world of planet Batuu." Along with this, NVIDIA also had an image of an animation sequence from the new attraction, produced by ILMxLAB, which you can see HERE.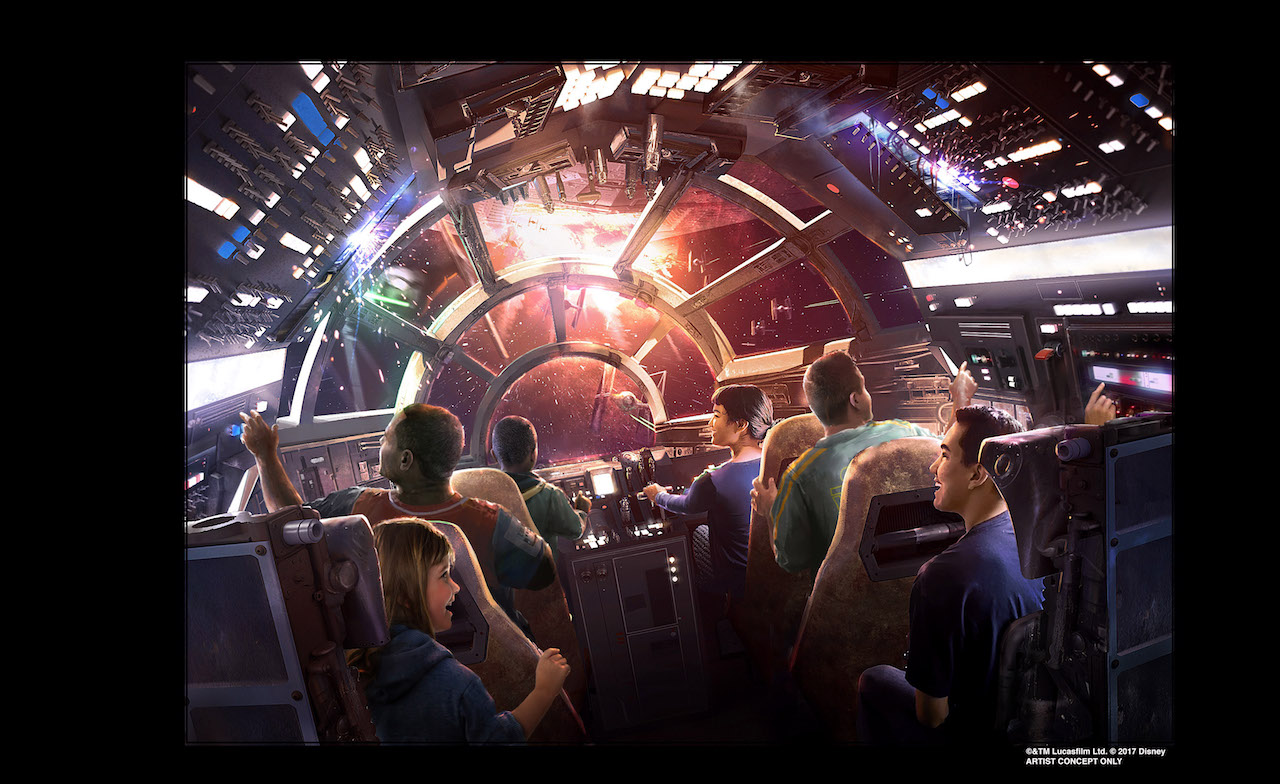 INTRODUCTION
At the D23 Expo 2017, Bob Chapek, Chairman of Walt Disney Parks & Resorts, revealed the official name of the Star Wars-inspired lands that are currently under construction at the Disneyland and Walt Disney World Resorts, and shared details on the immersive experiences guests will be able to enjoy when the lands open in 2019. Star Wars: Galaxy's Edge will feature two new attractions, one of which will give guests the opportunity to fly the Millenium Falcon.
ATTRACTION
Guests will be able to step aboard The Millennium Falcon and actually pilot the fastest ship in the galaxy, steering the vessel through space, firing the laser cannons, or preparing for hyperspace in complete control of the experience. How you perform on the mission holds even bigger stakes: perform with skill and you may earn extra galactic credits, while bringing the ship back banged up could put you on the list of a bounty hunter. End up on Harkos's list and you may face a problem if you show up at the local cantina!
Star Wars: Galaxy's Edge will open in 2019, first at the Disneyland Resort and later in the year at the Walt Disney World Resort. (No further opening dates have been announced yet.)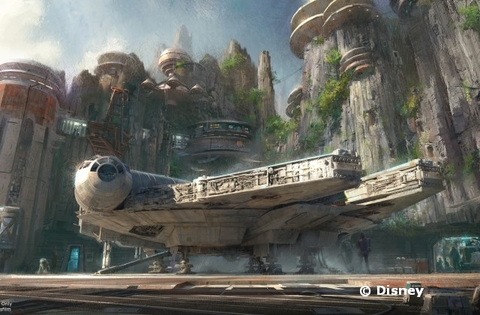 TOURING TIPS
KIDS AND CHARACTERS
You will find lots of Disney Characters at a variety of Meet and Greet locations throughout the Studios. Check your Guide Map for times and locations.
Disney's Hollywood Studios Characters At A Glance
Character Meet and Greet FAQ!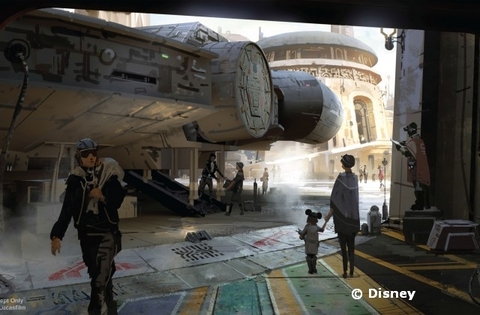 DINING
Disney's Hollywood Studios Restaurants At A Glance
Menus From Around the World
Vegetarian and Other Special Diets
SHOPPING
Shopping at a Glance at Disney's Hollywood Studios
INTERESTING FACTS
If you have comments or tips to share with others about touring Disney's Hollywood Studios' please email me. Thank you.