After an extensive multi-phased project, Naples Ristorante E Bar officially re-launched on January 8, 2019 in a ceremony in Disneyland's Downtown Disney District.  Chef Mickey and Chef Goofy joined in as Patina Group Vice President Frank Moreno cut the ribbon with a pizza cutter supplied by Chef Goofy.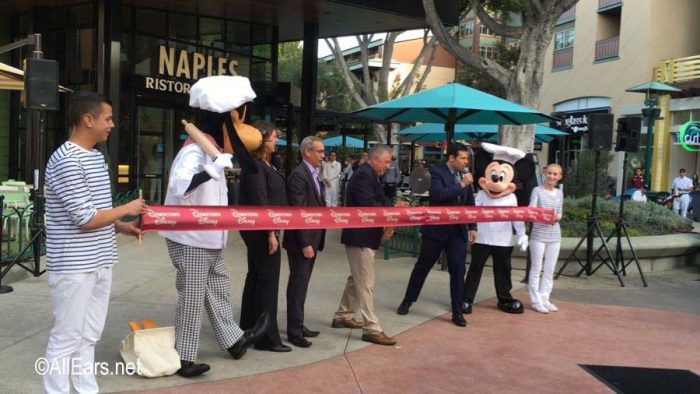 The ceremony concluded with a shower of red, green, and white confetti.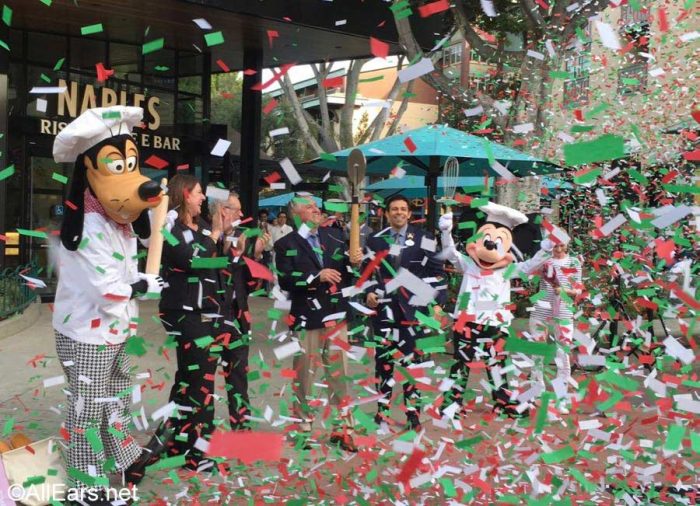 You can view a video of the ceremony below:
The new restaurant design and decor is inspired by Southern Italy: the areas of Capri, Positano, and the Bay of Naples.  The project took place in phases, allowing the restaurant to remain open during the 11-month renovation period. The first phase, the outdoor patio and show bar, opened last summer.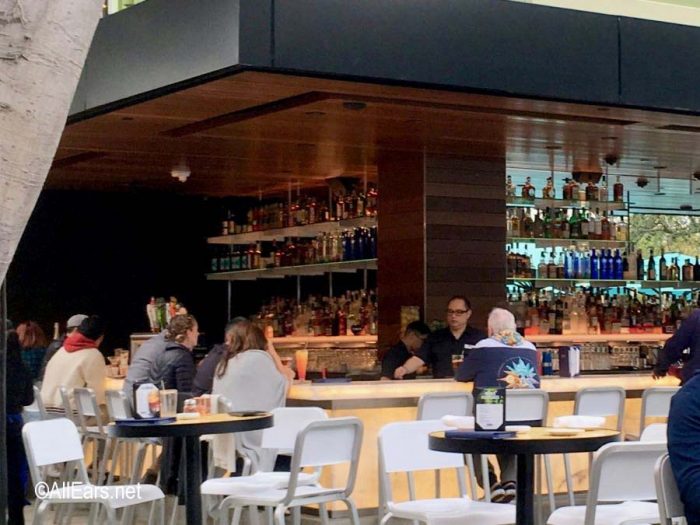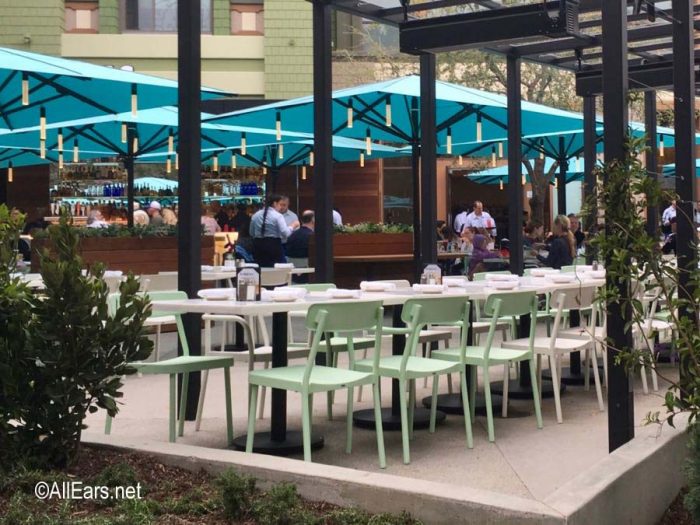 There are three other dining areas.  The main dining room also showcases the open kitchen and the pizza ovens as well as an "infinite loop" lighting fixture.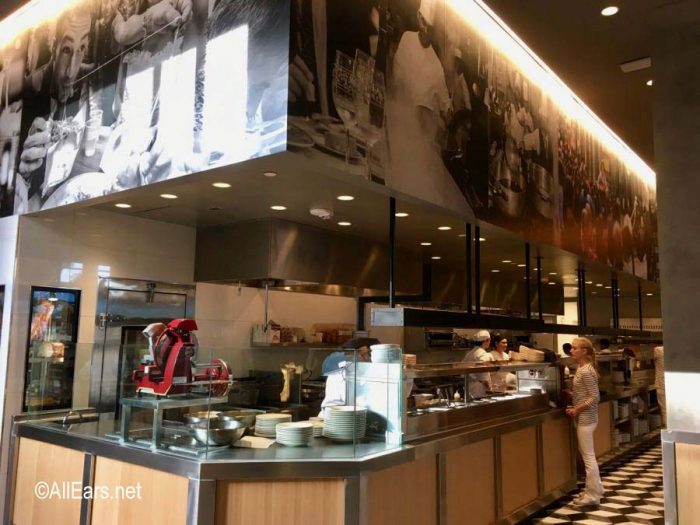 Note the fire-themed mosaic, made of glass tiles, above the pizza ovens.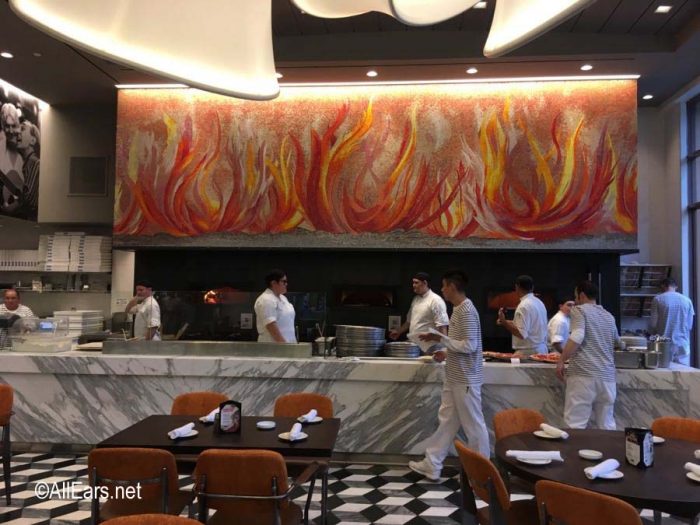 The floor tile design looks three-dimensional – very Escher-esque.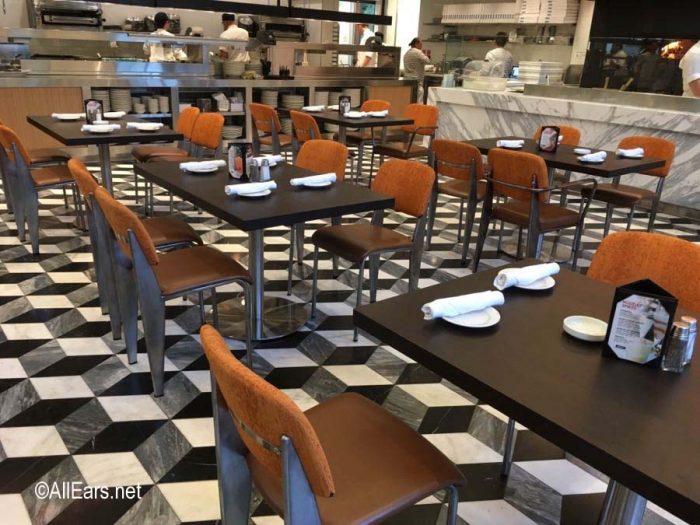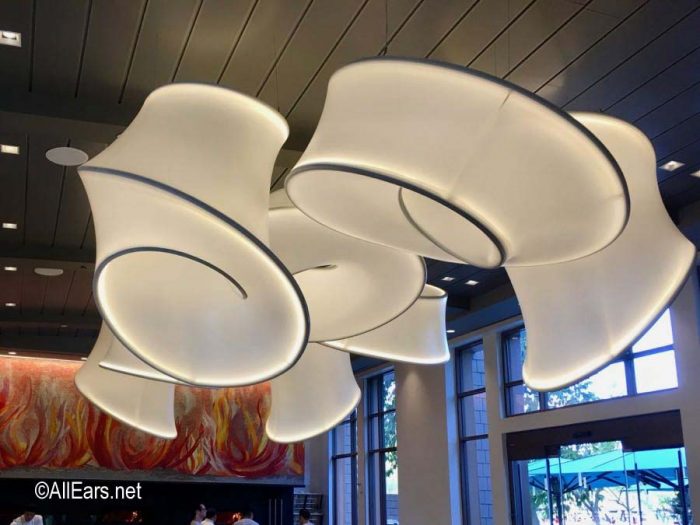 The upstairs indoor dining room.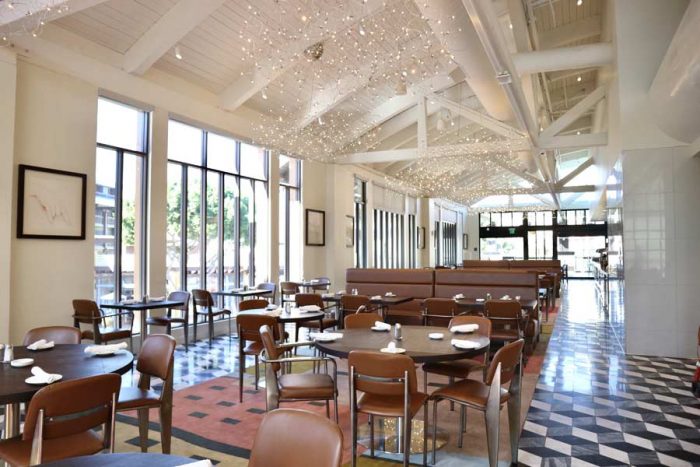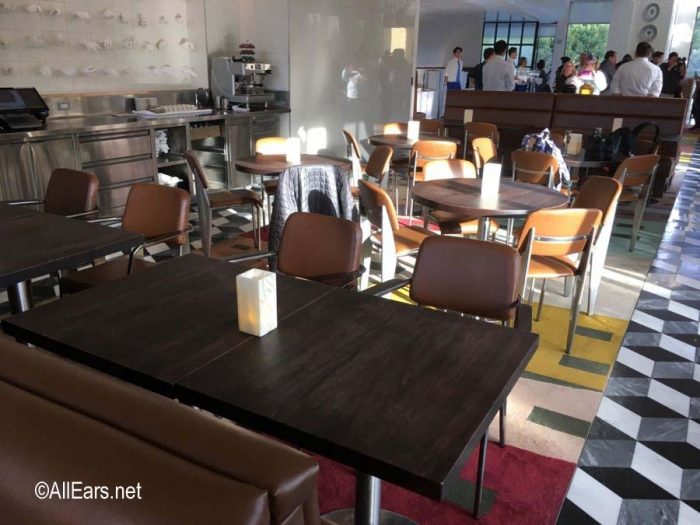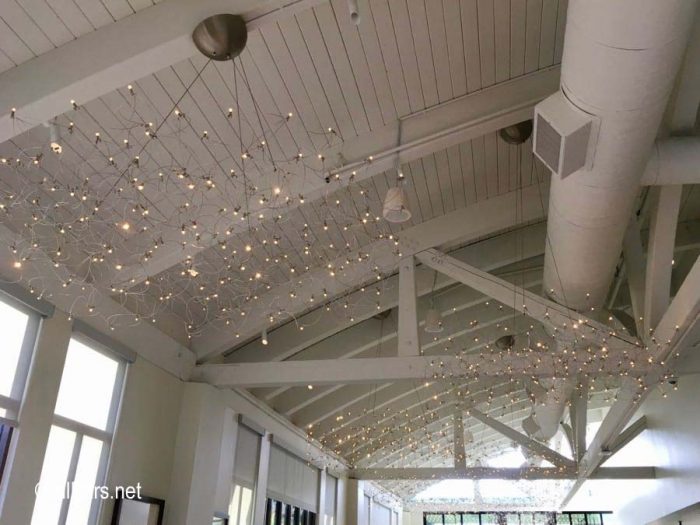 Also upstairs is the Terraza, an outdoor patio with a fountain wall.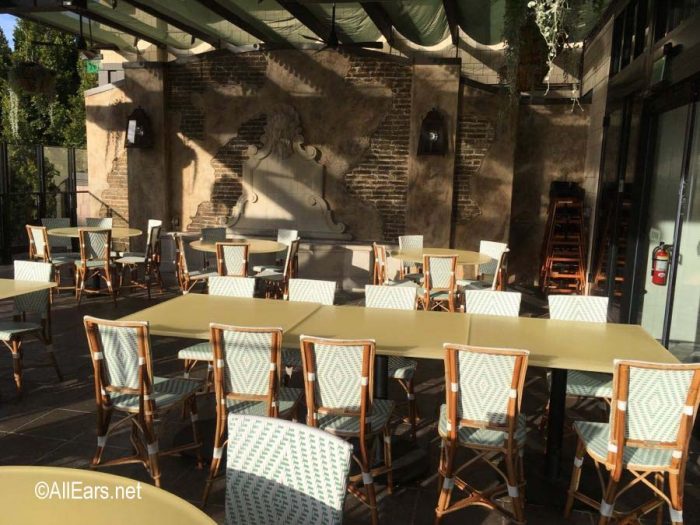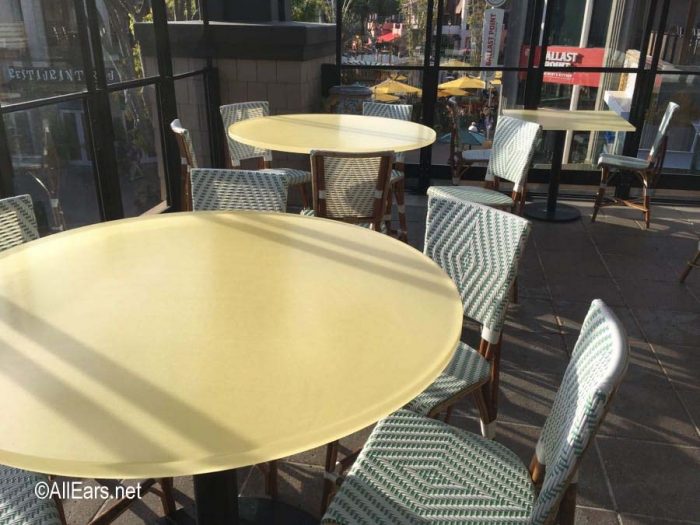 One of the other interesting features in the upstairs dining room is the "Gesture Wall".   We were quickly advised that these are all polite Italian gestures.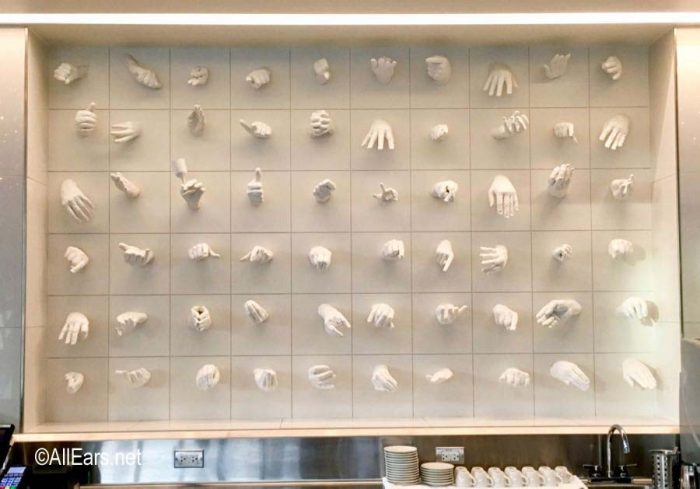 Along with the re-launch are new lunch and dinner menus.  According to Executive Chef Umberto Rubelli the wood-fired authentic pizza Napoletana remains on the menu but, in addition, there are a number of new menu items. Some of these include appetizers such as Arancini and Caciocavallo Fritti (fried cheese balls), new grilled chicken and calamari/shrimp salads, Scialatelli pasta, and braised short ribs.  Naples offers both gluten-free and dairy-free menus.
You can find the updated menus for Naples here.
The pizza capacity has been greatly increased:  as part of the renovations, the restaurant expanded from two pizza ovens to seven.   Some of the entrees, such as fish and lamb, will also be prepared in the pizza ovens.
At this writing, the dining room menu is offered in all areas of the restaurant, though Frank Moreno, Vice President of Operations for the Downtown Disney Patina Group, told us that a new bar menu  has been developed and will be coming soon.
When asked what a first-time visitor to Naples should try, both Chef Rubelli and VP Moreno without hesitation said; "Pizza!"  VP Moreno told us: "People who say 'Pizza is pizza' haven't had pizza…[Ours] is Neapolitan pizza, but we do it the right way."  The crust is made from imported Neapolitan water and flour.  The sauce is made from two ingredients: tomatoes and salt.  Chef Rubelli recommended first-timers sample the classic Margherita pizza with fresh mozzarella, basil, and tomato sauce.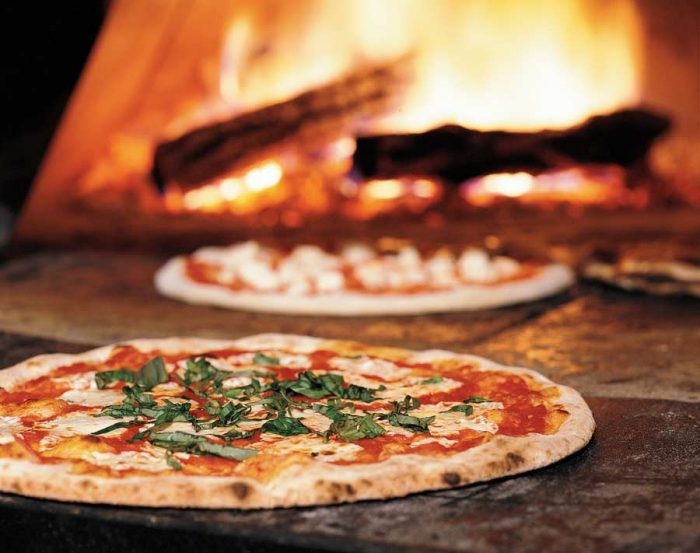 The quick-service Napolini restaurant was also refreshed during the renovation project.  This included giving it its own pizza ovens – two of the seven ovens mentioned earlier are in the Napolini restaurant.  Napolini offers "build-your-own" pizza.  Guests can choose one of the signature pizzas, such as Vesuvio (mozzarella, tomato, Calabrian chili, green olives, anchovies, capers), California (chicken, bbq sauce, red onions, cilantro, smoked mozzarella), and Capri (shrimp, mozzarella, fontina, lemon, pesto), or choose their own combination of toppings.  A personal-sized cheese pizza is $6.95, each additional topping is $0.50, and the signature pizzas are $7.45-$7.95.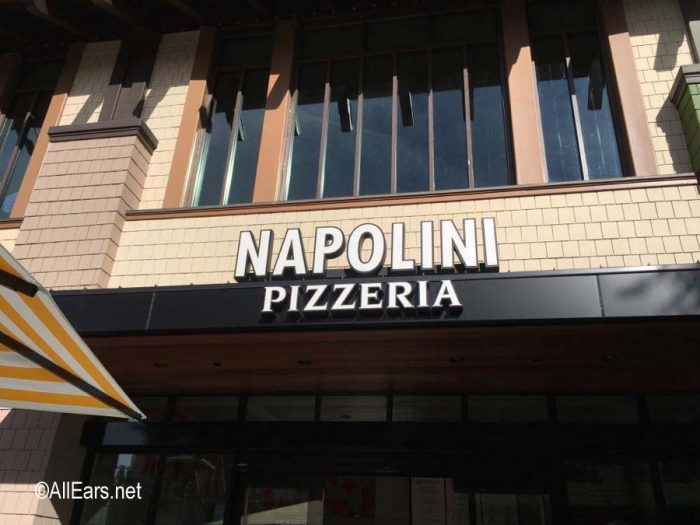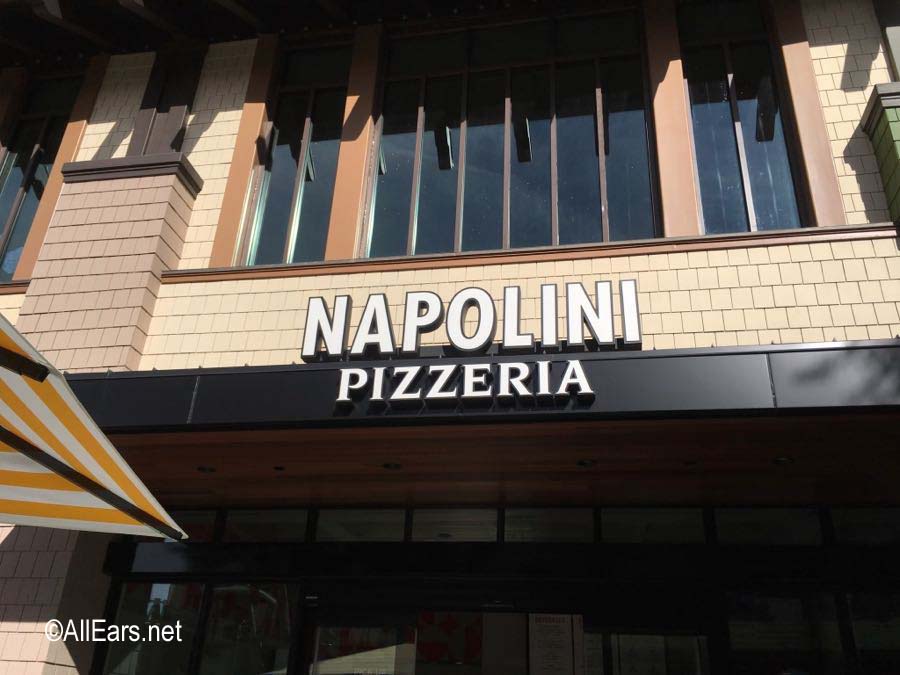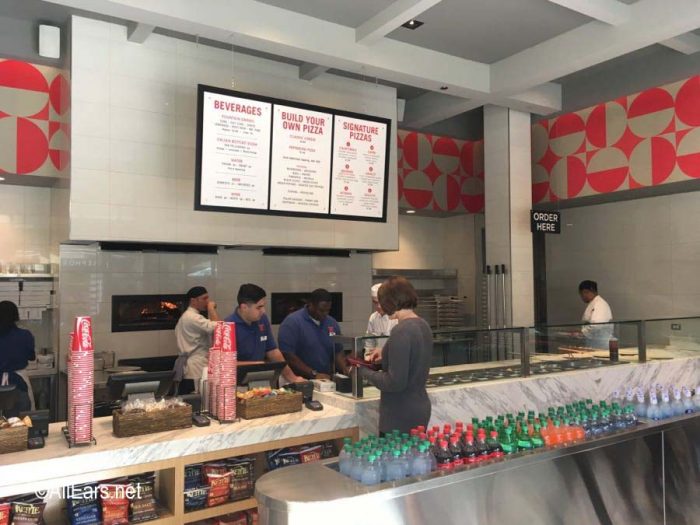 Napolini is open for breakfast, lunch, and dinner.  In addition to pizza, a selection of grab-and-go salads, sandwiches, and desserts is also available.   All items are boxed up to go, but there is a small dining area, furnished with tables and chairs, outside Napolini.
You can find Napolini's menus here.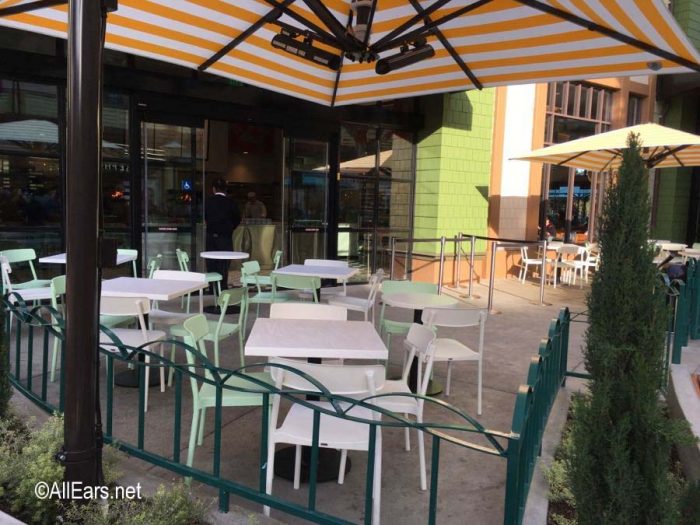 Have you dined at the updated Naples or Napolini restaurants?  Leave us a review!
Be sure to check out our YouTube Channel for reviews, news, information and more! 
Subscribe to the AllEars® newsletter so you don't miss the latest Disney news!