We received an early Christmas gift from Pixar and Disney today — a teaser trailer for Toy Story 4, as well as a poster!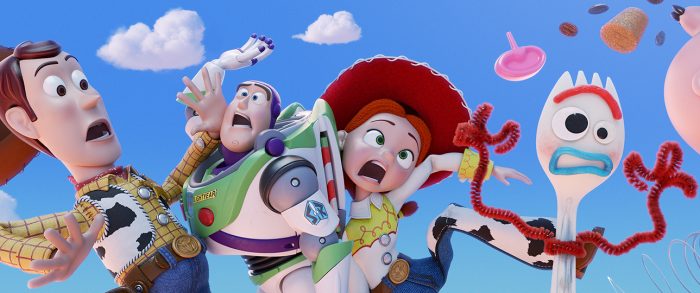 It looks like calamity ensues in the next installment of this long-time favorite series!
The new film continues following Woody's journey. Now, he is learning to adjust to a new life as Bonnie's toy, not Andy's toy, lives in a new room, and a new toy is in the mix… or is that a toy? That's Forky! Forky insists he is NOT a toy. Hmm, that sounds familiar, doesn't it, Buzz?
Forky is a plastic spork/craft project. He is determined to serve his purpose as a utensil, but everyone keeps putting Forky in Bonnie's room as a toy. In addition to following Woody's adjustments to a new life, we'll get to watch Forky's adjustment to becoming a toy.
Fans of Arrested Development or Veep may recognize Forky's voice as that of Tony Hale. "It's a huge thrill to be part of the Toy Story family," Hale stated. "But it's going to take a while for it to really sink in."
In addition to the teaser clip we also received a first-look poster.
June 2019! We can hardly wait! The AllEars® Team is already counting down the days until this new film is released. How excited are you to see the newest installment of this beloved series? Let us know in the comments below. If you need us, we'll be over in Toy Story Land, waiting for next summer!
Remember! When you're in Disney tag us @allearsnet in your photos!
Subscribe to the AllEars® newsletter so you don't miss any exciting Disney news!