For me, the most fun you can have photographing in a Disney property is taking only one lens for a time period like a day. When I do, I almost always choose to use a Nifty-Fifty which is a 50mm f/1.8 prime lens. Using Aperture Priority mode, a Nifty-Fifty can handle any depth of field I may want.
Most photographers love bokeh. Bokeh is defined as the out of focus area behind a sharply focused subject. It is a great way to put your subject front and center with a busy background which often happens at Walt Disney World or any popular location. With a Nifty-Fifty aperture set close to or completely wide open, you can get what I call super bokeh. To get such extreme bokeh you need to get very close to the subject. In the Magic Kingdom's Central Plaza there are statuettes of several classic Disney characters. Jiminy Cricket advising Pinocchio is challenging when using the Nifty-Fifty close to being wide open. The focus point is key and, like with a real boy, I made sure my focus was on Pinocchio's eye. You will notice his shoes and even his ears are in soft focus while the background is completely out of focus yet, you notice the shapes of both Cinderella Castle and the water fountain behind him.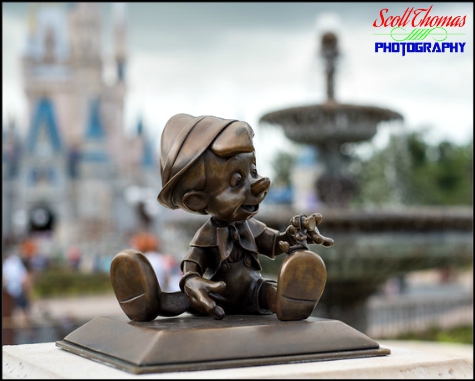 Pinocchio and Jiminy Cricket statuette in the Central Plaza at Magic Kingdo.
Nikon D750/50mm, 1/250s, f/2.8, ISO 100, EV 0.
Over at the Prince Charming Regal Carrousel, the sword of the Sword in the Stone is relatively flat compared to the statuette of Pinocchio which allowed me to open up the 50mm lens to f/1.8 and create even more bokeh behind it.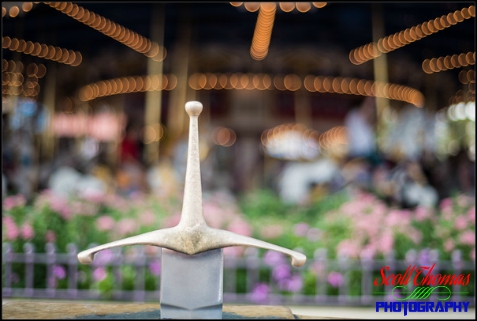 Sword in the Stone in front of the Prince Charming Regal Carrousel in Fantasyland.
Nikon D750/50mm, 1/640s, f/1.8, ISO 100, EV 0.
To find out how close you need to be with your camera and lens, set up some objects on a table with objects in the background at home and practice. Then take a walk in a nearby park with things like statues, flowers, benches, people, etc. are and try to duplicate your results. This will take out the guess work when you are visiting Walt Disney World.
/blogs/photoblog/2009/01/wide_world_of_disney.html