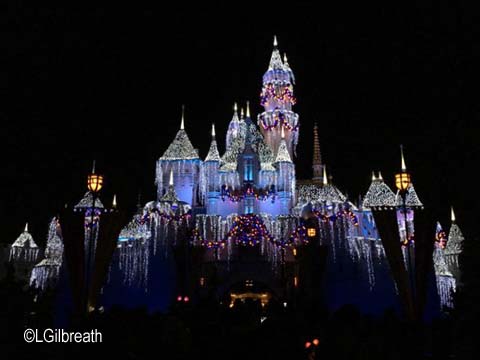 The holiday season is a very festive time at the Disneyland Resort. There's a lot going on at both theme parks with decorations and entertainment, merchandise, special foods, and character greetings.
My most recent park visit was November 18 – in addition to the holiday celebration, it was also Mickey Mouse's birthday! All park guests received a birthday button upon entering either theme park. There were also lots of photo opportunities with this larger version of the birthday button.
There was some special merchandise available (sorry, no photos). Also a special birthday cake crispy treat.
At 11:45 was a "character cavalcade" as Mickey's friends gathered to wish him "Happy Birthday".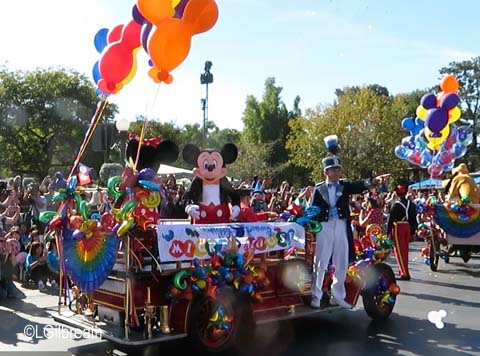 I didn't have the best spot to see it, but here's the video of the ceremony.
In other non-holiday news…Star Tours now features two new scenes plus a new character hologram. The first new destination is the planet Crait, which will be featured in the upcoming Star Wars: The Last Jedi film. At the end of the ride the Star Speeder lands on Batuu – a remote outpost at the Galaxy's Edge (see what I did there?). There is more detail than we've seen in the concept art so far. The current version of Star Tours also re-visits the planet Jakku, in the same scene that was introduced last year, and includes an appearance by a new holographic character: Maz Kanata. Guests seemed quite enthusiastic about the new scenes the two times I experienced it on Saturday.
But back to the holiday celebration…
"it's a small world" Holiday is back, now in its 21st season.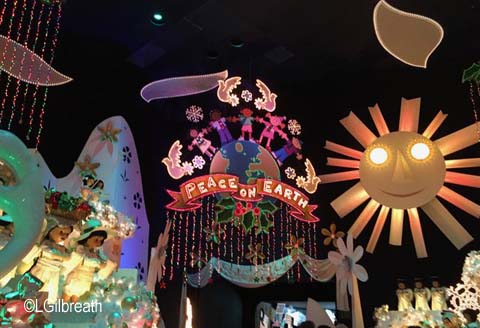 It's especially beautiful at night when all the lights come on.
After dark, there's a projection sequence on the facade every 15 minutes, set to music. This takes place a couple of minutes after the clock sequence that occurs on each quarter hour.
Lots of holiday entertainment in most areas of the park.
"A Christmas Fantasy" Parade is always fun to watch. I didn't notice any big changes this year.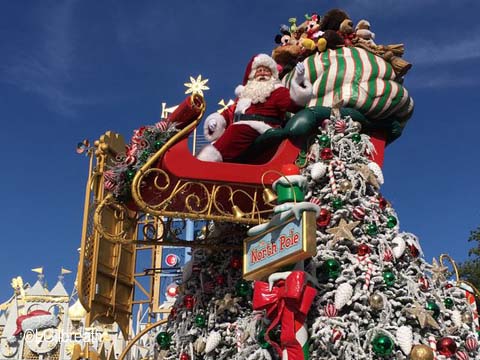 I always enjoy the Sleeping Beauty Castle Wintertime Enchantment lighting. It generally occurs twice each night, at 6:00 and 7:30.
The Believe…in Holiday Magic fireworks show takes place each night during the holiday season.
There's a Rivers of America Holiday Celebration this year. The Royal Street Bachelors perform on the river several times each evening. The "Believe" fireworks show can be viewed from there, and there's snowfall at the end of the show.
On Main Street, the Dapper Dans, in their candy cane-striped vests, perform a number of sets of holiday music throughout the day. The Dickens Yuletide Band also performs on Main Street.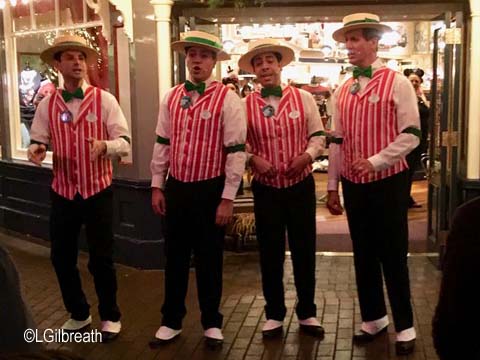 Disney characters in holiday attire are available for meet-and-greets in Town Square, and Santa Claus is taking Christmas wish lists in Critter Country.
Though not all parts of the park are decorated, there are some fun decorations in Toon Town.
I like Roger Rabbit's Santa hat.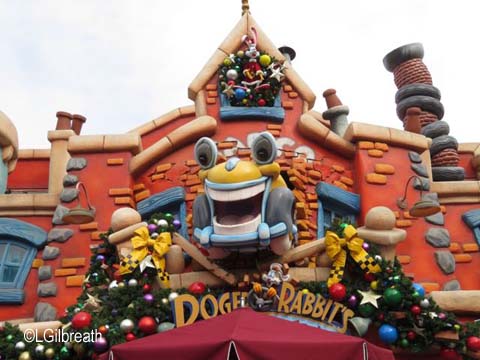 The holiday popcorn bucket this year features Pluto. They've been very popular, but fortunately there seem to be lots of them available.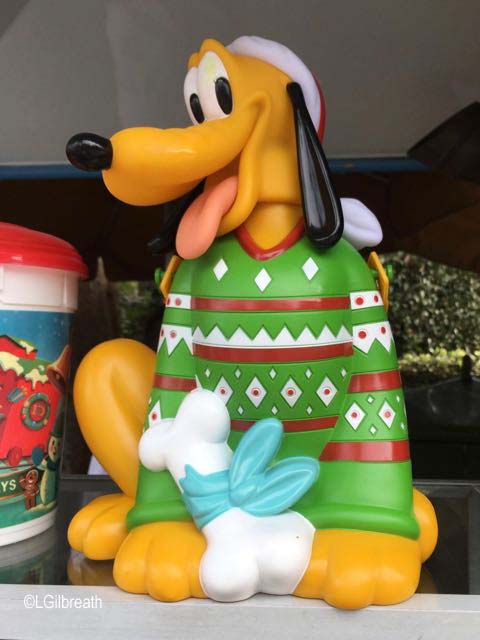 There's a new Ornament Stein this year. Depending on where it's purchased, it might come with a beverage or food like grapes or pineapple.
There are lots of holiday foods this year, though I haven't sampled any of them yet. I'm disappointed that the seasonal beignets at Mint Julep Bar are candy cane dusted this year…the gingerbread ones were always my favorites. There's also Santa's mittens macaron, praline cheesecake, a yule log, candy apple cotton candy, and even savory items like Enchanted Maize Flatbread (Red Rose Taverne) and Bison Blue Cheeseburger (Hungry Bear Restaurant). Lots of different cookies and crispy treat items available throughout the resort. I thought these new crispy treats, which look like gingerbread, were very cute.
There's a lot going on at Disney California Adventure, also. You can read about the Festival of Holidays at Disney California Adventure in a previous blog post.
New this year are two different attraction overlays in Cars Land: Mater's Jingle Jamboree and Luigi's Joy to the Whirl. Both feature new holiday songs by Mater and Luigi.
I'm sorry that the audio is hard to hear – there don't seem to be speakers placed very conveniently in Luigi's attraction, and the sound of the cars themselves is pretty loud.
World of Color – Season of Light returns for its second season. This is my favorite version of World of Color – it seems like the show designers have taken everything they've learned over the years about what the fountains and lasers and projections can do, and brought it all together. I think it looks great, with lots of "Wow!" moments and I love all of the holiday music – everything from classics by Elvis Presley, Nat King Cole, and Jose Feliciano to more contemporary music by Pentatonix and Transiberian Orchestra.
Again this year Santa Claus and his elves can be found at Redwood Creek Challenge Trail, aka Santa's Holiday Visit, where kids can try out the "Elf Games".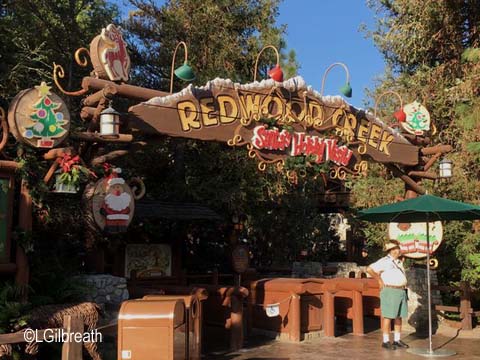 And Santa is there, too, of course.
There's a Treats for Santa vending cart selling a cookie decorating kit and beverages.
Over at the Grand Californian Hotel & Spa there's a huge gingerbread house in the lobby.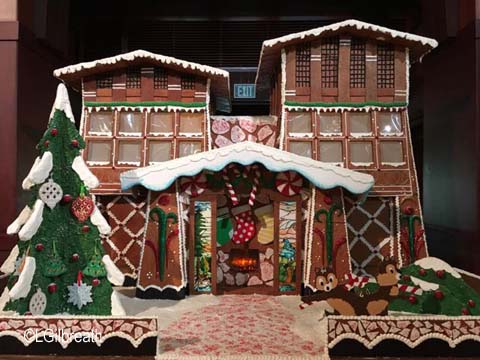 Next to the gingerbread house is a stand selling treats like gingerbread cookies and ornament cookies, hot chocolate and hot cider – and adult versions of the beverages with RumChata, Peppermint Schnapps, or Spiced Rum added.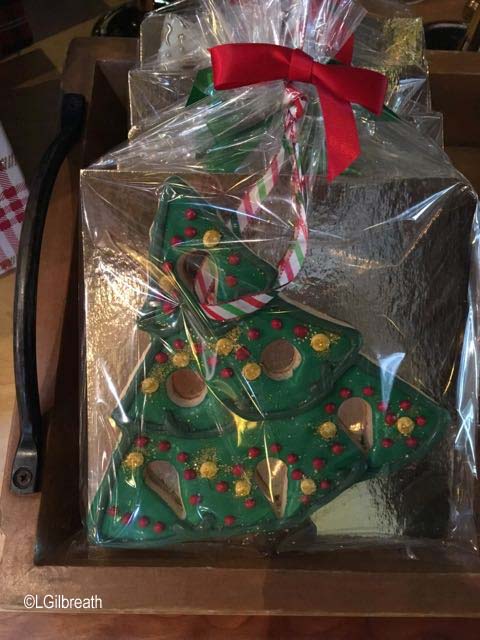 I've visited twice, and I still haven't seen everything this holiday season. Guess that just means I'll have to return again before the holiday season ends on January 7.