Have you opened your My Disney Experience App lately? I hadn't for a few days, but when I did this morning — lo and behold! I was greeted with a number of enhancements that will make the app even more useful than it already was.
One of the new notifications told me that I am now able to renew my annual pass right there using the app.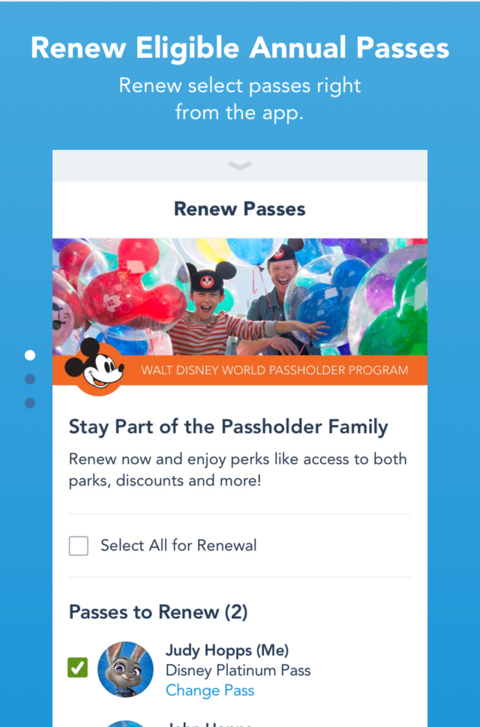 Thankfully, I don't have to worry about that for… well, for 356 days, the app tells me, as you can see in the screenshot below. (Although I'm not sure about that math…)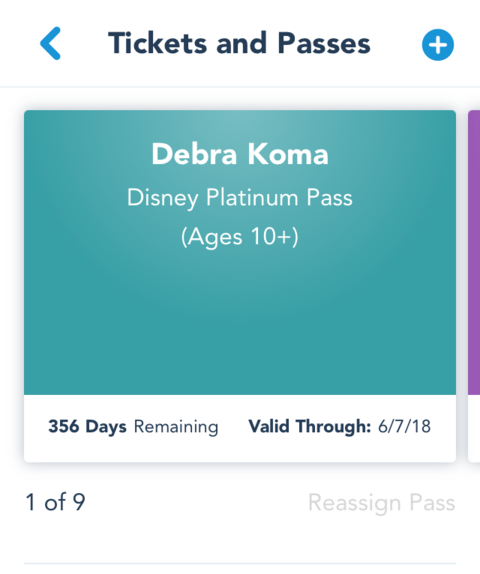 Did it always tell you the days remaining, by the way? I've never noticed that before. Am I that unobservant? Don't answer that — rhetorical question.
Anyhow… I also see that I can now keep track of my Disney Resort Hotel purchases.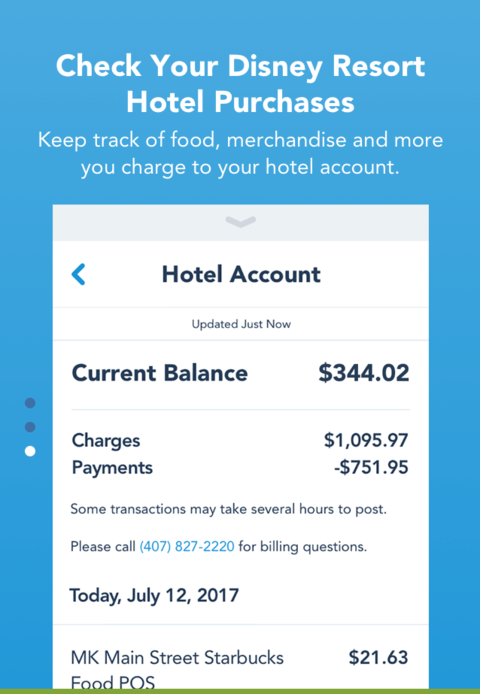 I have to say that this is a really good addition. I'm not really a shopper, but once you tie your credit card to your MDE account, that darn MagicBand makes it so easy to spend money. "Yeah, I'm a bit hungry — I need a snack." Touch the MagicBand to a touchpoint and BOOP! Mickey ice cream bar! "I could go for a cold drink." BOOP! Frozen margarita! "Oh, that's a cute t-shirt!" BOOP! Nifty new t-shirt with a matching one for hubby to go with it. Yeah, it's a good idea for me to have those numbers right there in front of me on the app, reminding me to rein it in a bit.
Finally, and most useful for those of you on the Disney Dining Plan, you can track your DDP usage. The screen clearly shows how many credits you have "spent", and how many you still have available. As you can see, the app will even track how many refillable mugs you have in use.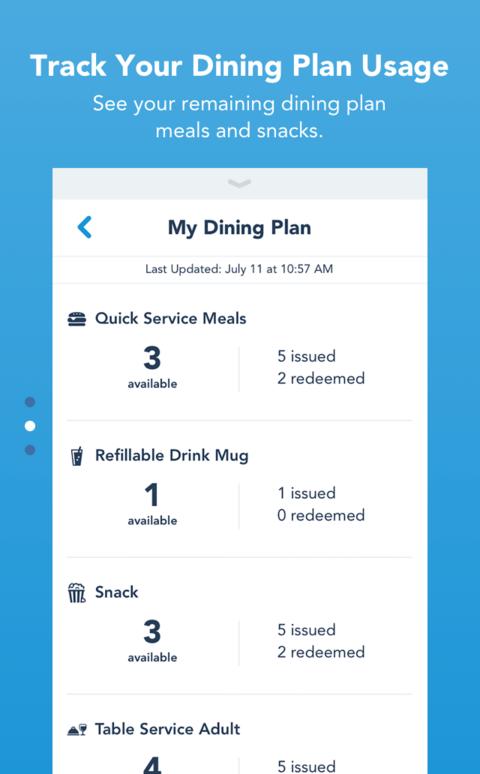 Probably most importantly, you can quickly determine how many snack credits you have yet to use. This can really help you maximize the Dining Plan. No more panicking on your last day because you suddenly discover that you have to use six snack credits before you leave Disney property in an hour, or you lose them. And best of all, no need to collect crumpled paper receipts in your purse or pocket like a packrat, just so you can keep track of your so-called "entitlements." Just a flip through the app and you know what's what. Knowledge is power!
These latest updates, combined with the recent expansion of the Mobile Food and Beverage Order function, really make the app a handy tool before and DURING your vacation, and I'm looking forward to trying them out on my next Disney vacation, which is in… let's see what the app says.
34 DAYS! Hurray! See you then!