Expo time has arrived! That once-every-two-year weekend where D23 throws a huge celebration of all things Disney for just you and around 65,000 of your closest friends. I attended all Expo weekend and will be reporting back on the highlights.
So Saturday was an exceptionally busy day as far as panels went, and made for good aerobic exercise as all the panels I had scheduled alternated one after the other in venues on diametric opposite ends of the convention center. Wedged in between the live-action Studios presentation and the eagerly anticipated Parks and Resorts announcements was the Video Game Showcase.
[All unattributed photos and video provided by Disney.]
The presentation began with Chairman of Disney Consumer Products and Interactive Media Jimmy Pitaro introducing the major games of the day: "Star Wars Battlefront II," "Marvel's Spider-Man," and "Kingdom Hearts III."
Subsequently, YouTube personalities JackSepticEye and Strawburry17 took over as hosts and introduced Battlefront II's lead actress Janina Gavankar and Steve Blank, from Lucasfilm Story Group.
For the most part, there wasn't a whole lot of information new from their recent presentations at both Star Wars Celebration and E3, which I recapped here, but they did give us a new summary video showing some behind-the-scenes footage and a look at some new characters in the game.
After a short chat about the game, they panel took a call from the livestream which turned out to be John Boyega (fresh from the Live-Action presentation just before.)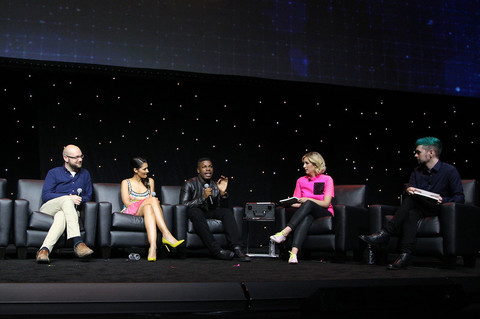 Next up was Mike Goslin, VP of Advanced Development, to talk about the new Star Wars Augmented Reality Experience. The audience was treated to a first look at an AR headset Disney developed in conjunction with Lenovo and Lucasfilm to combine computer-generated images with reality and allow players to experience moments from Star Wars in completely new ways. The headset works off of your smartphone, which, with a downloadable app, is structurally integrated into it.
More information will be provided as it becomes available at http://jedichallenges.com/
For Marvel Entertainment, Bill Rosemann, Executive Creative Director, Marvel Games, and Bryan Intihar, Creative Director, Insomniac Games, took the stage to talk about "Marvel's Spider-Man" and show a development video.
–Spider-Man in the game is 23 years old and has been Spider-Man for eight years.
–Although Spider-Man is more experienced, his combatants are similarly more familiar with how he works, forcing him to vary his combat techniques.
–The villain of the game is Mr. Negative, whose duality as Martin Li, philanthropist, mirrors the duality between Spider-Man and his alias Peter Parker.
–New scenes for D23 Expo: Peter Parker's room and Spider-Man fighting Kingpin.
Rosemann then mentioned the various games that Marvel had available at their floor booth, particularly focusing on the reveal of a new character in "LEGO Marvel Super Heroes 2."
An entirely new game was also revealed in "Marvel Powers United VR," a first-person multiplayer virtual reality cooperative fight game.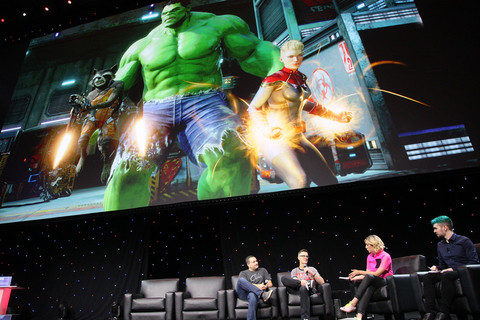 –Characters people can play currently include Rocket Raccoon, Hulk, and Captain Marvel.
–The game is exclusive to the Oculus Rift + Touch.
Finally, for the most awaited property, "Kingdom Hearts III," the Hercules trailer Square Enix debuted during E3 was played, and game director Tetsuya Nomura introduced.
Nomura announced a new world for "Kingdom Hearts III"–the first appearance of Pixar in the franchise: Toy Story.
Story Supervisor Jason Katz and Associate Creative Director Tasha Sounart from Pixar spoke briefly about the process of joining the world of Pixar to the world of Kingdom Hearts.
In an arguably bigger announcement (which garnered more screaming than any other panel I saw,) III was finally given a projected release date of 2018. The presentation ended with the entrance of Woody and Buzz and a slew of dancing green army men.